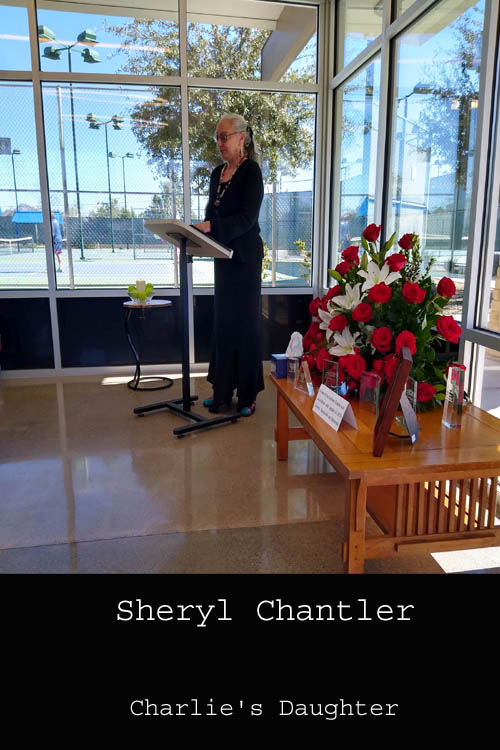 Eulogy for Dad – February 2 2020

November 11, 1936 – December 29 2019.


Hi, I'm Sheryl LaRee (Dad made up the name LaRee!) - Dad's oldest of 3. Dad had 3 kids: me, Chuck, and Scottie Chuck is here from California today with his beautiful wife, Ana, and their 3 amazing children, and grandkids to my father: Charles, Jasmine, and Julie. Our younger brother Scott, could not be here today. Our family is scattered across the continent, from California to Seattle to Canada. Because of this, we were unsure of how to honour Dad with a celebration of life that would include all. So, Bob and the tennis community, Thank you for collaborating with the family on this Celebration of Life for Dad. ~ As you all know, Our dad was a generous man. Always eager to please. That is something we will all miss the most. I recently got an email from a friend in Calgary who knew him. Teri wrote: " Sorry to hear about your dad. It's so hard to lose him. He was such a strong, independent guy, with a huge heart. He had a full life with lots of great stories to share." Dad did love to share both stories and movies – many of you know about his quest to provide us with our wish list of DVD movies. Here's a quote from the Wizard of Oz that feels like it talks about Dad's heart: A Heart is not judged by how much you love, but by how much you are loved by others. Dad was loved. By me. By our Family. By you: His Community.

Losing my Dad is a most difficult experience of my life. I am reminded of the fragility of life, and to treasure and take care of our loved ones. At the same time, he gave me and my husband David, the most Sacred Gift of being with him for his final week until his last breath. Dad was graceful, and died with dignity. I am so proud of, and grateful for, my husband David. He was an amazing nurse, friend, and clown to my father in Dad's final days. On Dad's last day, after he could not walk, he asked to be wheeled outside to have photos of "The Sun Around His Face." So we wheeled Dad out, put some Christmas blankets on him, and did a photo shoot of his last day on earth. When he was back inside and at the kitchen table in his rolling chair, Dad did what we in theatre call: a Clown Turn. In a clown turn, we have the rule of three. You get to do the same thing 3 times, with the 3rd time being the punchline. So, Dad found Aunt Charlene's long handled grabbers used to pick up things and started playing with it. Then, although he had not had a drink of anything in two days, asked for a Diet Coke. I knew something was up, so I brought him an unopened can. He put it in the grabbers, lifted the can of coke high in the air and said, " take a picture!" I did. Then, there was a coffee cup with a picture of a cow on it that mooed whenever you picked it up, so Dad asked for that, took out the coke can and put in the cow cup. Take a picture! I did. Then, you have to know that Aunt Charlene has the dearest tiny old doggie named Patches, and Patches was very present with us in our final week with Dad. So, when Dad's third request was to bring Patches to the table to put into the pinchers and lift him into the air, we cracked up. Of course we didn't do it, but the humour and light at the end of Dad's Journey was something special in which to be surrounded.

In my grieving since Dad died, I have thought: what do I miss? The biggest thing I miss is not being able to share new moments or life events with him. Dad always had my back. I felt safe knowing Dad was in my life. He helped David and me with our theatre company in Alberta. He edited my book that I was exploring. He took the Best care of my animals every summer. The list goes on. One of the things I loved and shared with my Dad was a deep love for the written word – and editing. He and I would work on projects –where we would look at every comma, every syntax – every: is that in bold or not bold font? We did detail together and appreciated each other's brains. So, because he loved to share his writings and planning with me, he would cc me on every email to you, the tennis community, sharing his notices to you. And, in between the lines – his love to you. Dad was proud of being a communicator. And he was proud of you: his community. And so, I want to thank you, his tennis community for loving him and having His back. You gave him the best last ten years of his life. (Namaste bow.) And now, because I know my father's spirit is here in this room (how could he not be, with this amount of love), I would like to speak to my father. Dad: Thank you for being my father. I will miss you daily in my heart Thank you for your grace and dignity You are my Ram Dass My spiritual Guru You have always been a friend with whom I could share my deepest thoughts My amazing father I will hold you in my heart I will listen If you wish to speak to me I will listen Your forever daughter, Sheryl LaRee.

To end, here is a short poem from the movie: The Shape of Water. "Unable to perceive the shape of you I find you all around me. Your presence fills my eyes with your love, It humbles my heart for you are everywhere. I love you dad – I have always loved you.
David Chantler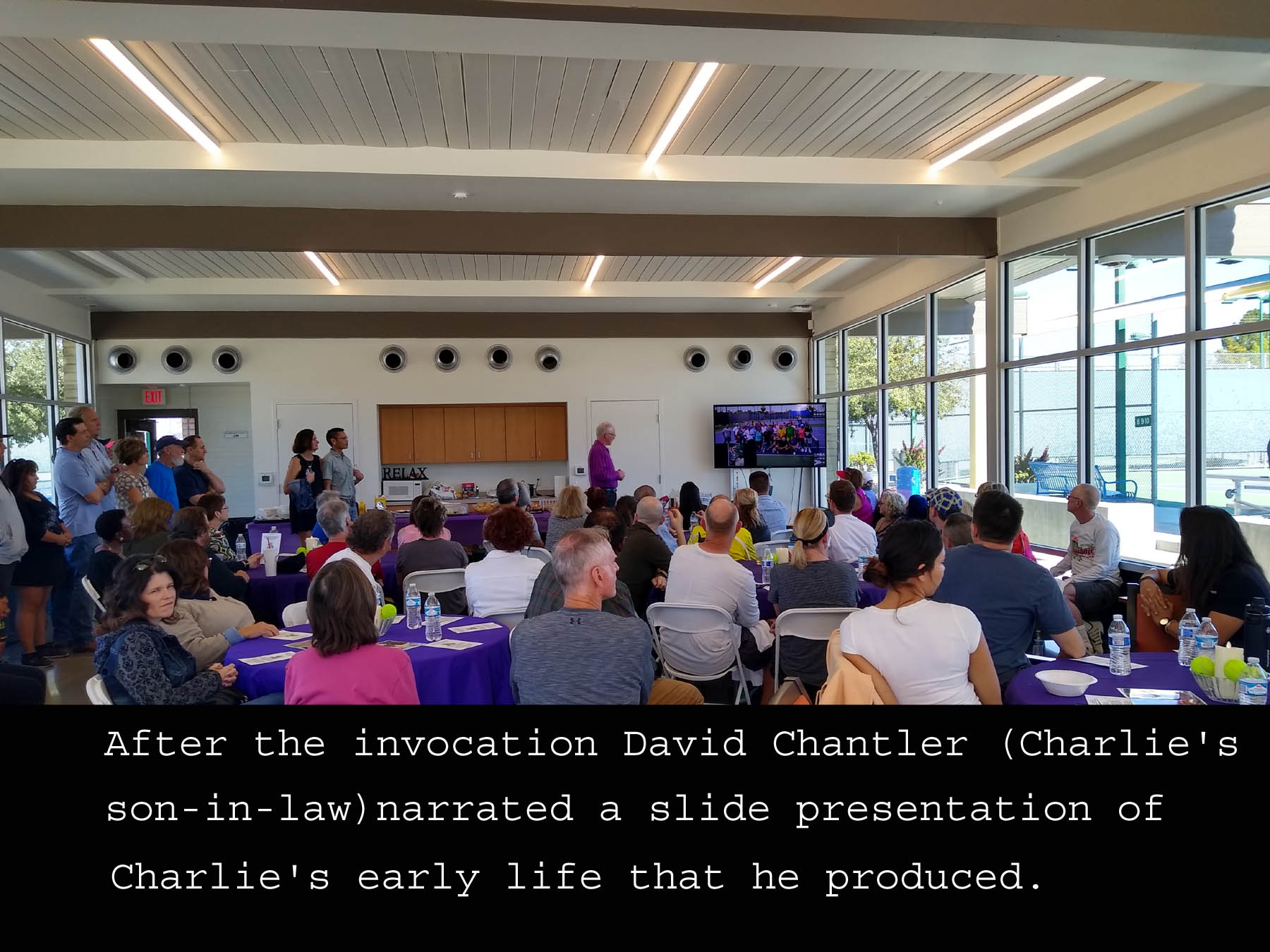 Chuck
Charlie , or Chuck as I called him, was a very kind man. A generous man. He made friends easily and always had kind words for everyone he met. He was my father in law. When I think of Chuck , I picture driving, books, computers, " the phrase " far out" tennis and parkas. Those last 2 don 't go together which is why Chuck moved to Phoenix. Chuck felt that the Canadian summer was way too cold and his Tennis game was suffering. After all it is hard to get a in good serve while wearing a goose down parka. Chuck and I loved to talk history. He had a great memory for dates and names. He knew the accomplishments- or not - of all the presidents. Although Chuck was born in the US, he lived in Canada For 10 years. In most other years he drove up to see us. He had the driving endurance of a teenager.. At 81 years of age, he could get in the car and drive Phoenix to Calgary In 2 days and think nothing of taking a side trip over to Seattle or California on the way home. When I picture Chuck, I see him writing emails and burning DVD's. He was the 'DVD man' to a lot of people . He asked one of my friends what DVD he was most looking for. My friend replied" the concert video of Joe Bonomassa live at the Rokplast". Now the Rokplast is a German Night club, but Chuck found the DVD and made a copy. He wanted to help people have a good day. "Far out" - that was one of Chucks favourite phrases. He was open minded. He could discuss anything without getting offended or nervous about the direction of the conversation. He introduced me to the "100th monkey principle"- the idea that when the number of people involved in a change reaches a critical mass - the whole group can make the change quickly. That is a hopeful outlook on life. I was honoured to be with Chuck the last 8 days of his life. He was having trouble speaking, so we used a lot of mime to communicate. We also played lots of cards. Although he was frail and having to gesture a lot, his mind was still sharp. He was losing a game of spades and decided to go for the 'hail Mary' play - the all is lost, so I'll go for broke move. He pulled it off- -and then repeated it the next hand - and won the game. There was a big model airplane hanging from the ceiling in his room at Charlene's house. The night before he died, he gave me a big smile and had me turn the plane around so that it was flying in the opposite direction. .... New beginnings. I'll miss his gentle reminders to take everything with a grain of salt, to keep in mind the big picture .. and to be ready go where life takes you. As I picture him now, I hope he's having a great road trip in heaven, with the top down on the Cadillac, the warm wind in his hair and the tennis rackets packed in the back seat . Off to the next game. He's gonna ace it.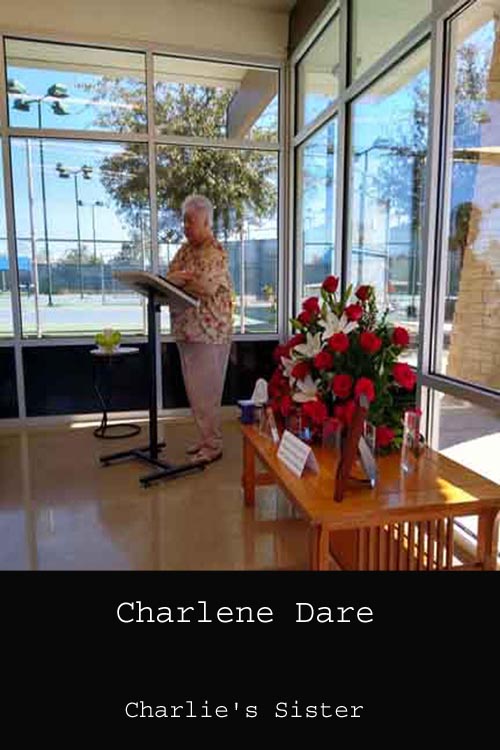 (To Follow)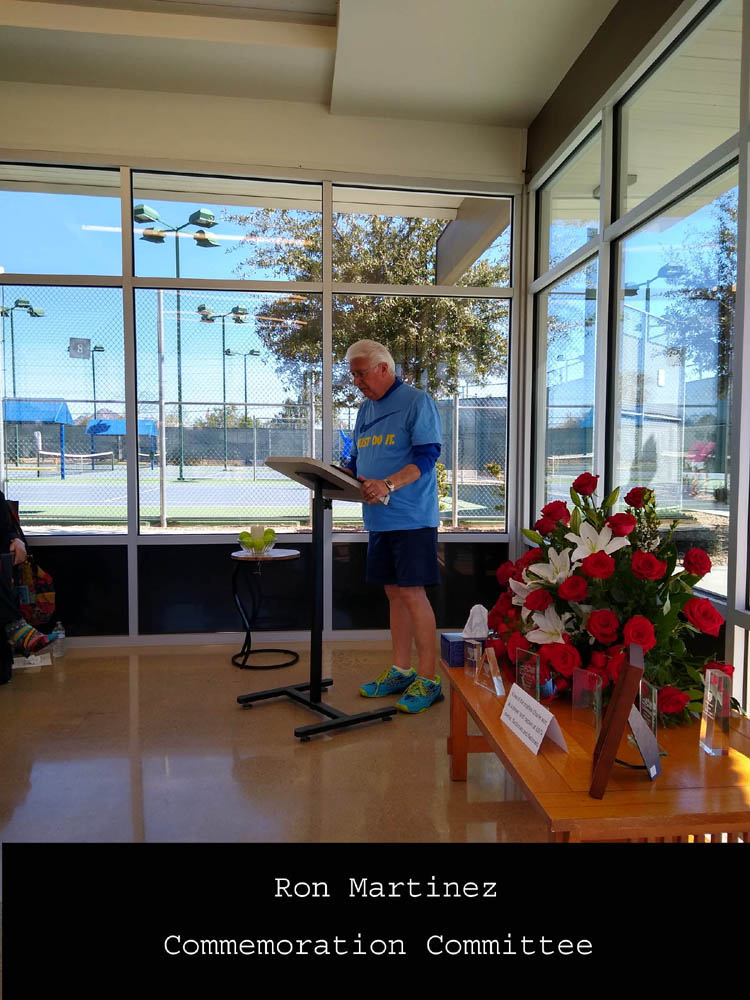 Welcome to our Celebration of Life for our friend, Charlie.

I'd like first, at this time to offer our deepest and sincerest sympathys to Charlie's family; his sister Charlene
his daughter, Sheryle, her husband Dave, son Chuck, his wife Anna and their children: Charles IV, Jasmine
and Julie and one other son Scott and Grand Children who are not with us today.

As you all know Charlie was a man of words and I mean.......he could put words together like magic. He was a writer! A good writer! We're going to miss his emails........I'll have a little bit more on that later.

Let me start with a few words that might describe who and what Charlie was to all of us who knew him.

I thought I'd start out by using the letters of his first name.....Charlie!

C = He was charming, caring, compassionate and always calm.....any others??

H = He was helpful, honorable, honest, happy and he certainly had a big heart.....any others??

A = He was awesome, amazing, sometimes authoratative, and needless to say, very active.....any others??

R = Radiant, respectful and he was just a very real person...nothing phony about Charlie.....any others??

L = Yea! He was lovable...I don't think he had a mean bone in his body...Likable, of course! Loyal to everyone and everything he did....any others??

I = Illustrious, intelligent, interesting and sometimes rather intriguing....any others??

E = He was well educated....knew so much about a lot of things and he didn't flaunt his knowledge. He was enormous and again a big heart and always giving!! Especially giving with encouraging words and wisdom. He was very keen, very perspective and speaking of giving, he always brought goodies to all of the tennis gatherings......bananas, apples, oranges, cookies.....and Fig Newtons too..my favorite....any others??

Here are some of his accomplishments at the Phoenix Tennis Center and his involvement with the United States Tennis Association.

I had the honor and privilege of sharing captaining with him....don't even know how many times...I can't remember.

Back to his writing. Charlie was a writer and what a writer he was. He could write and email that could win an academy award. He put his whole heart, mind and soul into an email and everything else we knew him for. His emails were precise. Never left anything to question. He said what he meant and meant what he said. He even kept us up on world tennis events: the four major tennis tournaments ; Australian, French, Wimbledon and the U.S. Open.

Charlie played on a phenomenal number of league teams: 44 USTA teams since 2010. And he captained 34 of those teams. Five of those teams made it to Sectionals and one of his teams even qualified to go to Nationals. In one session of USTA leagues, I believe it was the fall of 2018, Charlie captained five teams. He received a special recognition from the USTA and was honored at one of the banquets. He was chosen Captain of the Year and received the Captain Service award for 2016. For the last several years he coordinated the USTA Flex League. That was a big job and took a special kind of person with lots of patients.

He took over and coordinated the Group 44 tennis event at PTC on Thursday nights for the last several years. Also, he conducted the Sunday night PTC 'Drop In' for the last three years. I can't go without saying that for the Sunday night 'Drop In' he was assisted by ChristiAnne Stephens, Jessi Li and Dina Figueroa. He assisted me in many ways on my Tuesday night tennis. If I needed a player to fill in I called on Charlie. If he couldn't find someone for me he would step in himself. He would even change personal plans to accommodate my group. Likewise, he called on me for help with his Thursday night group.

My New Year's Day round robin tournament (2019), a yearly event, I didn't play and Charlie took it over for me. We had 17 courts of 68 tennis players......again, always there when we needed him. I was told by one of the players...."we didn't need you Ron"! I wasn't offended. It was a compliment because he was the right person to take care of things. He took care of everything.

We're gonna miss him dearly!

Rest in Peace Charlie!

And put in a good word for us up there....(pretty please??)

Thank you!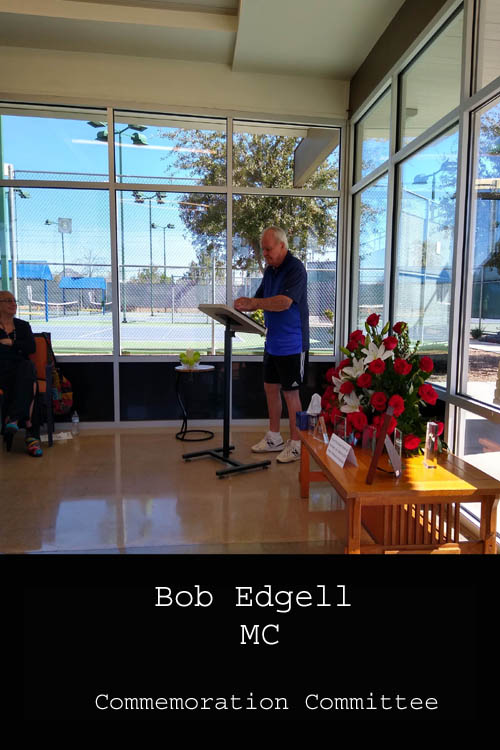 Those of you who knew Charlie and were fortunate enough to receive one of his emails, know that he was a man of few words. However, those few word messages were couched in an email of many, many paragraphs. And if Charlie had a question, it would be hidden somewhere among those paragraphs. If you didn't respond to his email and answer the question, he would ask you upon seeing you, "why didn't you answer my question?" Then his eyes would widen and he would smile and say: "you didn't read the entire email did you?"

Charlie was also a man of many books. I believe he read 3-5 books a week because that is how many he offered to loan me every week. Charlie and I were similar in that our taste in literature centered mainly around historical issues: biographies and autobiographies. The books kept piling up on my hearth because I was lucky to read one book a month.

It is difficult to define Charlie. However, he could be characterized as a modern day Renaissance man. He was extremely well read. He loved history and the different dimensions and disciplines in this world. He loved teaching and when he became involved at the Phoenix Tennis Center, he became absorbed in all the correct ways of playing the game and enjoyed passing his knowledge and techniques along to others. He and I conducted clinics for beginners and intermediate players for free so it would be easy for adults to become involved in the sport.

Charlie was generous with his time, his knowledge and his munchies that he handed out to his tennis groups. When Charlie was in the house, you knew it because in the distant evening air you could hear his loud voice: "apples, oranges, bananas and cookies, help yourself."

In his earlier life before tennis, Charlie was a motivational speaker whose talents he brought to Phoenix. His attitude was always positive and he had an endless supply of encouragement. I will end with a quote from Ben Franklin that Charlie could have easily said. "Instead of cursing the darkness, light a candle."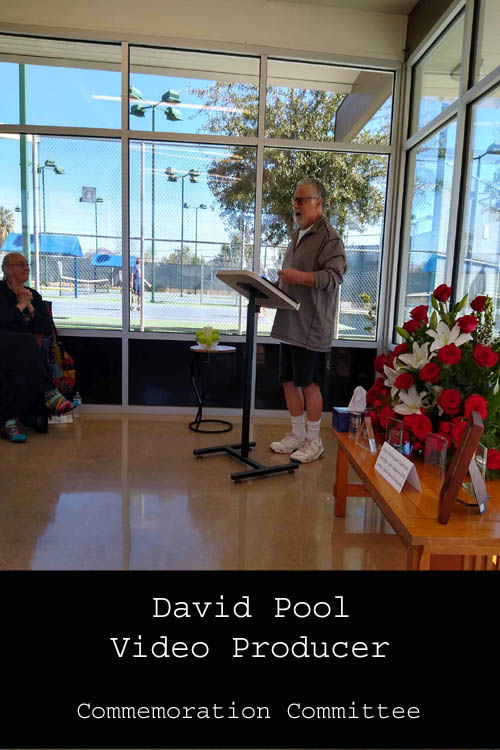 Dave Pool produced a video for Charlie
I met Charlie like 1000 others. When I first came to the Tennis Center years ago, the guy at the desk said: "See that guy talking real loud (Charlie was hard of hearing) over there? Talk to him and you'll play tennis." Those were prophetic words. Play tennis I did, and so much more. As I got to know Charlie, I quickly came to admire his commitment not only to the game, but to people. I work with in the pro shop. For years all I've had to do if there was a new player was refer them to Charlie. And there was never a player with skills so basic that Charlie wouldn't be happy to hit with you.

Okay, in his later years he did tend to talk during the points, but that was all part of the fun. Charlie worked tirelessly to provide would be players an opportunity to get on the court, which brings us to why Charlie did what he did. To me, Charlie was a bit of a philosopher. When I first met Charlie, I was coming off a bad time in my life. I was quickly intrigued by Charlie's kindness and infectious positive attitude. I asked him where he got his positive approach. He simply shared that his father was a student of Dale Carnegie, whom as we all know was all about positivity and contribution to the lives of others. He never said much about his own work as a motivational speaker.

Charlie never preached though. He led by example a life that I think was exemplary. Total commitment to guiding others toward fellowship and something that was just plain good for them. For years I've said: "If it was up to me I'd name the whole facility after Charlie. The Charley Simmons Center." Why? It goes like this. We tend to think of Federer and Nadal and others as the greatest in the game. To me, Charlie was the greatest because he was a gateway for so many of us plain old human beings to enjoy this great game.

So, thank you Charlie. I'm sure you've got a game going tonight. Your kindness and generosity will be sorely missed.
Charlie's last stop in California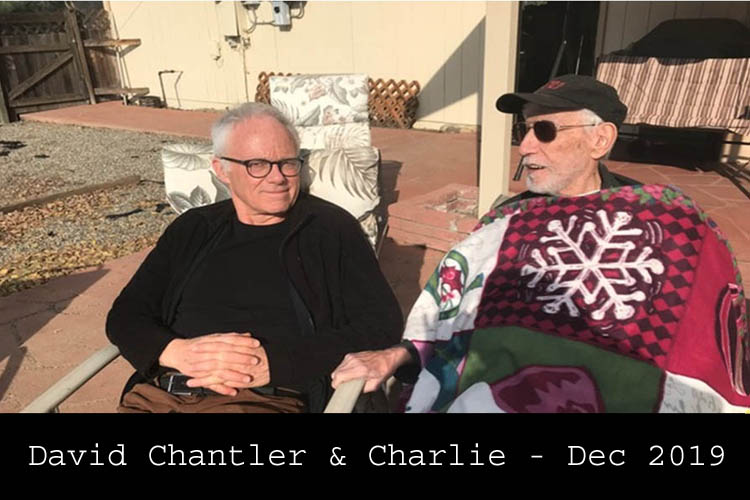 *****