Welcome
You have landed on my tennis page and this page is all about my tennis life.

I actually became a fan of tennis many, many years ago. For some reason, I left the sport to pursue golf and indoor soccer. In 2007 I picked up a racket and life has been different ever since. In 2009 I joined the United States Tennis Association (U.S.T.A.) and began playing in leagues. In 2010 my team went to Sectionals (regionals) and we won: then on to Nationals where we came in fourth place. Since then I have been to several sectionals and a few more Nationals.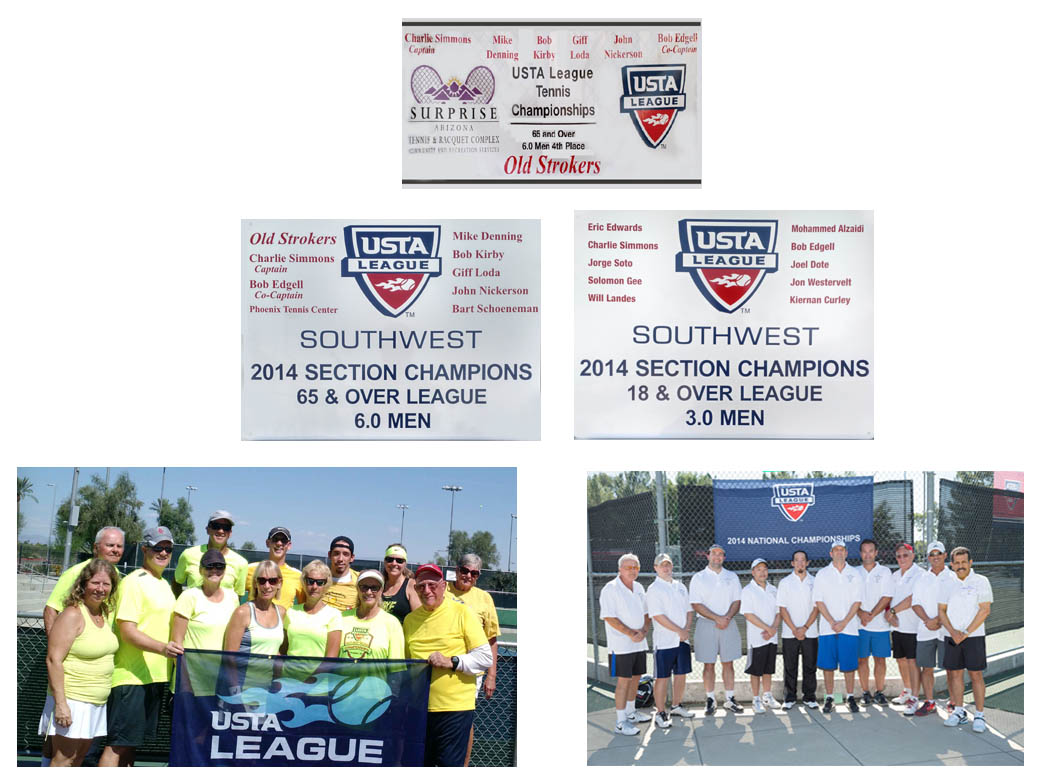 In 2015 when I constructed this page I was on five teams: one men's five court, two mixed doubles and two 65+ teams. Here is the explanation of that year. "The way I got on two 65+ teams is interesting. In the summer of 2015 in Minneapolis I was joining a large group on Saturday mornings for fun competition. One of the captains asked me if I would join their 65+ team and assured me that they would be going to Nationals. I played a few matches, qualified for their team and the Natiionals were held in April 2016 at a Phoenix suburb facility. When I got back to Phoenix in August, a good friend asked me to join their 65+ team and help them win Sectionals. We checked with the U.S.T.A and they approved: allowing me to be on two 65+ teams. The only caveat was that if the Phoenix team also qualified for Nationals, I would have to declare my allegiance. No problem. I had committed to the Minnesota team and the Phoenix team took me on knowing I would stay with Minnesota for Nationals."
Becoming involved with tennis has brought many rewards besides the fun competition. I currently head the volunteer committee for the Phoenix Tennis Center. I have personally designed and programmed their web site. http://phoenixtenniscenter.net

This past year, 2018, I took on the task of raising money for new tennis court scorecards and in one week we had raised the $3,000 needed to purchase the scorecards.

CURRENT TENNIS ACTIVITY:
I have reduced my league play and now Captain a U.S.T.A. mixed league out of the Phoenix Tennis Center. My other tennis activity involves two casual groups: one on Tuesday evening and one on Thursday evening. They are looked on as more of a fun 'practice your skills' evenings.

My way of giving back to tennis is to conduct a 3 1/2 hour Adult tennis clinic on Sunday afternoons. It is a drop-in clinic so the number of Adults showing up can range from ten to 18. I have a helper and we both volunteer our time to teach and encourage young and old adults to be more involved in tennis. We have a few success stories where the students have gone on to compete in U.S.T.A. leagues. I also provide private lessons on some Saturdays.


I am very proud to be associated with the Phoenix Tennis Center. After many decades of serving the community (since 1966), the Phoenix Tennis Center went through a $4 million renovation in 2015: meaning destroy everything to the ground and build. Here is the renovation.