Welcome
Edgell/Deves/Robinson/Pagenkopf Family Genealogy
The Edgell genealogy of this Edgell line stems from Benjamin Edgell, Dorchester County, Maryland in the mid 1700s. The Deves side of the family, the mother's side, has been traced back to the late 18th Century to the Pagenkopf family of Pomerania. Edgell:
The main ancestors of this line are:
Benjamin Edgell, Dorchester County, Maryland
James Edgell (b. 1724, Dorchester County) and Mary Staples
Benjamin Edgell (b. 1750) and Rebecca Merrick
James Edgell and Mary Ice (b. 1778)
William Edgell (b. 1790, Va.); m.Sarah Dunn (b. 1804, Virginia)
John Edgell (b. 12/23/1823, Tyler, Va.) m. Susannah Morris (b. 5/11/1834)
Ananias W. Edgell (b. 10/7/1853) Flora O. Adams (8/5/1860, Dodderidge, Va)
Cyrus Y. Edgell (b. 6/9/1882, Looneyville, W. Va)-Sylvia J. South (5/24/1887, Howard, Oh)
Offspring of Cyrus Y. Edgell and Sylvia J. South Edgell
(1) Harold South Edgell b. 11/27/1913 Cuyahoga Falls, Oh d 2002, Kansas City, Ks Married: 8/3/1936
Alese Priest: no children
(2) Helen Faye Edgell b 9/25/1915, Akron, Ohio, (currently 100 years old) Married: 12/22/1935, William Frederick
Riker b. 4/18/1913, Loveland, Co. d. 8/13/54
Daughter: Nellie Jane Riker b.1/31/1939, Loveland, Co Married: Charles Robert Johnson
b. 12/23/1930 Newbury, Michigan
Daughter: Celeste Renee Johnson b. 3/11/1961,Lewiston, Idaho Married: Stuart M. Hartman b. 3/12/1961
Daughter: Alexis Nicole Hartman b. 6/11/1993 Redlands, California
Son: Christopher Stuart Hartman b. 12/1/1995 Redlands, California
Son: Patrick Neil Johnson b. 12/11/1972, Spokane, Wa
Daughter: Richelle Marie Johnson b. 11/5/1967, Spokane, Wa married: 2/15/1997, Joakim Falth
Daughter: Brittany Lee Johnson b. 4/23/1991 Father is Lee Elliot
(3)Kenneth Beryl Edgell b 10/6/1917: d 6/26/1944, Normandy France Married: 3/18/1942 Esther Copeland
Daughter: Lois Sylvia Edgell b. 4/18/1943, Goodland, Kansas Married: 1962 Walter Gorzinski b. 1/4/1940
(Divorced 1982)
Son: Kenneth Joseph Gorzinski b. 2/6/1969
Son: Raymond Gorzinski b. 2/22/1963 Colorado Springs, Co
Lois Sylvia remarried: Ken McCloud b. 4/6/1939, Helena, Montana.
(4) Forrest Earl Edgell b 10/12/1920 Akron, Ohio, d. 1998 Married: 10/30/1938, Lucille Irene Deves, b. 9/27/1920,
Goodland, Ks (Lucille was the daughter of Carl Joseph Gotthelf Deves whose roots go back to Martin
Pagenkopf (b. 22 Nov 1799, Hinter Pommern (Pomerania) (formerly Prussian territory), died Oct 1889-Shady
Brooks, Kansas). Forest and Lucille divorced 1945. Forest remarried to Lola Bell Rankin on October 13,
1951. Lucille remarried in 1947 to Robert Cochran. Forrest & Lucille had three sons: Carroll Lynn, Steven
and Robert.
Carroll Lynn Edgell b. 7/13/1939 Goodland, Kansas Married: 1959 Carol Ann Hewitt b. Omaha, Nebraska
Daughter: Shari Lynn (Edgell – McCorkle) Warner b 10/30/1959: Minneapolis, Mn Married: Steve
McCorkle b. 7/6/1959 McCook, Nebraska .
Daughter: Stephanie Ann McCorkle b. 2/20/1981, Norfolk, Nebraska Married: May 20, 2005 to Joel
Dieken
Son: Ethan Christopher Dieken (b. 12-15-02)
Daughter: Paige Jadyn Dieken (b. 12-5-2004)
Daughter: Stacey Lynne (McCorkle) Valdez b. 11/25/1983, Norfolk, Nebraska Married: Casey Cey
Valdez, b. 11/2/1979
Son: Roman Cey Valdez b. 1-15-2004
Son: Brayden Don Valdez b. 1-16-09 Son:
Sean Paul McCorkle b. 4/5/1989, Norfolk, Nebraska Married: Mary Kathryn Back, September 4, 2013
Shari divorced 2001, Married Dave Warner of Colorado Springs.
Carroll Lynn Edgell divorced 1966, remarried: 7/8/1967 Married: Virginia Marie Doose, b 8/6/1946, Omaha,
Nebraska
Daughter: Suzanne Renee Edgell b. 8/30/1970, Blair, Nebraska Married: Robert Beeson (b. 5-11-67)
June 1, 2002
Son: Mitchel Lynn Beeson (b. 8/28/2003) Norfolk, NE
Son: Andrew Robert Beeson (b . 2/7/2005) Norfolk NE
Son: Scott Glenn Edgell b. 3/13/1973, Blair, Nebraska Married: Angela Wulf (b. 6-8-75)
Daughter: Rylee Rae Edgell (b. 1/13, 2004) Blair, NE
Daughter: Chloe Marie Edgell (b. 5/18/2006) Omaha, NE
Steven Loy Edgell b: 6/5/1941 Goodland, Kansas, d. 3/8/2005 Phoenix, Arizona Married: 11/22/1963, Mary
Alice Carlson b. Moorhead, Mn. Steven Loy Edgell divorced 1971 and never remarried Son:
Son: Tommy Lee Edgell b 3/11/1964, Moorhead, Mn Married: Laura Denise Hall 12/28/1968 Overland
Park, Ks
Daughter: Bryana Lynn Edgell b. 2/5/1991, Edmonds, Wa
Daughter: Kristina Leighann Edgell b. 11/10/1992, Edmonds, Wa.
Son: Thomas Lee Edgell Jr. b. 3/26/1994, Edmonds, Wa Son:
Ryan Logan Edgell b. 6/27/1995, Edmonds, Wa Son:
Matthew Loy Edgell b. 11/14/96 Phoenix, Arizona
Robert Lee Edgell b. 5/3/1943 Goodland, Kansas Married: 9/12/1962, Sharon Worscheck b. 1944
Minneapolis, Mn
Son: Robert Lloyd Edgell (Phyle) b 1/15/1963, Minneapolis, Mn Married: 11/2/1996 to Leslie Ferris (two
daughters from a former marriage: McKenna 1991, Hailey 1993)
Daughter: Madison Lee Edgell (Phyle) 5/2/1997, Lakeville, Mn
Robert Lloyd Edgell divorced Remarried: 2005, Corrina Lowe (one son, Carter)
Robert Lee Edgell divorced 1965 Remarried January 12, 1985 Susan Marie Riordan (nee Walsh) b 6/2/1943
Chicago, Illinois Susan had a son by her first marriage: Shawn Riordan
Edgell/Deves Ancestors:
Here is a story that has been told in our family and the extended Pagenkopf family. Coincidently, one of our Pagenkopf relatives lives in Phoenix, Arizona and we have had several visits to discuss genealogy. The storyline is that we are related to Kings and Queens. Here is the story my mother told us and the same story is found throughout the Pagenkopf family.
Her Great Grandfather (Johan Gotthilf Pagenkopf) was born in Pomerania, traveled to America and bought a farm in Kansas. Pomerania is on the Baltic Coast and is now part of Poland. Over the past millennium, Pomerania has been ruled by the Teutonic Knights, Polish, Russians and in more recent times, Prussia. After the WWII, it was included in the Polish territory.
On Sunday's, Johan would dress up in his finest Prussian uniform, gather the family on the farm and hold court: essentially keeping the story alive that he was of royal blood. This same story is told throughout the Pagenkopf family to whom we are related. The story I tell in my historical novel is that Johan was a child of Prince William Frederick Hohenzollern who later became King of Prussia and Kaiser Wilhelm. Prince William didn't marry until he was 27 years old and no doubt had several lady friends. One of these lady friends at the Koenigsburg Castle in Prussia was a young seamstress named Louise Pagenkopf, daughter of Peter Pagenkopf and older sister to Martin Pagenkopf. Louise became pregnant by Prince William and since the young girl was not part of a royal family, the Prince was forbidden to marry her. The solution for Prince William and the Hohenzollern family was to banish Louise from Koenigsburg and send her back to her family in Pomerania. Peter, Martin and his family and Louise then live on the farm near Kardemin and Louise gives birth to a boy who is named Johan Gotthilf Pagenkopf. From this boy, Johan, stems our line.
House of Hohenzollern Here is the official web site of the House of Hohenzollern
The House of Hohenzollern had a 400 plus history of power in Europe. Their philosophy about power and growing their empire was similar to the philosophy of the Hapsburg family of the Holy Roman Empire: "more is achieved through marriage than through war." Wilhelm I is proclaimed German Emperor in the Hall of Mirrors in Versailles, France.
Kaiser Wilhelm King William I of Prussia

King Wilhelm of Prussia in Paris France, Versailles Palace, Hall of Mirrors.
Here is is being proclaimed Kaiser Wilhelm, leader of all the Prussian and German States.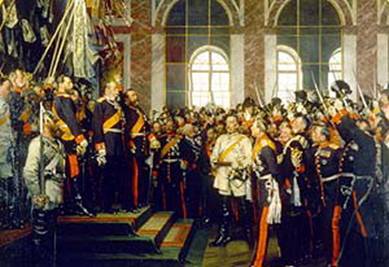 The family line we have researched goes back to Martin Pagenkopf. Martin Pagenkopf (b.22 Nov 1799- Kardemin Pomern, Prussia ;d.30 Oct 1889- Shady Brooks,Kansas). We believe that Martin's father was named Peter, but have no record of his birth or death.
Peter Pagenkopf
Son: Martin Pagenkopf
Daughter: Louise Pagenkopf
The story I tell is that Martin had a sister named Louise. Louise was a very popular name in Prussia for
girls because the most beloved Queen was Louise (mother of King Wilhelm) who died in 1810. Louise
and Prince Wilhelm Frederick Hollezollern made a child who I called Johan Gotthilf Augusta Pagenkopf.
Johan Gotthilf Augusta PAGENKOPF (b.20 Apr 1828 in Kardemin, Pomerania; d.17 Oct 1911-
Nashville,Kansas)`. spouse: Louise Maria Charlotte ROSEMANN (b.4 May 1828-Germany;m.23 Oct 1854;
d.17 Oct 1923-Nashville,Kansas)
Daughter: Christina Wilhelmina Pagenkopf. b.12 Dec 1861-Lyons Creek,Kansas;d.28 Nov 1934-
Colby,Kansas) Married: Aloisius Charles DEVES b.12 Dec 1864-Near Essas,Prussian of Germany; d.14
Apr 1936-Colby,Kansas)
Son: Carl Joseph Gotthilf Deves b.3 Jan 1890-Bracketville,Texas; d.7 Mar 1970-San Bernardino,
California Married: Lelia Emily ROBINSON (b.14 Jul 1893-Plainville,Kansas)
Daughter: Lucille Irene Deves (my mother) b.27 Oct 1920-Goodland,Kansas: d. May 20, 1985
Phoenix, Az) Married: Forest Earl Edgell (b.27 Oct 1920-Akron,Ohio, d. 1998 Denver, Co.) And you
know the rest of the story from the Family menu.
What makes this story interesting is that the Hohenzollern family married into all the other Monarchies in Europe (kings and queens). That would make us also related to the current Queen of England, the Kings of Belgium, the Romanov family of Russia and Queen Victoria's line
So in looking at our gene tree, we are part Pomeranian (with a gene pool that survived all the wars and changing of the guard in Pomerania) and part Royalty.
Isn't genealogy fun? Bob Edgell