The bulk of the effort to compile the Pagenkopf tree is credited to Ben Louis Pagenkopf. Ben is a 5th Generation descendant of Martin Pagenkopf. Ben performed extensive research on the Pagenkopf family and traveled to Pomerania (now Poland) to try and further his research. Ben was a remarkable man as illustrated in his memoir "He is Able." Ben passed away on April 11, 2022 at the age of 90. His obituary is presented here to show the accomplished person he was in life.
BENJAMIN PAGENKOPF OBITUARY
Benjamin Pagenkopf March 22, 1932 - April 11, 2022 Surprise, Arizona - Benjamin L. Ben Pagenkopf was born on a farm near Nashville, Kansas on March 22, 1932 and departed this life on April 11, 2022 at the age of 90 years old. He was preceded in death by his parents, Ed and Anna Pagenkopf, and two sisters, Leona (Peggy) Hart and Verna Lee Coleman. He was educated in public schools in Sharon and Argonia, Kansas, graduating from Argonia High School in 1950 and was a graduate of Wichita State University with BS Degree in Mechanical Engineering and a MS Degree in Administration. He closely followed his beloved Shockers on the basketball court until the day he died. He is survived by his loving wife, partner in service, and constant companion of 66 years, Joy (Nelson), and three sons and their wives, Mark (Vanessa), Eric (Mia), and Blake (Stacia). Ben was extremely proud of his eight grandchildren: Douglas, Ryan, David, Chris, Skylar, Maleigh, Jack, and Louis as well as his nine great-grandchildren. He loved to regale them with jokes, stories, and elbow-wielding games on the basketball court. Ben served in the U.S. Air Force during the Korean War as a Radio Operator on B-29s assigned to fly weather missions, track typhoons and collect radioactive fallout from foreign nuclear tests. He spent 35 years with NASA serving as a Quality Assurance Engineer and participating in several projects, including the Saturn V Moon Landing Launch Vehicle, the Lunar Rover, Skylab, and the Space Shuttle Main Engine. Ben was scheduled to retire in 1986, the year of the Challenger disaster, but resolved to stay and work until the shuttles were once again back in space – nearly two years later. Ben was a devout Christian for the last 65 years of his life. He routinely awoke at 4:30 am each morning to study his Bible. He taught countless Bible classes, preached from the pulpit, and brought many people to faith in Christ. He served as a deacon and elder in several congregations over the years in the cities where he was transferred with NASA and into retirement. In many ways, his true vocation throughout life was his dedication to his Lord and His church. Following retirement from NASA in 1988, Ben and Joy traveled with the Sojourners for a period, doing volunteer work for small churches, camps and Christian colleges. Later, they were instrumental in establishing two new churches in the Phoenix area. In these years, he felt a calling to become certified chaplain serving at the Banner Estrella Hospital in Phoenix and the Cancer Treatment Centers of America hospital in Goodyear, AZ. He was a voracious reader of such renowned Christian authors as C.S. Lewis, Henri Nouwen, and Dietrich Bonhoeffer. He lived a life of Christian discipline that has been passed on to the third and fourth generation of his family. He was a man of the highest integrity, matching the fervent profession of his faith with an equally passionate practice of serving those in need. Several years ago, Ben wrote his autobiography detailing the stories of a small-town farm boy who grew up to be a NASA engineer. Most fittingly, he named the book, He is Able, giving the credit for his life to his Lord and Savior. His favorite chapter in the Bible was Psalm 139. In that passage the psalmist says, - How precious to me are your thoughts, O God! How vast is the sum of them! Were I to count them, they would outnumber the grains of sand. When I awake, I am still with you. We rejoice that when he went to sleep for the last time on this earth, he awoke in the presence of the Lord. As a result of the death of his sister from Alzheimer related issues, Ben participated for the last 25 years of his life in a long-term genetic study of Alzheimer's effect on the brain. He donated his body to the Alzheimer's Research Institute for medical research. Graveside services and burial will be held at the Argonia, Kansas Cemetery. In lieu of cards and flowers, please send memorial donations to The New Mexico Christian Children Home in Portales, NM, at www.nmcch.org.
The extensive results of Ben's genealogy research can be found in this section. The Pagenkopf line is connected to our family because of the marriage of a Pagenkopf to a Deves. Carl Joseph Gotthelf Deves marries Lelia Robinson and that union is the beginning of the lines in this research.
Pagenkopf/Deves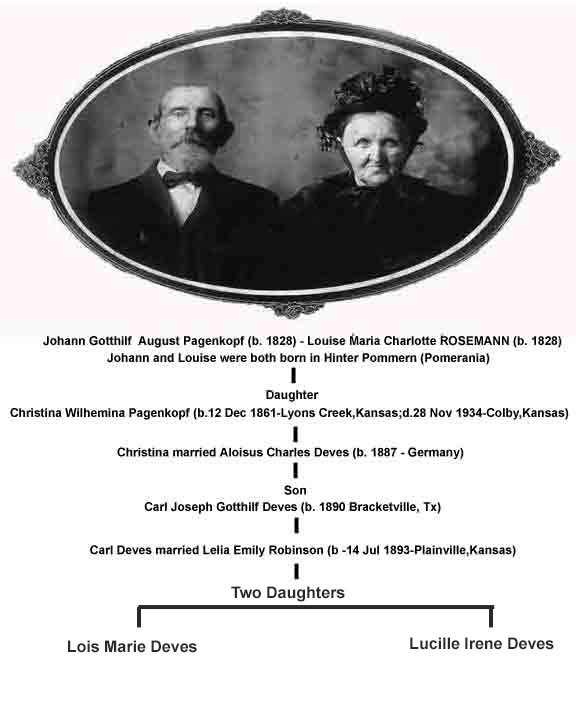 The only information on the Deves family line is what is presented here.

The offspring of Carl Deves and Lelia Robinson are connected to the Pagenkopf/Deves connection. This chart shows the two offsprings from that marriage: Lois and Lucille Deves.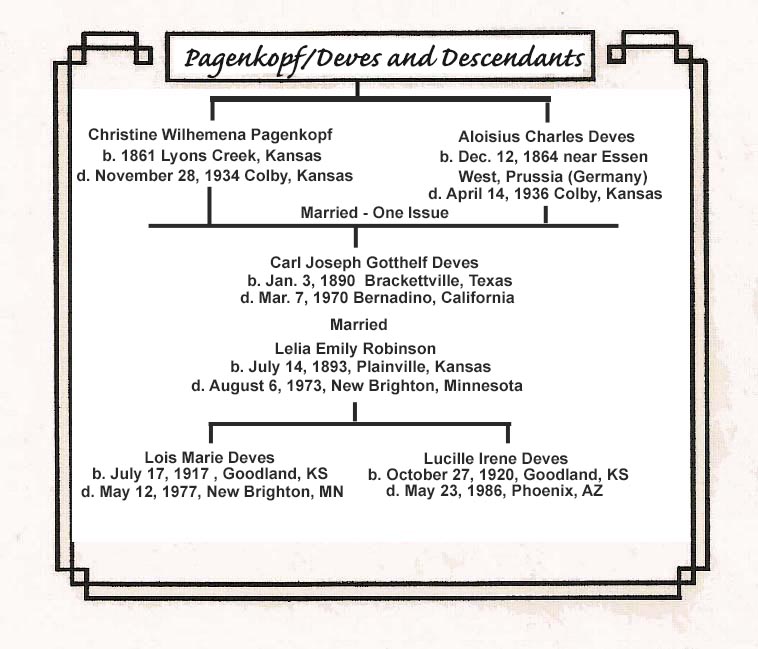 Information regarding Lois Deves Amos (offsprings: Lawrence, Linda, Randall) is in the Robinson section of this genealogy. Lucille Deves Edgell Cochran (offsprings: Carroll Lynn, Steven Loy and Robert Lee) are in the "Edgell Section". Lucille divorced and remarried to Robert Cochran. Information on this marriage and the offspring, Charles Stanley Cochran, can be found in the Cochran section and Lucille section.
*****************************************
Carl Joseph Gotthelf Deves and Lelia Deves divorce. Carl remarried and had two daughters.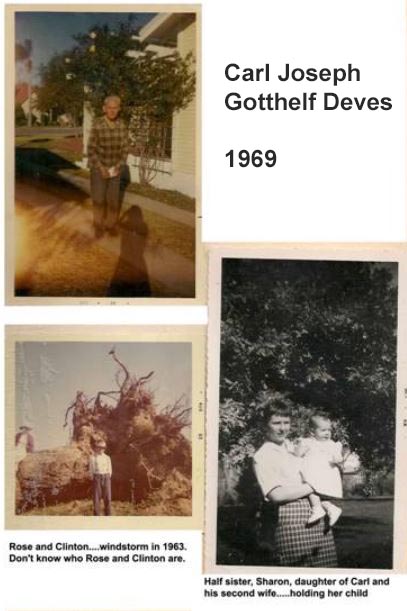 Two daughters by his second marriage.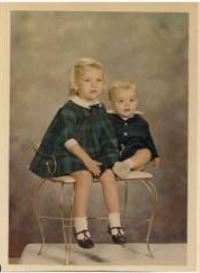 **********************************************
Ben Pagenkopf compiled the following in his genealogy research project.
(NOTE: Information regarding the families of Deves, Robinson, Edgell, Cochran can be found on page 5.)
Surnames on Page 1: Pagenkopf, Frederick Wendlandt, Louise M. C. Rosemann, William Knuth, Clara Anna Lawrence, Lee Etta Rice, Scott, Kenneth Knuth, Fred Knuth, Dean Knuth, Scott Knuth, George Swingle, Jim Ruble, James Stanley, Leonard Kahmeyer Kahmeyer, Lamb, George Ross, kramer,Koepke, Augusta Knuth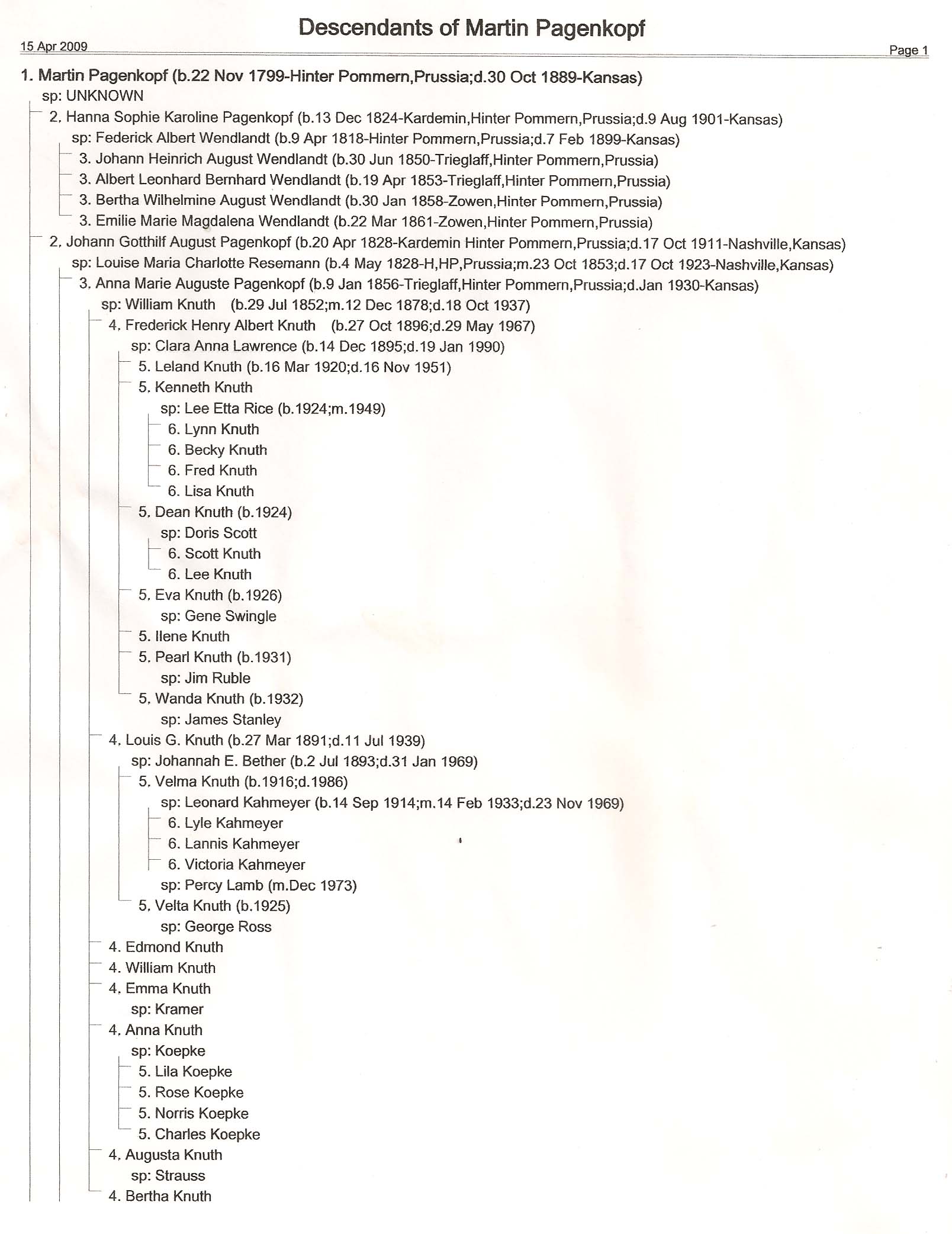 Surnames on Page 2: Albert Pagenkopf, Auguste Schimming, Sophie Kohls, Ella Kahmayer, Ervid Hensiek, Dean Harding, LaRue Owen, Martha Manke, Johathan Owen, Craig Kennedy, Robert Mattal, Jack Shannon, Llohyd Dicke, Charlotte Pagenkopf, Don Deliere, Henry Zimbleman, Wilbur Cottreil, Sophie Kohls.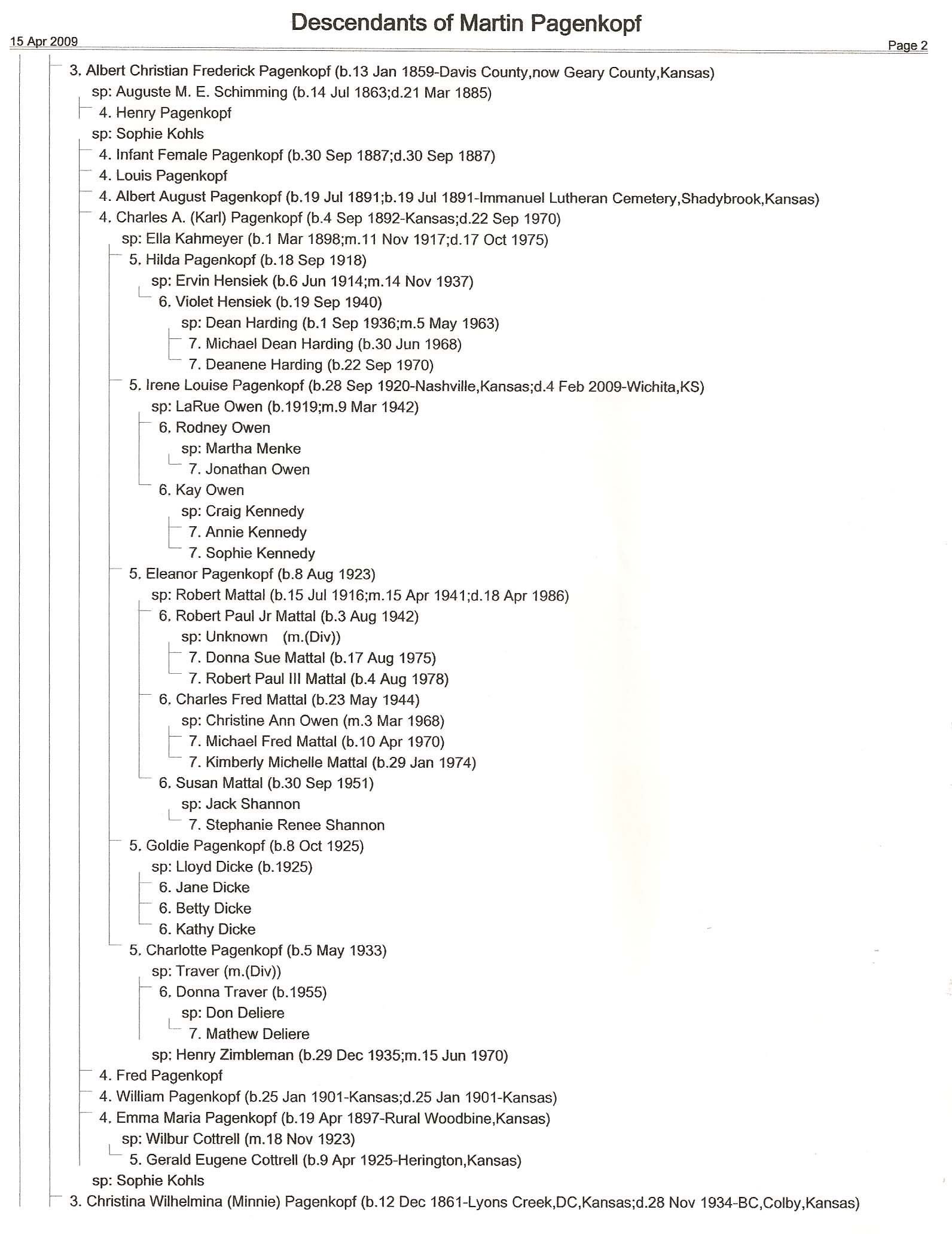 Surnames on Page 3: Aloisius Charles Deves, Amalia Wilhelmina Deves, Earnest Leggett, Newton Lyon, May Potts, Lyndal Elzie, Meryl Williams, Karl Fairchild, Richard Lyon, Regina Teal, Dottie Storie, Sandri Gorton, Russell Newsom, William Pepper, James Overholder, Gloria Bateman, Michael Kirkland, Jerarome Jones, Angela Taylor, Bradley Bisel, Alvin Volk.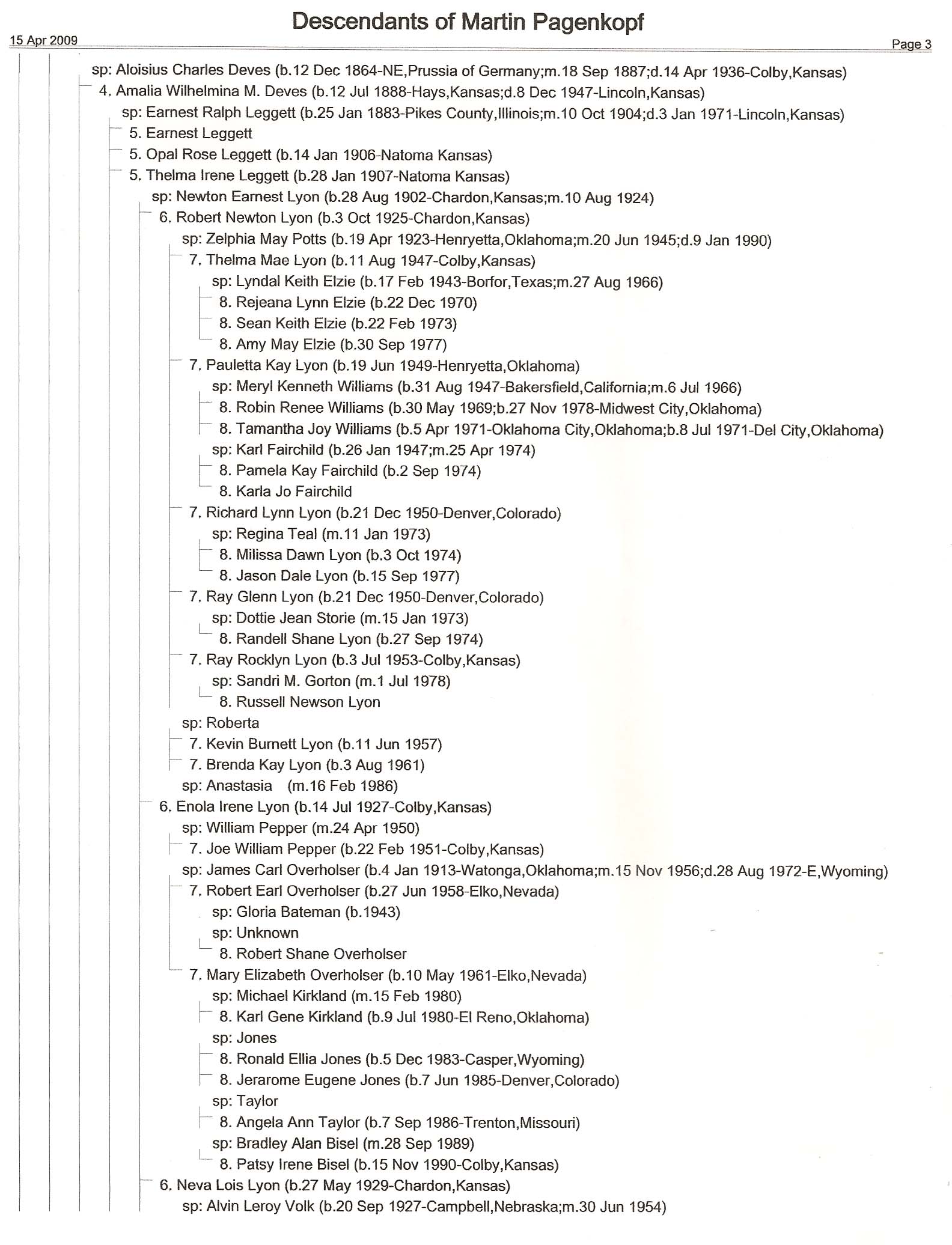 Surnames on Page 4: Leon Volk, Janice Richardson, Denise Oatmeyer, William Johnson, Joseph Hills, James Sanders, Riha Lujan, Nichole Sanders, Arlin Nix, Roy Livingston, Lucille Bosch, Quenana Hefner, Doris Woodyard, Connie Judd, Carole Cromwell, Alexander Leggett, Michael Bishop, Marjorie Wilson, Jean Pierotti.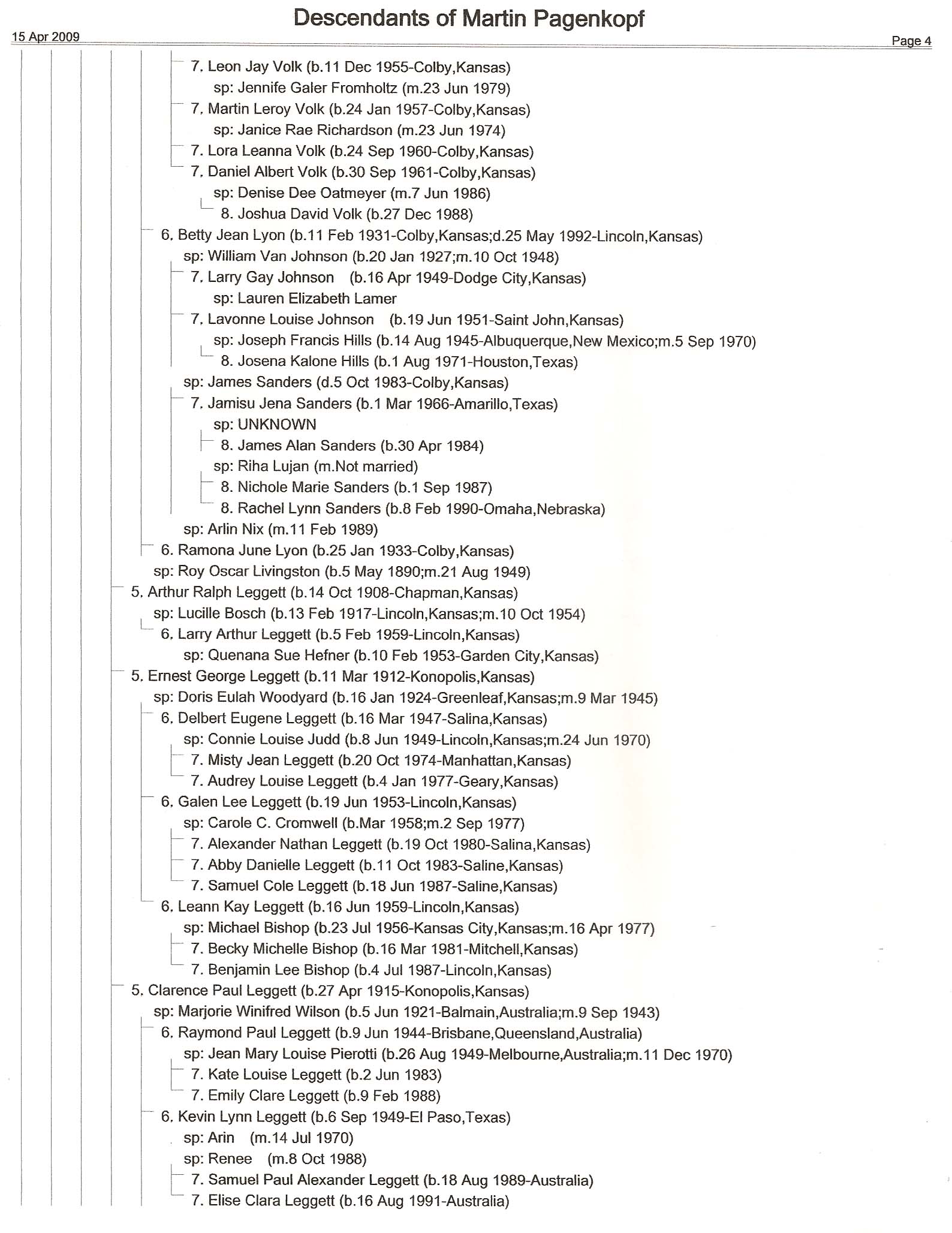 5 Surnames on Page 5: Susan Leggett, Pauld Nield, Merrill Burke, Carol Waschak, Norma Shup, Jasmine Dick, Deborah Organ, Shirley Baird, Jane Griffin, Robert Miller, Carl Joseph Godhelf Deves, Lelia Robinson, Robert AmosLois Deves, Lucille Deves, forrest Edgell, Carol Hewitt, Mary Alice Carlson, Sharon Walschek, Robert Edward Cochran, Carol Joan Deves, Sharon Deves, Louis Christian Deves, Lillian Batliner.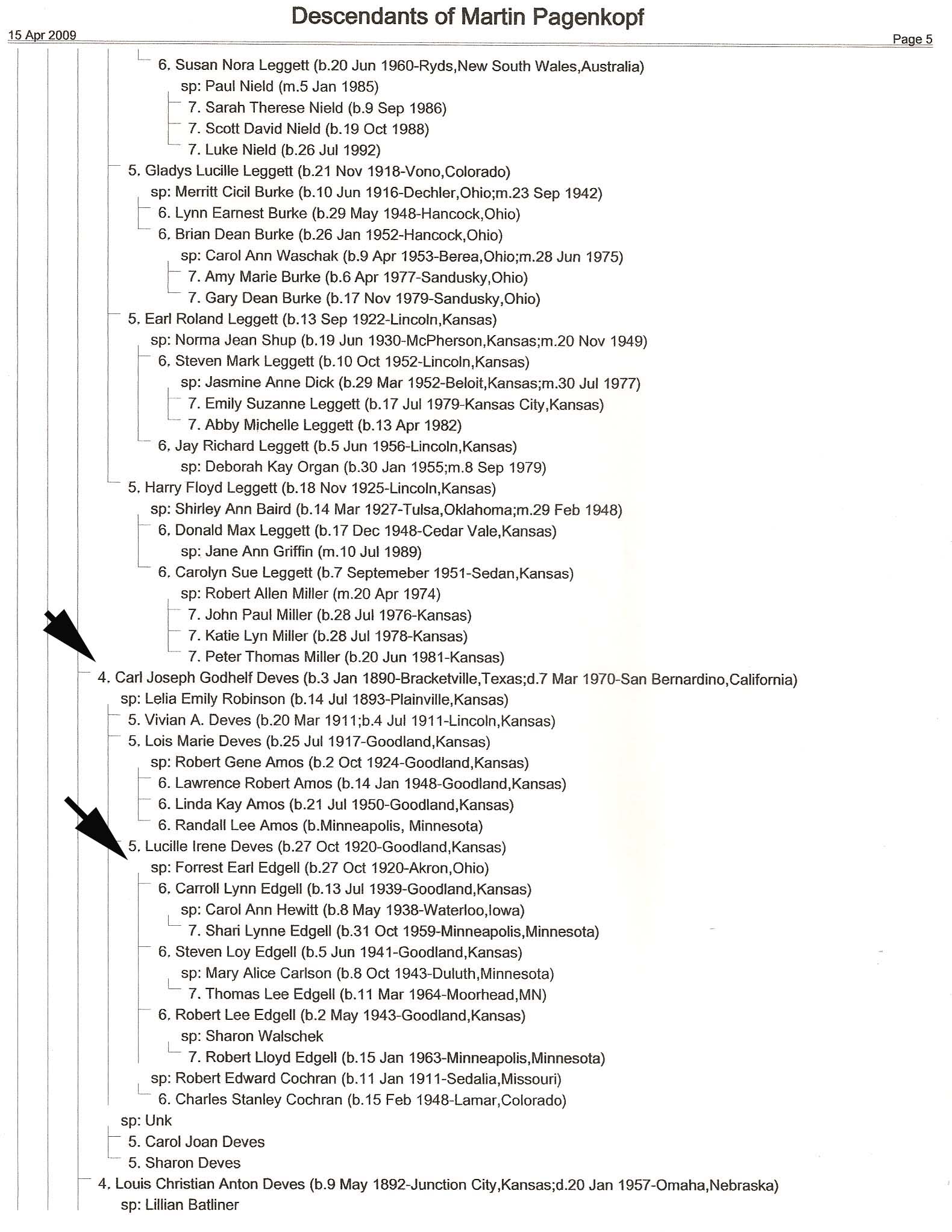 Surnames on Page 6: Louis Deves, Homer Taylor, William Dicks, Emilie Schmidt, Maria Kleinschmidt, Harold Ollholf, Richard Holliday, Lillian Albrecht, Edward Jones, Jerome Dieker, David Burch, Fani Kazar, Lauren Rundle, Louis Weber, Forest Riggs, Jess Medina, Diana Coulson, Christopher Medina, Frank Omelas,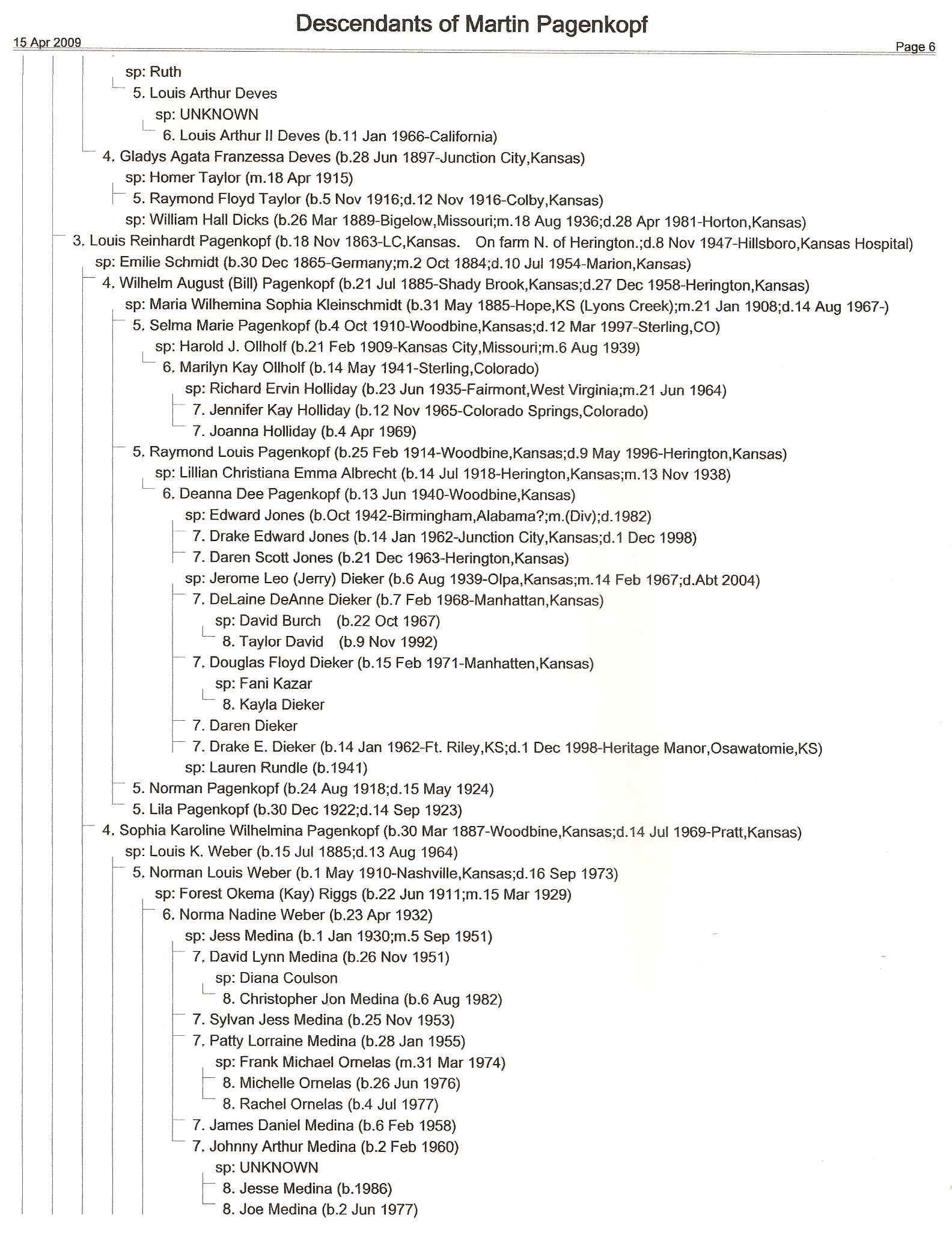 Surnames on Page 7: Marvin Louis Weber, Helen Yager, Kurt Carter, Don Wilson, William Klinkeman, Elwood Lawrence, Christopher Anderson, Debra Lawrence, Doug Hullman, Lisa Lawrence, John Keesee, Lawanna Klinkerman, Max Martin, Keith Clarke Keith Coss, Otto Mauch, Rick Carlisle, Terry Mauch, Rickey McKennon, Jerry King.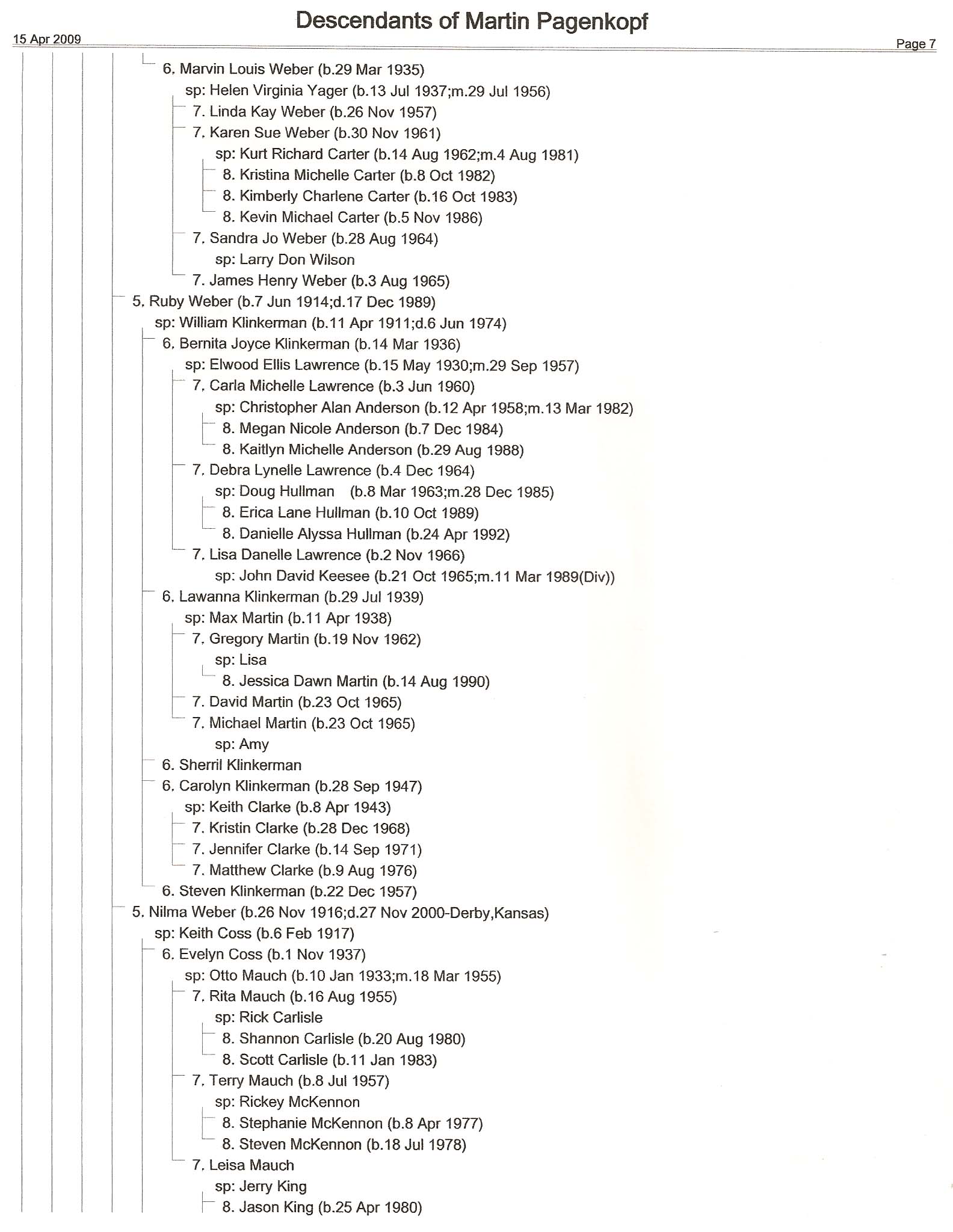 Surnames on Page 8: Jeremy King, Johniie Coss, Leah Chance, Connie Coss, Curtis Watts, Cody Stoner, Lisa Renee, Margaret Hitchcock, Don Weber, Caroline Lincoln, Anna Kuehn, Frederick Pagenkopf, James Hart, Frederic Coleman, Becky Shon, Todd Larson, Nathan Coleman, Emily Hemberger, Jill Jones, Linda Voth, Don Gilley.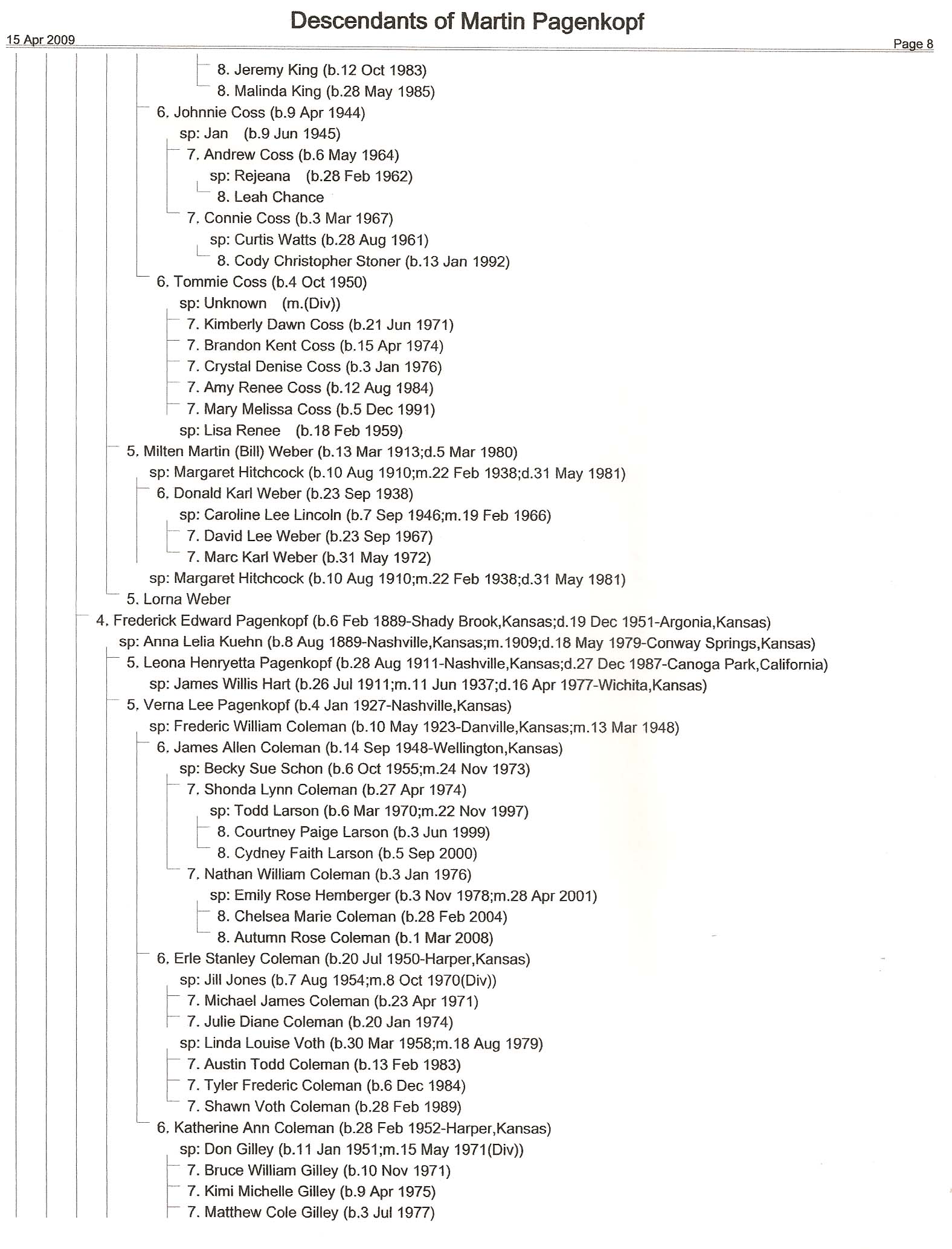 Surnames on Page 9: Ron Blanchat, Benjamin Louis Pagenkopf, Evalyn Joy Nelson, Vanessa Fuller, Julie Beran, Mia Im, Stacia Palahnuk, Jones Willem, Clara Weber, Albert Levy, Beth McRae, William Falen, Greg Heinreichs, John Schmersey, Jim Gilchrist, Kaye Sondergard, Amy Smith, Marsha Ann Wonser, Holly Ann Wonser, Donna Jo Ann Kelsey, Rebecca Smith.
Surnames on Page 10: Eric Hatch, Steve Wood, Leslie Christensen, Julie Ann Gaviola, Martha Borgstede, Marietta Nan George, Judith Faulks, Gary Ostrom, Stuart Jones, Lois Temple, Bryan Ballard, Eunice Morrise, Teresa Steizer, Johathan Novotny, Cory Riedl, Clayton Bradley, Emma Harris, Deborah Mehl, Ross Foley, Kenneth Killion.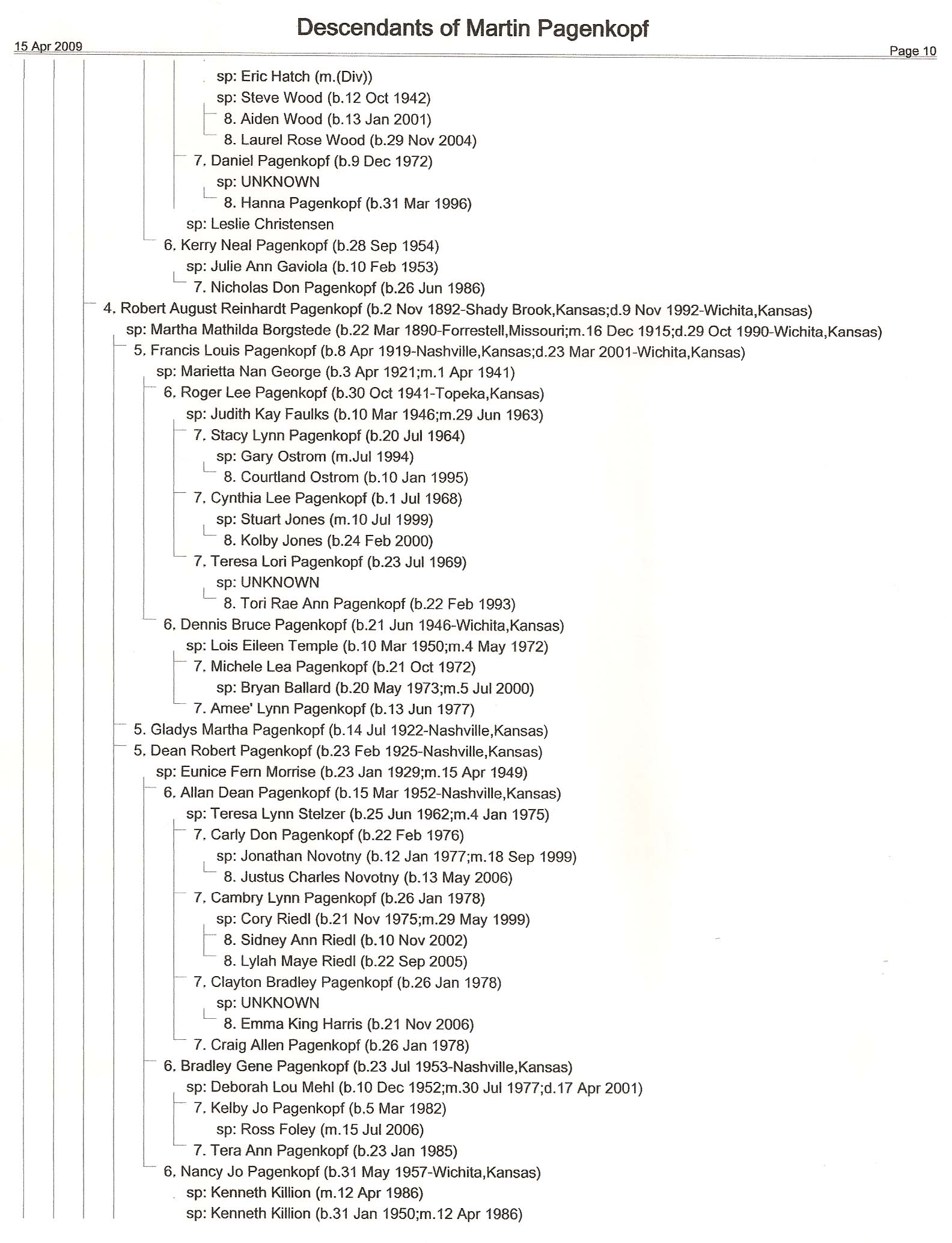 Surnames on Page 11: Alice Mae Pagenkopf, Edward Tiemeier, Albert Lavering, Michael O'Brien, Craig Channer, Betty Tiemeier, Robert Coughlin, Jerry Tuell, Robert Norman Olson, James Tuell, Tamara Raedeke, Arthur Harike, Francis Darl, Cladine Richmond, Thomas Schlesener, Eber Horst, John Horst, Kenneth Anderson, Gary Horst, Susan Hawkinson, Tamara Barrah, Wilhemine Pagenkopf, Frederike Pagenkopf, Johann Kieckhefen.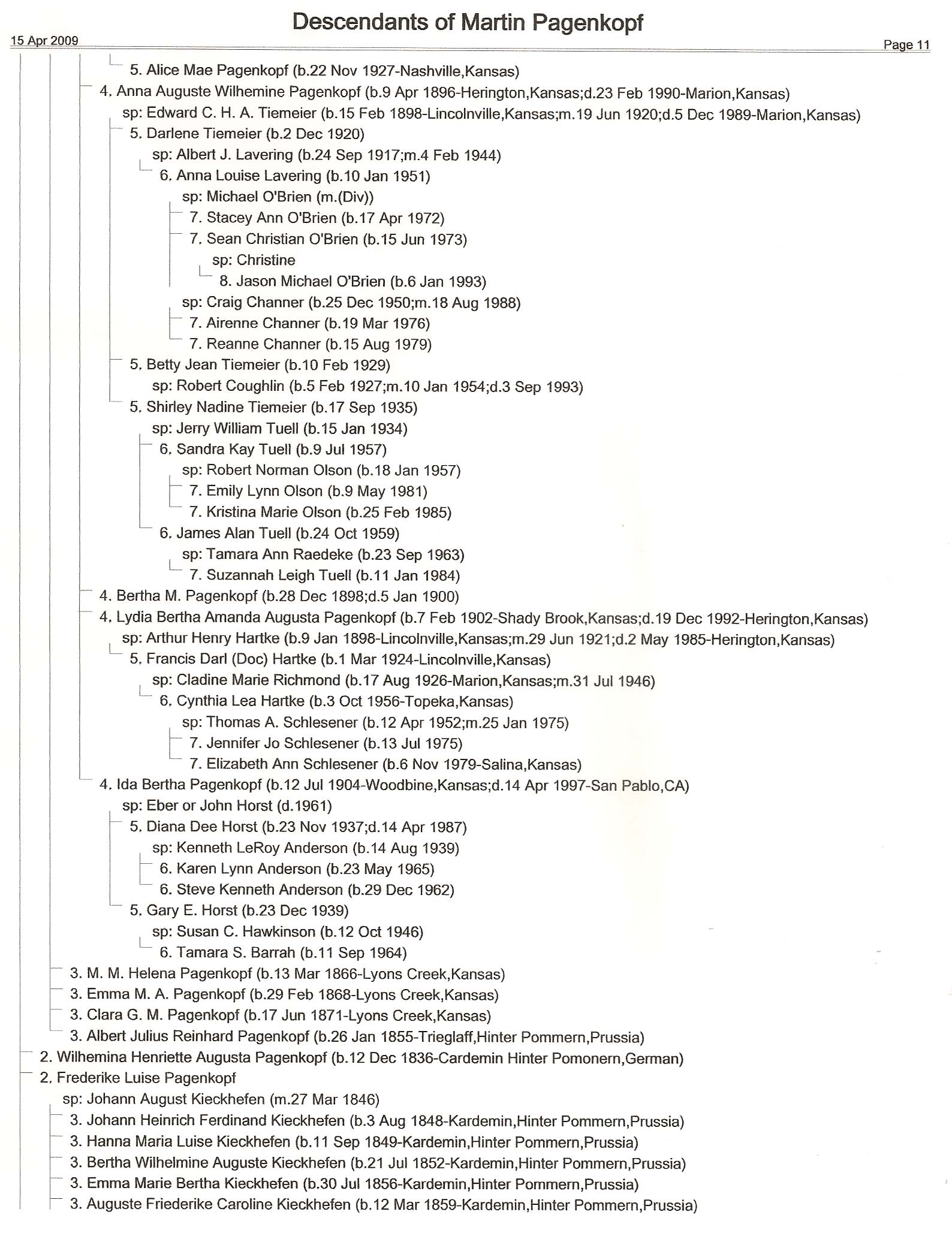 ************************