Life Story and Photo Albums of Lucille Irene (Deves – Edgell) Cochran
Table of Contents
(Hyperlinked =  Left Mouse click)
My Life……..by Lucille Irene Deves (Edgell-Cochran) 6
Genealogy of the Robinson Family. 14
As I Remember Her….my mother Lelia (Robinson, Deves) Baldwin.. 21
William and Cora's 50th Wedding Anniversary. 74
Genealogy: Pagenkopf to Amos-Edgell-King-Beeson.. 75
Carl Joseph Gotthilf Deves: 75
Descendants of the Pagenkopf Line. 81
Edgell Historic Record from West Virginia. 93
Cyrus Edgell photo taken in 1908. 95
Cyrus Yale and Sylvia Jane (South) Edgell 96
Forest and his brother Beryl in football uniforms. 98
Forest Edgell, older and wiser. 99
Lucille and Tex update:  July 2013. 102
Memories of Tex and Lucille. 106
The Outhouse and Spacecraft 106
Photo Album of Lucille Irene Deves (Edgell-Cochran) 112
Vic and Phyllis Edgell family. 120
Bob Bower and other friends. 122
Robinson Family: Lucille's aunts and uncles. 124
Aunt Vadna, Duane Fowler and Youngblood.. 126
Aunt Vadna update:  July 2013. 129
Francis Robinson / Frank Fowler / Darryl 135
Robinsons at Gary's Home – Group Photo.. 136
Lois and Lucille as very young girls. 137
Lelia Baldwin with Amos family / Aunt Vadna. 138
Carl Joseph Gotthilf Deves. 139
Half Sister //  Group // Lelia 1971. 140
Lelia, Vadna, Lucille and Lois. 141
Bob and Lois Amos wedding picture. 146
Lois Amos (Deves) as a young girl 148
Amos home at Christmas, circa 1959. 148
Yale and Sylvia Edgell // Sylvia and friends. 158
Brown House/Goodland – Lou as young girl 159
Lucille Deves as a young woman and mother. 162
Halloween, 1950 in Goodland.. 166
Charles Stanley Cochran – Lou's fourth son.. 178
Jim/Margaret Mead – Lucille's best friends. 182
Father Johnson – Episcopal Preacher in Goodland.. 185
Judy Tourville and other friends. 188
Bob and Andrea Sullivan - 1973. 190
Steve Edgell's Friends: Grimmel, Riordan, Beth.. 192
Lucille and 'The Tub' -  Laundry on U of M Campus. 192
Charlotte Sims – Miss Minnesota. 198
Lou's friends in Minnesota. 198
Lou's Second Photo Album... 202
Robert Lloyd Edgell Phyle  (Bob's son) 206
Tommy Lee Edgell (Steve's son) 211
Lynn and Ginger Edgell's Children.. 216
Charles Stanley Cochran (Lou's fourth son) 222
Chuck Cochran's Children.. 226
Lynn Edgell in Blair, Nebraska. 232
Steve/Shari McCorkle and Lynn's house in Blair. 233
Lynn and Ginger's son, Scott Edgell 233
Lynn and Ginger and Children.. 234
Riordan Family: Mame, Gert, Eileen, Pat, Rochelle. 238
Sue Riordan's home in Scottsdale. 239
Bob and Sue's wedding dinner. 240
Lucille living in Phoenix. 242
Pets in Phoenix:  Kitty and Mike. 246
AZ Kickers – Indoor Soccer Team... 247
Vic Edgell visits Lou in Phoenix. 250
Shawn Riordan/Soccer Trophies. 251
Robby (Bob's son) visits Phoenix. 252
Wendy Walsh/Marie Goosens and an unknown.. 254
Thanksgiving 1984 at Jim Walsh's house. 255
Amos Family visits Phoenix. 257
Easter 1985 at the Musil home. 258
Lucille I. Deves diagnosed with stage 4 cancer. 259
Rob and Gwen visit Phoenix, 1985. 259
Chuck visits Phoenix, 1985. 260
Lynn and Ginger visit Phoenix, 1985. 261
Steve and Shari McCorkle and girls. 263
Lucille passed away May 24, 1986. 264
Lucille's Death Certificate. 265
Gathering and Burial in Goodland.. 266
Album #3:  Very old, likely belonging to Lelia Baldwin.. 273
Graves and Beckman family. 276
Barger, Graves and Baldwin.. 277
Edgell Boys - - circa 1951. 279
Lynn and Steve Edgell as toddlers. 280
Lucille and Lois Deves as young girls. 282
Old Photos – Mixed in with Graves and Baldwins. 283
Four Generations / Lynn and Lockard.. 284
Unknowns plus Roger Baldwin.. 285
Duane Fowler/Chutes and some unknowns. 288
Robert and Francis (Robinson) Chute. 289
Olde Baldwin and Lelia (Robinson) Deve's Wedding.. 289
Lucille holding Chuck//Lonnie Baldwin.. 290
William & Cora Robinson's 50 Anniversary. 291
William H. Robinson's Obituary. 293
Steve Edgell's Photos not in Lucille's Album... 295
Bob Edgell's Photos not in Lucille's Album... 303
"Beryl, A Soldier's Story". 315
"Pagenkopf," The Royal Connection.. 316
Lucille's Audio Tape Collection (letters) 360
Edgell Chronicles included on the CD.. 366
     This is a compilation of family information and genealogy that has been handed down from Lucille I. Deves and her mother Lelia (Robinson-Deves) Baldwin.  It consists of the Robinson family line, the life story of Lucille Deves, her two husbands (Forest and Tex) her two photo albums and her mother, Lelia's photo album.  The document is filled with information regarding her past while living in Goodland, Kansas with her mother and her sister, Lois Marie (Deves) Amos.  The photo albums bring a rich history of her life and the lives of her mother, sister, grandparents and friends.
     Lucille collected a lot of memories: memories of her aunts, uncles, children, sister, nieces and nephews (Larry, Randy and Linda Amos) and the small town of Goodland, Kansas.  At the age of 36 (1956), she divorced her second husband, Robert Cochran, and took her three boys to Minneapolis, Minnesota.  There her life continues until she moves to Phoenix, Arizona in 1973 at the age of 53.
     She died in Phoenix, Arizona on May 24, 1986 at the age of 66.
LEGEND:
Lucille Deves and Lois Deves' father, Carl Joseph Gotthilf Deves descend from Deves in Germany and the Pagenkopf family in Pomerania (Prussia).
Lucille and Lois' mother, Lelia Emily (Robinson) Deves (later remarried to Olda Baldwin) descend from the Robinson family that dates back to the 17th Century.
Lucille's offspring include:  Carroll Lynn Edgell (b. 1939), Steven Loy Edgell (b. 1941) and Robert Lee Edgell (b. 1943).  Lucille divorced Forest Earl Edgell and married Robert Cochran and they had one son, Charles Stanley Cochran (b. 1947).
The albums include many photographs of the children of Lynn, Steve and Bob.
Lynn Edgell first married Carol Linder and they had a daughter, Shari Lynn Edgell.   Lynn's second wife is Ginger Doose and they have a daughter, Suzie and a son, Scott.
Steve Edgell married Mary Carlson and they had a son, Thomas Lee Edgell.  Steve never remarried. .
Bob Edgell married Sharon Worschek and they had one son, Robert Lloyd Edgell.  Bob's second wife is Susan M. (Walsh – Riordan) and she has one son, Shawn Daniel Riordan, by her first husband, Patrick Riordan.
The albums contain many photographs of the offspring as well as photographs of Lois Amos' children.
Lucille had many friends she kept in touch with over the years.  In Phoenix she had a best friend, Eileen Riordan, who was Sue Edgell's first mother-in-law.  Lucille was also very close to Carol Walsh, Francis Clarkson, Richard and Kay Musil (high school friends of Bob and Steve Edgell) and Pat and Rochelle Riordan.
Robinson Family
(Sitting)  William Robinson,  Lelia (Mother to Lucille) and Cora:
(Standing back row)  Darrell R. and Vadna R.
(Middle child)  Gary R.
<![if !vml]>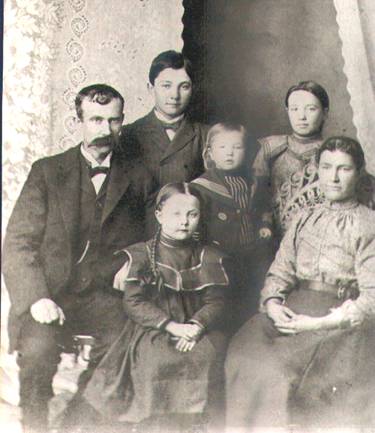 <![endif]>
<![if !vml]>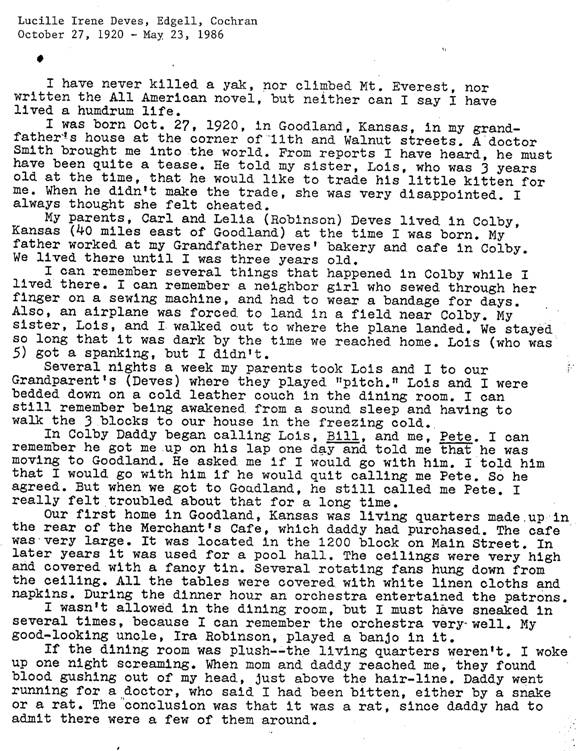 <![endif]>
<![if !vml]>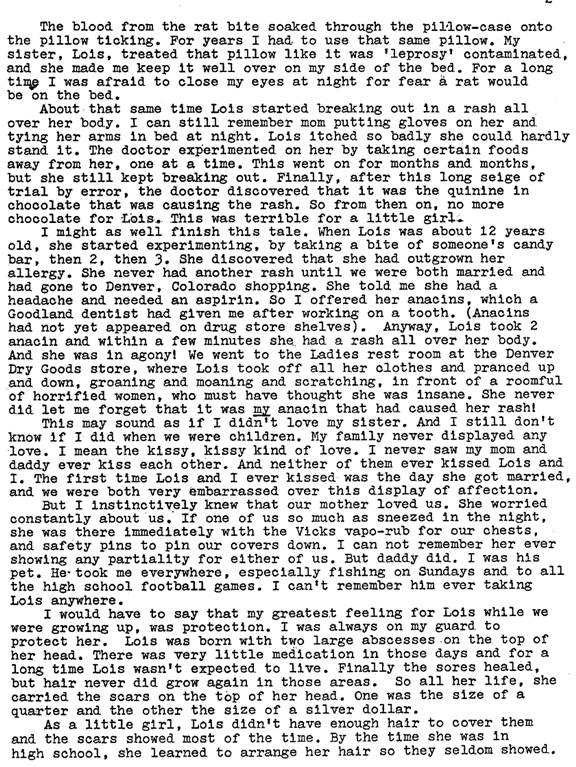 <![endif]>
<![if !vml]>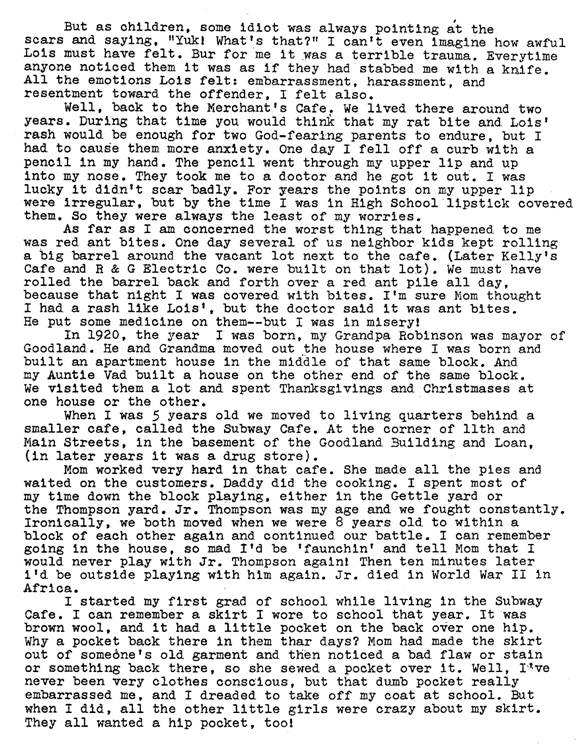 <![endif]>
<![if !vml]>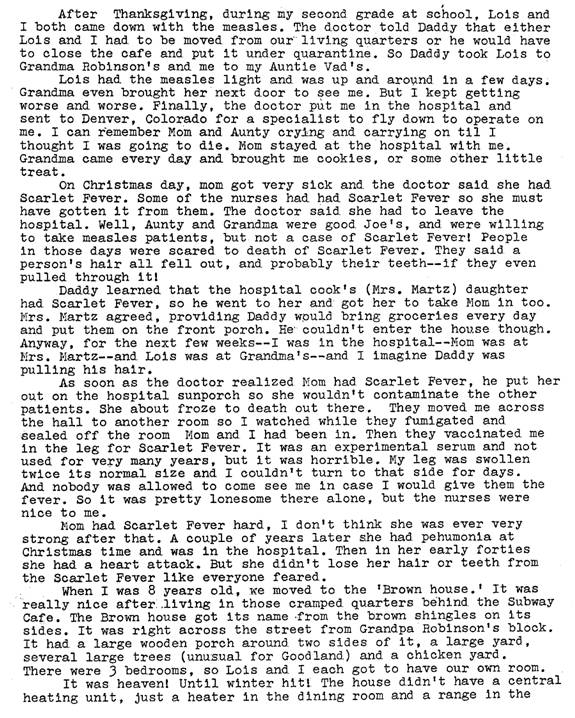 <![endif]>
<![if !vml]>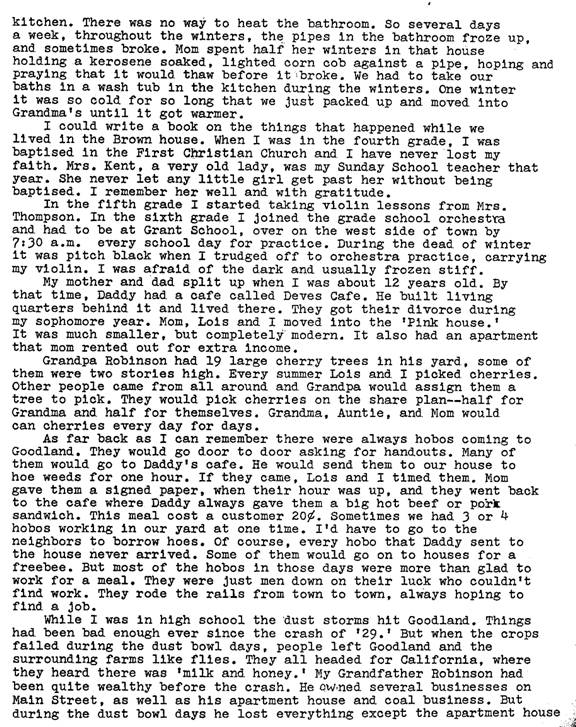 <![endif]>
<![if !vml]>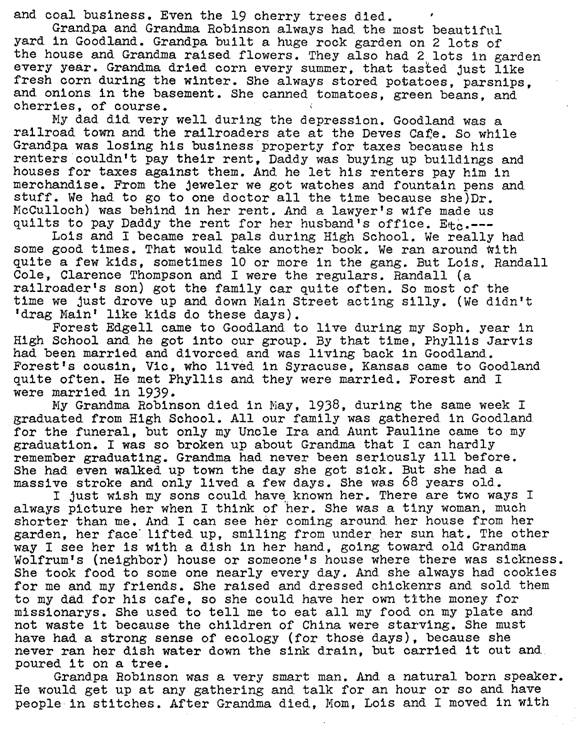 <![endif]>
<![if !vml]>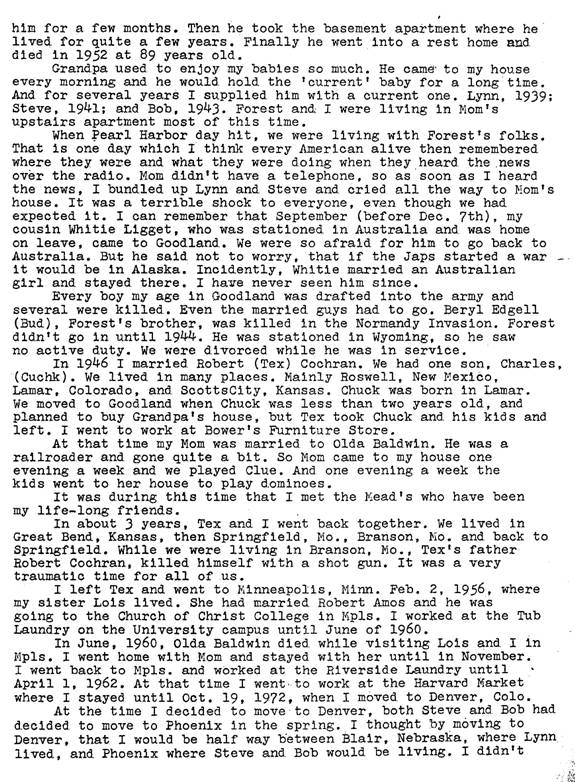 <![endif]>
<![if !vml]>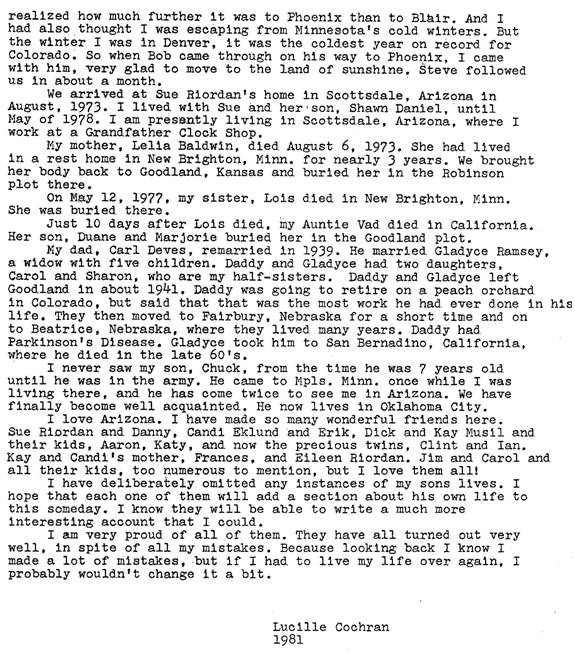 <![endif]>
by Lucille I. Deves
<![if !vml]>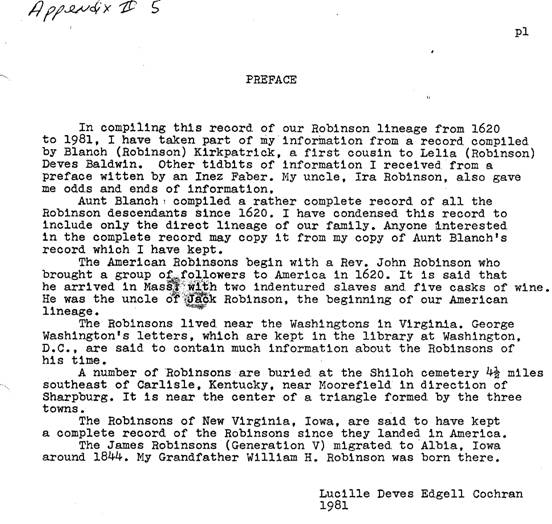 <![endif]>
<![if !vml]>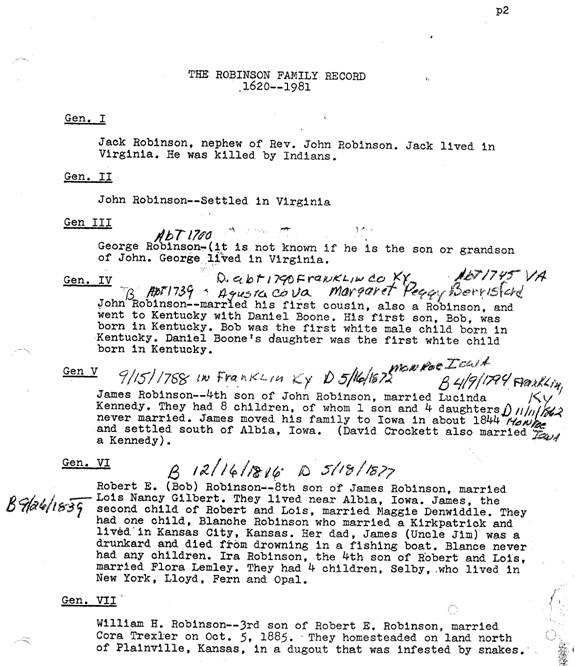 <![endif]>
<![if !vml]>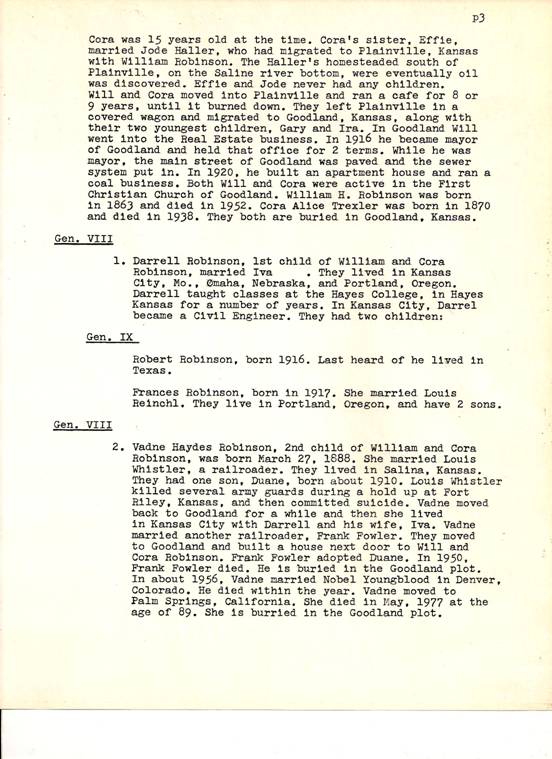 <![endif]>
<![if !vml]>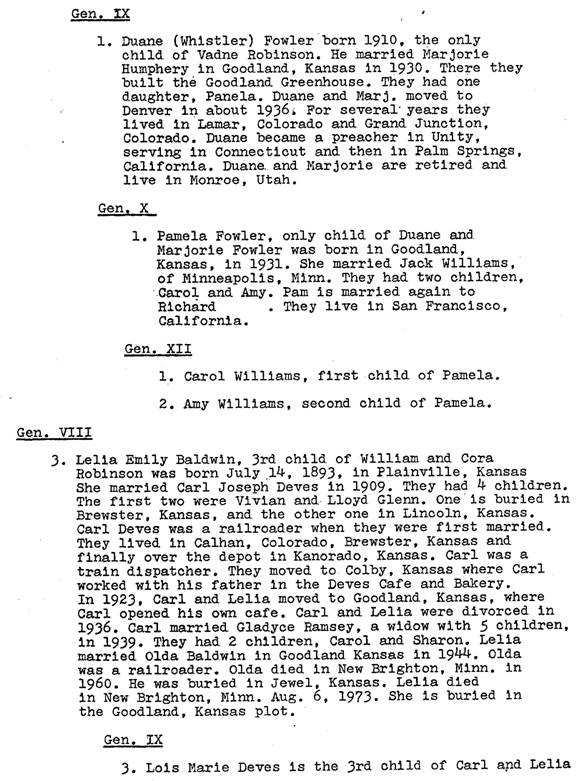 <![endif]>
<![if !vml]>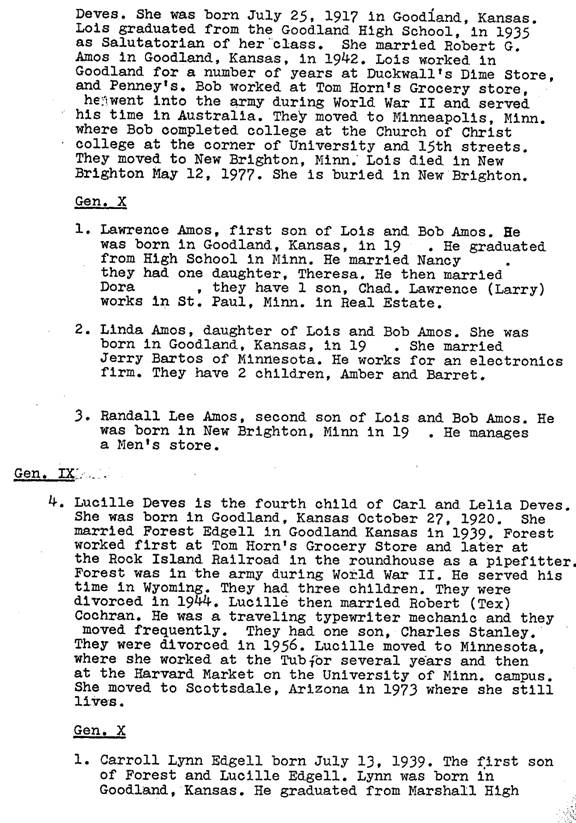 <![endif]>
<![if !vml]>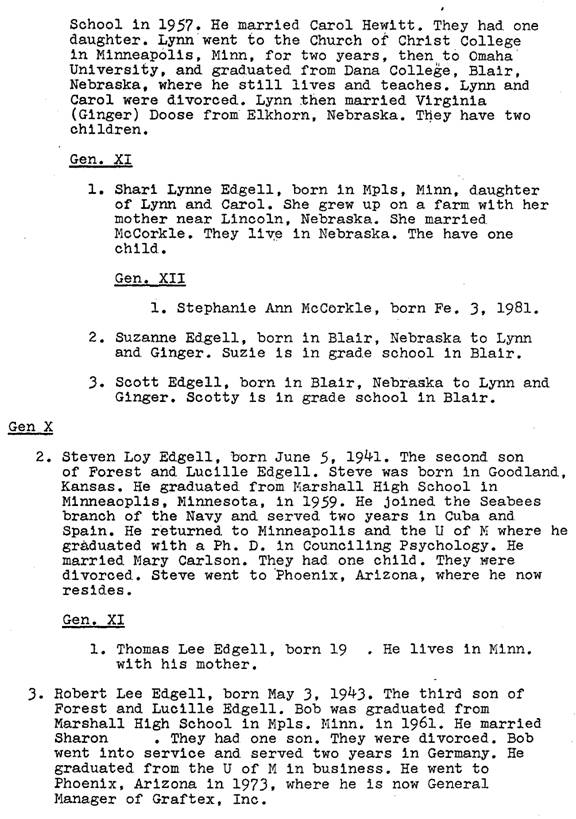 <![endif]>
<![if !vml]>
<![endif]>
<![if !vml]>
<![endif]>
<![if !vml]>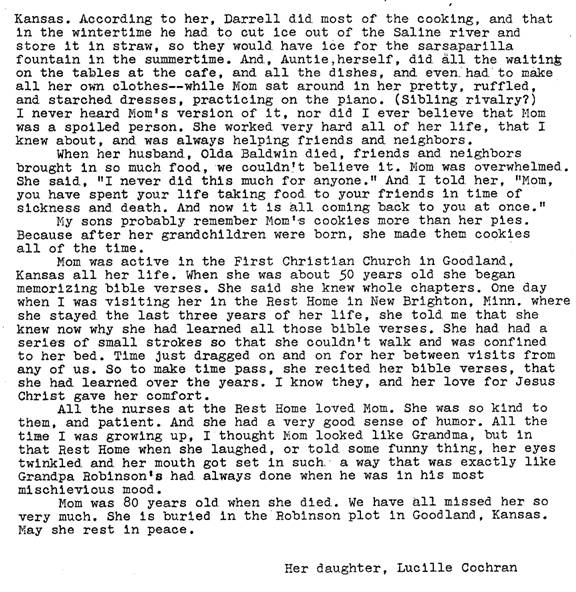 <![endif]>
Lucille was always writing.  When she had her letters written, stamped and mailed, she wrote.
Lucille wrote a historical novel named 'Saul'.  She was a student of the Bible and loved to discuss religion.  Saul is a 500 page novel about Saul of Tarsus whose life was consumed with persecuting Christians. Through a miracle, he converts and becomes Paul the disciple.  Lucille put descriptions and dialogue to the story of Saul's conversion and wrote a beautiful story.  Unfortunately, in one of her moves, the manuscript was lost.
Armen is the story of two lovers, one black and one white and the turmoil's of their courtship and the parental strife of the union.  She wrote this in 1963 when the civil rights issues were again surfacing and coming to the attention of the public through the proliferation of television. She was working at the Harvard Market on the University of Minnesota campus and was generous to all her customers and students: black or white.
1960:  Sit-ins began in North Carolina in segregated restaurants: the famous Woolworth lunch counter.  This event triggered many similar incidents of civil rights protest.  All through the south, students began demonstrating.
1961:  Both black and white youths descended on the southern states, testing the segregation laws.  The violence began to escalate was shown to the public on the national news.
1962:  The violence increased when James Meredith, along with 5,000 federal troops, descended on the University of Mississippi so that Meredith could enroll in the university.  The violence against the blacks and the demonstrators escalated.
1963:  The battle becomes very heated.  Martin Luther King is arrested and jailed for no cause other than speaking his mind.   In Birmingham, Alabama, fire hoses are used on peaceful demonstrators and it was televised to the nation.  Medgar Evans, a NAACP spokesman and popular figure is murdered.  A national demonstration was held in Washington, D.C. and 200,000 black and white attended.  A Baptist church is bombed in Birmingham, Alabama  and four young girls are killed.
This is the time and atmosphere that Lucille lived and she decided to vent her feelings with a fictional story. 
Her story Armen, a tragedy in black, white and grey, is her attempt (I believe) to express herself during this period in American history.  The story takes place four years after the end of the American Civil War and illustrates the frustrations of the freed slaves.  Ninety-nine years later the black population still endured the discrimination and lack of mobility afforded to white Americans and Lucille's story poignantly illustrates the lack of progress when compared to 1963 America.
When you read this, please keep in mind that it was written on a non-electric typewriter and Lucille did her best to use the appropriate words for the sentences.
<![if !vml]>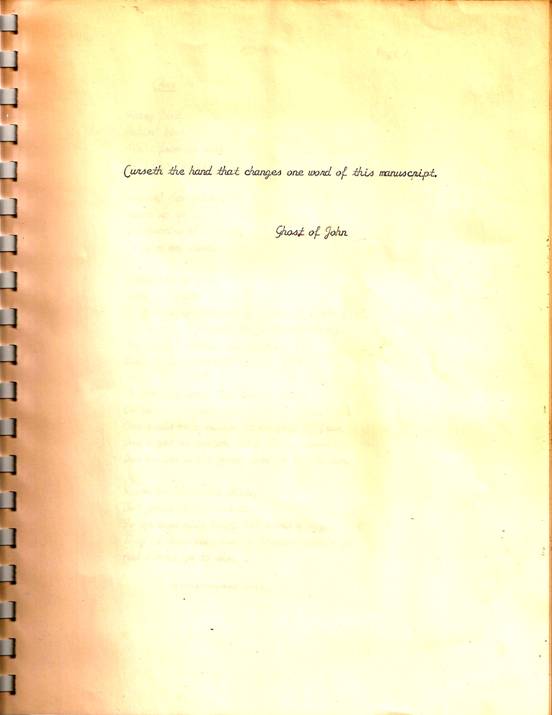 <![endif]><![if !vml]>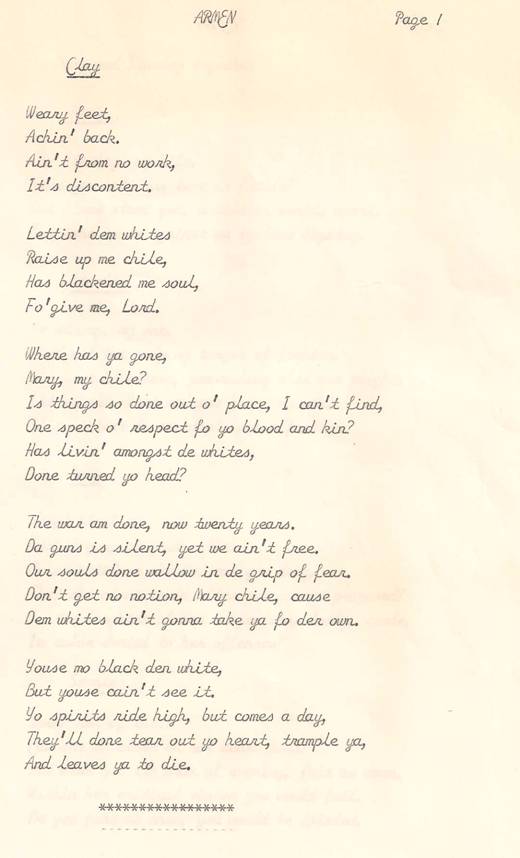 <![endif]><![if !vml]>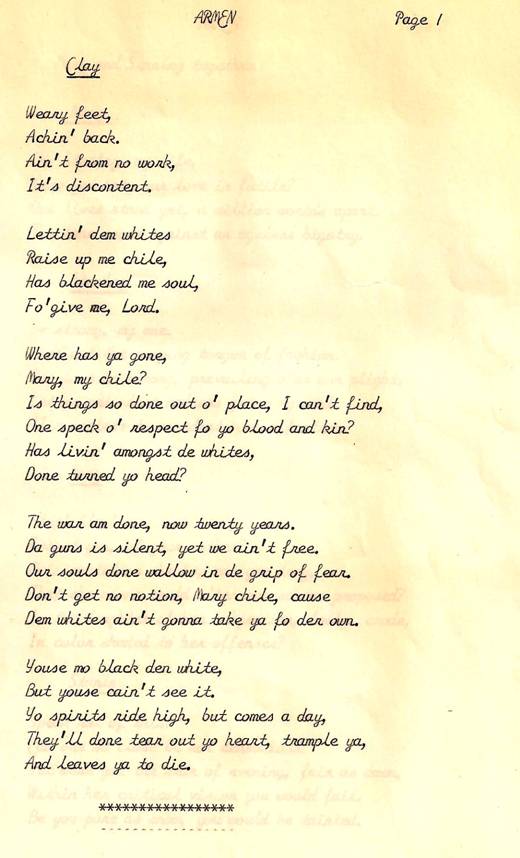 <![endif]><![if !vml]>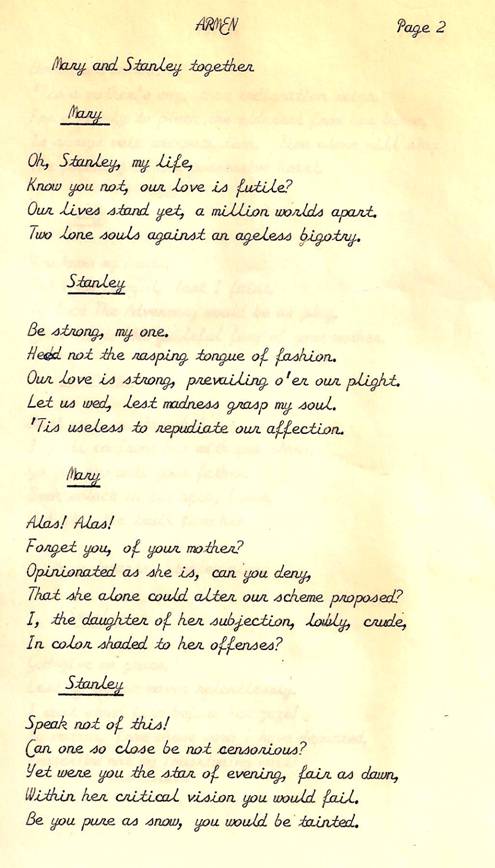 <![endif]><![if !vml]>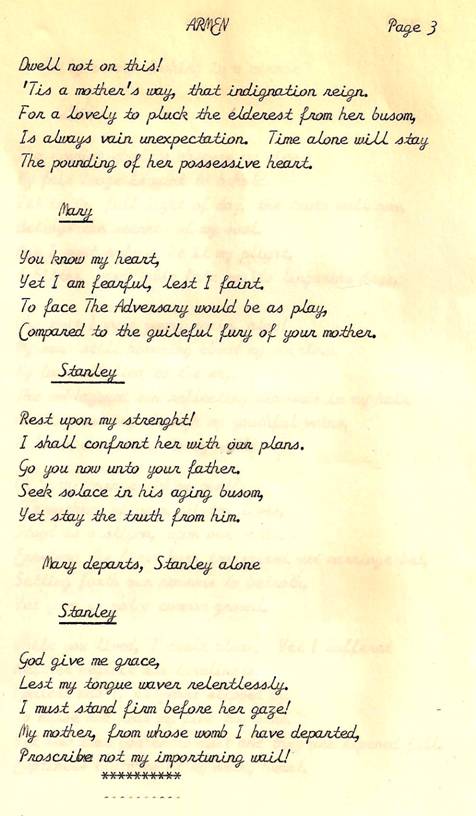 <![endif]><![if !vml]>
<![endif]><![if !vml]>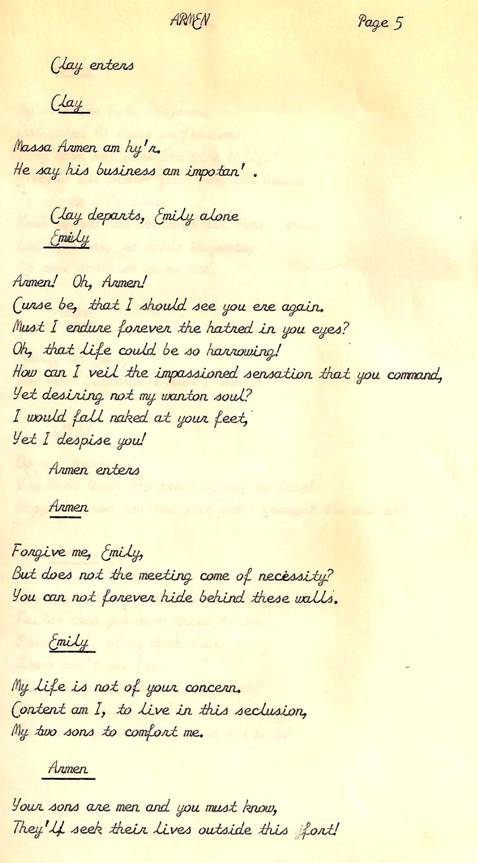 <![endif]><![if !vml]>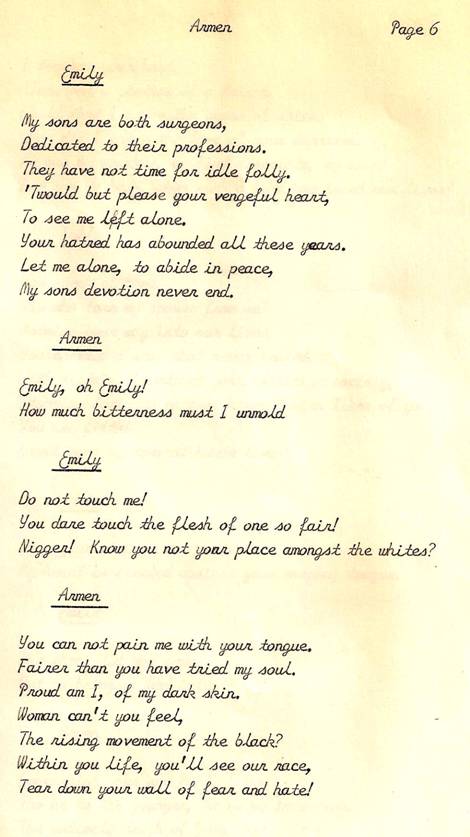 <![endif]><![if !vml]>
<![endif]><![if !vml]>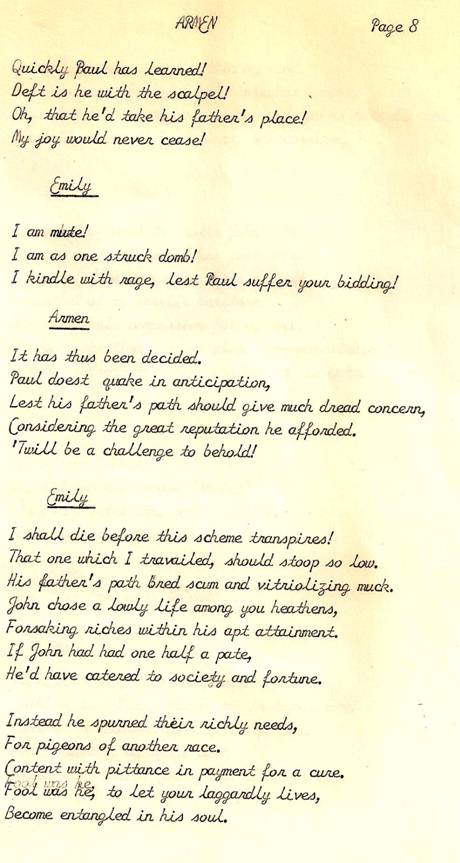 <![endif]><![if !vml]>
<![endif]><![if !vml]>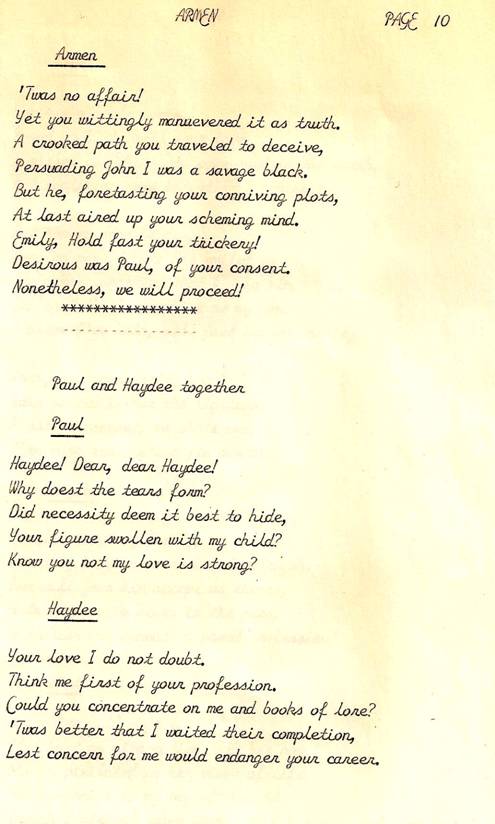 <![endif]><![if !vml]>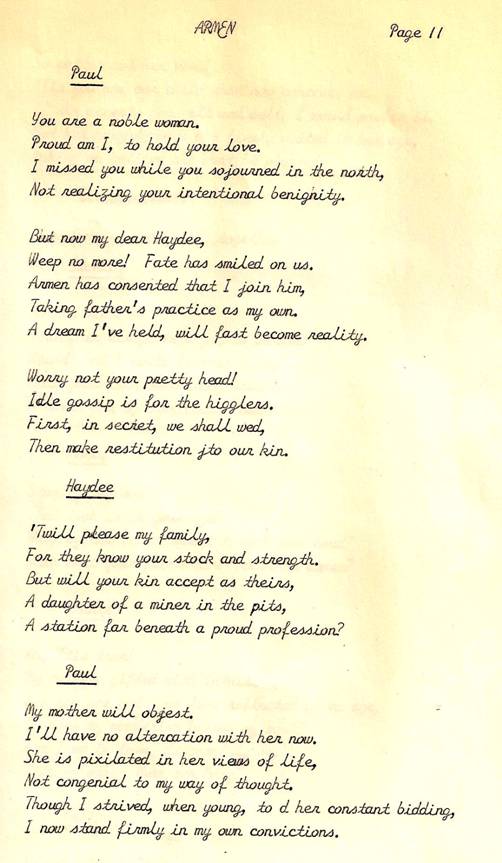 <![endif]><![if !vml]>
<![endif]><![if !vml]>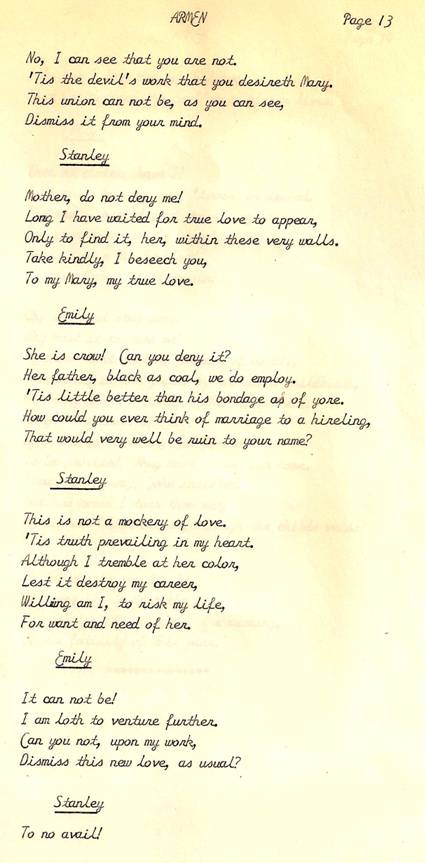 <![endif]><![if !vml]>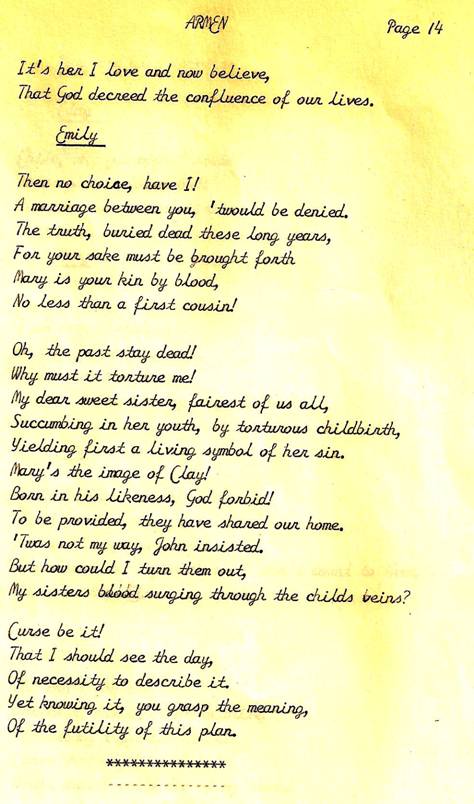 <![endif]><![if !vml]>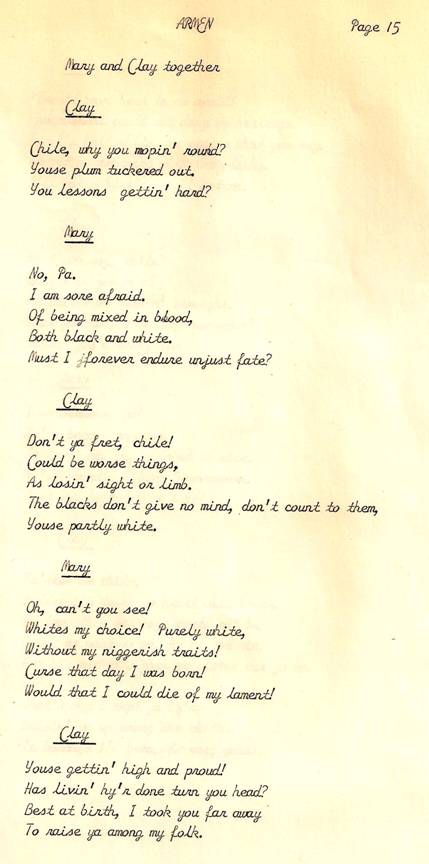 <![endif]><![if !vml]>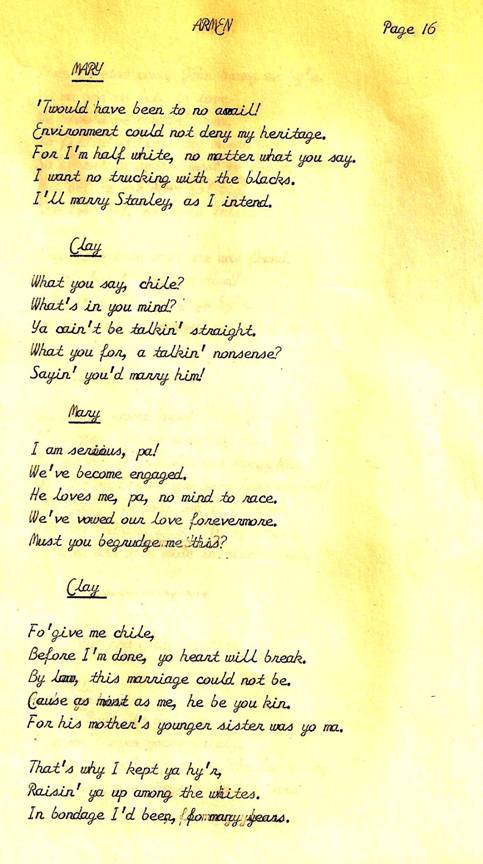 <![endif]><![if !vml]>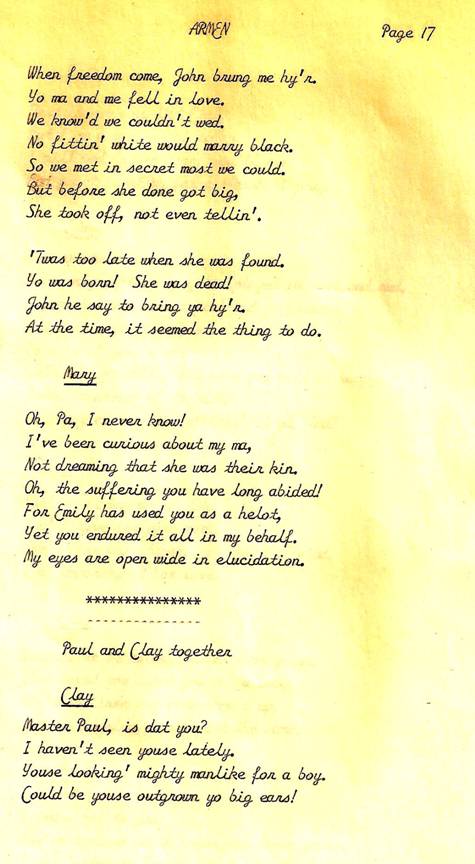 <![endif]><![if !vml]>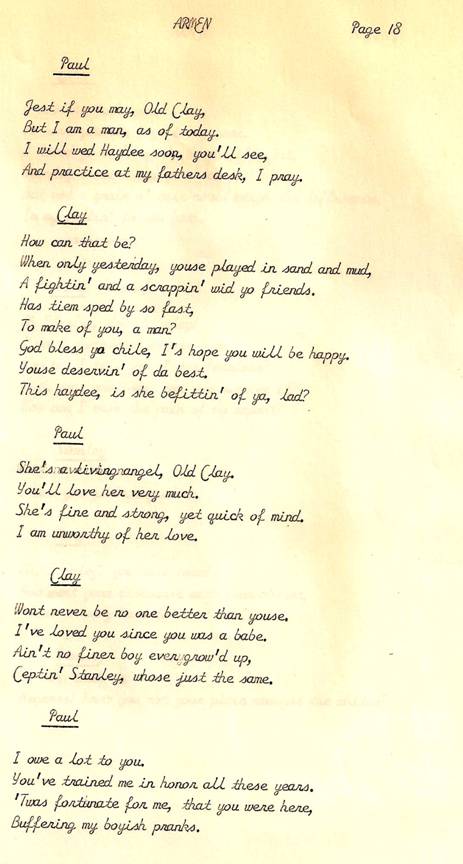 <![endif]><![if !vml]>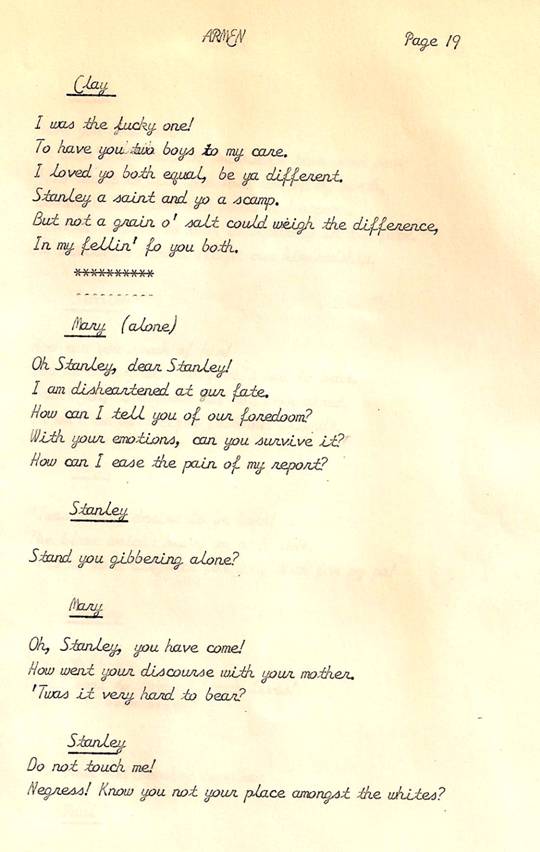 <![endif]><![if !vml]>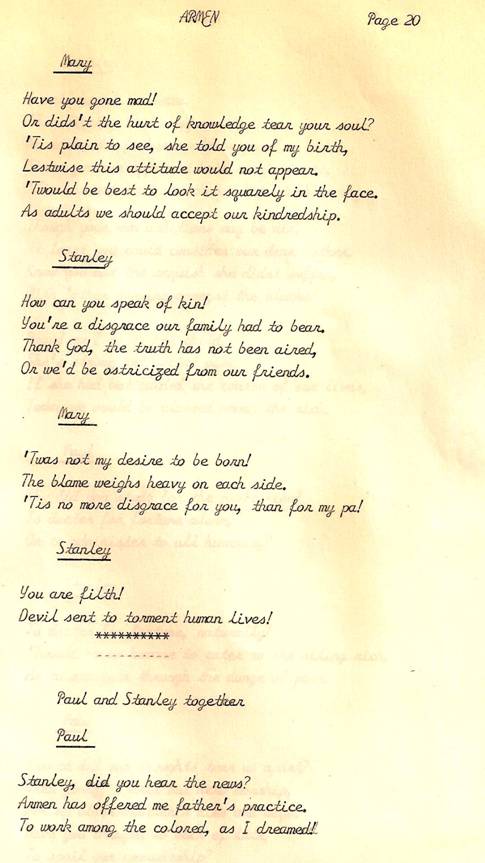 <![endif]><![if !vml]>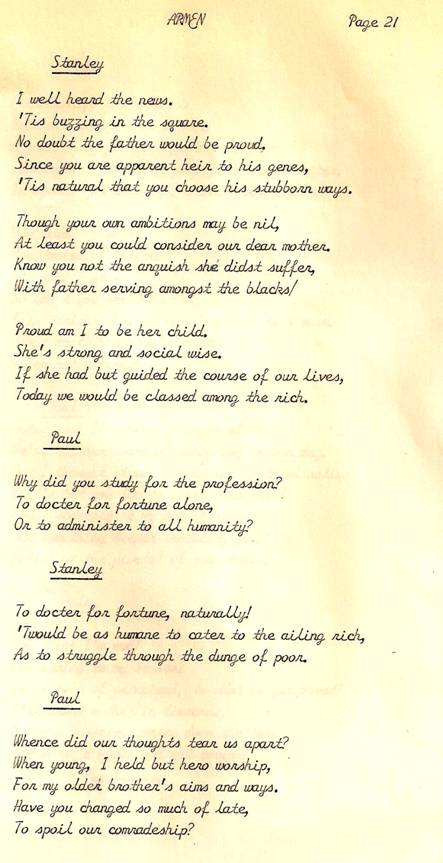 <![endif]><![if !vml]>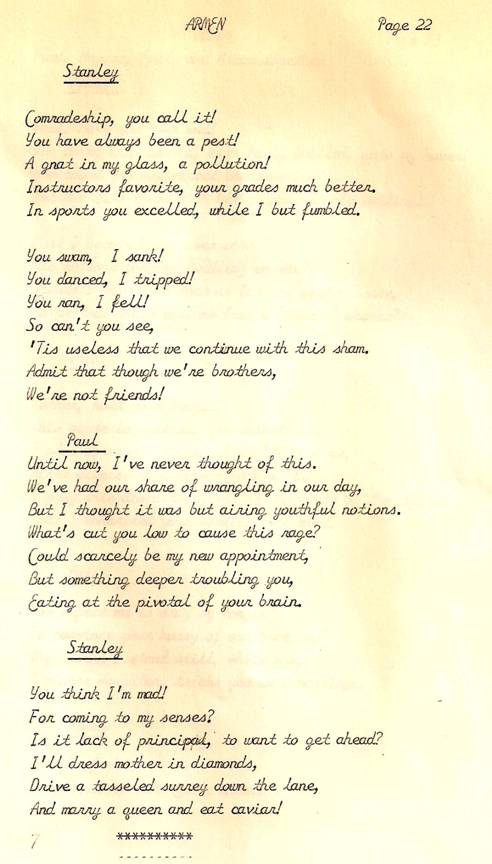 <![endif]><![if !vml]>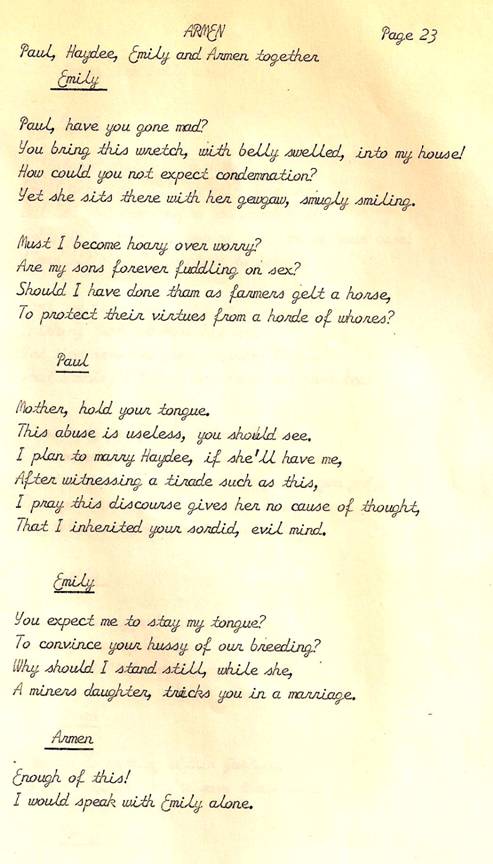 <![endif]><![if !vml]>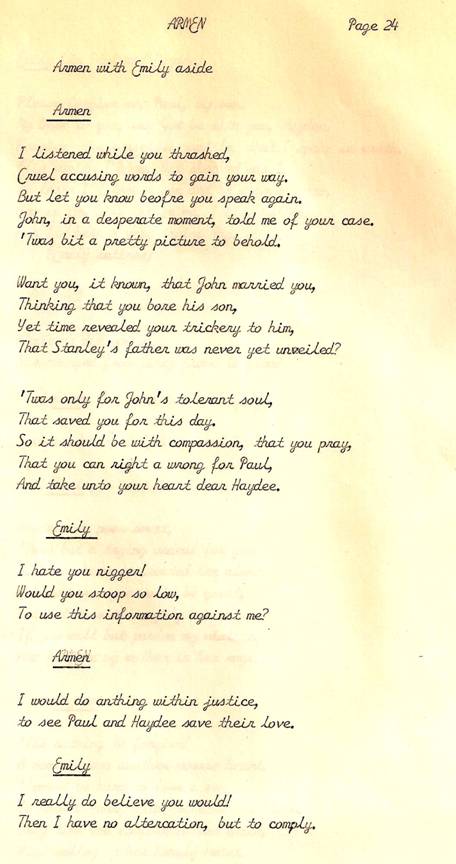 <![endif]><![if !vml]>
<![endif]><![if !vml]>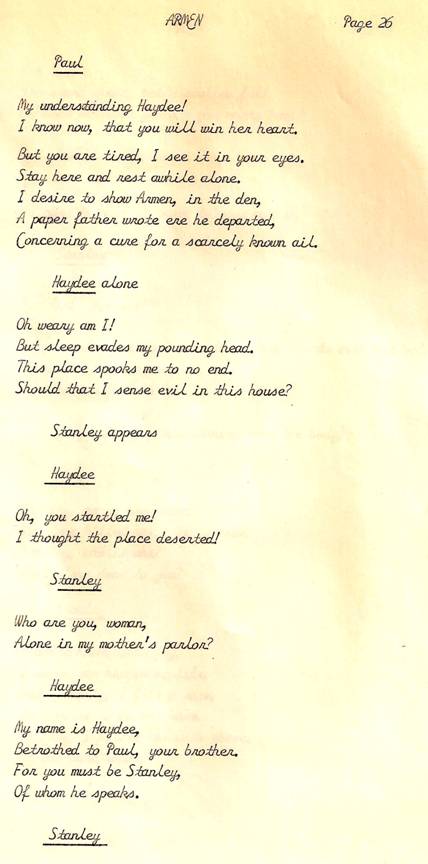 <![endif]><![if !vml]>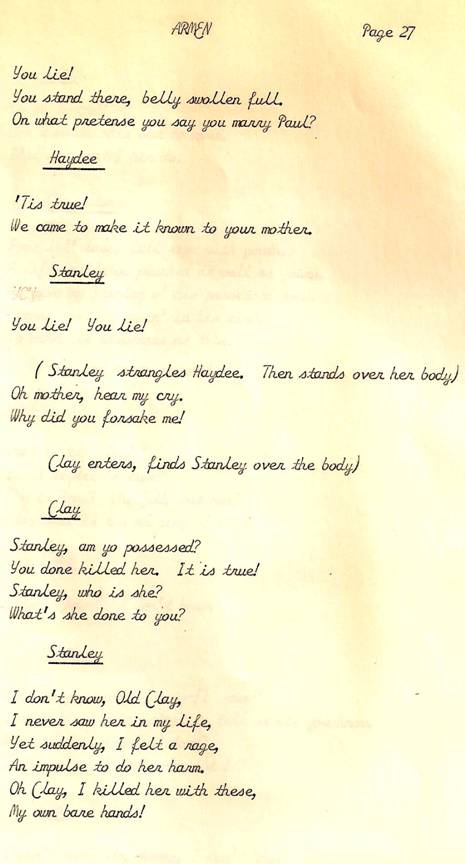 <![endif]><![if !vml]>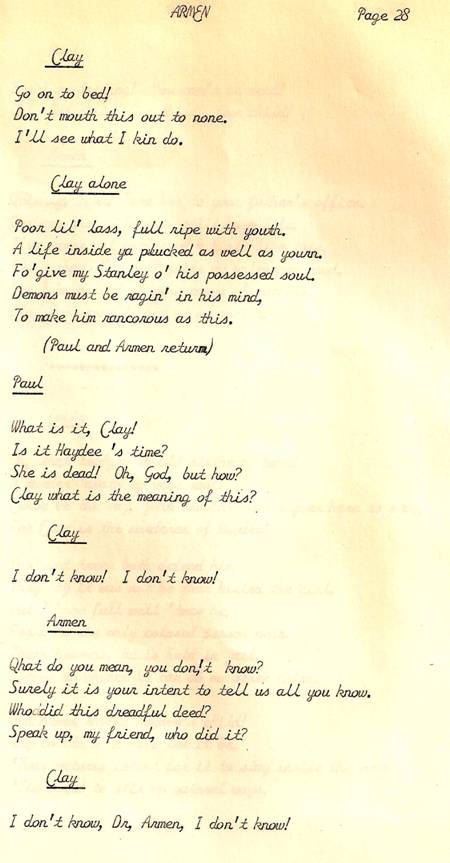 <![endif]><![if !vml]>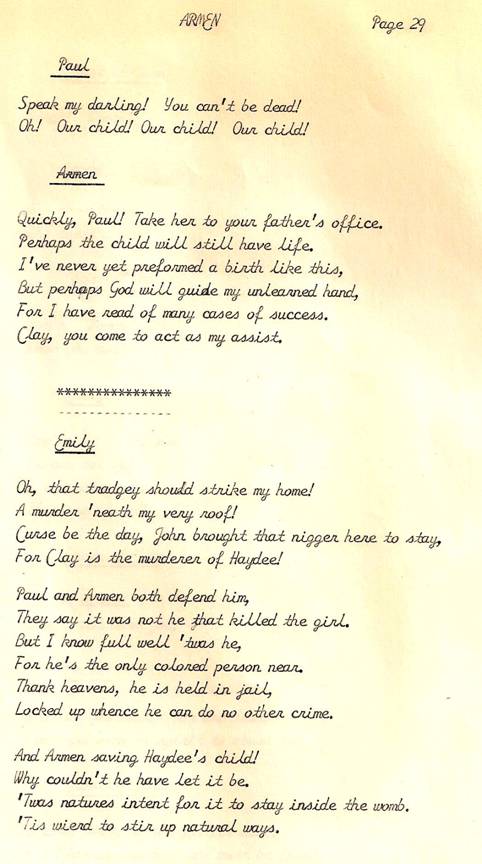 <![endif]><![if !vml]>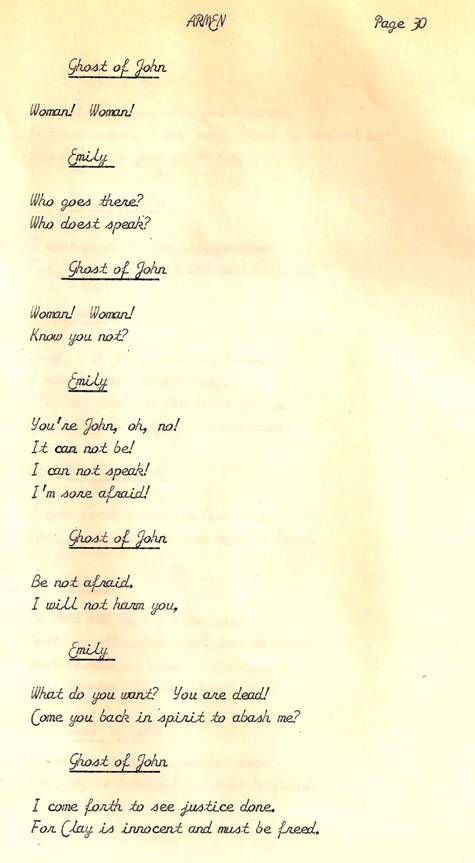 <![endif]><![if !vml]>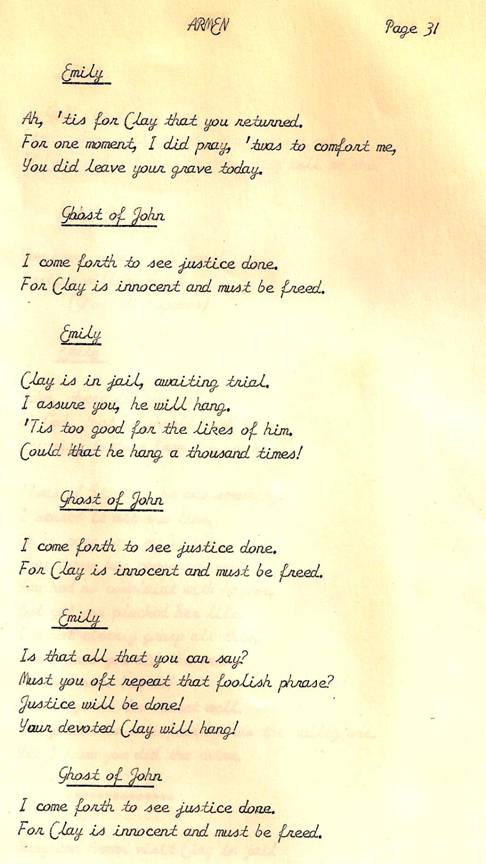 <![endif]><![if !vml]>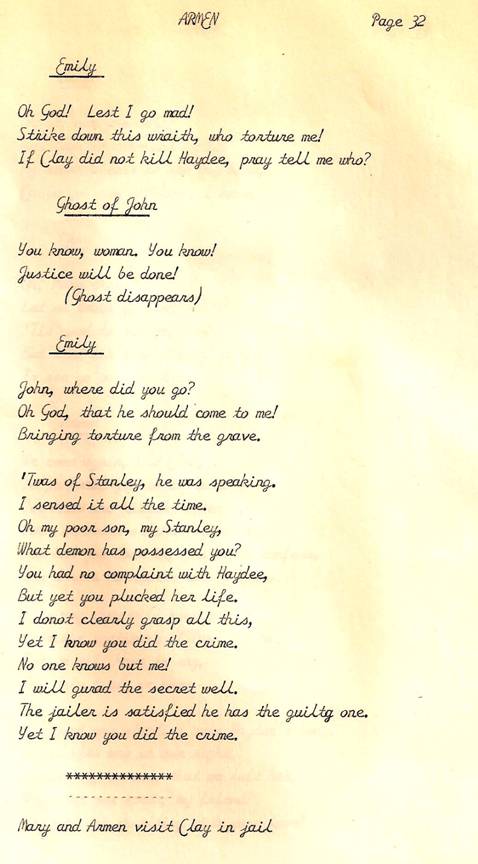 <![endif]><![if !vml]>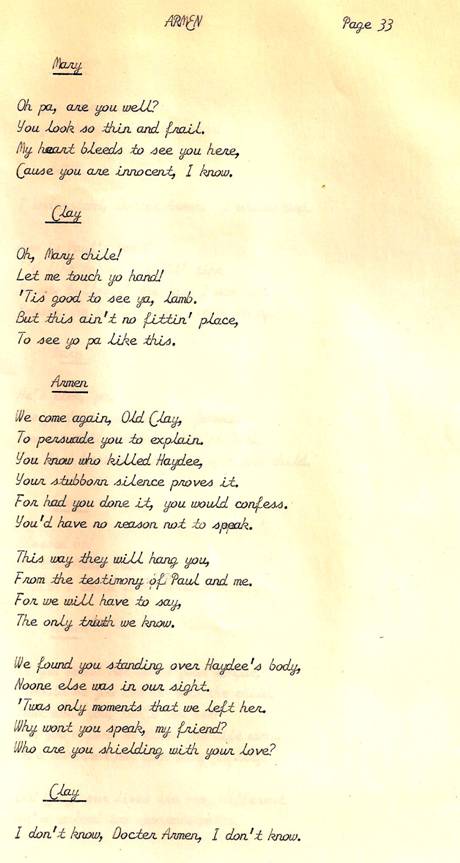 <![endif]><![if !vml]>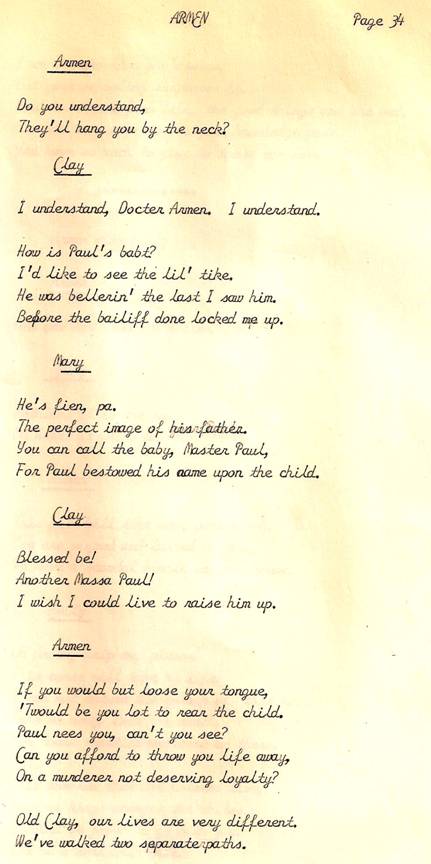 <![endif]><![if !vml]>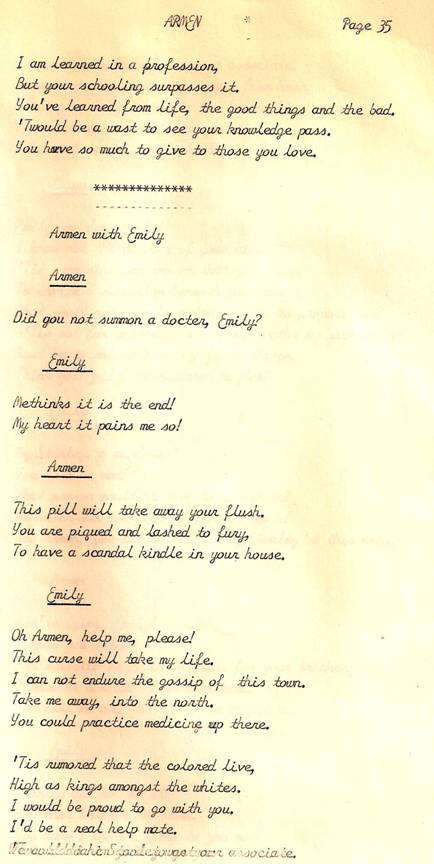 <![endif]><![if !vml]>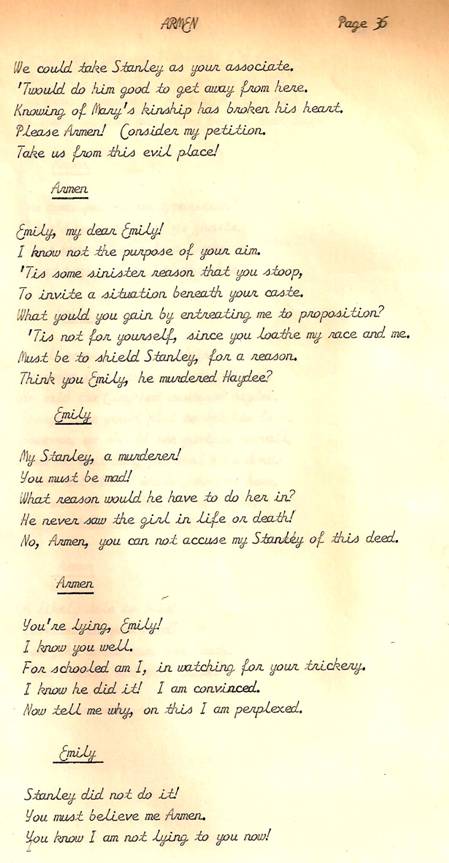 <![endif]><![if !vml]>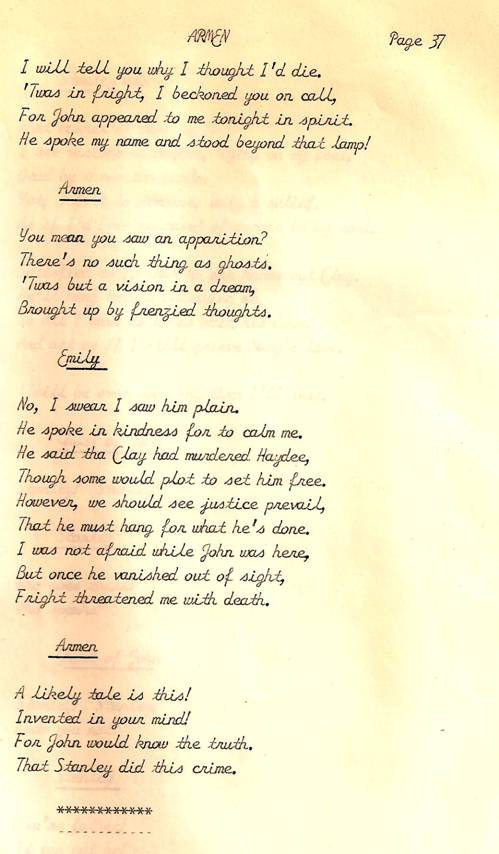 <![endif]><![if !vml]>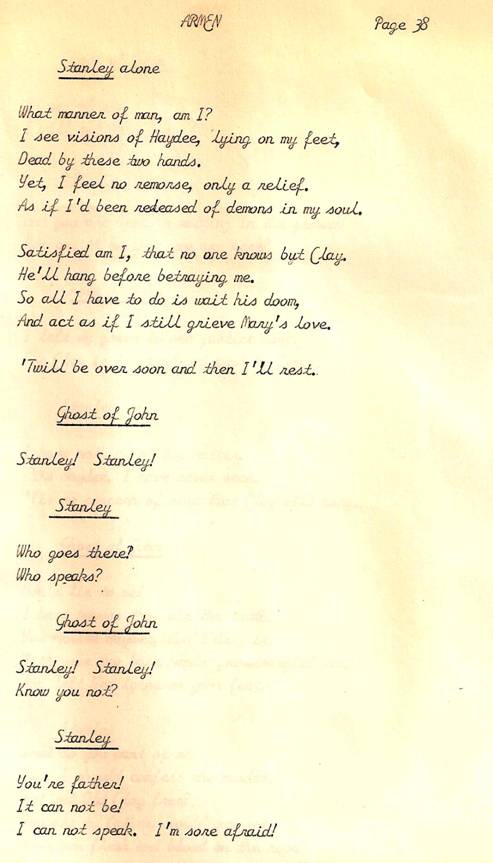 <![endif]><![if !vml]>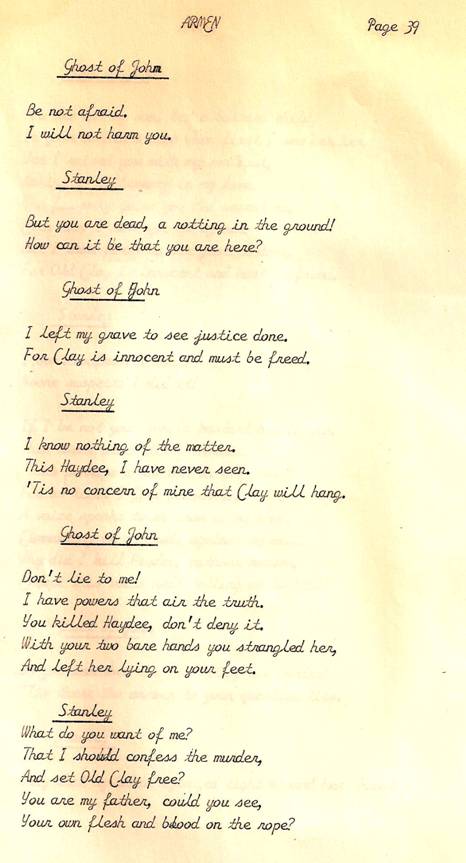 <![endif]><![if !vml]>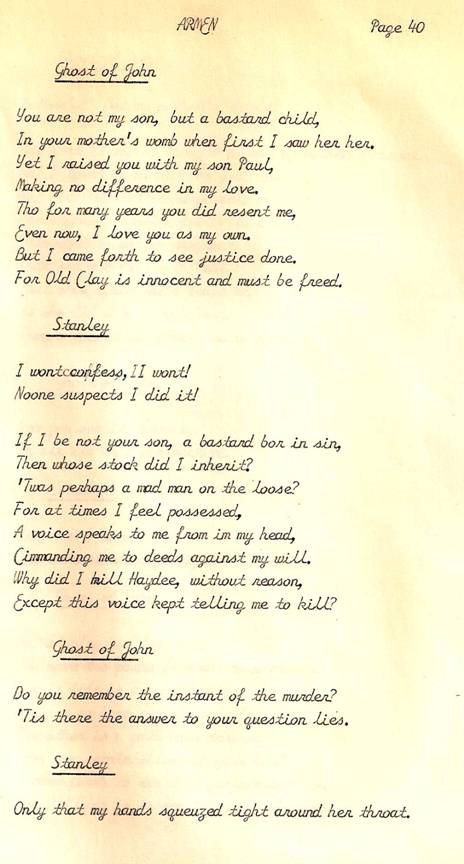 <![endif]><![if !vml]>
<![endif]><![if !vml]>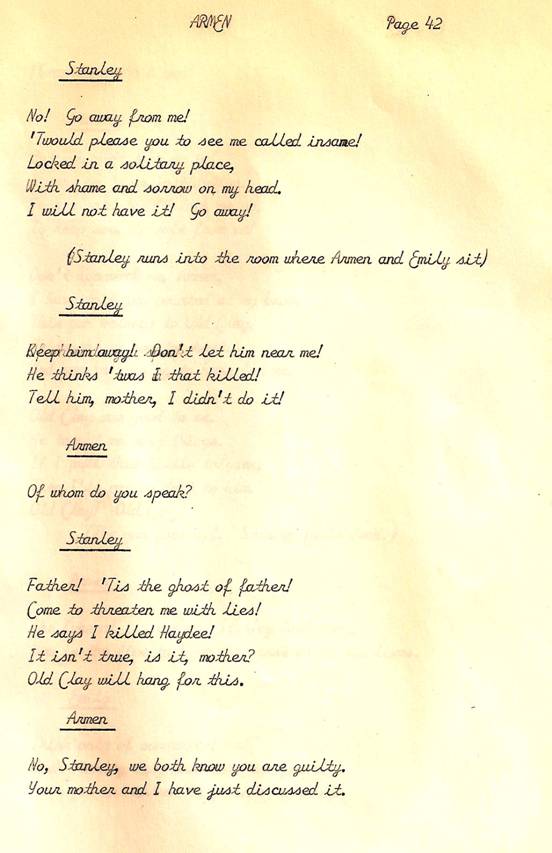 <![endif]><![if !vml]>
<![endif]><![if !vml]>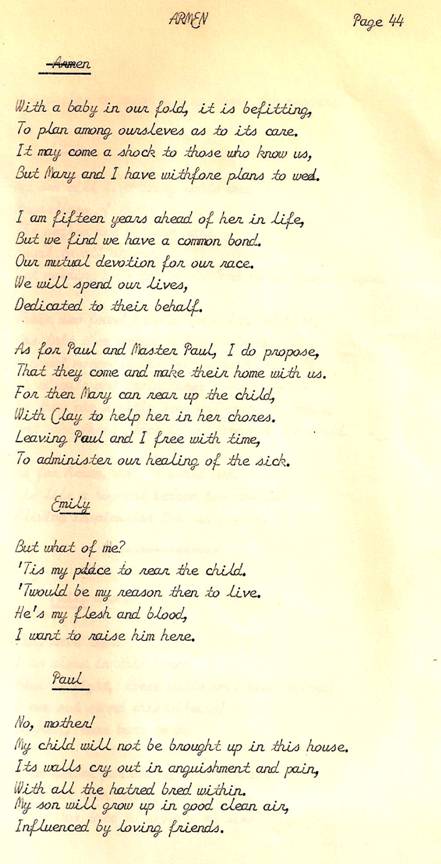 <![endif]><![if !vml]>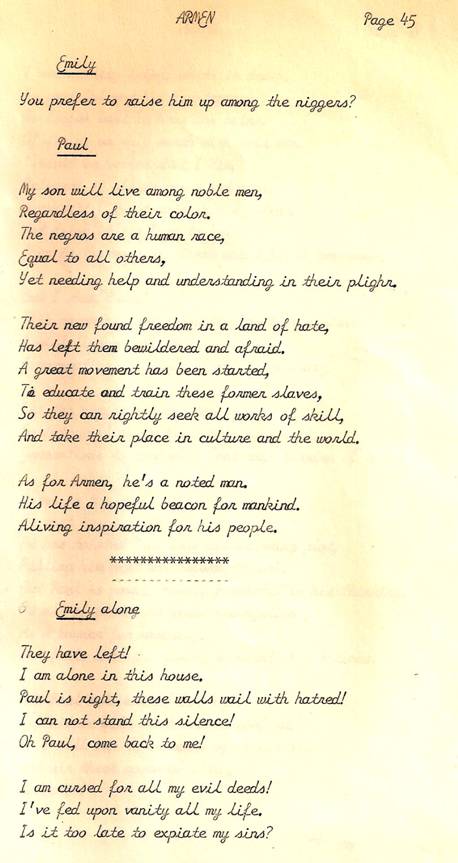 <![endif]>
<![if !vml]>
<![endif]>
<![if !vml]>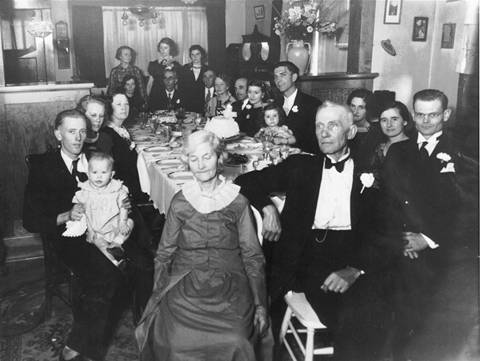 <![endif]>
WILLIAM H. AND CORA ROBINSON'S FIFTIETH WEDDING ANNIVERSARY
(From back to front)
                               LUCILLE DEVES    LOIS DEVES       FRANCIS ROBINSON
                                                                                                           (DAUGHTER OF DARREL)
                                                                                                     DARREL ROBINSON
                                                                                                       FRANK FOWLER
                                                                               VADNA FOWLER (AUNTIE)
                                                                                    GARY ROBINSON
                                                                                         BRU ROBINSON
                                                                                                 IRA ROBINSON
LELIA DEVES                                                  
 MARJORIE FOWLER                                                                PAULINE ROBINSON
PAMELA FOWLER                                                                     
DUANE FOWLER
                                                                                                           PREACHER'S WIFE
                                                                                                                    PREACHER
_
By Bob Edgell
Carl Deves was Lucille and Lois' father and Grandfather to Bob, Steve and Lynn Edgell and Larry and Linda Amos.
Here is a story that has been told in our family and the extended Pagenkopf family.  Coincidently, one of our Pagenkopf relatives lives in Phoenix, Arizona and we have had several visits to discuss genealogy.
Carl Deves was related to the Pagenkopf family.  His mother was a daughter of Johan Pagenkopf.
The story that extends through our family and the Pagenkopf branch is that we are related to Prussian Monarchy and this connection likely stems from the Pagenkopf line that descended from Pomerania (later part of Prussia and today is in northern Poland).
My Great Great Grandfather (Johan Gotthilf Pagenkopf) was born in Pomerania, traveled to America and bought a farm in Kansas.  Pomerania is on the Baltic Coast and is now part of Poland.  Over the past millennium, Pomerania has been ruled by the Teutonic Knights, Polish, Russians and in more recent times, Prussia.  After World War II, it was included in the Polish territory.
Here is the story my mother told us.   On Sunday's, Johan would dress up in his finest, gather the family on the farm and hold court: essentially keeping the story alive that he was of royal blood.
This same story is told throughout the Pagenkopf family to whom we are related.
The story I tell in my historical novel is that Johan was a child of Prince William Frederick Hohenzollern who later became King of Prussia.  Prince William didn't marry until he was 27 years old and no doubt had several lady friends.  One of these lady friends became pregnant and since the young girl was not part of a royal family, he was forbidden to marry her.  The young lady in my story is Louise Pagenkopf, daughter of Peter Pagenkopf of Kardemin, Pomerania and sister to Martin Pagenkopf.  Louise is a seamstress at the Koenigsburg castle in East Prussia and upon learning of the pregnancy; she is banished back to her family's home in Kardemin.  There she gives birth to Johan and raises him to be a tailor.  From this boy, stems our line.
Here is the official web site of the House of Hohenzollern
http://www.preussen.de/en/today.html;jsessionid=D4E3E65F93960D23C7A0EE8920069E67
<![if !vml]>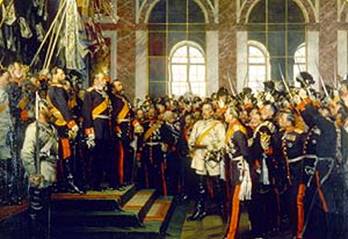 <![endif]>
William I is proclaimed German Emperor in the Hall of Mirrors in Versailles, France
<![if !vml]>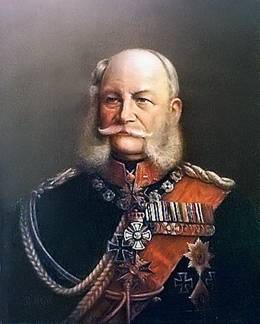 <![endif]>
      King William I of Prussia
http://en.wikipedia.org/wiki/William_I%2C_German_Emperor
<![if !vml]>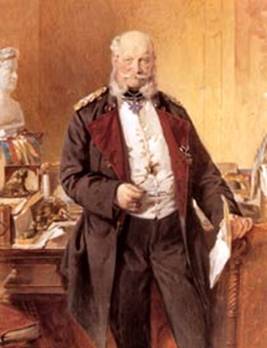 <![endif]>
The family line researched by Ben Pagenkopf of Arizona goes back to Peter Pagenkopf.  Additions have been made to bring it current
1.  Peter PAGENKOPF (b. circa 1779, Kardemin, Pomerania)  Pomerania is also known as Pommern and Hinter Pommern
   2.  Martin PAGENKOPF (b.22 Nov 1799- Kardemin Pomerania, Prussia ;d.30 Oct 1889-Shady Brooks, Kansas).  We believe that Martin's father was named Peter, but have no record of his birth or death.
   2.  Louise PAGENKOPF (b. circa 1797 – Kardemin, Pomerania, Prussia
   Suspected mistress of Prince William Frederick Hohenzollern, later King
   Wilhelm of Prussia and Kaiser Wilhelm of Germany. Louise and Prince
   William Frederick had a child, Johan.
       3. Johan Gotthilf Augusta PAGENKOPF (b.20 Apr 1828-Cardemin    Hinter Pomonern,German;d.17 Oct 1911-Nashville,Kansas)
      spouse: Louise Maria Charlotte ROSEMANN (b.4 May 1828-         Germany;m.23 Oct 1854;d.17 Oct 1923-Nashville,Kansas)
            4.  daughter: Christina (Minnie) Wilhelmina PAGENKOPF   (b.12 Dec 1861-Lyons Creek,Kansas;d.28 Nov 1934-Colby,Kansas)
spouse: Aloisius Charles Deves DEVES (b.12 Dec 1864-Near Essas, Prussian of Germany;  d.14 Apr 1936-Colby,Kansas)
          5.  son: Carl Joseph Gotthilf  DEVES (b.3 Jan 1890-
                 Brackettville, Texas;  d.7 Mar 1970-San Bernardino, California)
spouse: Lelia Emily ROBINSON (b.14 Jul 1893-Plainville,Kansas; d.  Aug 6, 1973 New Brighton, Mn)
                        6.  daughter:  Lois Marie DEVES (b. July 25, 1917,
                          Goodland, Kansas: d. May 12, 1977 New Brighton,
                          Mn)
                                    spouse: Robert G. AMOS
                                    7.  Son:  Lawrence AMOS (b. Goodland, Ks)
                                    7.  Daughter:  Linda AMOS (b. Goodland, Ks)
                                    7.  Son:  Randall AMOS (b. New Brighton, Mn)
                      6.  daughter: Lucille Irene DEVES  (b. Oct 27, 1920
                           Goodland, Kansas:  d. May 23, 1986, Phoenix, Arizona)
                                    spouse:  Forest Earl EDGELL (b.27 Oct 1920-
                                 Akron, Ohio, d. Denver, Co.): divorced and
                                 married Robert Cochran and they had a son together.
                                    7. Carroll Lynn EDGELL (b.13 Jul 1939-Goodland, Kansas)
                                    spouse #1:  Carol Ann HEWITT (b.8 May 1938- Waterloo, Iowa)
                                                8. daughter: Shari Lynne (EDGELL-McCorkle) Warner (b.31 Oct 1959- Minneapolis, Mn)
                                                spouse #1:  Steve McCORKLEb. 7/6/1959 McCook, Nebraska
                                                            9. daughter:  Stephanie Ann McCORKLE (b. 2/20/1981, Norfolk, Nebraska)
                                                            spouse: Joel DIEKEN, m. May 20, 2005
                                                                        10.son:  Ethan Christopher DIEKEN (b. 12-15-02)
                                                                        10. daughter:  Paige Jadyn DIEKEN (b.  12-5-2004)
                                                            9. daughter:  Stacey Lynne McCORKLE (b. 1/25/1983, Norfolk, Nebraska)
                                                            spouse:  Casey Cey VALDEZ, (b. /2/1979)
                                                                        10. son:  Roman Cey VALDEZ  (b. 1-15-2004)
                                                                        10. son:  Brayden Don  VALDEZ  (b.  1-16-09)
                                                            9. son:  Sean Paul McCORKLE (b. 4/5/1989, Norfolk, Nebraska)
                                                8.  spouse #2: Dave Warner of Colorado Springs, Colorado (no children together)
                                    7.  Carroll Lynn EDGELL, (continued)
                                    spouse #2,:  m 7/8/1967 Virginia Marie (Ginger) Doose (b  8/6/1946, Omaha, Nebraska)
                                                8.  daughter: Suzanne Renee EDGELL (b. 30/1970, Blair, Nebraska)
                                                spouse: Robert BEESON m June 1, 2002 (b. 5-11-67) 
                                                            9. son: Mitchel Lynn BEESON  (b. 8/28/2003)  Norfolk, NE
                                                            9. son:  Andrew Robert BEESON(b . 2/7/2005)  Norfolk NE
                                                8.  son:    Scott Glenn  EDGELL (b. 3/13/1973, Blair, Nebraska)
                                                spouse: Angela Wulf  (b. 6-8-75) 
                                                            9. daughter:  Rylee Rae EDGELL(b. 1/13, 2004)  Blair, NE
                                                            9. daughter: Chloe Marie EDGELL(b. 5/18/2006)  Omaha, NE
                                    7. Steven Loy EDGELL (b.5 Jun 1941-Goodland, Kansas d. Mar 10, 2005, Phoenix, Arizona)
                                    spouse:  Mary CARLSON (b. Moorhead, Mn)
                                                8. Thomas Lee EDGELL (b.11 Mar 1964-Moorhead, Mn)
                                                spouse:  Laura  Denise HALL (b. Dec 28, 1968,  Overland Park ,KS)
                                                            9. Bryana Lynn EDGELL (b. 2/5/91, Edmonds, Wa.)
                                                            9. Kristina Leanne EDGELL (b. 11/10/92, Edmonds, Wa.)
                                                            9. Thomas Lee EDGELL Jr. (b. 3/26/94 Edmonds, Wa)
                                                            9. Ryan Logan EDGELL (b. 6/27/95 Phoenix, Az )
                                                            9. Matthew Loy EDGELL (b. 11/14/96, Phoenix Az)
                                    7. Robert Lee EDGELL (b. 5/3 1943-Goodland, Kansas)
                                    spouse: Sharon WORSHECK (b. 8/9/1944 – Minneapolis, Mn
                                                8.  Robert Lloyd EDGELL/PHYLE (b. 1/15/1963, Minneapolis, Mn)
                                                spouse:  Leslie UHLENHOPP
                                                            9.  Madison Lee PHYLE (b.5/2/1997, Minneapolis, Mn)
                        6.  Lucille Irene DEVES/EDGELL/COCHRAN (divorced Forest Edgell, married Robert Cochran)
                        spouse #2:  Robert COCHRAN
                                    7. Charles Stanley COCHRAN (b.  2/25/1948 Lamar, Colorado; d. 1/22/2011 Phoenix, Arizona)
                                    spouse #1: Kenne KONZ m. May 23, 1968 Half Moon Bay, California
                                                8.  Kelly J. COCHRAN b. 1/2/1969, Fort Bragg, NC
                                                8.  James E. COCHRAN b. 3/22/1970 Charmichael, California
                                                8.  Melvin S. COCHRAN  8/16/1972  Aberdeen Proving Grounds, Maryland
                                    spouse #2: Ozell WALTON
                                                8.  John D. COCHRAN b.   8/9/1972 Temple, Texas
                                                8.  Michelle C. COCHRAN b. 12/7/1979  Branson, Mo.
                                    spouse #3:  Cheryl KASKO-McINTYRE
                                                8.  Charles L. COCHRAN b. 10/4/1989 Phoenix, Arizona
The next twelve pages are likely from 'Family Tree Maker."  It shows all the descendants and offspring of the Pagenkopf.  The Amos and Edgell family are shown on page 5.
<![if !vml]>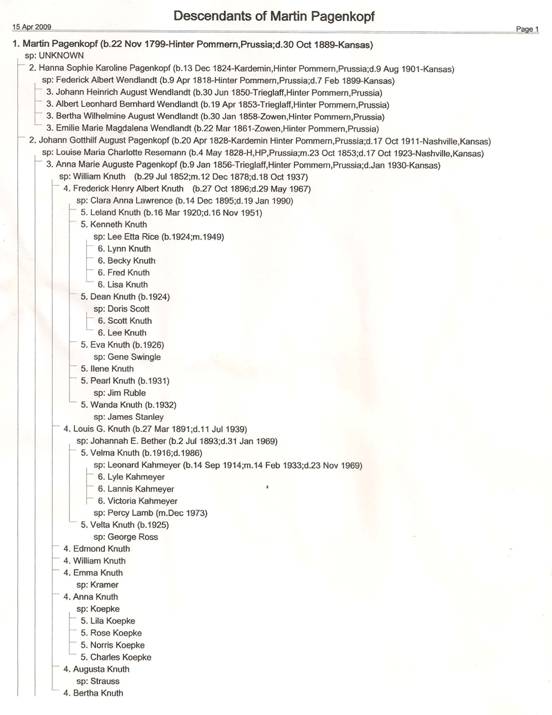 <![endif]><![if !vml]>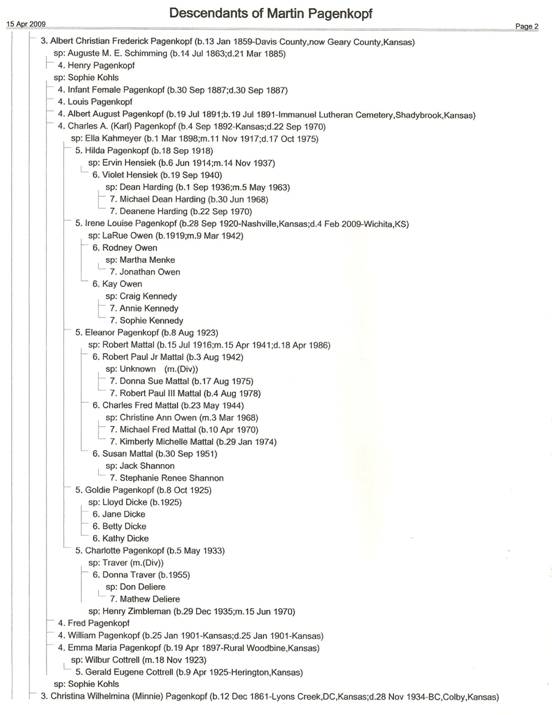 <![endif]><![if !vml]>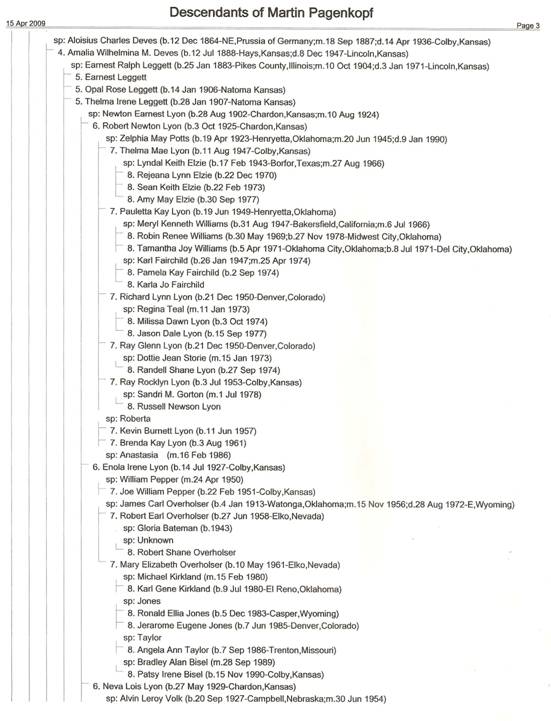 <![endif]><![if !vml]>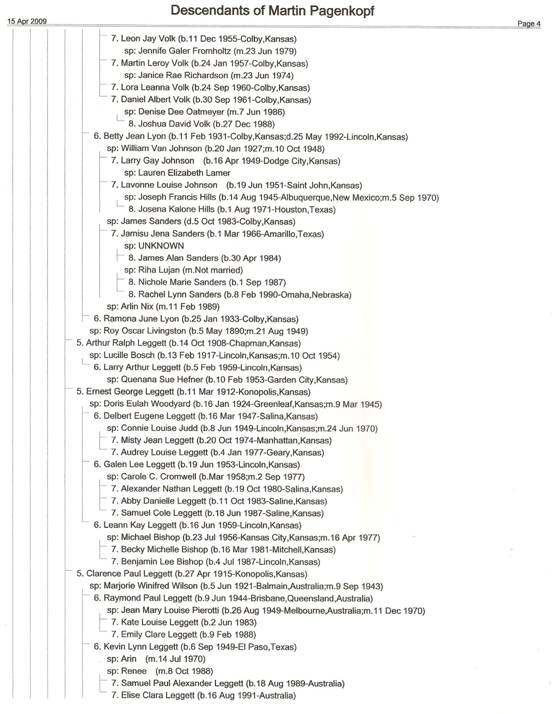 <![endif]><![if !vml]>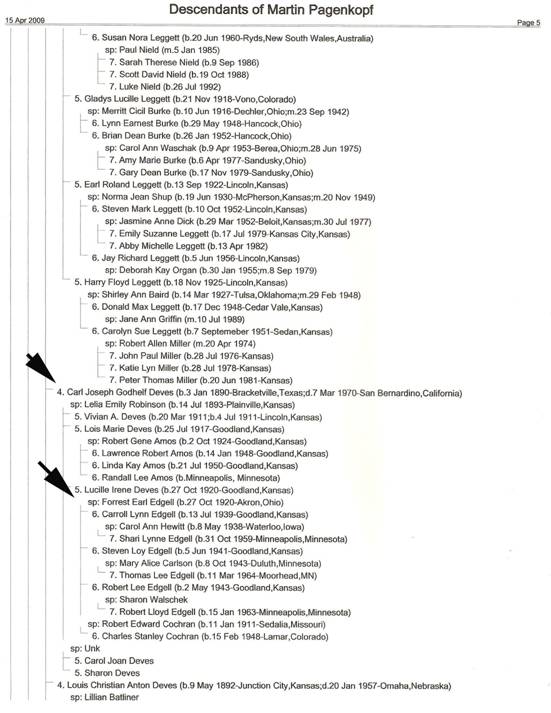 <![endif]><![if !vml]>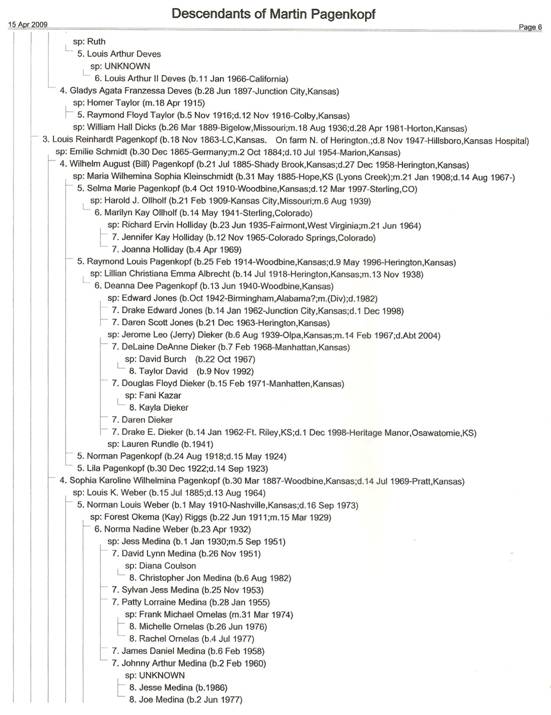 <![endif]><![if !vml]>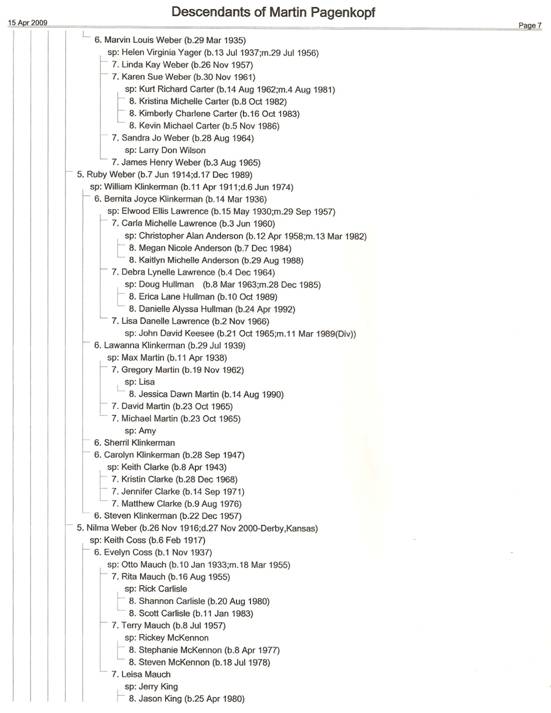 <![endif]><![if !vml]>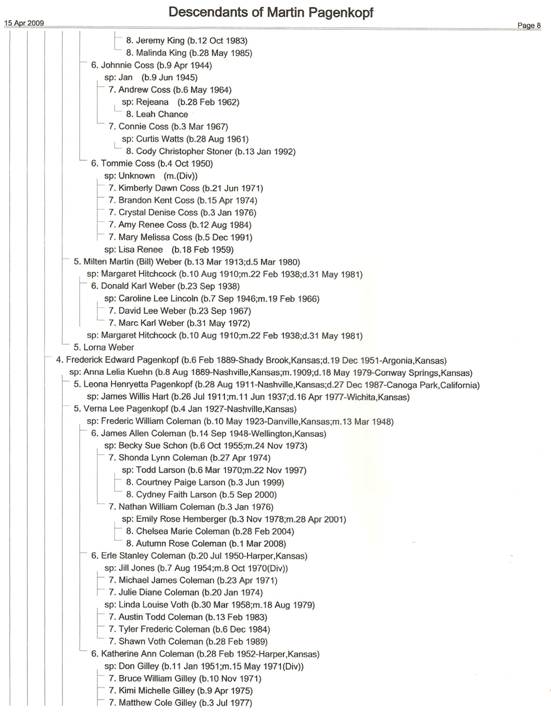 <![endif]><![if !vml]>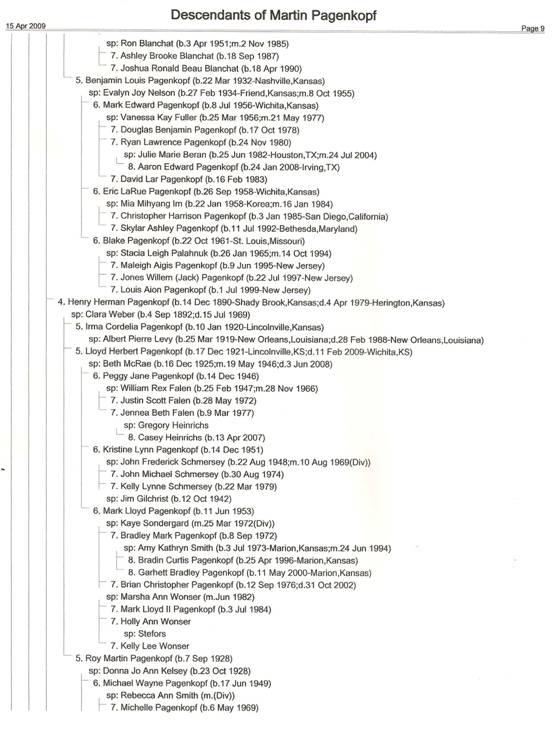 <![endif]><![if !vml]>
<![endif]><![if !vml]>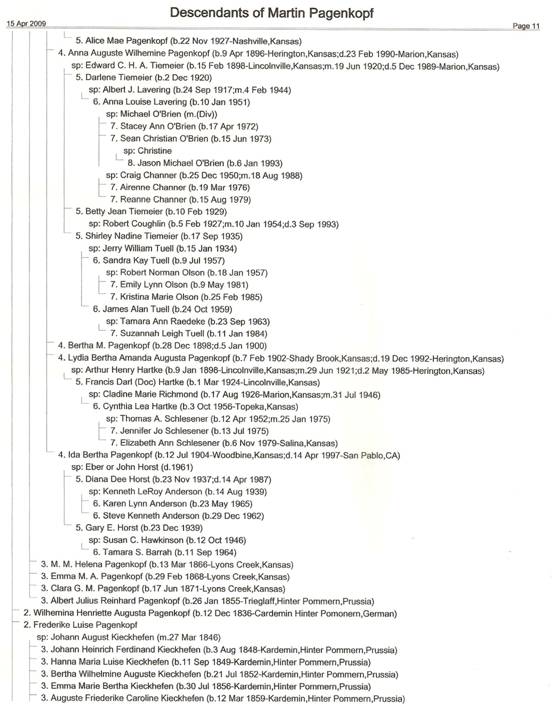 <![endif]>
<![if !vml]>

<![endif]>
We have been unable to locate information on Aloisius who came from Germany.  (b.12 Dec 1864-Near Essas, Prussian of Germany;  d.14 Apr 1936-Colby,Kansas).  We can assume he came to America around 18and then settled in Eastern Kansas Prussia in approximately when he was age 21 or 22 (1886?).  It was there he met and married Christina Wilhemina Pagenkopf.
<![if !vml]>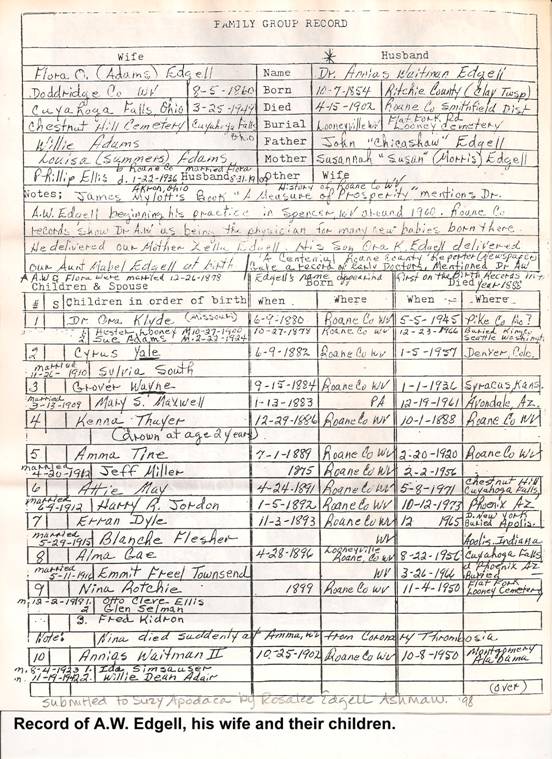 <![endif]>
<![if !vml]>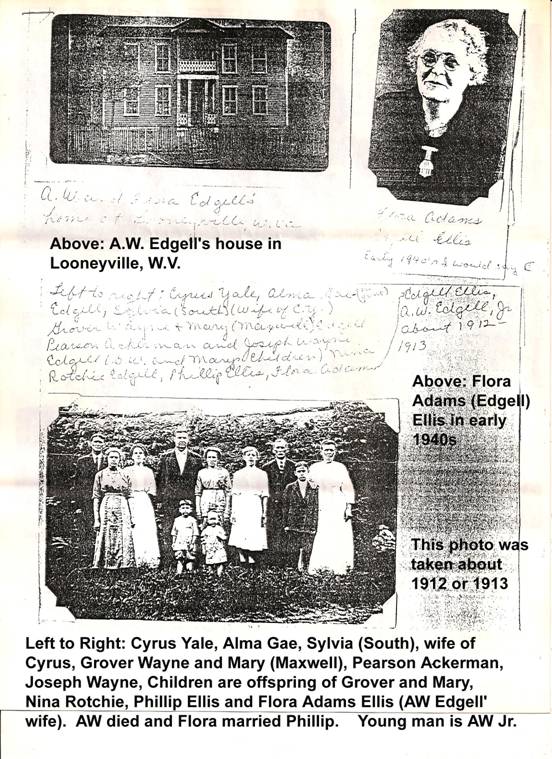 <![endif]>
<![if !vml]>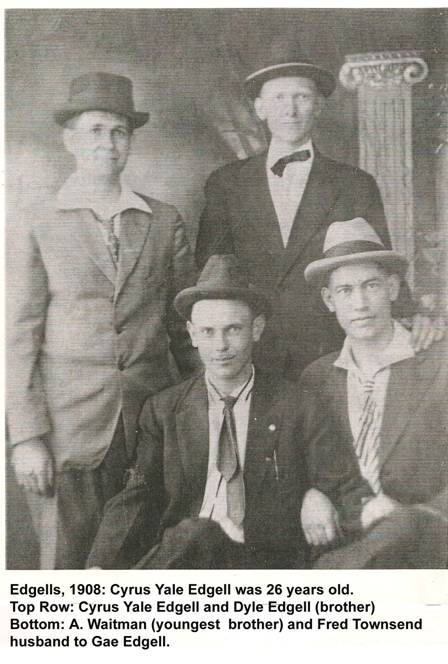 <![endif]>
Note: Cyrus Yale is father to Forest Edgell (father to Lynn, Steve and Bob Edgell)
<![if !vml]>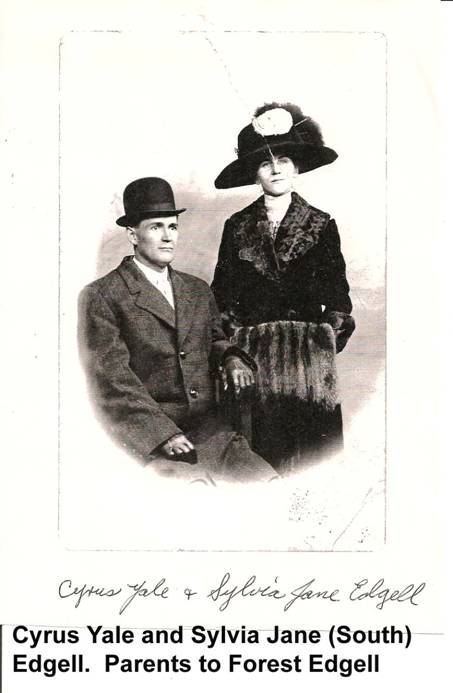 <![endif]>
<![if !vml]>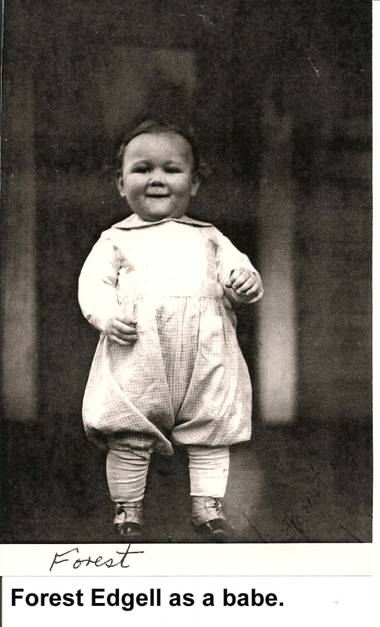 <![endif]>
<![if !vml]>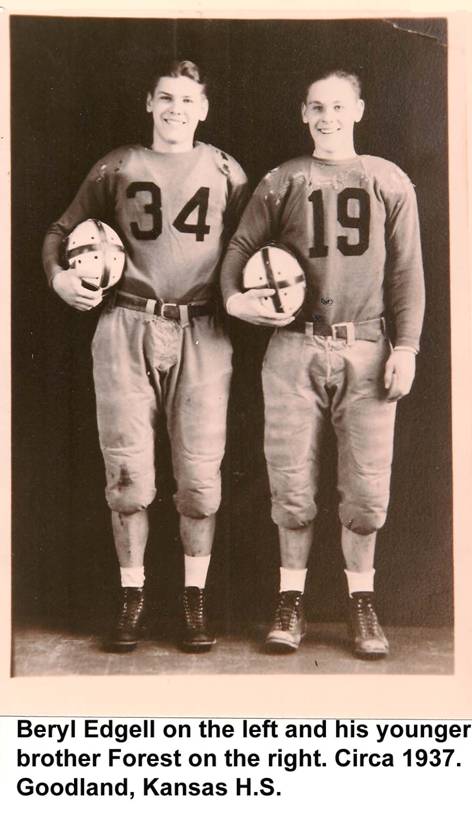 <![endif]>
<![if !vml]>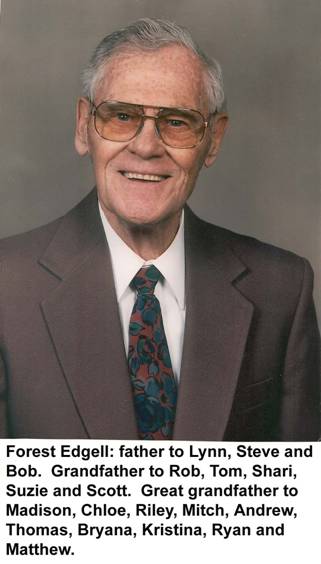 <![endif]>
(Compiled by Bob Edgell)
Lucille's story would not be complete without information on her second husband, Tex Cochran.  What is written here is compiled from my memory, Lynn Edgell's memory and Chuck Cochran's autobiography.
We will begin with the meeting of Lucille and Tex.  We never asked and Lucille never told us how she met Tex.  I had a conversation with Chuck before he died and here is what we came up with after he revealed information about Tex and I told him about the floor covering shop and the mortuary.
First, we begin on Main Street in Goodland, Kansas.  Across the street diagonally from the elementary school is a two story building with shops on the main floor and apartments above them.  As a side note, Lucille and her three sons lived in the fourth apartment from the right after Lucille left Tex: a small two room apartment.
<![if !vml]>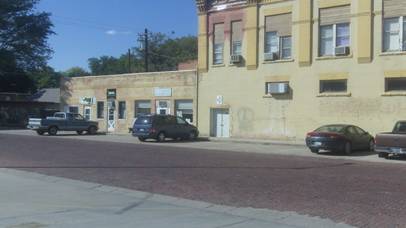 <![endif]>
<![if !vml]>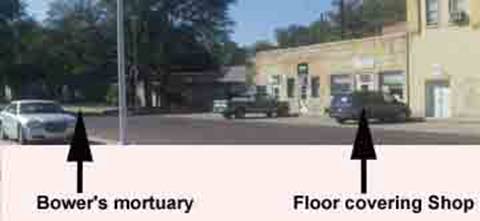 <![endif]>
Bob and Hope Bower owned the floor covering shop and the mortuary.  Important at this point is the mortuary.
<![if !vml]>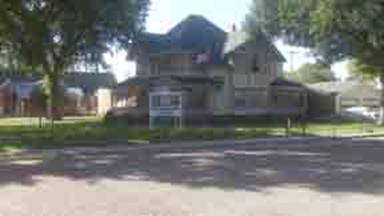 <![endif]>
This old Victorian house on the corner is now a historic landmark in Goodland.  When you take a tour, you come across an old framed newspaper with a story about the house.   Part of the story is about the period when Bob Bower owned the house and had turned it into a mortuary.  The story continues that Bob had dug a tunnel between the house and the floor covering shop and he was the local supplier of booze to the community.  The county was a dry county so there were no liquor stores and the reason for the tunnel was so Bob could store the booze in the coolers at the mortuary and when a customer came into the floor shop to buy booze, Bob would go through the tunnel to fetch the bottle(s).  Lucille at one time or other worked for the Bowers in the floor covering shop.
Chuck related this and contributed to the story.  Since most of Kansas was 'dry', Tex made a living off of bootlegging liquor from Colorado to western Kansas. He lived in Leadville, Colorado at the time and had a small shoe repair shop. His side business was bootlegging. Since Goodland is the first main town on the route into Kansas, a conclusion can be made that he supplied Bob Bower with liquor for his business.  When Tex and Lucille met, her husband Forest was in the service in Wyoming and a further conclusion can be made that the Bowers introduced Tex to Lucille.
In July of 2013 I received an email from Lucille's life-long friend:  Margaret Mead.  She is 85 years old and lives in Greely, Colorado.  We began an email correspondence which I will relate here.
Margaret to Bob
Bob,
My name is Margaret Mead. You may remember that I was a friend of your mother's.
I would like to be in touch with you since I remember so much about you and your brothers as boys in Goodland.
I would love to hear from you.
Margaret
Bob to Margaret
Hello Margaret,
Of course I remember you. You were mom's best friend. In Goodland we would go to your house during a tornado warning. You were the one that drove me to the hospital when I cut my leg. On my move to Phoenix I stopped at your house and picked up mom.
How are Jimmy and Cathy?
A few years ago I was looking through mom's photo albums and decided to write her chronicles and include all of her photos and memories. There are a couple of pages of you and your family in the chronicle. I have it on CD but it is at our home in Phoenix. It is 368 pages and a large file so I can't email it to you so when I return home in September I will mail it to you. I have attached a couple of pages of the photos of your family in mom's albums.
We are now spending the summer in Minneapolis.
Here is a brief update.
Lynn is living in Blair Nebraska. He has two daughters and a son. He has seven grand children. Lynn was a High School teacher and now retired. He turned 74 this year.
Steve had a son and five grandchildren. Steve passed away in 2005. He earned his PhD in Psychology from the University of Minnesota and his career was as a psychologist.
I graduated from the U of M and had a career in computers. I have one son and a granddaughter. This year I turned 70. Retirement is great for Lynn and me. I am busy with tennis, golf and writing.
Let's keep in touch.
Bob
Margaret to Bob
So pleased to hear from you. I was recently updating my photo album and there were pictures from our Goodland days and so many good memories of Lucille and her boys. We moved there when jim was employed by Thompson  furniture in Colby and he was offered a job there and there you were upstairs. I am retired here in Greeley to be near my girls; Keith lives in Denver and Murray in Bayfield (western slope)
We are still healing from losing our Jimmy in 2011.  He lived in san fran many years and is interred there.  My husband Jim died in 1983. I am quite content in a condo and will be 85 soon. I thought you guys were so smart and enjoyed games and Lucille and I stayed in touch for so long and I visited in phoenix when she worked at a clock shop. The last time i saw her she came and stayed with us on the way to Blair to visit Lynn.  I appreciate the info this a.m. and goofed up my printer but will try again to print it all these keys and live in the 21st century !
I also had the privilege of meeting your grandma and aunt Lois.  Sincerely to you "butch" as i knew you then. SINCERELY AND WITH THANKS MARGARET  MORE LATER.
Bob to Margaret:
Hi Margaret,
As I was going through Mom's chronicle there was one thing that struck me.
I have never heard mom tell the story of how she met Tex.

  

I know that
Forest was in the Army in Montana or Wyoming at the time.
Mom and Tex's son, Charles Stanley Cochran (he passed away recently) and I
were having one of our bull sessions and he related that Tex used to bootleg
booze from Colorado to Western Kansas.

  

This made me think of an Historic
House (old Victorian across the street from the Episcopal church in
Goodland: down the block from Thompson's)that I visited and on one of the
walls was a newspaper article on the house.

  

Part of the history was that
Bob Bower once owned it as a mortuary and that he had built a tunnel between
his floor covering business (next to Thompson's Furniture) and would sell
booze out of the store.

  

When someone came in who wanted booze, he would
rush through the tunnel to his mortuary house, get the booze and return
to the business for the sale.
When I was writing mom's chronicle, I made up the story that Tex was selling
booze to Bob Bower and since mom worked at Thompson's, that is how she met
Tex.
Can you tell me the 'real' story on how mom met Tex?

  
Bob
Margaret response to Bob
Hi
What a great time I have had traveling down memory lane.

  

No she never told me how they met but he suddenly began appearing in Goodland.

  

He and Bob Bower seemed to be good friends.

  

Bob was a big talker. Tex, your mom, Jim and I went to dinner a time or two. She had mentioned living in southeast Colorado  but i never heard of chuck. One day Jim called me and said Tex and Lucille wanted us to go to New Mexico with them to get married.

  

I got in touch with my mother in Colby and she agreed to care for Cathy, Peggy and Murray for the weekend. So we left them in Colby late in afternoon. I think he was driving a Packard and it seemed we drove forever to Tucumcari.

  

He woke us up about sunrise and said they were going to find a judge. We changed in our Sunday best clothes in the back seat and quite a while later they returned and I think we drove to the court house and a man said the vows and they replied and we signed a document .We had driven a long time when he said we are going to Russell,

  

Ks  he had some business with his aunt. I was concerned about my kids as we thought we would be home sooner. So we ended up sitting in the car while they went in a house. Jim went to sleep and I saw a magazine in the back window and picked it up to read and in the middle was a legal looking paper that said he had filed for a divorce but the date was for a later time and had a woman's name on it but not signed no signatures at all.

  

I woke Jim up and said look at this he did and shook his head what should we do?????

  

I fretted and he told me there is nothing we can do and honey don't you tell Lucille. So I never did. But I never trusted him.

  

When you moved I and the kids rode in the car and followed a truck to great bend.

  

We stayed a few days and Jim came after us. I had never seen TV and was fascinated with soap operas but we only watched until he came home and then we were in other rooms.

  

Cathy remembers sleeping on pallets on the floor.

  

Lucille and I wrote lots of letters and I would visit with your grandma who lived close.

  

Next word came that you were all moving to Missouri.

  

Lucille wrote about how interesting living in the Shepherd of the Hills country and I had read some old books about that area.

  

Tex called Jim one day and asked if he would like to buy a liquor store there.

  

He told him he would soon be moving to the family farm in Thomas county as his folks were retiring.

  

I made a speech about buying a bridge on the river Nile. We moved there in1955 and then to Denver in 1970...well I have taken up a lot of your time so another time I will tell you about being in Wheat Ridge and the younger guys got to know  Lucille as High School  kids.

  

She visited aunt Vad (interesting story) too.    
More later bye mm                                                    
Mustard Annie, or 'ol Mustard Eater,' as we called her also, was one of our 'house maids when mom and Tex went on a trip which they did frequently.  We lived in a basement house in Lamar, Colorado, about 900 Sq. feet and the family consisted of nine children, Tex and Lucille.  Mustard eaters job was to feed us.  She got her nickname because when she sat down with us to eat, she always had a big jug of mustard and she smeared it on everything. 
Tex was a nomad and drifter.  Even when he had a wife and nine kids, he managed to move from town to town.  He had many skills.  He could clean and repair typewriters, perform the job of a cobbler, go into small manufacturing, and an assortment of odd jobs and skills.
The first time Lucille and Tex got together he had an old sedan with no back seat and no passenger seat.  The kids rode in the back on piles of clothes and Lucille rode in the front on an overturned wash bin.  Tex would pull into a town and check into a local motel.  He would leave the kids and go to the local businesses selling his typewriter and adding machine cleaning business.  When he had the car filled with machines, he would return to the hotel room with a can of gasoline and clean the machines in the room.  He didn't always use a motel room; sometimes he would go to a local park or just give a local gas station some money to use their repair bay.
In the summer of 1947 we were living in Roswell, New Mexico.  It was an old house with a two-seater outhouse in the back of the main building.  Life was ok.  Tex had steady business and we were settled into a house instead of a motel.  We had a semblance of stability at that time so Tex and mom brought home a puppy for six year old Steve and four year old Bob.  The puppy was frisky and curious; playful and jumping about.  One day he made it through the outhouse door, jumped on the seat area and promptly fell in.  Luckily, one of the Cochran boys was in need of a relief and looked down in the muck to see the whining puppy.  He yelled for help and before long, all the children were gathered around the outhouse.  Someone produced a rope and they tied a loop to try and hook onto the now very slimy puppy.  After several tries, someone suggested tying the rope around Steve and lowering him down to fetch the puppy.  The point of the story has been in dispute for 60 years.  Steve always insisted it was four year old Bob and Bob insisted it was six year old Steve.  The puppy was rescued and Steve got a good showering from the garden hose before he could enter the house.
Some time in June Tex came home in a disturbed mood.  He and Lucille fed the children and then went to a local tavern for burgers and beers.  The next morning we were packing, in haste, and by noon we were leaving Roswell.
There are several stories on how Tex heard about the 'alien spacecraft' that had crashed on the farm outside of Roswell.  One trait of Tex was that within a few hours after entering a town, he would know a lot of people. He had a 'gift of gab' and made friends easily.  He may have known Sheriff Wilcox of Roswell or Mac Brazel, the foreman on the ranch or Dan Wilmont and his wife who claimed to have seen the flying saucers. Chuck's story is that Tex knew first hand of the crash, possibly from doing typewriter work at the Roswell Army Air base.  Well, the result was our hasty exit from Roswell in July of 1947.
One year, Tex decided to get serious about the typewriter business and we moved into a large house in Scott City, Kansas.  Tex and Lucille opened an office supply store that sold supplies and also cleaned/repaired adding machines and typewriters.  It was a good year.  They eventually had three stores and doing well.  The house in Scott City was a large brick house with a full basement.
One memory of the house was the first Christmas we lived there.  We had a large tree and all the kids got a load of presents.
Another memory was the Monday meal:  beans and hot rolls.  While the beans cooked, mom made pan after pan of hot rolls while one of the kids would kneed the margarine in the plastic bag so the yellow coloring would change its shade.  Mondays was a day when all the kids could stuff themselves.
The last Christmas we lived in the brick house, we were poor.  And that was the way it was with Tex.  He was either drinking daily and having a good time (with little income) or he was on the wagon and making a good living.  So the second year of the brick house, a couple of us kids went to the school when it closed for Christmas vacation and they gave us their small Christmas tree so we could have one for our house.
Tex had a love/dominate relationship with his children.  He always cared for them and insisted they go by his rules.  When Christmas time came around and he was without holiday money, he would pawn his diamond ring so there could be some semblance of a Christmas.  He would then work hard for the next few months to buy it out of hock.
When Lynn sees a bottle of 7up, he is reminded that Tex would open a bottle of seven up and let the nearest kid have a swallow.  He would then top off the bottle with whiskey.
When Lucille reunited with Tex the second time and we moved to the mattress factory, some rules had to change.  The first rule was that Chuck (the youngest) was no longer in charge when Tex and Lou went out.  We found out from Faye that Tex would leave the kids and tell them that Chuck was in charge.  Chuck soon found out the power he had after complaining to Tex that Faye or one of the boys were mean to him.  Tex belted the guilty party.  After that, the other kids were Chuck's servants.  Lucille would have none of that.
One thing we learned early was to disappear when Tex came home.  If he didn't see you, he couldn't be upset.  One of his tricks was to limit the number of children in the room with the TV.  Tex liked to sit on the couch with a TV tray and have his dinner while watching TV.  He could only tolerate two kids in the same room but in fairness, he needed a way to rotate them.  His solution was simple.  After a kid had been in the room for a few days, the kid would invariably commit some kind of digression:  like cough or get in the way of the TV.  Tex would raise his voice and point upstairs:  "get out and if I see you in the next two weeks, I am going to kick your ass."  So the kid would disappear and another one would take their place.
One night, mom and Tex were having a steak dinner when Lynn and Marion started fighting.  Tex continued eating and ordered them to fist fight.  If they want to fight, then make it a real fight.
On one occasion, Tex and mom took a trip and left Lynn in charge.  They were gone a week and when they returned the other kids made remarks about the lousy food Lynn served.  Lynn got a good chewing out for that although he had never had to cook before.
Tex and Lou also knew how to entertain the children.  One of their pastimes was to load the kids in the truck and drive to a local watering hole where they would fish, build a campfire and sing songs while roasting hot dogs.
For the most part, the children were left up to their own imaginations for entertainment.  Chuck remembered a pastime in Great Bend, Kansas in 1952 or 53.  Marion, Lynn, Steve and Bob would have contests on who could fly the highest kite.  Like most things in life, 'money' was the deciding factor.  In those days the easiest way for a kid to get money was to scrounge for pop bottles.  You could turn them into a store and get the 2-cent refund.  For a few pop bottles, you could get another 500 feet of strings.  One day Lynn came home with a 10-cent kite: a really big kite.  He also had ten balls of string.  It took him two or three hours to let out all the string and when he was finished, the kite was almost out of site.  He was definitely the kite king after that.
Lucille was very talented.  She had the best penmanship of anyone and she was an artist.  She tried experimenting with a comic strip and actually traveled to New York to try and sell her strip.  While she was at an agency she actually met Chester Gould, the man who drew the Dick Tracy comics.
Lucille and Tex split up and Lucille took her three boys back to Goodland where they lived above the floor covering store and she worked for Bowers.  After a couple of years, Tex arrived in 1951and sweet talked Lucille into getting back together. He convinced her he had stopped drinking and was a new man.  So, we packed everything into his panel truck, except for our bicycles, and drove to Great Bend, Kansas.  Tex promised that one of his sons would bring the bikes.  The bikes never made it to Great Bend and we surmised that his son had a little extra spending money.  The arrival in Great Bend was a little disappointing. Tex had a mattress factory and in the back he had a three room living quarters.  In one room, the floor was covered with mattresses and that is where the kids slept.  Then there was a living room/kitchen combination and a separate bedroom. The children living there were Melvin, Marion Dean, Faye and Chuck Cochran and Lynn, Steve and Bob Edgell.  After several months, the factory caught fire so Tex rented a house.  We called it Red's house because it was owned by a man named Red.
One of the 'chores' of the children was to cut up the old mattresses that Tex brought home.  He would reuse the cotton inside the mattresses.  One day he brought home a truck load that he had purchased from the local jail.  There were hack saws and other items hidden in the mattresses.
One day Tex announced that we were moving and we would pack the truck at night so we wouldn't disturb the neighbors.  Late that night, Tex backed the truck up against the garage and hung blankets so the light from the house wasn't visible from the street.  We then moved everything through the kitchen, through the garage and into the truck.  When it was loaded, the seven kids got in the back and the truck pulled out of the driveway.  The next morning we were enrolling in school in a town called Springfield, Missouri.  We later learned from Lucille (mom) that the truck had a lien on it and Tex wasn't supposed to take it outside of Kansas.
We stayed a short while in Springfield where Tex's father lived.  He owned several properties around Springfield but lived alone and frugal.  One day Robert senior called Tex and told him to come over and meet his new bride to be.  When Tex and mom arrived they met a real gold digging floozy.  After a brief social visit, Tex invited the floozy to go with him and mom to see their home while Robert senior took a nap.  When they got in the car and started driving, Tex began yelling at the woman, telling her that the old man was broke and didn't have a dime.  He offered to take her to the bus station and give her $50.  She readily agreed.
Days or weeks later Tex went to visit his dad and found him on the kitchen floor with a lot of blood and his shotgun.  Lucille had to clean up the blood and brains. Tex called the coroner and then went to a local bank.  He posed as Robert Cochran and mortgaged all the properties to the hilt.  This was so he wouldn't have to share anything with his siblings.  He also tore out most of the walls in the house looking for a stash.
Another account of the floozy goes like this.  The old man married the floozy and Tex talked his dad into signing over his properties to him.  The old man complied and when Tex told the floozy that the old man had no money, she left and Robert senior then shot himself.
It was time to move on so we relocated to Branson, Missouri.  There, with the mortgage money, Tex bought a corner lot just inside the city limits and on the lot were a house, a liquor store and a small shop.  Across the street was a Dairy Queen and behind that a motel.  We enrolled in school and mom turned the little shop into a photo studio.  Life was going good except for Tex and his beer.  Tex would sit in the photo studio, drinking beer and looking out the window of the door.   He could see down the street and any cars pulling into the liquor store.  When a car pulled up; he would walk from the shop to his liquor store and greet the customer.
The lid on the pressure cooker could only last so long and eventually mom said she had had enough.  We packed up: mom Lynn, Steve and Bob and moved to Minneapolis.  That was the last we saw of Tex.
We arrived in Minneapolis in the dead of winter at Bob and Lois Amos's home.  Lois, remember, is Lucille's sister and Aunt to Bob, Steve, Lynn and Chuck.  Bob Amos was attending the Bible College and they were dorm parents.  Mom immediately got a job at The Tub laundry and we rented a half a duplex house.  Bob, Steve and Lynn enrolled in Marshall High School a few blocks from the University of Minnesota.  The Tub laundry was in the same neighborhood in a small college village called Dinky Town.  Lynn was the first to graduate from Marshall and enrolled in the same Bible College as Bob Amos.  There he met his first wife Carol.
Lucille worked at The Tub for several years and when her step-father (Lelia's husband) passed away she moved to Goodland to be with her mother.  After a year or so she moved back to Minneapolis in an area called Riverside where she managed a small Laundromat.  It was during this time that Bob Hanson, owner of the House of Hanson in Dinky Town bought another small grocery, the Harvard Market and asked Lucille to be the clerk/manager.  Lucille never had a driver's license so it was luck that above the market were apartments and she was able to rent one.  In order to get to work, she descended a flight of stairs, walked about 20 paces and opened the market.  It was here that Lucille met and befriended so many University students.  The ones that knew her also knew that if they needed a short term loan, Lucille would be happy to oblige and never charged interest.  She worked for Hanson for ten years and in 1971 decided to move to Greely, Colorado (just outside of Denver) and live with her Aunt: Aunt Vadna.  Also in the same area were her best friends from Goodland, Jim and Margaret Mead.  In 1973, Bob and Steve decided to move to Phoenix, Arizona and Lucille called Bob and asked if he would pick her up on the way to Phoenix.
Bob hooked up the boat to his 1966 Mustang, loaded his belongings in the boat and dove to Greely.  Lucille had already shipped most of her possessions to Sue (Walsh) Riordan's home in Phoenix.  Bob and Lucille drove to Phoenix and Lucille stayed with Sue while Bob and later Steve, stayed with a high school friend.  Lucille had saved some money so she didn't have to work.  Also, Steve gave her $75 a month for cigarette money.  She babysat for Sue's son Shawn while Sue worked.  She and Shawn became good 'buds' with Lucille teaching him how to draw and a lot about art.  In late 1970s, Bob and Sue moved in together and Lucille had her own bedroom. 
Lucille decided she wanted to do more than stay at home and she got a job managing a 'Grandfather Clock' shop in Scottsdale.  She found an apartment nearby so she could walk to work.  The only reason the owners kept the shop open was because Lucille sold so many clocks.  Almost everyone who walked into the store bought a clock from Lucille.   All during this time, Lucille had a best friend.......Sue's ex-mother-in-law: Eileen Riordan.  Eileen had a license and a car and they would go to lunch or have dinner together.  Eileen always talked about Lucille and her wonderful stories and her delicious potato soup. 
Still, it was lonely in Scottsdale with only a few visitors a week.  Lucille decided that she wanted to be closer to family so Bob and Sue invited her to join them in their home.  At this point, Steve resumed his gift of $75 a month to Lucille.
Bob and Sue were living on Cavalier Drive in a rented house and bought a yellow lab.  It was a nice 'Elm Street' scene.  Shawn was getting older, a teenager now and curious about computers.  Bob got a job (1983) with General Electric and they provided a company car.  So, with an extra car and no computer, Bob put an ad in the newspaper: "Will trade car for a computer".
In a few days, the car was gone and a used Apple computer was in the home.  Shawn began to devour everything about computers.  He and Lou would spend hours with the drawing programs.  In 1985, Bob and Sue bought a house and got married.  In the same year, Lucille complained of health issues and Bob took her to the doctor.  The diagnosis was stage 4 cancer of the uterus.  During the next six months, all of her children came to Phoenix for a last 'Goodbye'.  Lynn and his family came........Chuck came.....Robby came.  It was joyful and tearful at the same time.  There are pictures in her album of the visits.  Lucille passed away in May of 1986 and her ashes are interned in the Robinson Burial Plot in the Goodland, Kansas grave yard.
Shawn graduated from High School and began college.  A Phoenix company needed a computer graphic artist and Shawn applied.  After two years of excelling as a graphic artist, the company promoted him to a programmer's position.  He has been with the company for 18 years.  Lucille would have been proud.
<![if !vml]>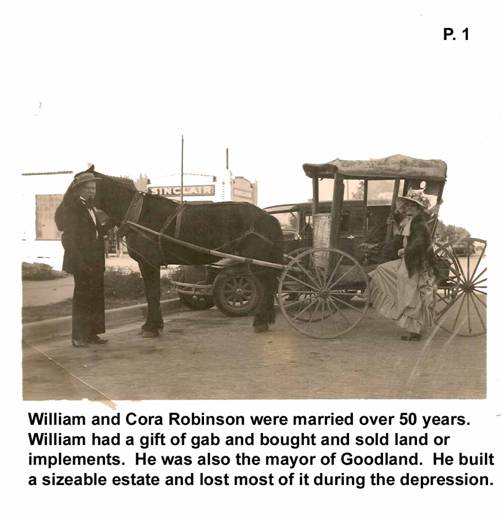 <![endif]>
William and Cora Robinson were the parents of Lelia Robinson (Deves/Baldwin) and Vadna (Deves/Fowler/Youngblood).  They also had three successful sons:  Darryl, Gary and Ira Robinson.
_
<![if !vml]>
<![endif]>
<![if !vml]>
<![endif]>
Lois (Deves) Amos
Mother to Larry, Linda and Randy Amos
<![if !vml]>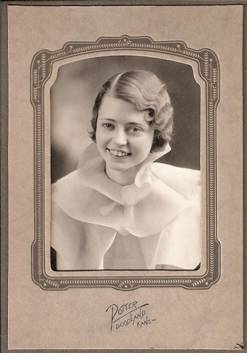 <![endif]>
<![if !vml]>
<![endif]>
Wedding of Bob Amos to Lois Deves
<![if !vml]>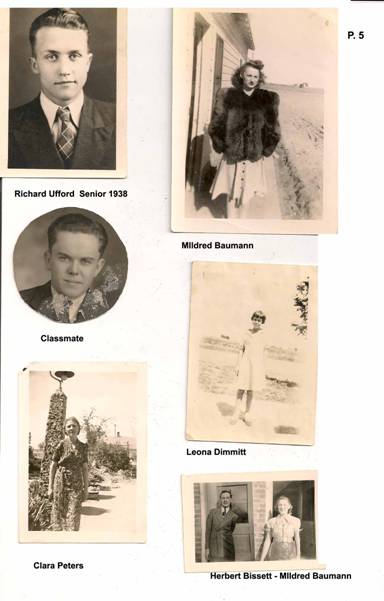 <![endif]>
<![if !vml]>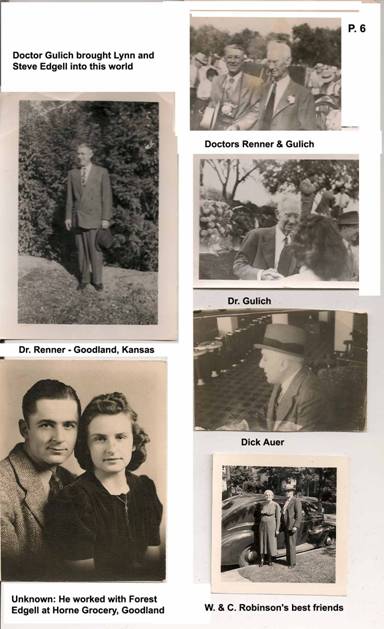 <![endif]>
<![if !vml]>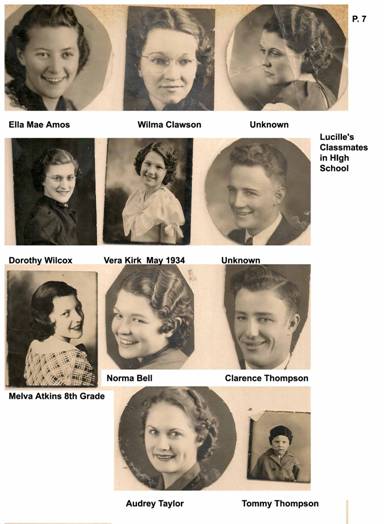 <![endif]>
<![if !vml]>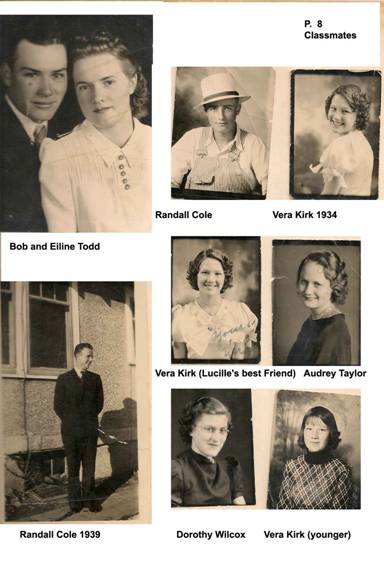 <![endif]>
<![if !vml]>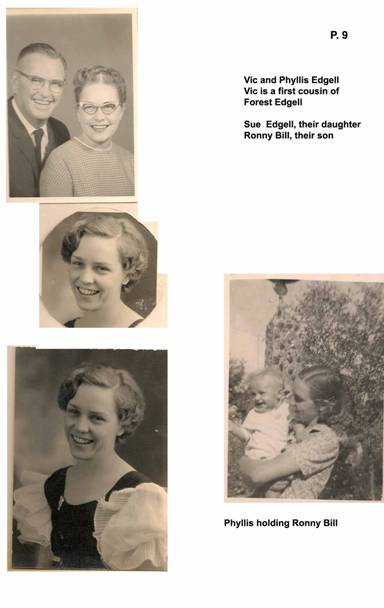 <![endif]>
<![if !vml]>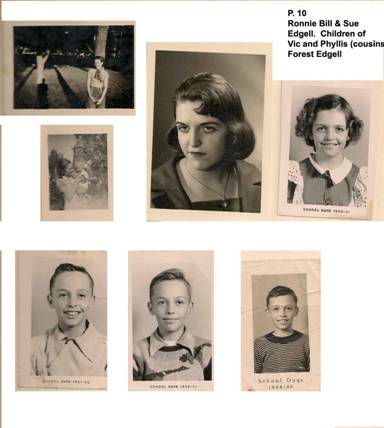 <![endif]>
<![if !vml]>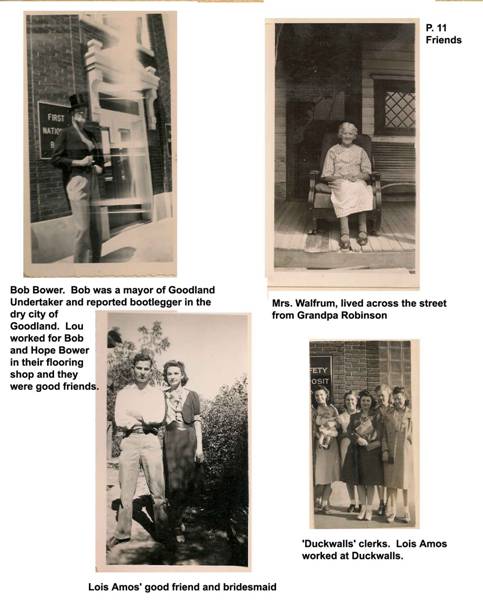 <![endif]>
<![if !vml]>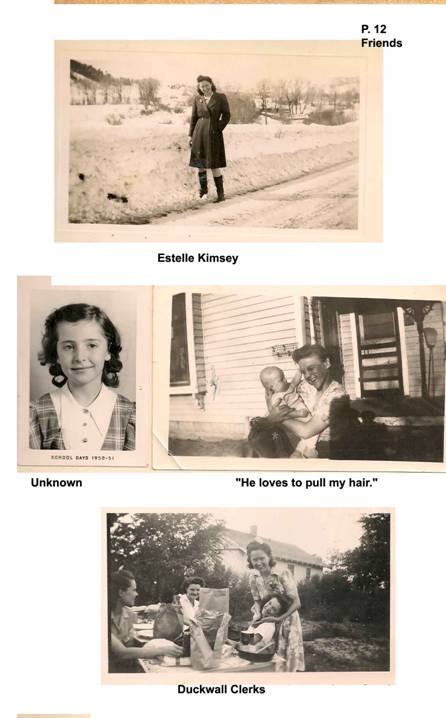 <![endif]>
Lucille's mother was Lelia Robinson before she married Carl Joseph Gotthilf Deves.  Lelia had three brothers and a sister:  Gary, Ira, Duanne and Vadna.
<![if !vml]>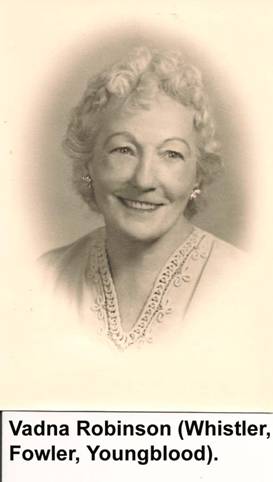 <![endif]>
<![if !vml]>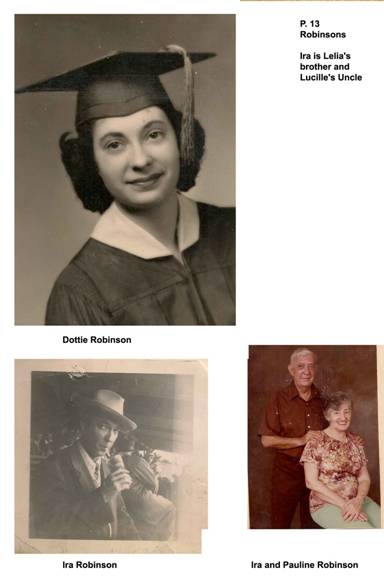 <![endif]>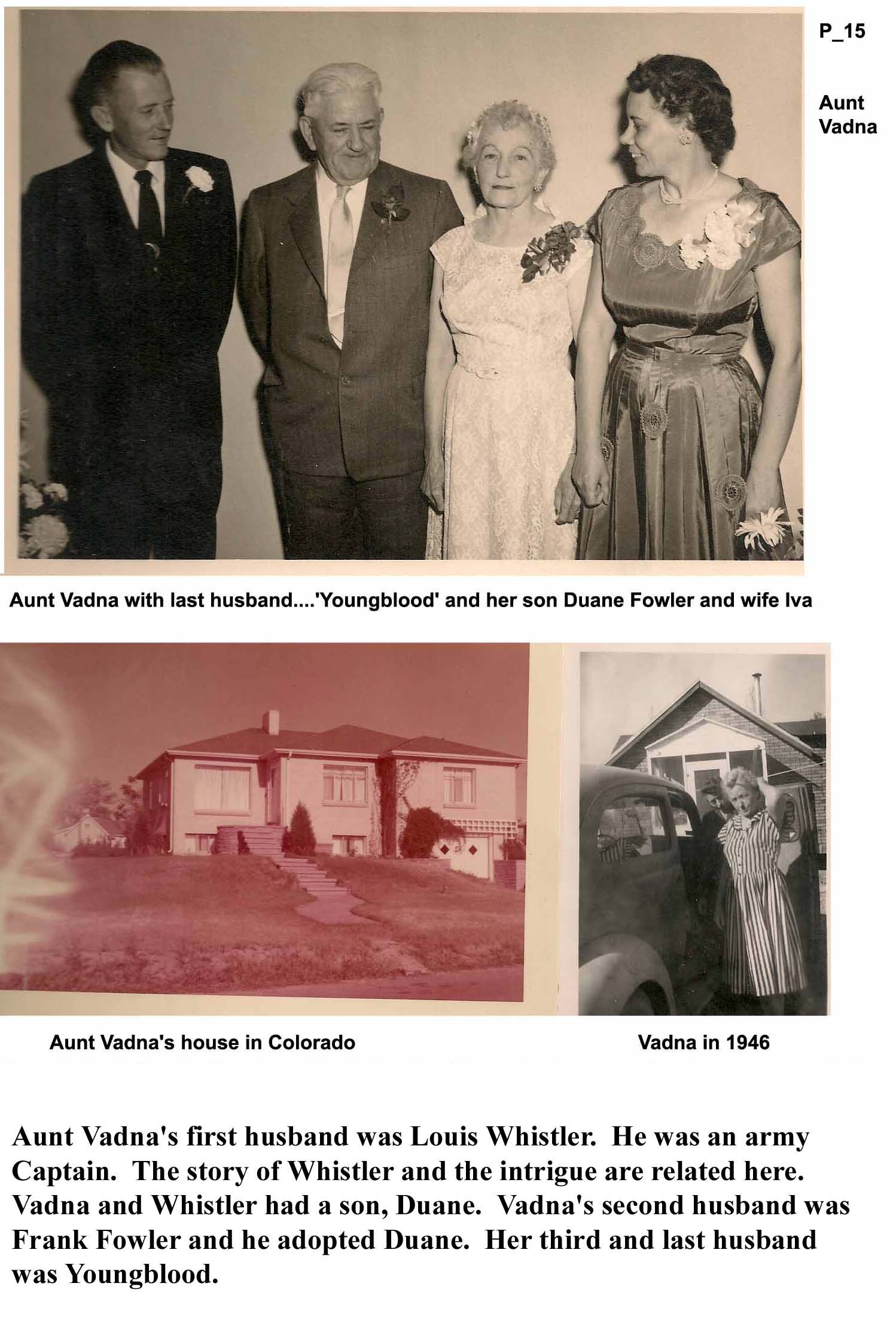 <![if !vml]>
<![endif]>
<![if !vml]>
<![endif]>
Axes and Diamonds
by
Bob Edgell
A True Story
Dedicated to all the descendants of Lucille (Deves, Edgell) Cochran and Lois (Deves) Amos.
Introduction:
This is a true story of murder, intrigue and missing diamonds.
Many, many, many years ago, my great Aunt Vadne gave my mother a beautiful diamond ring.  The ring had an expensive ¼ carat, Tiffany cut diamond.  Many, many years later, my mother, Lucille gave the ring to my wife Sue.  Then, many years later, Sue had the diamond set into a man's ring and she gave it to me as a Christmas present. 
Story:
My mother, Lucille Cochran, related this story about her Aunt Vadne (Robinson, Whisler, Fowler, Youngblood: married four times).
Side note:  Vadne was born Vadne Robinson and she was a sister to Lelia and Lelia's three Robinson brothers.  Lelia (Robinson, Deves) Baldwin is Lucille's mother and the grandmother to Bob, Steve and Lynn Edgell and Chuck Cochran.
Vadne's first husband was Lewis Whistler, an army captain who swept Vadne off her feet and married her.  They moved to Fort Riley, Kansas.  During their stay in Fort Riley, a train carrying the Army payroll was robbed.  Someone overpowered the two guards in the payroll car, hacked them with a hatchet and made off with the money.  A year later there was a robbery nearby with men being killed.  They became suspicious of Captain Whistler and arrested him.  According to Lucille, they never found the money: however research showed that they found the money but not the diamonds.  After Captain Whistler committed suicide, Vadne went through his belongings and opened an army trunk he forbade her to ever open.  In the trunk she found needles, a vial of mercury and other paraphernalia..........the only remedy at that time for syphilis. Lucille also mentioned that once the crime magazines found out about the robbery and the suspect in custody, they wrote about it and to make it more interesting, they featured a mysterious woman (Aunt Vadne) who would visit him in the Army prison. 
Mom and her best friend, Margaret Mead, went to visit Vadne in the 1970s.  Margaret related this part of the story.
She said that Vadne told of incidents after the whole Whistler episode ended and behind her.  Vadne related that someone followed her into a movie theatre, sat behind her and touched her shoulder.  When she looked around it was Whistler, the guy she had married.  There were several occasions when he was seen but she never talked to him.  Vadne speculated that Whisler had put his uniform on the man, shot him in the face so he couldn't be recognized and put his own ID in the man's pockets.  At the funeral the casket was never opened and she went with his family out in the boon docks for the burial.
Vadne later met and married Frank Fowler who adopted the son of Lewis and Vadne Whistler: his new name became Duane Fowler.  Although he tested positive for syphilis, it was dormant..
The real story can be found on the internet.
I am unable to find any information on the first robbery at Fort Riley.
Here is an excerpt from the Kansas Riley County Records:
"(January) The Army City Bank (Funston branch of the National Reserve Bank of Kansas City) was robbed of $62,826.21 and two diamond rings. Four men murdered, one wounded. The robber, Captain Lewis J. Whistler, killed himself. The money was found in the wall of his quarters."
January 17, 1920, this article appeared in "The Fourth Estate" newspaper on page 35.
<![if !vml]>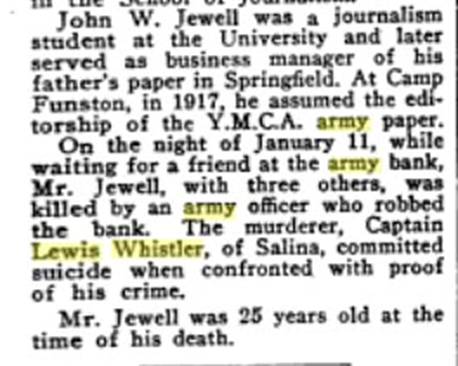 <![endif]>
Another article mentions this crime. This article was in "Kansas Trails" dedicated to free genealogy.
http://genealogytrails.com/kan/geary/newsarticles.html
ARMY BANDIT AND AX SLAYER KILLS HIMSELF
CAMP FUNSTON, Kansas, Jan. 12---With the finding late today of the body of Capt. Lewis R. Whisler of Salina, Kansas, in his tiny office at the national army cantonment here, the last chapter was written in the bloody story of the looting last night of the army bank and the subsequent murder of four men and seriously wounding of a fifth. The murders were committed with a hand ax.
Capt. Whisler killed himself, firing two shots from a regulation army service rifle into his head. The first bullet glanced downward through one cheek, but the other went true and lodged in his brain. The suicide followed a general order from headquarters instructing all captains at the cantonment to report and have their finger prints taken.
A note was left by the army officer addressed to a woman, whose name the authorities so far have declined to divulge. The note said: "have been thinking of committed suicide for a long time, but I have never had a good reason. Yesterday I went and made myself a reason."
The room in which Capt. Whisler's body was found was smeared with blood spots. Where he had washed himself apparently after the murders last night there was much blood. Two blood-soaked towels were found in the room and the table was spotted with it.
Capt. Whisler borrowed two hatchets from a supply company yesterday, according to officials, and he borrowed two more today.
Wornall, who recovered consciousness this morning, told the authorities that the murderer was an army captain, whose face he recognized and who, he said, was a close friend of C. Fulton Winters, of Kansas City, head of the army hank, one of the men killed. As a result of Wornall's statement, a general check of army officers was begun. This afternoon the order that all captains should report and have their finger prints taken was issued.
Wornall, in describing the murders, said a man came to the door of the bank about 8:30 o'clock last night and rapped insistently. He was admitted and, covering the five men with his revolver, forced Wornall to tie the hands of the four men, after which he tied Wornall's hands. The man then proceeded to loot the bank safe, and had reached the door when Winters said to Wornall:
"You recognize him, don't you?"
Wornall answered that he did.
The murderer turned to Winters and said:
"You know me, do you?"
"I sure do, you black scoundrel," was Winters' reply.
Wornall says at this point the man hesitated, and then suddenly leaped at the five men, swinging his hand ax. He struck the helpless men down, one by one. Wornall was the last struck. When he recovered consciousness he managed to untie his hands and made his way into the open air, where he was discovered by a sentry.
(Jonesboro Evening Sun ~ January 17, 1918)
Postscript:
There is no mention of the diamond rings being recovered.
Although there is a great deal of information on the crime magazines of the 1900s, I was unable to find any articles on the Fort Riley robbery.
We know the crime.......we know the victims......we know the suspect.  What we don't know is what happened to the diamonds..........
The End
<![if !vml]>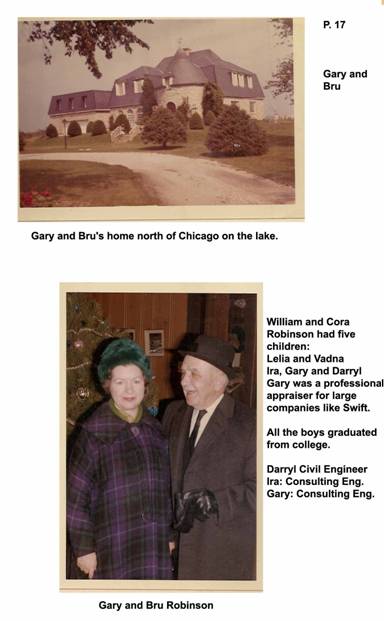 <![endif]>
<![if !vml]>
<![endif]>
<![if !vml]>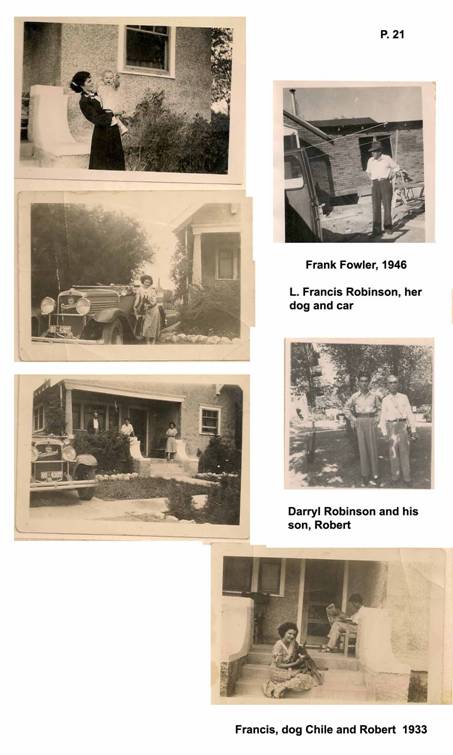 <![endif]>
<![if !vml]>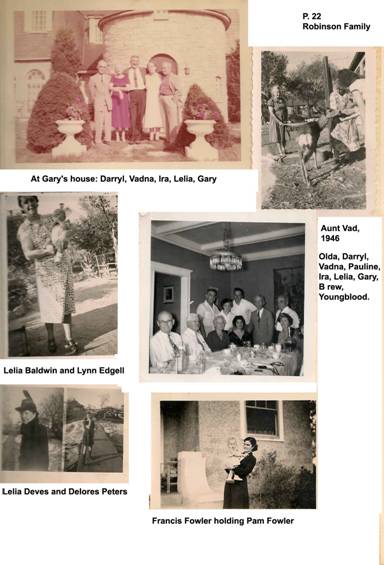 <![endif]>
<![if !vml]>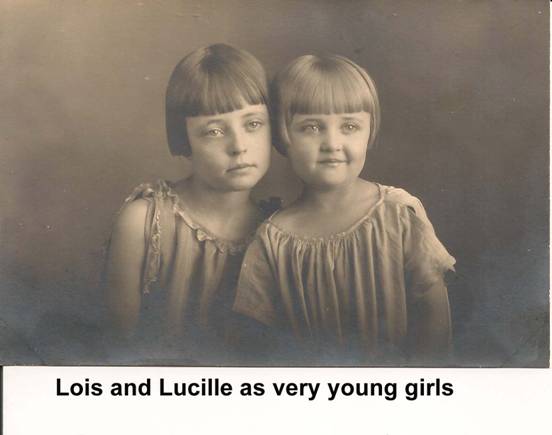 <![endif]>
<![if !vml]>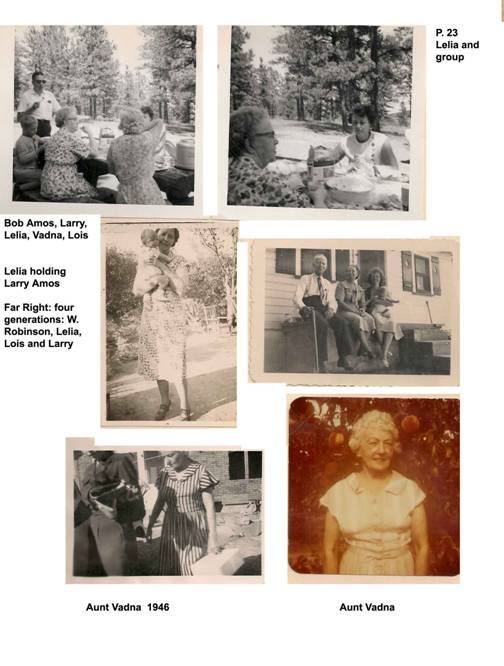 <![endif]>
<![if !vml]>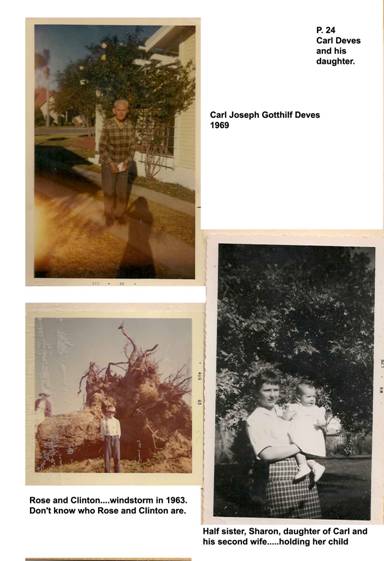 <![endif]>
<![if !vml]>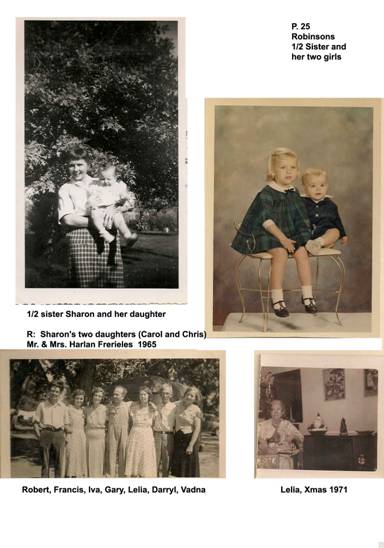 <![endif]>
<![if !vml]>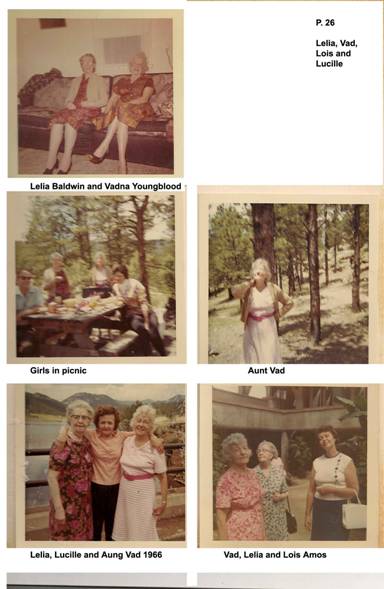 <![endif]>
<![if !vml]>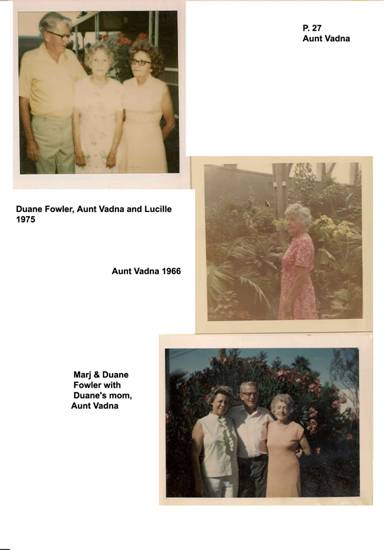 <![endif]>
<![if !vml]>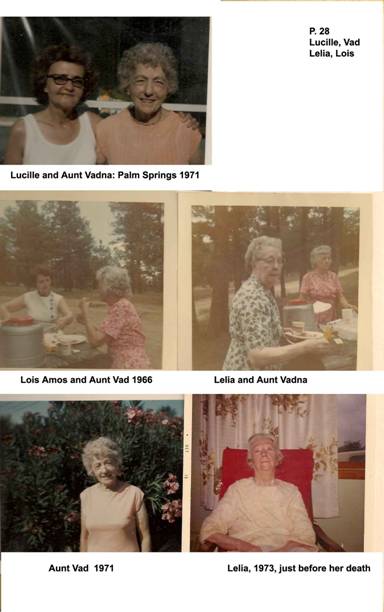 <![endif]>
<![if !vml]>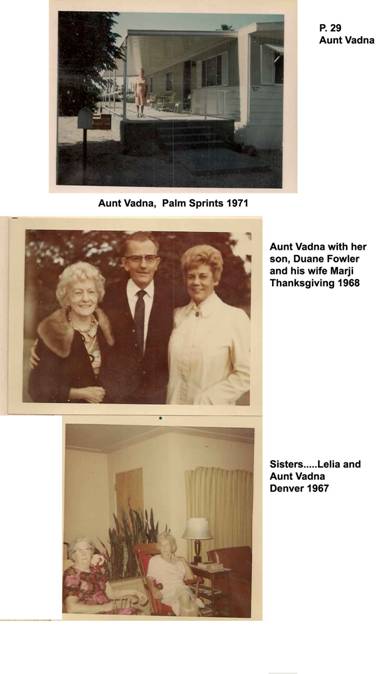 <![endif]>
<![if !vml]>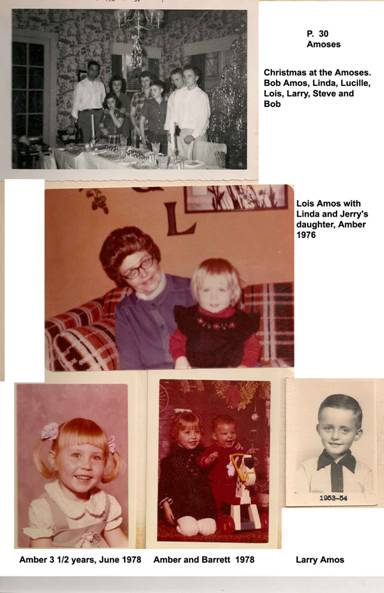 <![endif]>
                                                                                                                                                         P. 30a
<![if !vml]>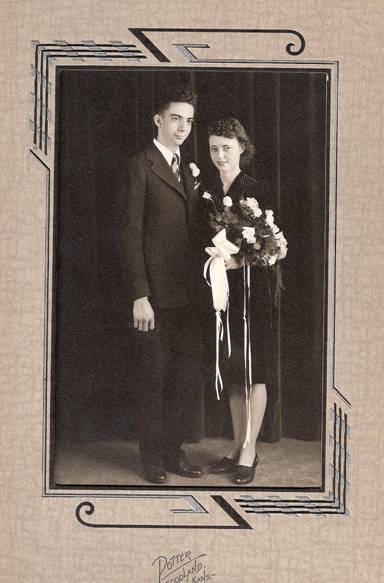 <![endif]>
                                                                                         P. 30b
<![if !vml]>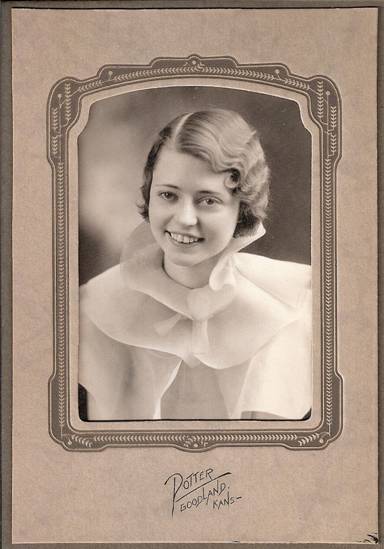 <![endif]>
                                                                                                                                          P. 30c
<![if !vml]>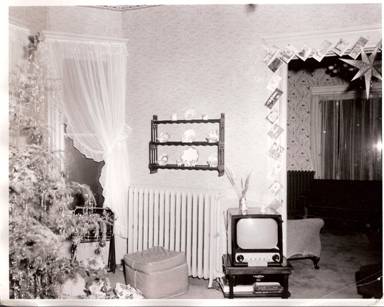 <![endif]>
<![if !vml]>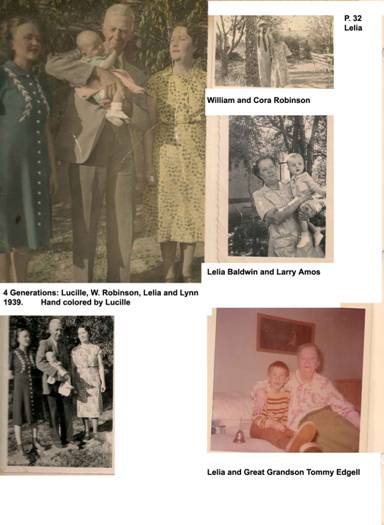 <![endif]>
<![if !vml]>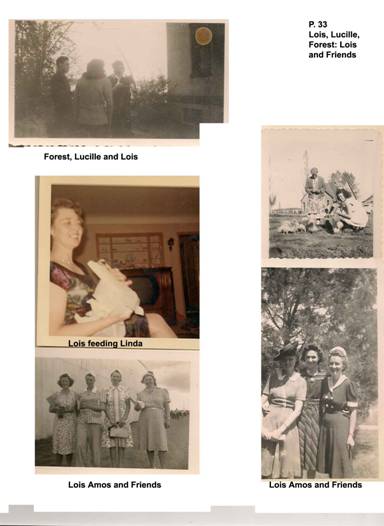 <![endif]>
<![if !vml]>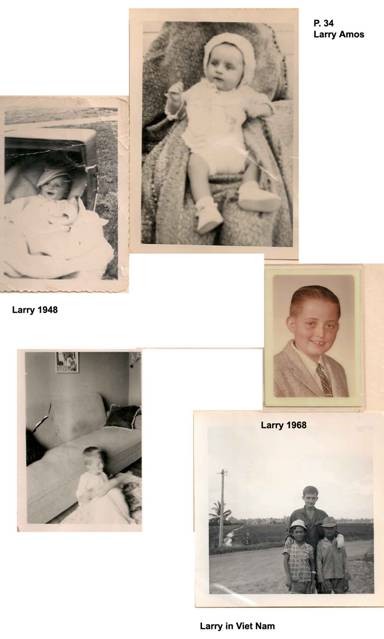 <![endif]>
<![if !vml]>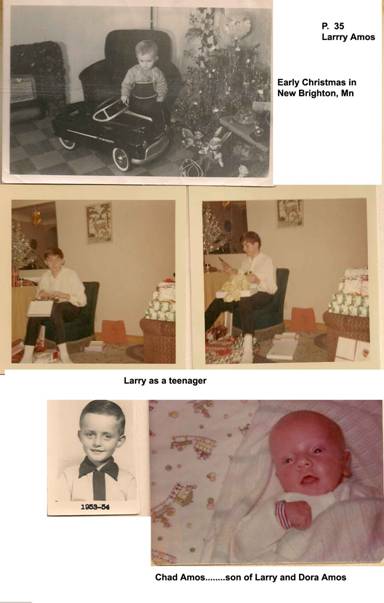 <![endif]>
<![if !vml]>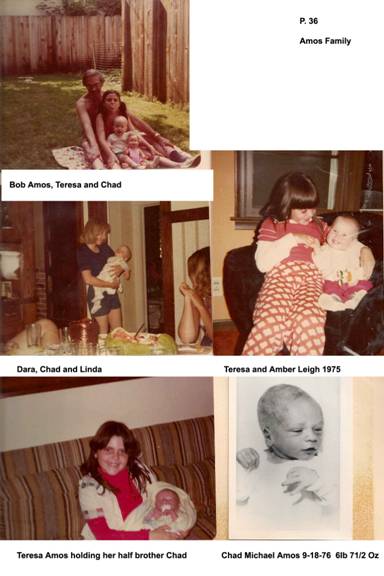 <![endif]>
<![if !vml]>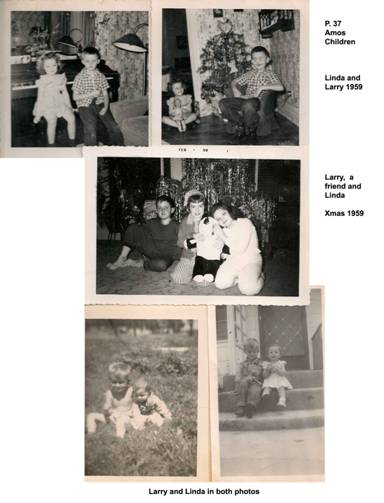 <![endif]>
<![if !vml]>
<![endif]>
<![if !vml]>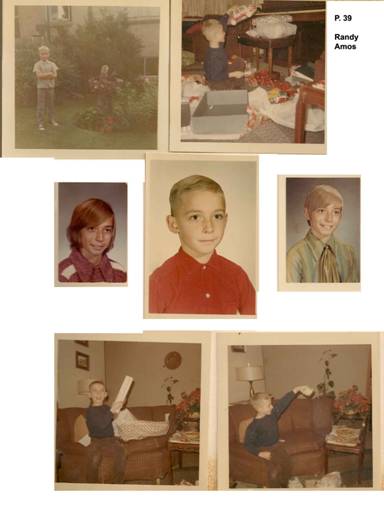 <![endif]>
<![if !vml]>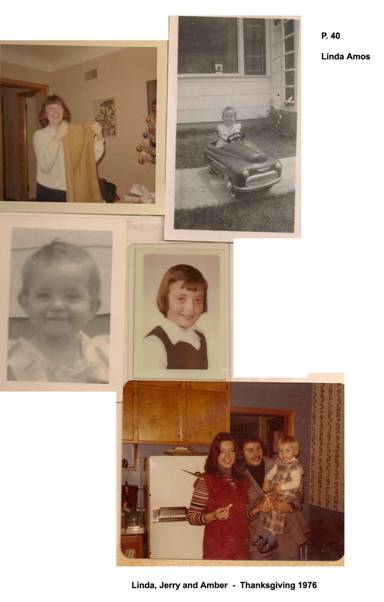 <![endif]>
<![if !vml]>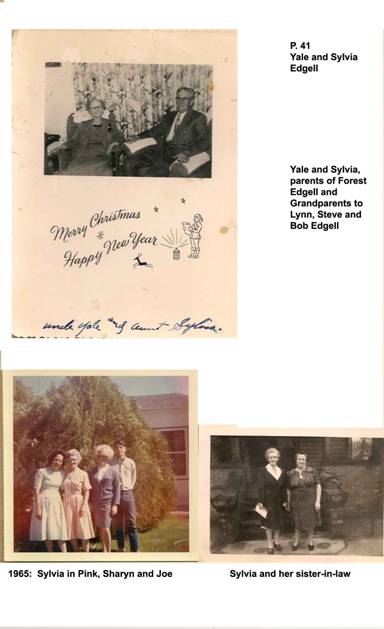 <![endif]>
<![if !vml]>
<![endif]>
<![if !vml]>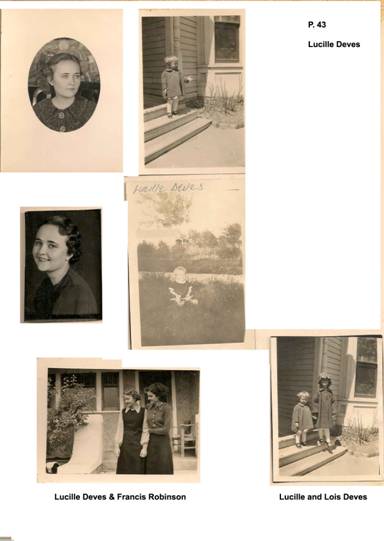 <![endif]>
<![if !vml]>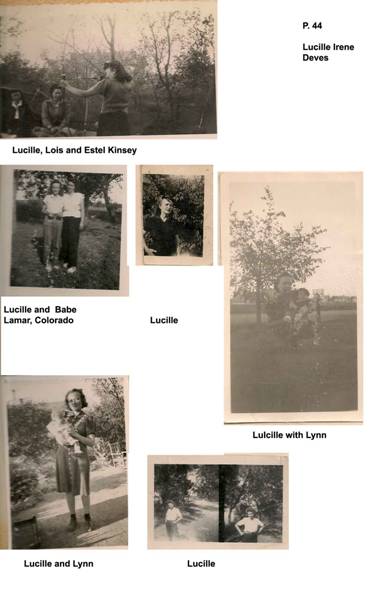 <![endif]>
<![if !vml]>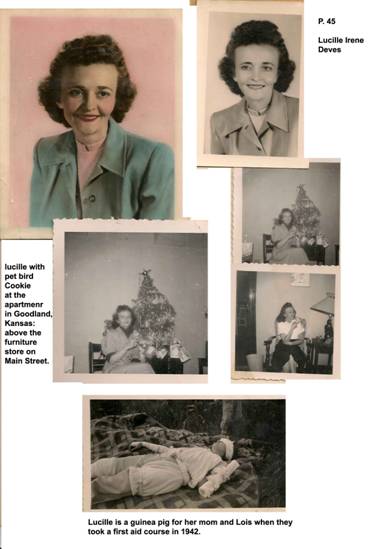 <![endif]>
<![if !vml]>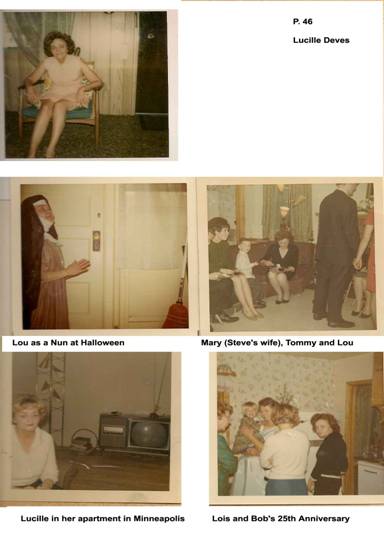 <![endif]>
<![if !vml]>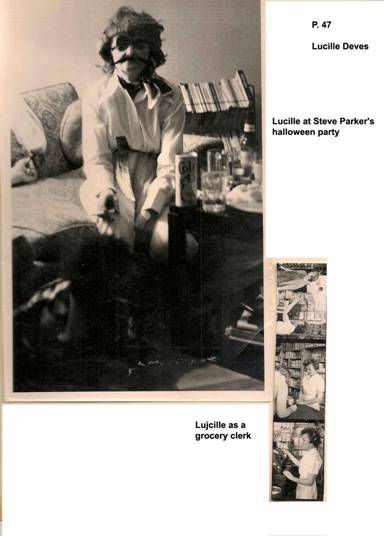 <![endif]>
<![if !vml]>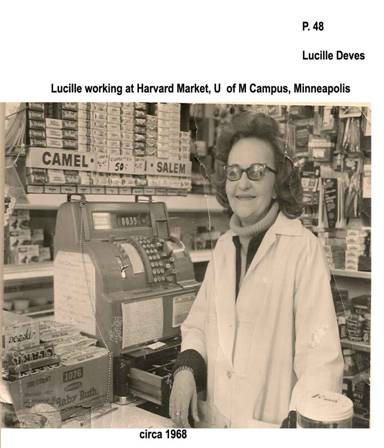 <![endif]>
<![if !vml]>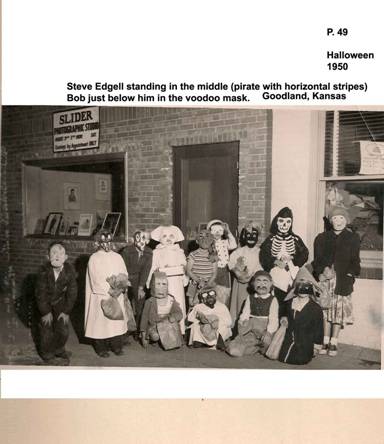 <![endif]>
<![if !vml]>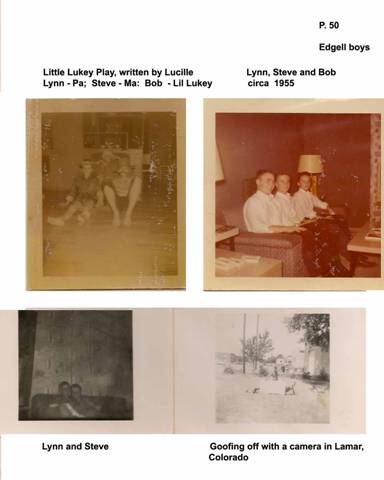 <![endif]>
The "Little Lukey" plays were mainly in Goodland.  The bottom two photos were in Lamar, Colorado.
                                                                                                                                                         P. 50a                                     
<![if !vml]>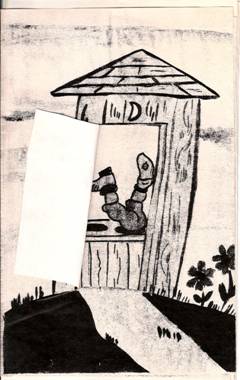 <![endif]>           <![if !vml]>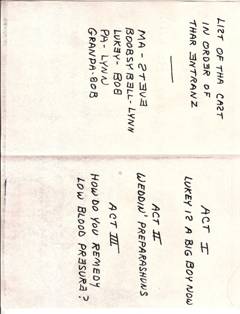 <![endif]>
<![if !vml]>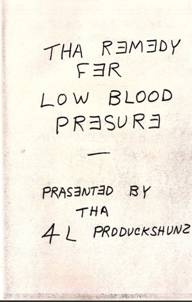 <![endif]>
<![if !vml]>
<![endif]>
<![if !vml]>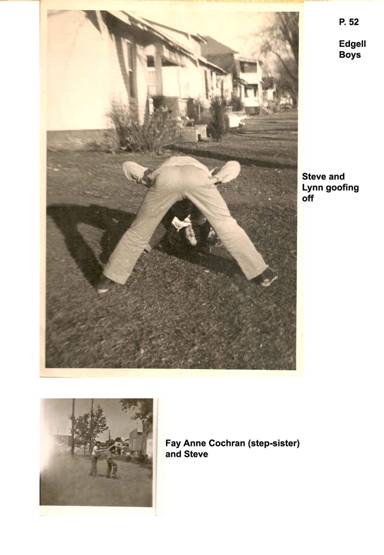 <![endif]>
<![if !vml]>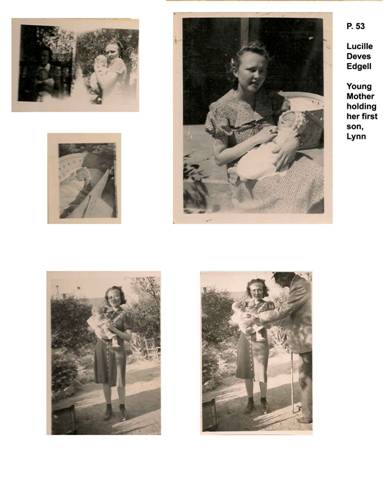 <![endif]>
<![if !vml]>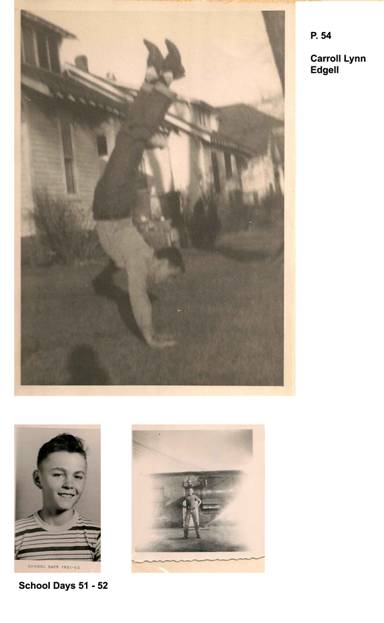 <![endif]>
<![if !vml]>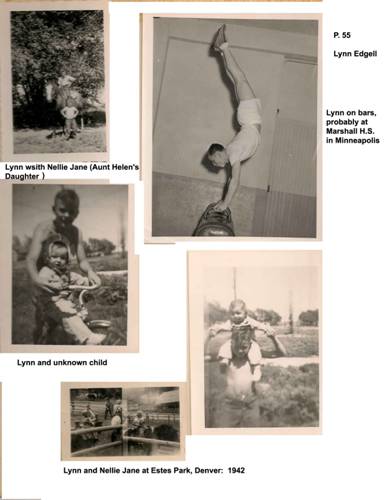 <![endif]>
_
<![if !vml]>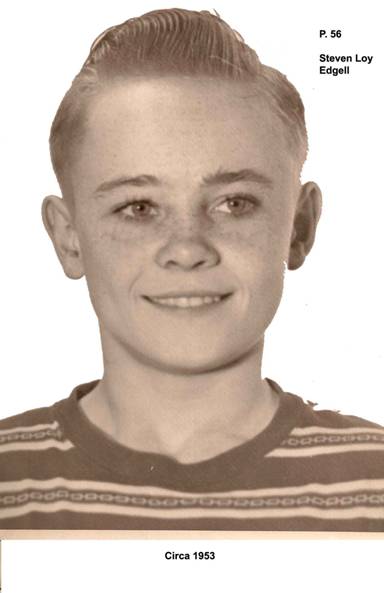 <![endif]>
_
<![if !vml]>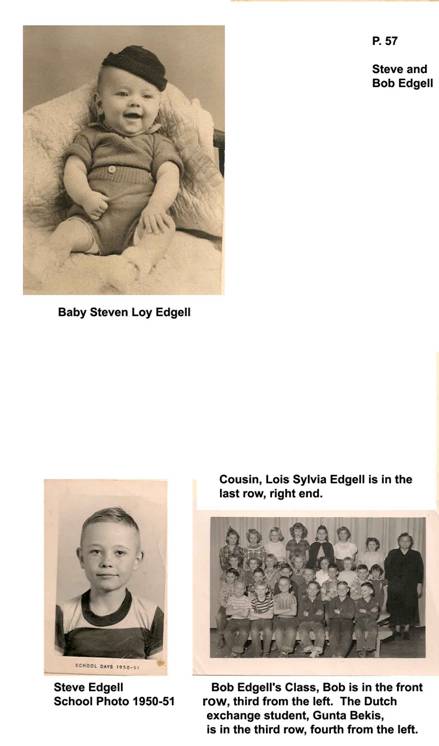 <![endif]>
_
<![if !vml]>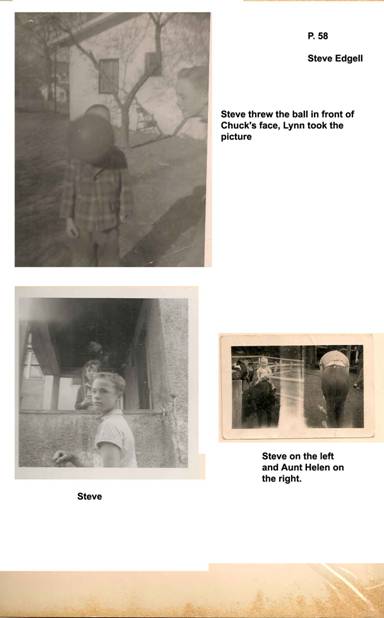 <![endif]>
_
<![if !vml]>
<![endif]>
_
<![if !vml]>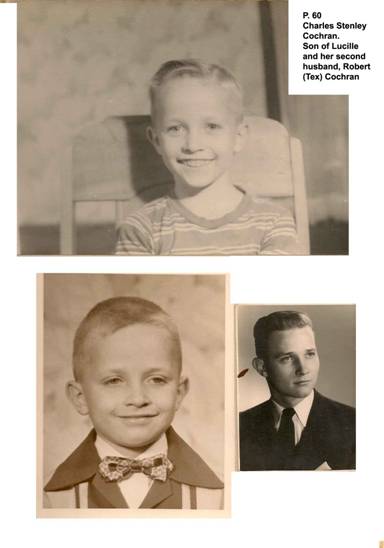 <![endif]>
<![if !vml]>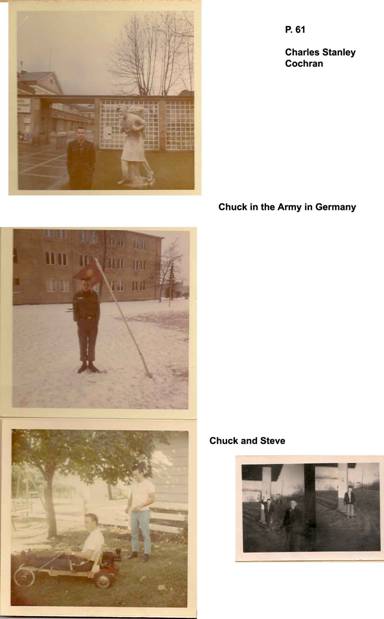 <![endif]>
<![if !vml]>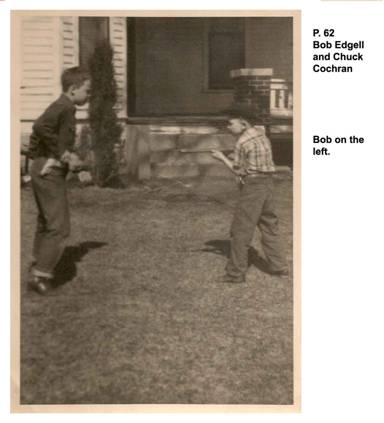 <![endif]>
<![if !vml]>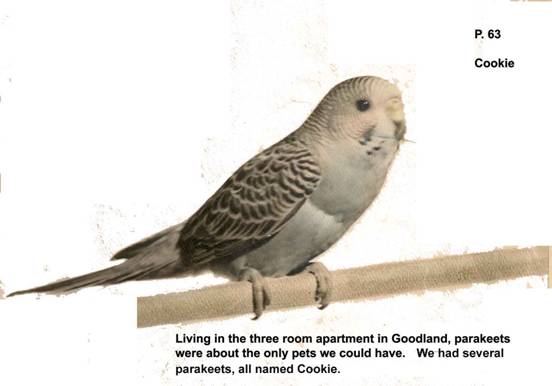 <![endif]>
_
<![if !vml]>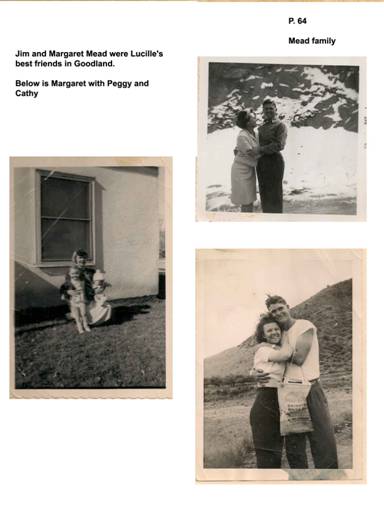 <![endif]>
_
<![if !vml]>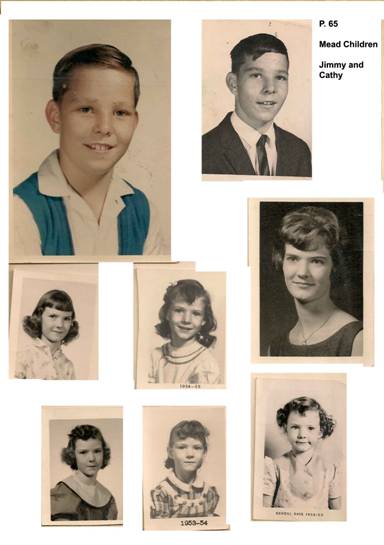 <![endif]>
_
<![if !vml]>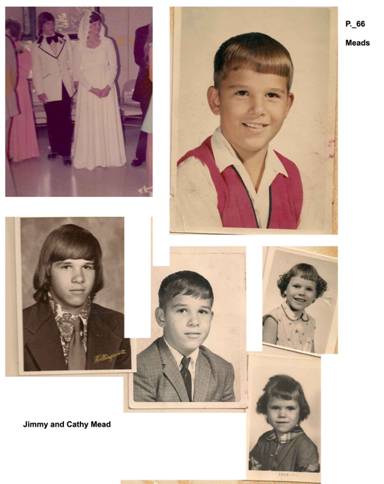 <![endif]>
<![if !vml]>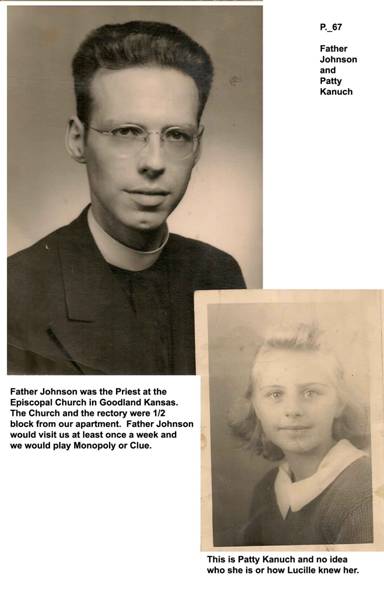 <![endif]>
<![if !vml]>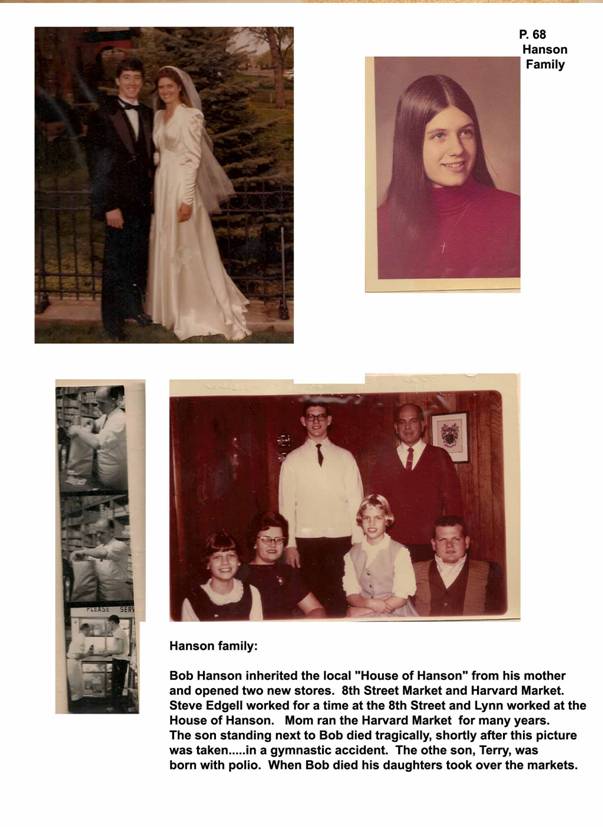 <![endif]>
_<![if !vml]>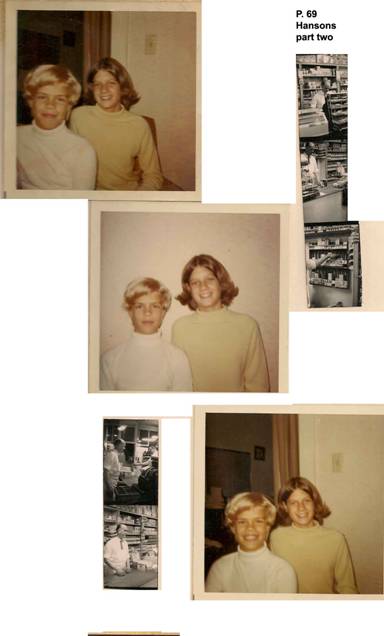 <![endif]>
<![if !vml]>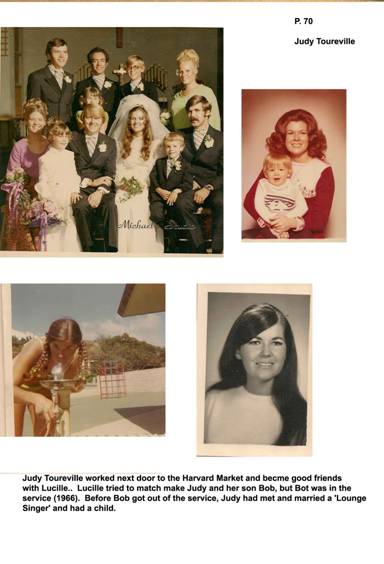 <![endif]>
_
<![if !vml]>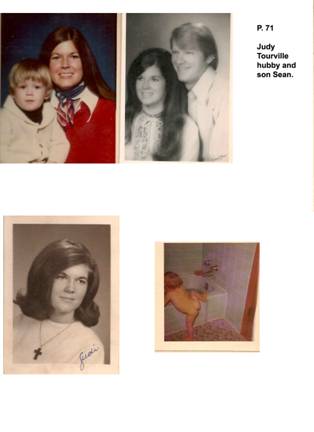 <![endif]>
   <![if !vml]>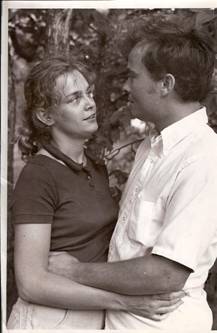 <![endif]>
Bob Edgell Andrea Sullivan 1971
_            <![if !vml]>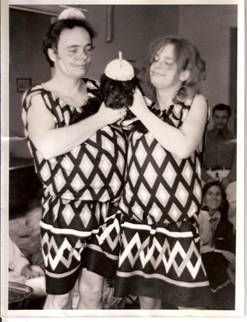 <![endif]>
Bob Edgell Andrea Sullivan 1
        Halloween: Bob Edgell Andrea Sullivan and JoJo
_
<![if !vml]>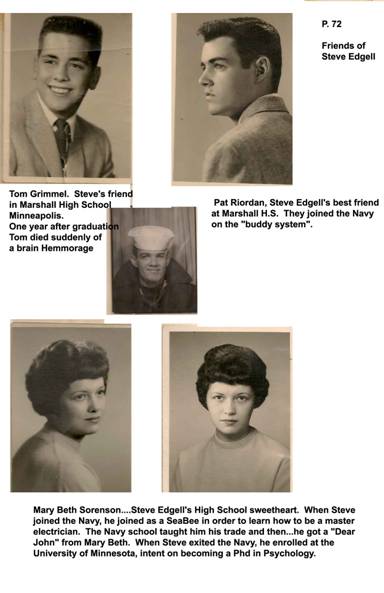 <![endif]>
<![if !vml]>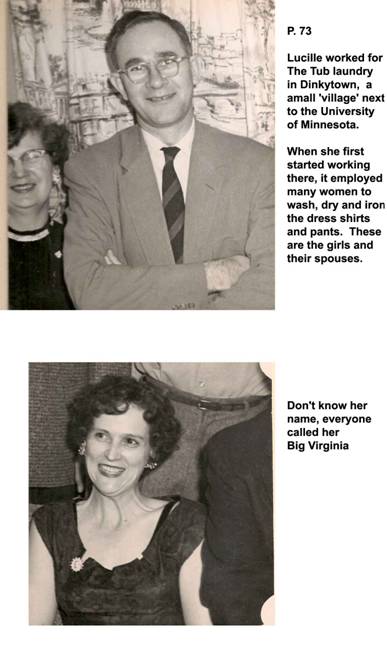 <![endif]>
_
<![if !vml]>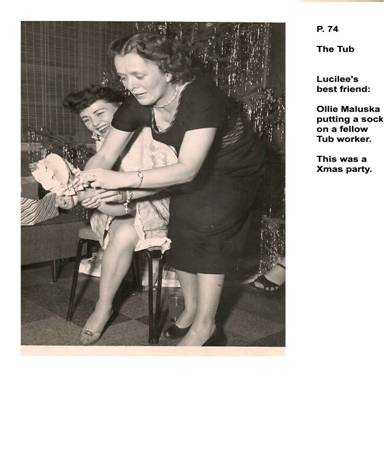 <![endif]>
<![if !vml]>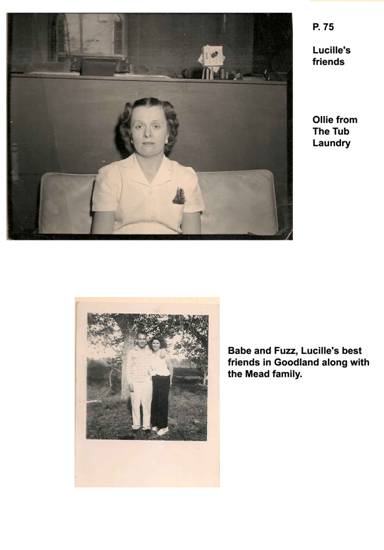 <![endif]>
_
Lucille worked at the Tub laundry from 1957 to about 1961.  There was a large apartment in the basement of the Tub where the owner, Rollie Boettcher would hold parties for the crew.  The crew consisted of several women who ironed shirts and pants.
<![if !vml]>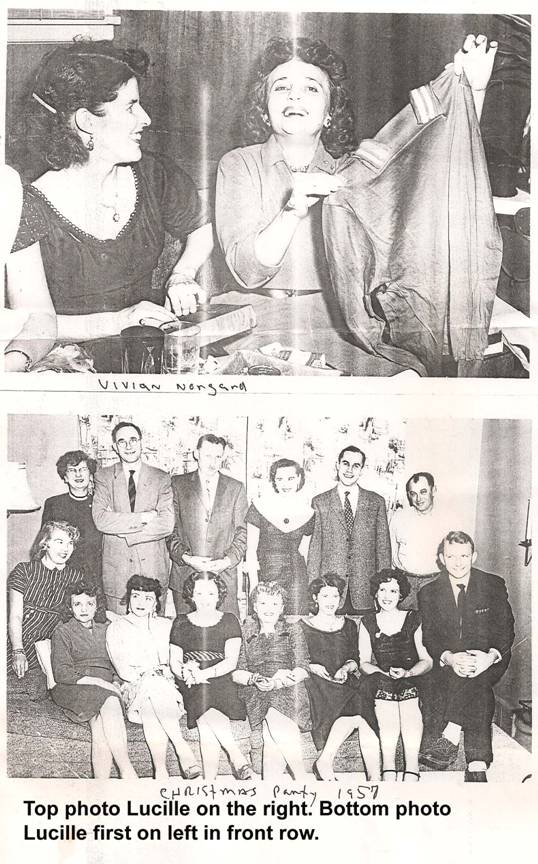 <![endif]>
<![if !vml]>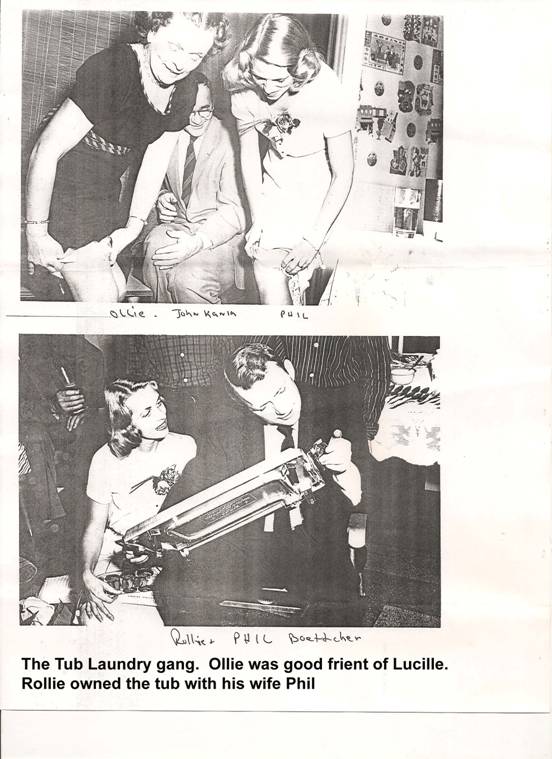 <![endif]>
<![if !vml]>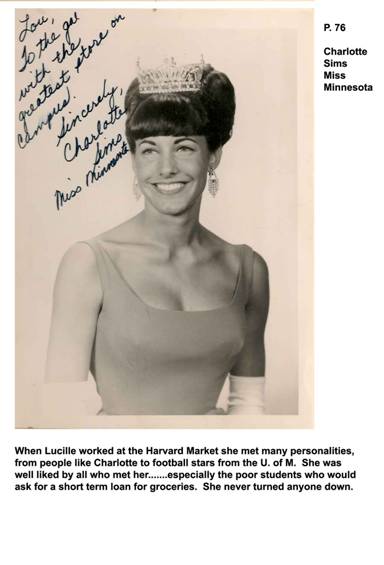 <![endif]>
<![if !vml]>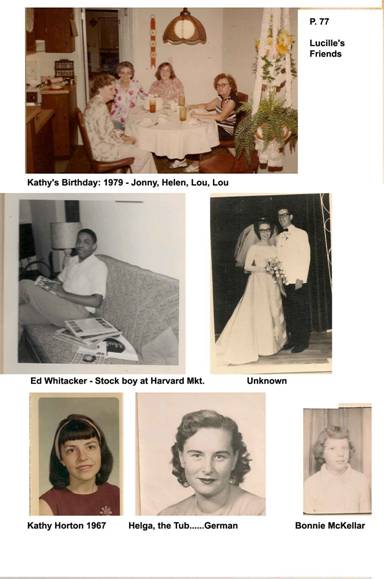 <![endif]>
<![if !vml]>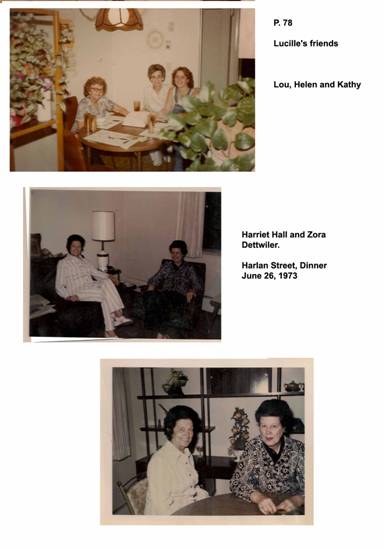 <![endif]>
_
<![if !vml]>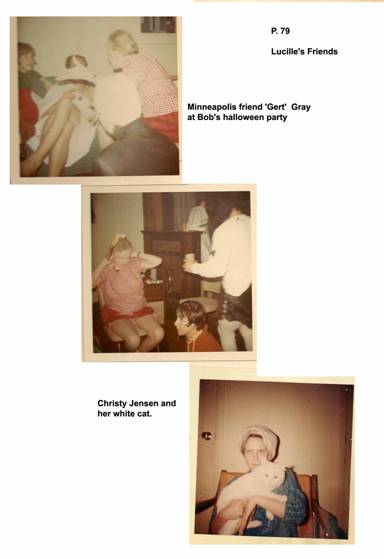 <![endif]>
_
<![if !vml]>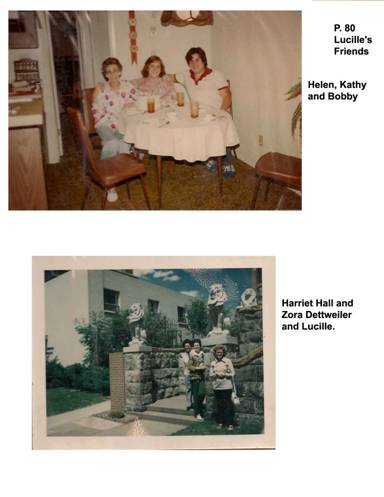 <![endif]>
<![if !vml]>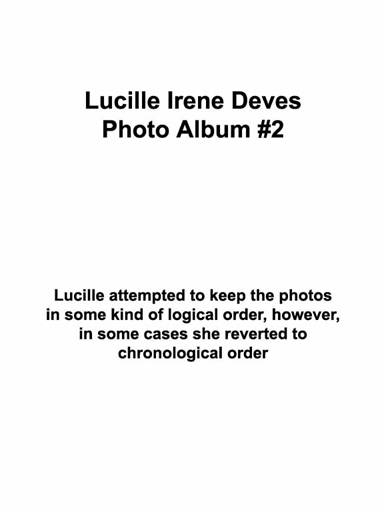 <![endif]>
Shari

Lynn Edgell
<![if !vml]>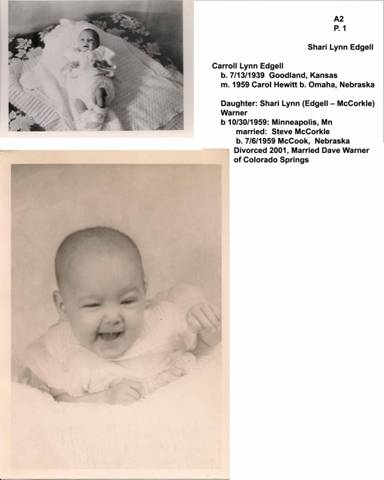 <![endif]>
_
<![if !vml]>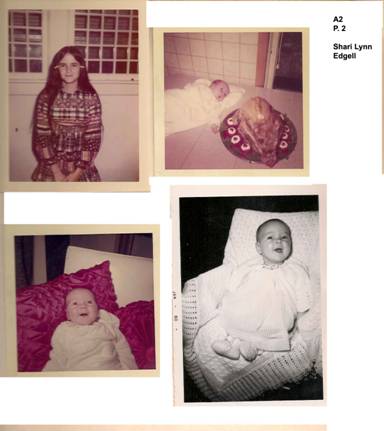 <![endif]>
_
<![if !vml]>
<![endif]>
<![if !vml]>
<![endif]>
<![if !vml]>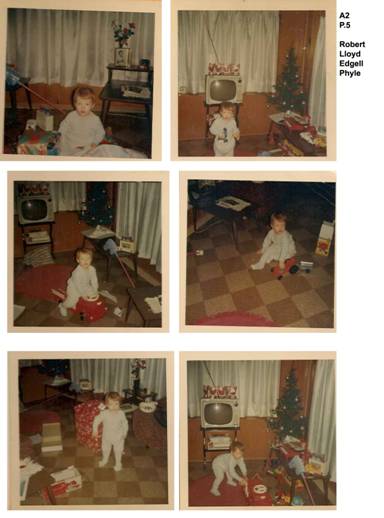 <![endif]>
_
<![if !vml]>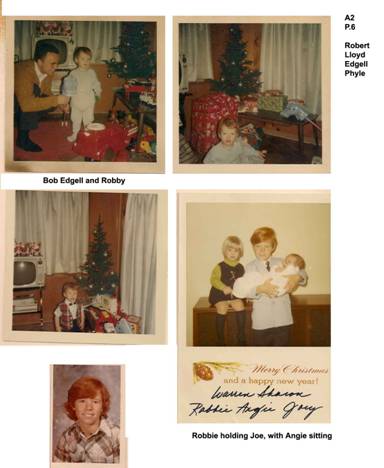 <![endif]>
_
<![if !vml]>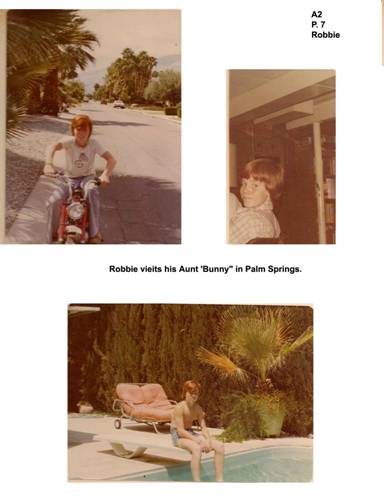 <![endif]>
_
<![if !vml]>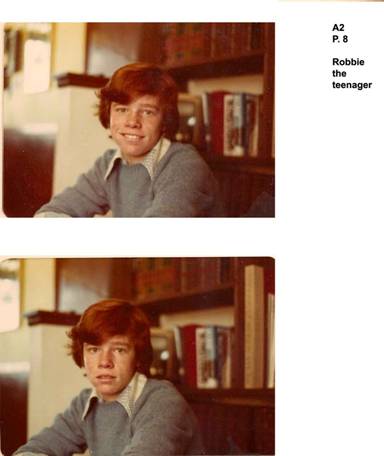 <![endif]>
_
<![if !vml]>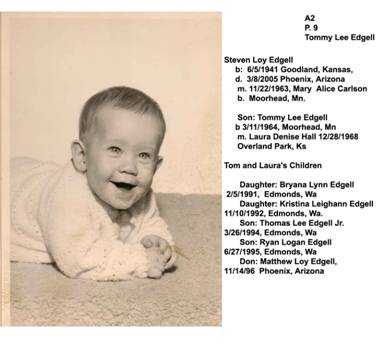 <![endif]>
_
<![if !vml]>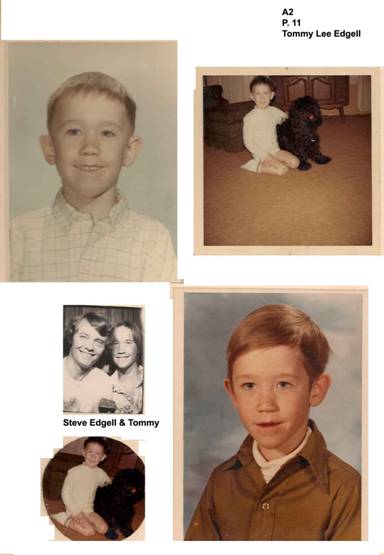 <![endif]>
_
<![if !vml]>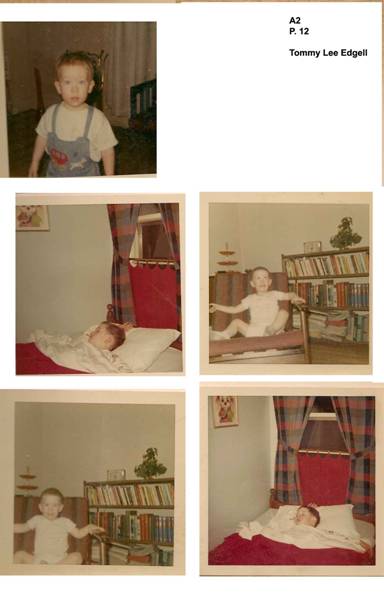 <![endif]>
<![if !vml]>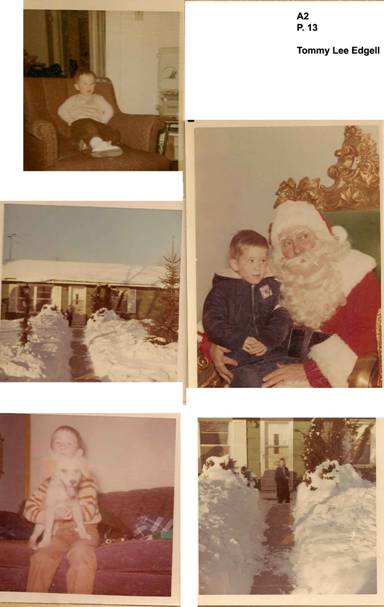 <![endif]>
_
<![if !vml]>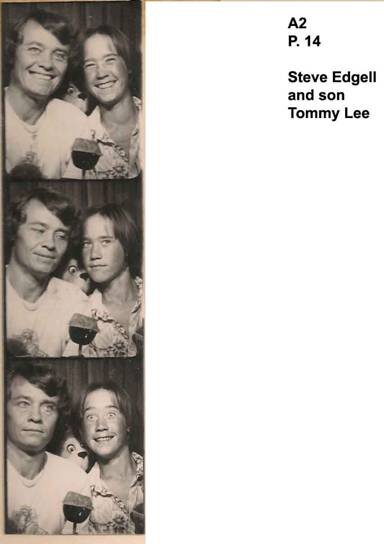 <![endif]>
_
<![if !vml]>
<![endif]>
_
                                                                                                                                                         A2
                                                                                                                                                         P. 16
                                                                                        Blank Album Page
<![if !vml]>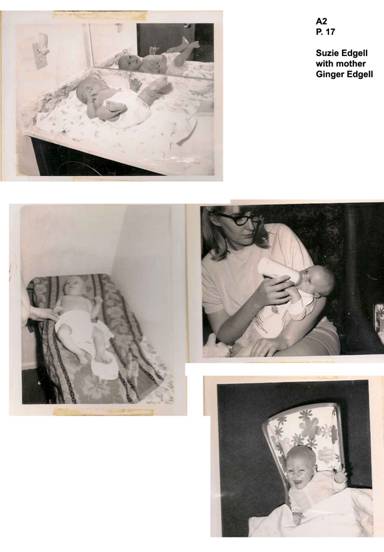 <![endif]>
_
<![if !vml]>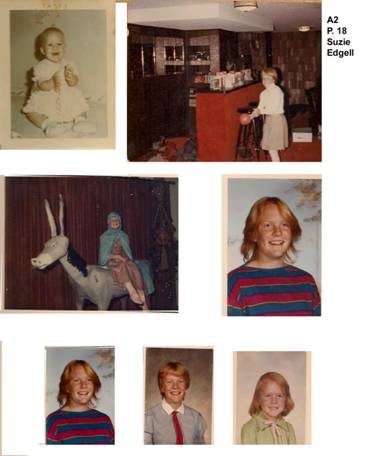 <![endif]>
<![if !vml]>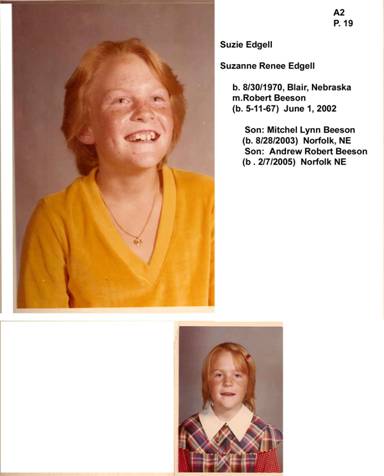 <![endif]>
_
<![if !vml]>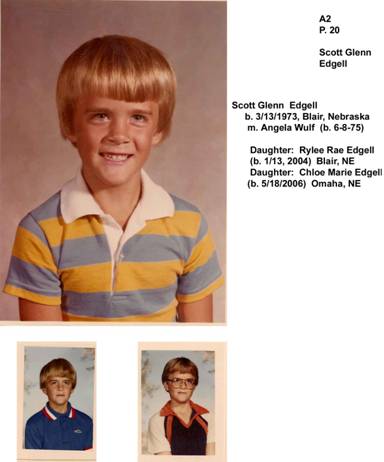 <![endif]>
_
<![if !vml]>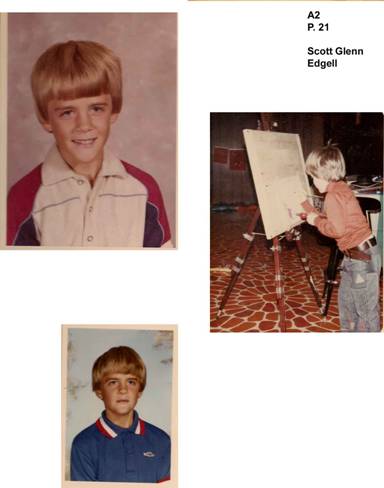 <![endif]>
<![if !vml]>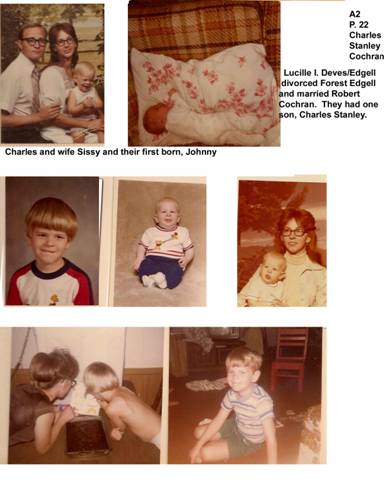 <![endif]>
_
<![if !vml]>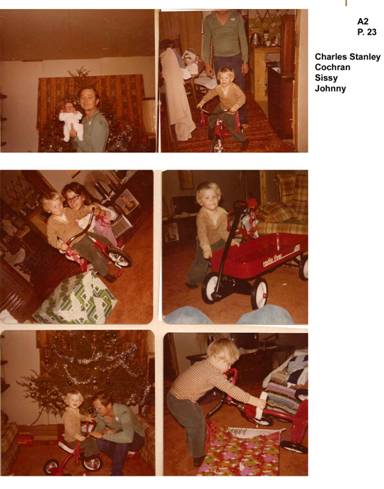 <![endif]>
_
<![if !vml]>
<![endif]>
_
Jim Walsh is the oldest son of Robert and Thelma Walsh (Christopherson) and older brother of Susan Walsh (Riordan – Edgell)
<![if !vml]>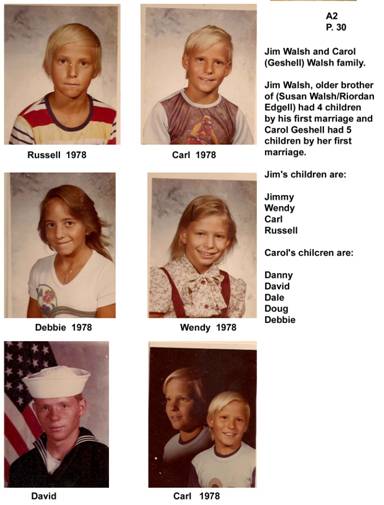 <![endif]>
_
This page interrupts the flow.  This picture is of Chuck Cochran's children.
<![if !vml]>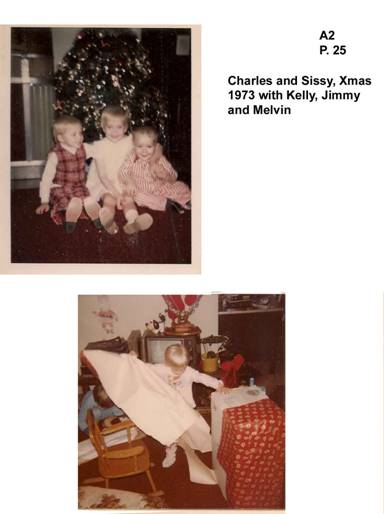 <![endif]>
_
<![if !vml]>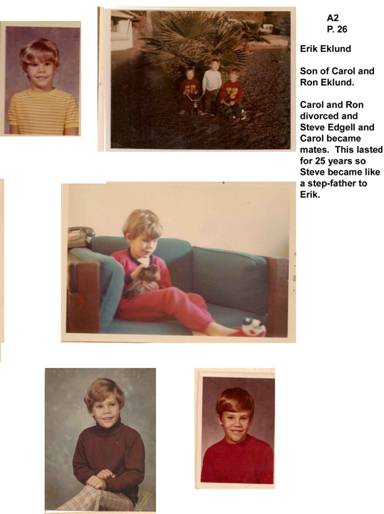 <![endif]>
<![if !vml]>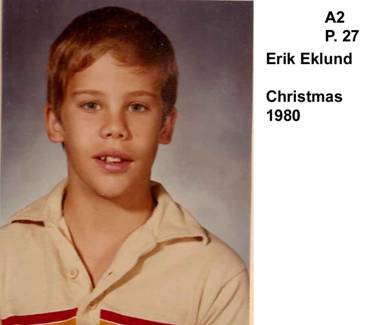 <![endif]>
_
<![if !vml]>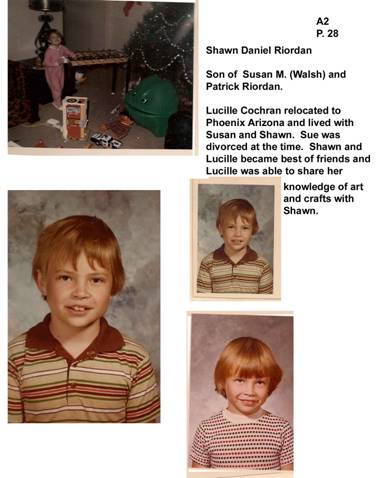 <![endif]>
_
<![if !vml]>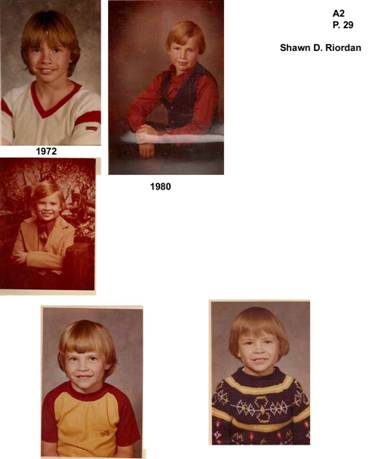 <![endif]>
_<![if !vml]>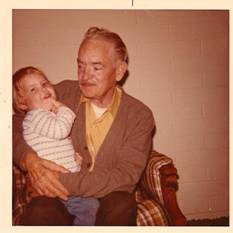 <![endif]>
Shawn with Grandpa John Riordan
A2
Page 30
Album Page Blank
<![if !vml]>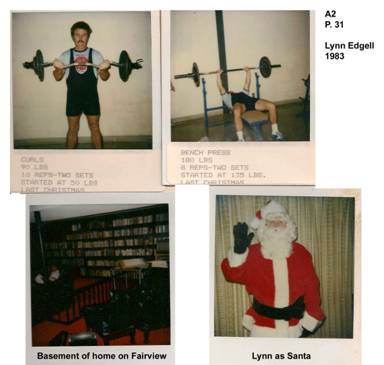 <![endif]>
_
Shari is Lynn Edgell's daughter by his first wife, Carol Linder
<![if !vml]>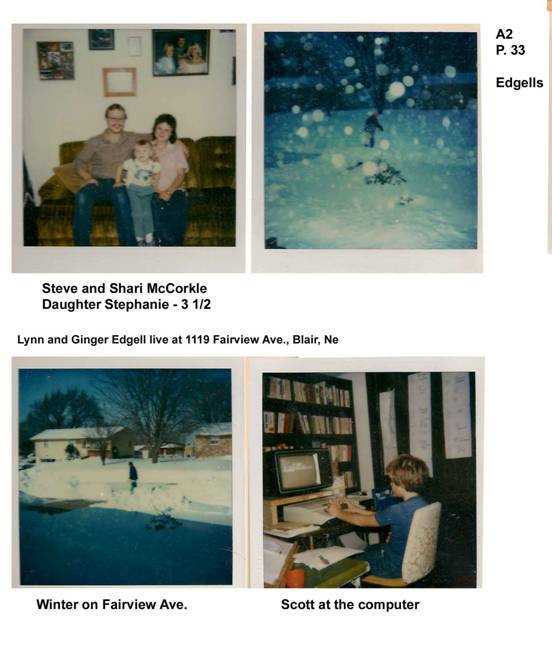 <![endif]>
_
<![if !vml]>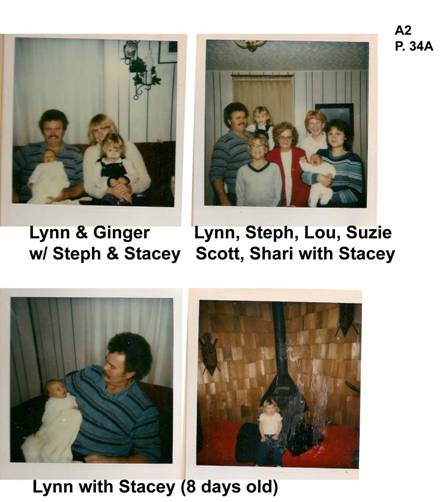 <![endif]>
                               Steph and Stacey are Shari's daughters by her
                               husband, Steve McCorkle
_
<![if !vml]>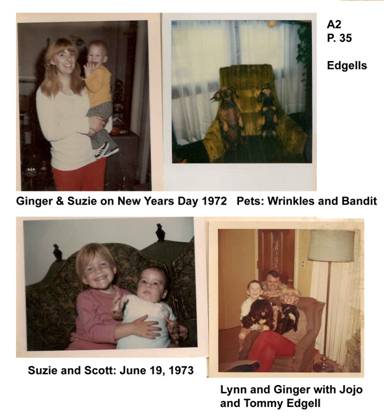 <![endif]>
_
<![if !vml]>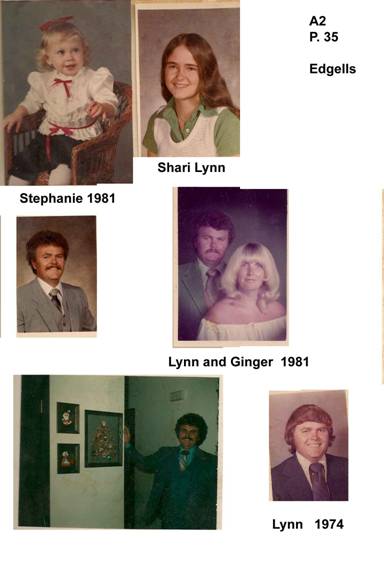 <![endif]>
_
<![if !vml]>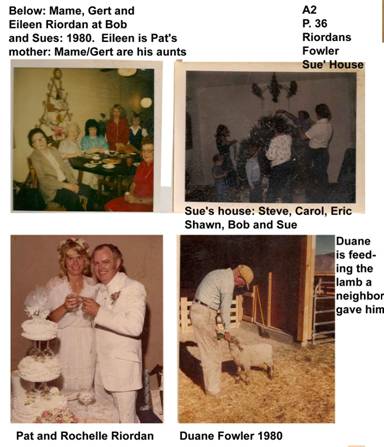 <![endif]>
                       Rochelle is Pat's second wife.
_
<![if !vml]>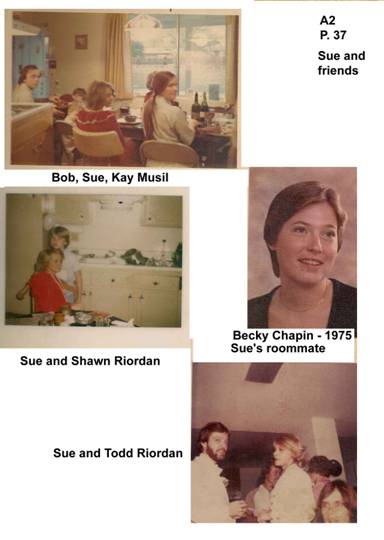 <![endif]>
                                                                                                                                    A2
                                                                                                                                Page 39
_<![if !vml]>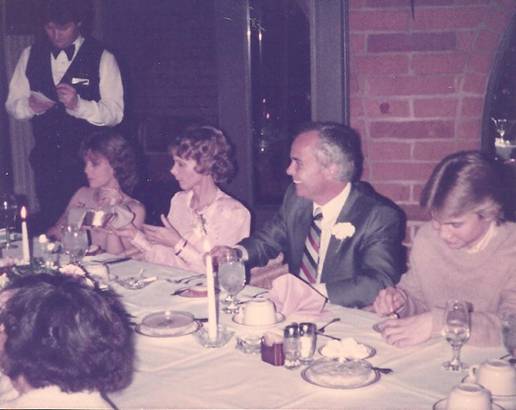 <![endif]>
                                    Sue, Bob and 16 year old Shawn
<![if !vml]>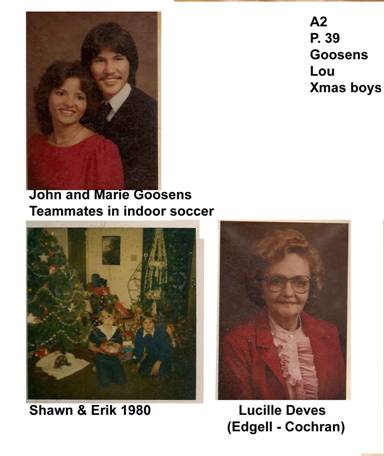 <![endif]>
<![if !vml]>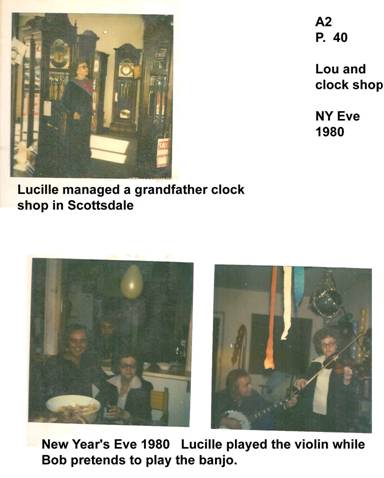 <![endif]>
<![if !vml]>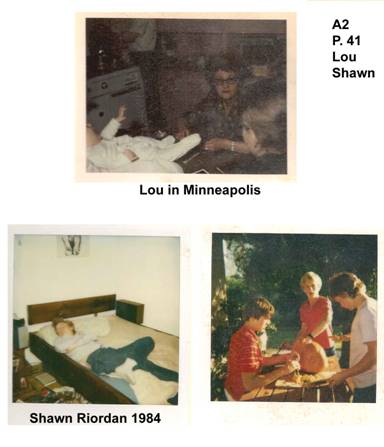 <![endif]>
Richard and Kay Musil lived in Minneapolis and went to High School with Bob and Steve Edgell.  They both attended the University of Minnesota and married. After Richard's stint in the military, they moved to Phoenix, Arizona.  They have four children:  Aaron, Katie, Ian and Clinton.
<![if !vml]>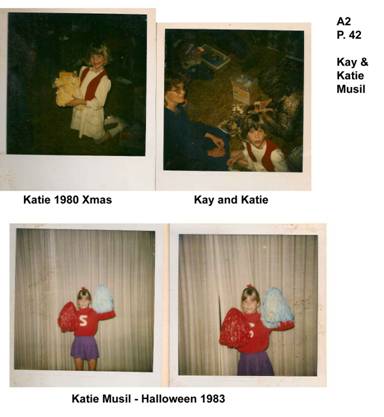 <![endif]>
<![if !vml]>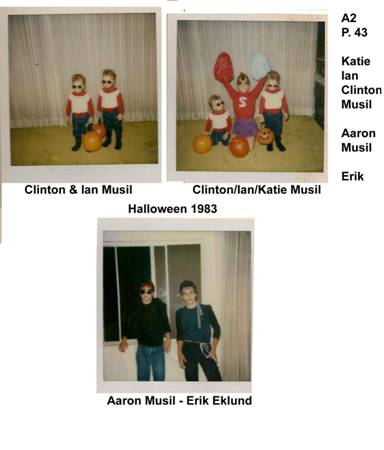 <![endif]>
<![if !vml]>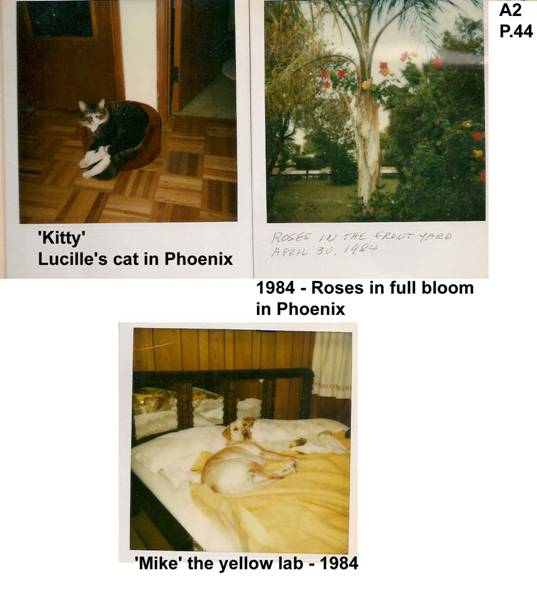 <![endif]>
<![if !vml]>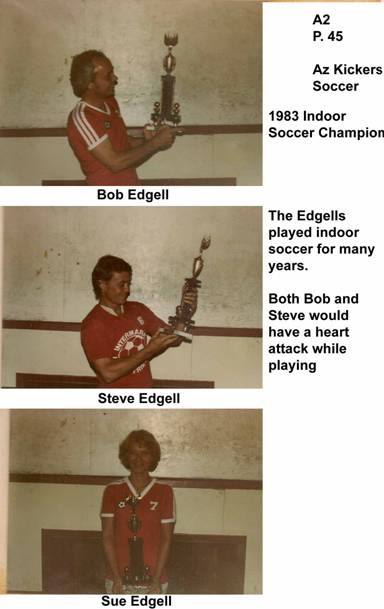 <![endif]>
_
<![if !vml]>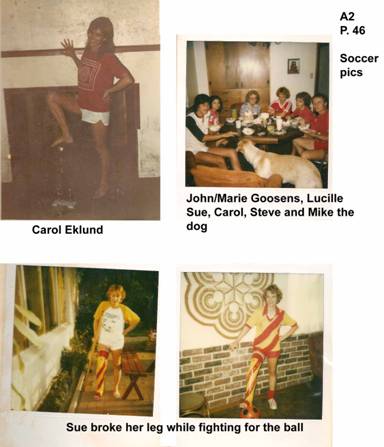 <![endif]>
<![if !vml]>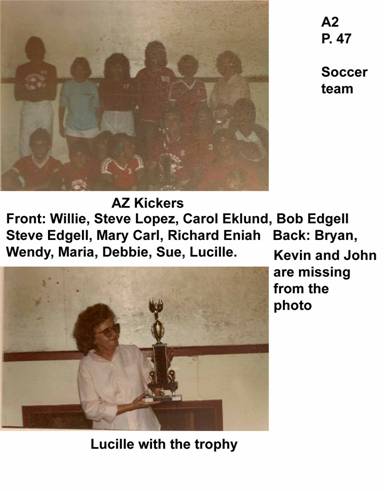 <![endif]>
Vic Edgell is a cousin to Forest Edgell, Lou's first husband and father of Lynn, Steve and Bob. 
<![if !vml]>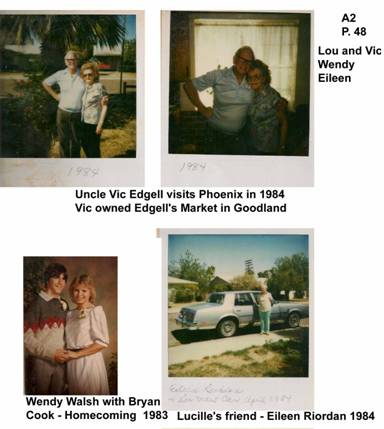 <![endif]>
<![if !vml]>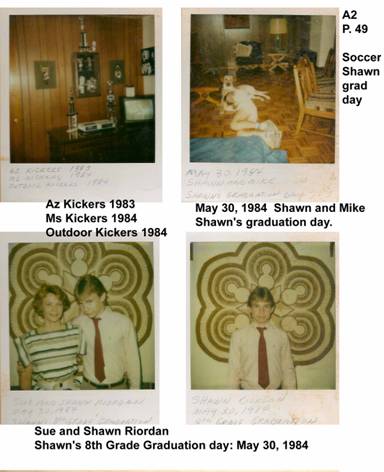 <![endif]>
<![if !vml]>
<![endif]>
<![if !vml]>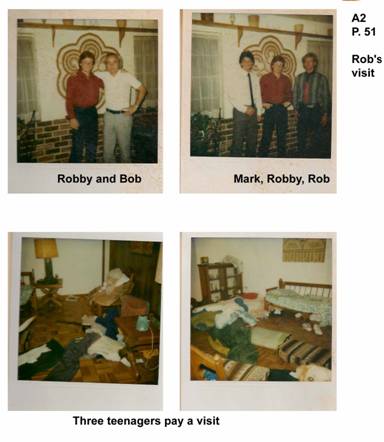 <![endif]>
<![if !vml]>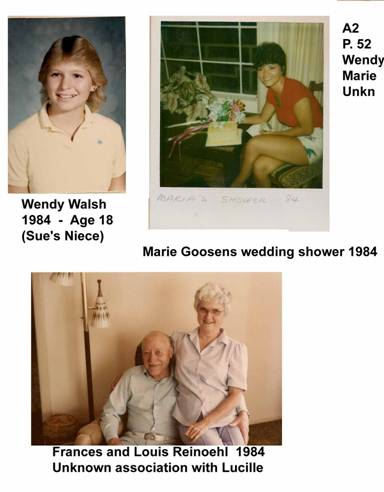 <![endif]>
<![if !vml]>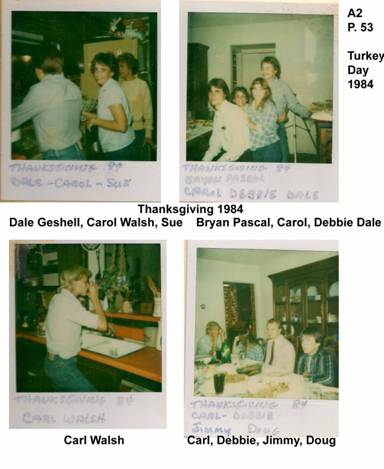 <![endif]>
<![if !vml]>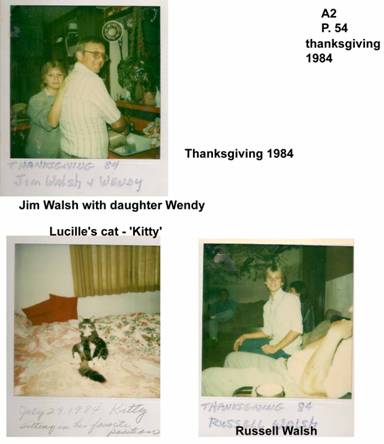 <![endif]>
<![if !vml]>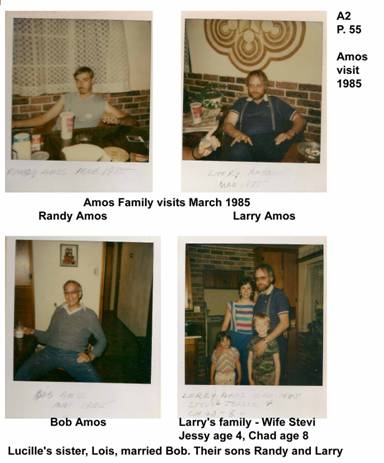 <![endif]>
<![if !vml]>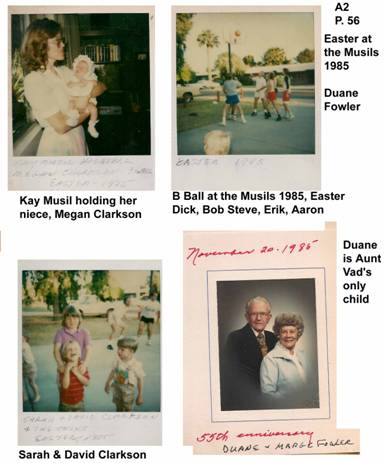 <![endif]>
In October of 1985 Lucille was diagnosed with stage 4 cervical cancer.  The doctors operated, took out what they could and performed a reversible bowel operation called a colostomy.  They also informed her that the cancer was spreading and her life expectancy was less than 6 months.  The news was given to all family members and they responded with visits and prayers as you see in the following pages.
Lucille never complained.  She lived through her cancer as she had lived through her life…….telling stories and finding ways to laugh…..in spite of a headwind against her.  The courage she showed in her life and the changes she made on her own as a single mother was on the surface when she faced death. 
<![if !vml]>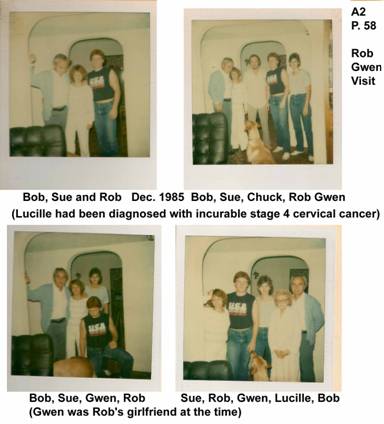 <![endif]>
<![if !vml]>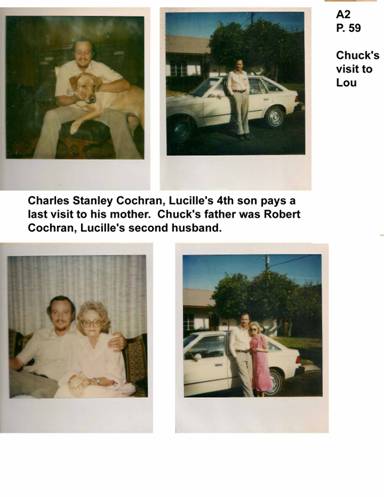 <![endif]>
<![if !vml]>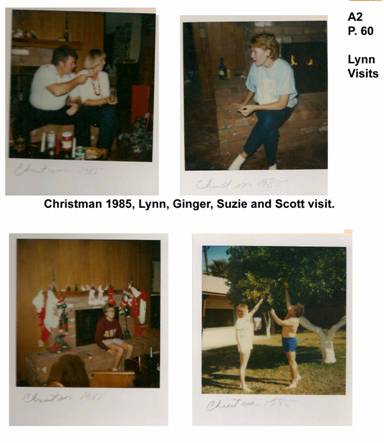 <![endif]>
<![if !vml]>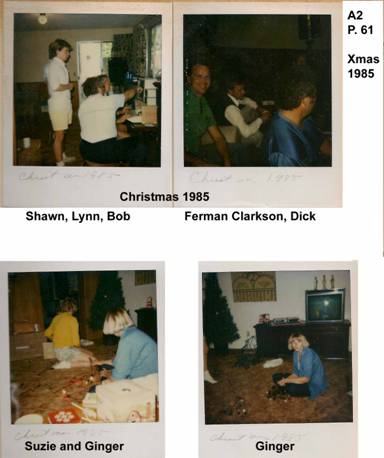 <![endif]>
<![if !vml]>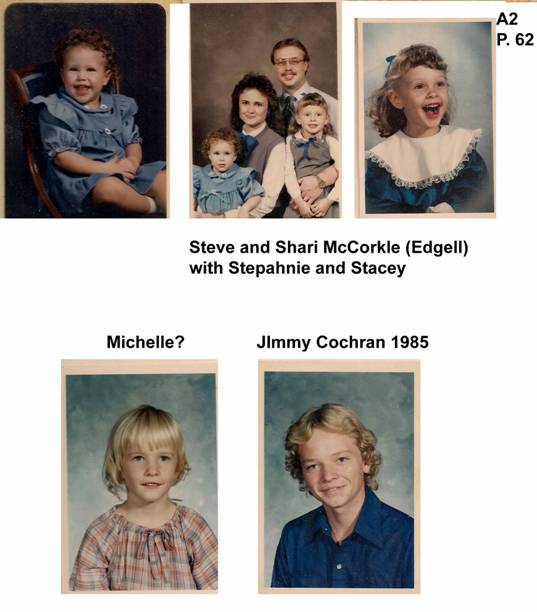 <![endif]>
<![if !vml]>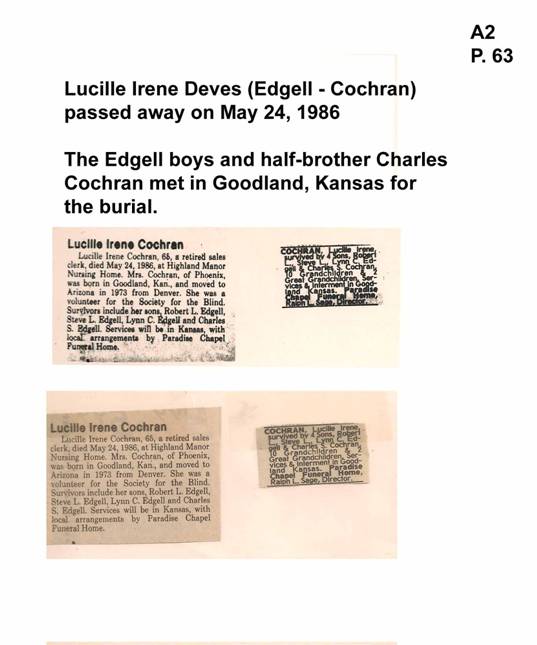 <![endif]>
<![if !vml]>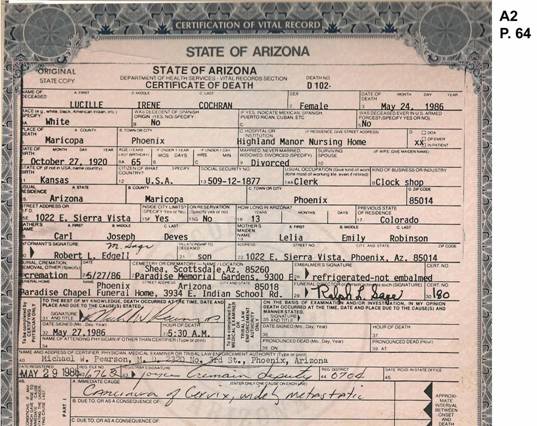 <![endif]>
Lucille's four children and their spouses met in Goodland.  Part of the gathering was a visit to the places of interest to Lucille and the boys.
<![if !vml]>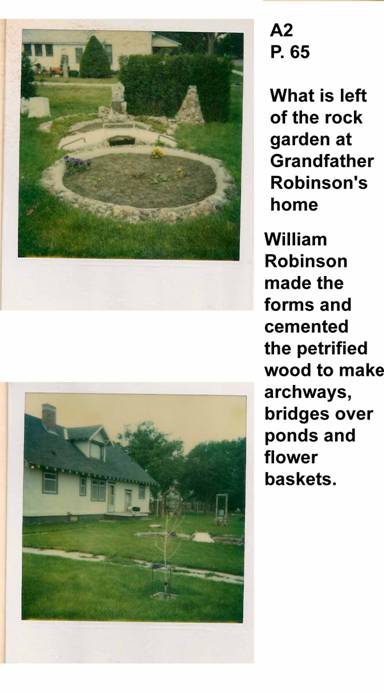 <![endif]>
<![if !vml]>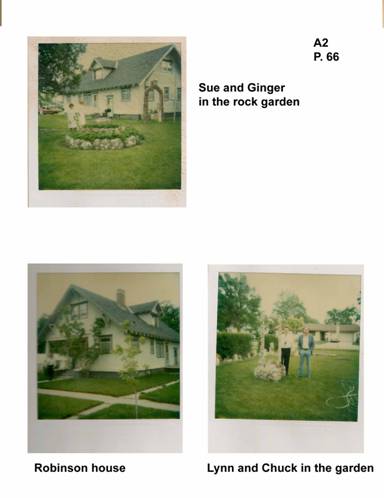 <![endif]>
<![if !vml]>
<![endif]>
<![if !vml]>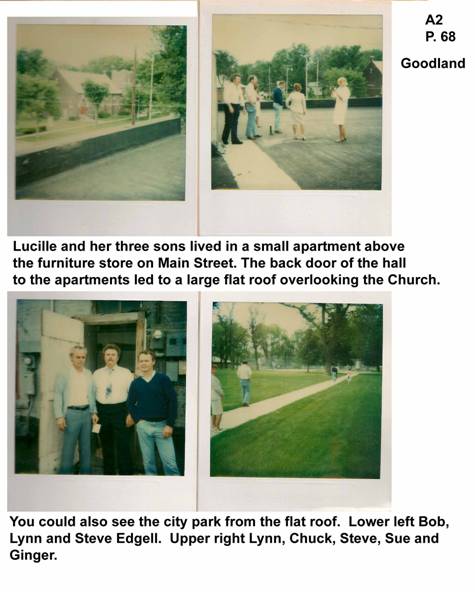 <![endif]>
<![if !vml]>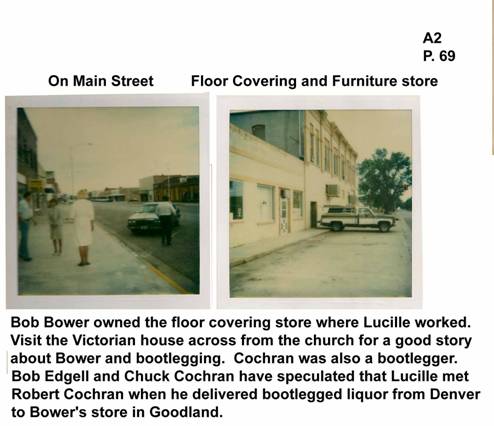 <![endif]>
<![if !vml]>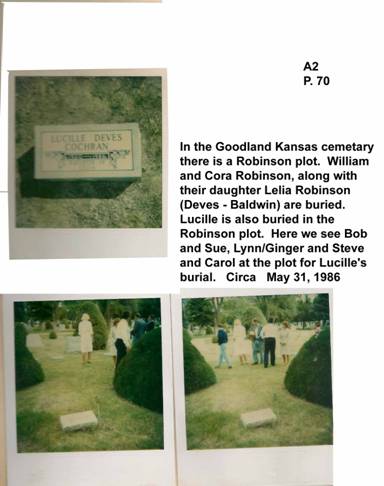 <![endif]>
<![if !vml]>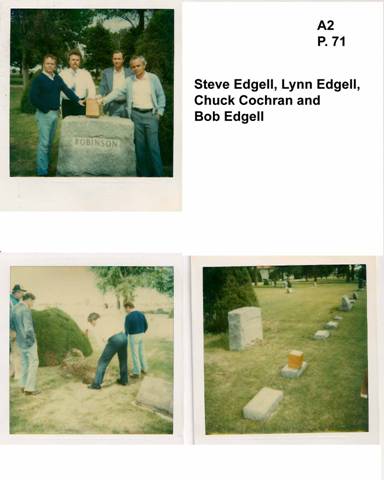 <![endif]>
<![if !vml]>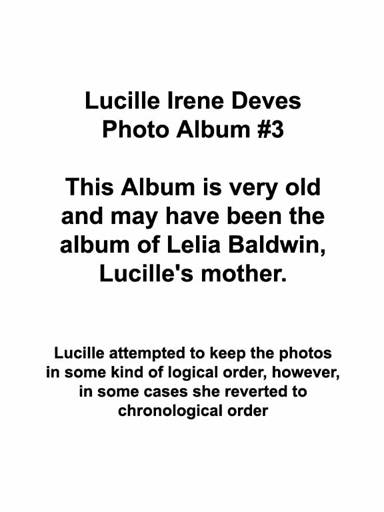 <![endif]>
<![if !vml]>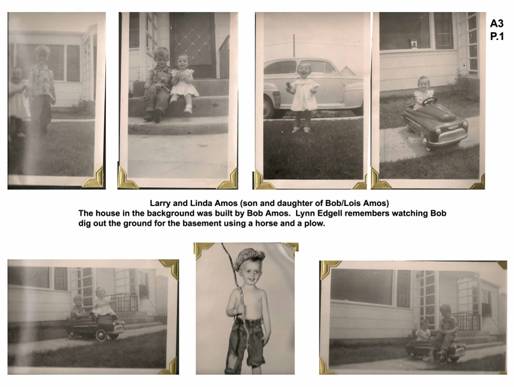 <![endif]>
<![if !vml]>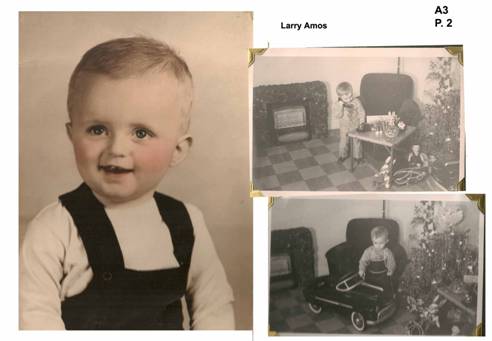 <![endif]>
<![if !vml]>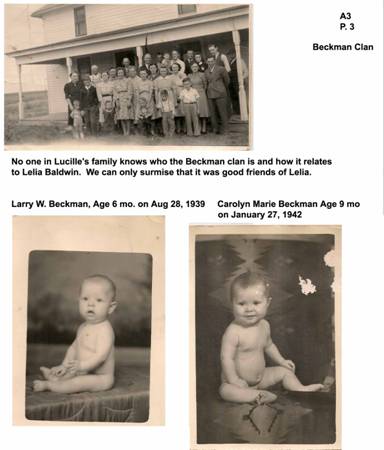 <![endif]>
<![if !vml]>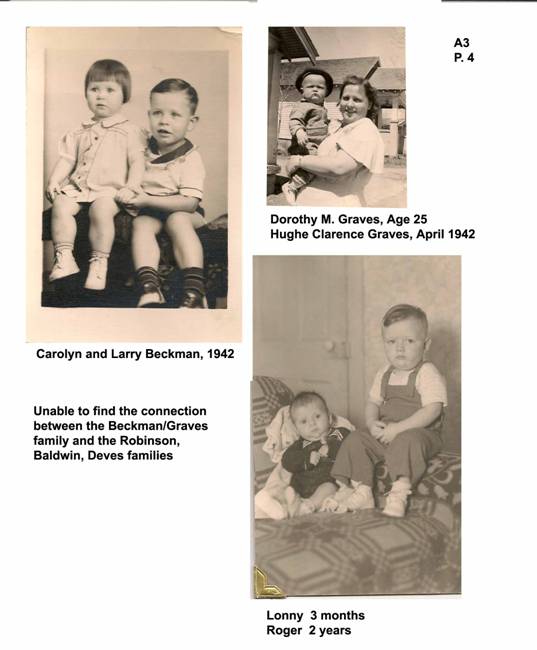 <![endif]>
<![if !vml]>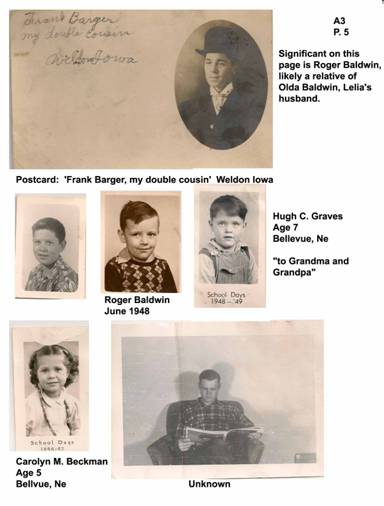 <![endif]>
<![if !vml]>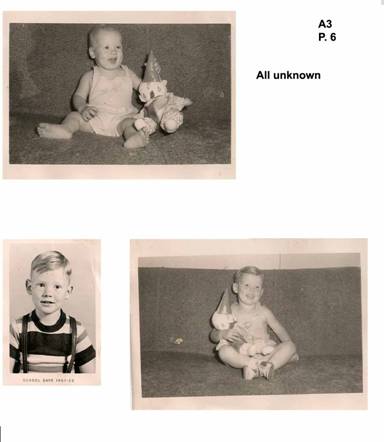 <![endif]>
<![if !vml]>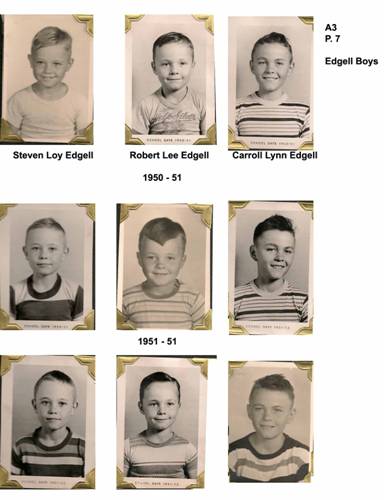 <![endif]>
<![if !vml]>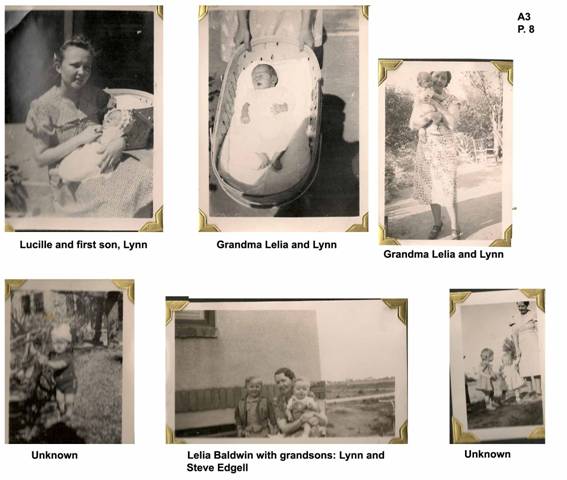 <![endif]>
<![if !vml]>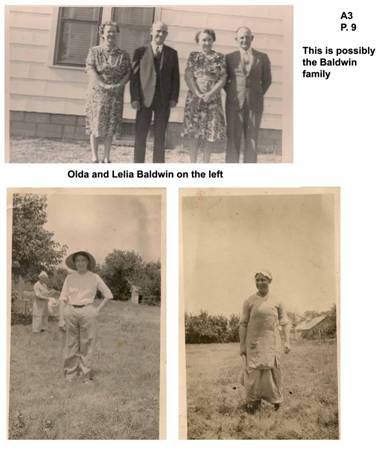 <![endif]>
<![if !vml]>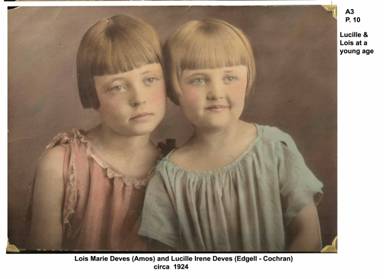 <![endif]>
<![if !vml]>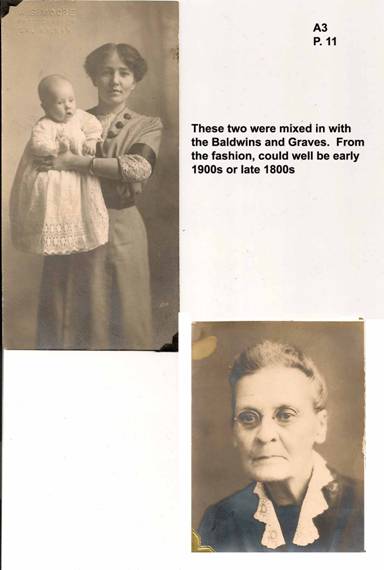 <![endif]>
<![if !vml]>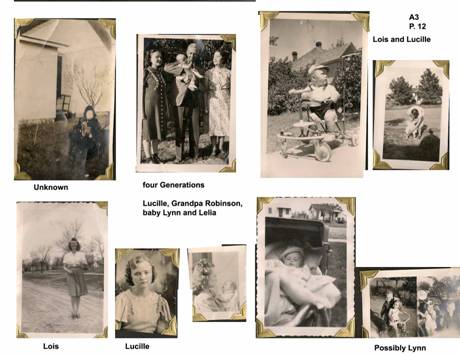 <![endif]>
<![if !vml]>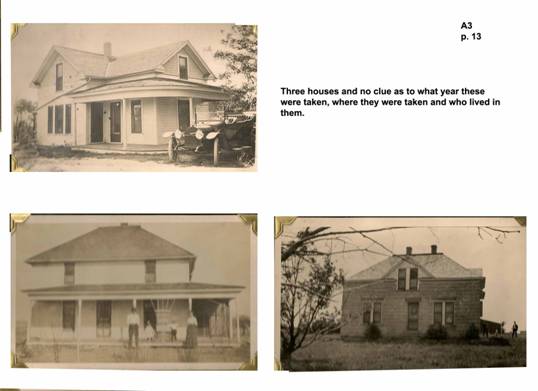 <![endif]>
<![if !vml]>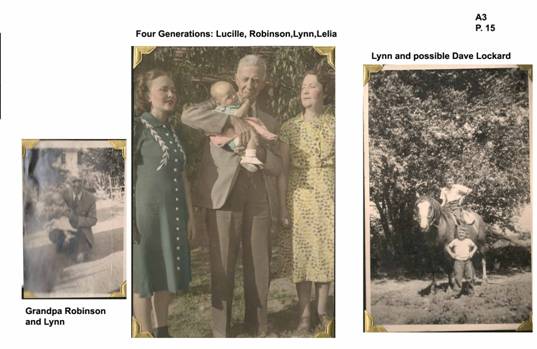 <![endif]>
<![if !vml]>
<![endif]>
­
<![if !vml]>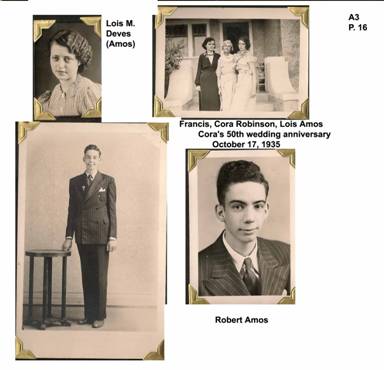 <![endif]>
<![if !vml]>

<![endif]>
<![if !vml]>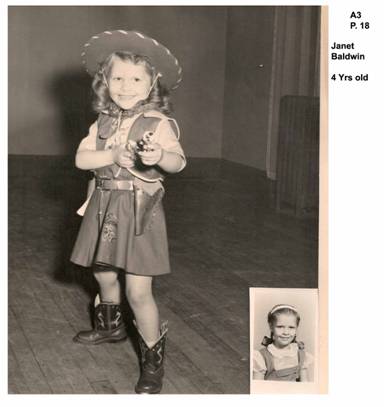 <![endif]>
It is likely that these unknowns are somehow connected to Duane, especially the two boys in uniforms.  Robert and Francis Chutes are likely Francis Robinson and her husband
<![if !vml]>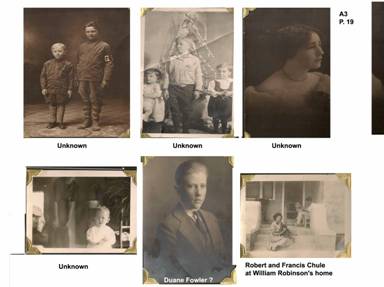 <![endif]>
<![if !vml]>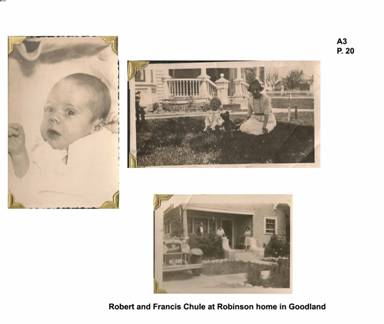 <![endif]>
<![if !vml]>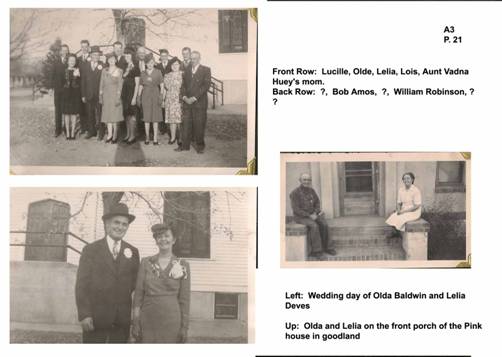 <![endif]>
<![if !vml]>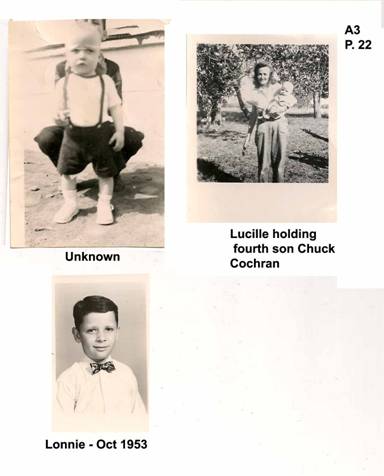 <![endif]>
<![if !vml]>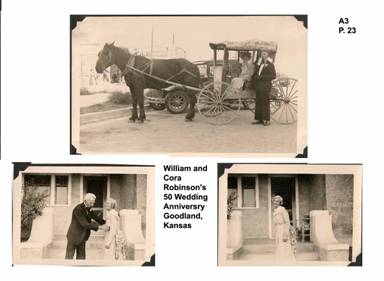 <![endif]>
<![if !vml]>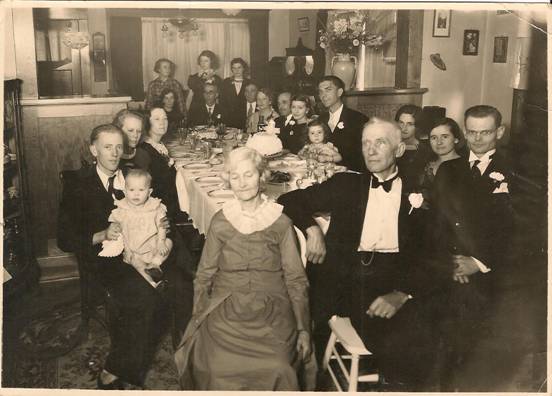 <![endif]>
<![if !vml]>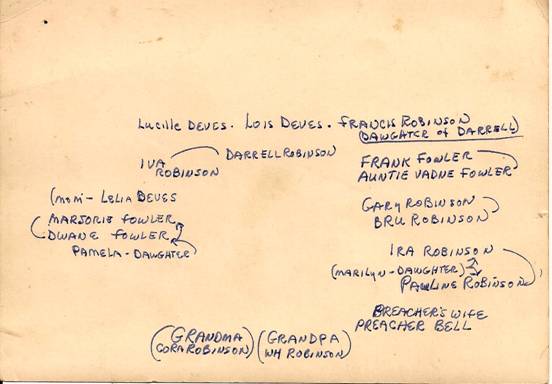 <![endif]>
<![if !vml]>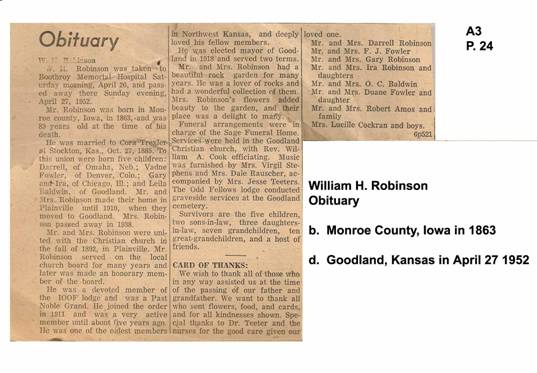 <![endif]>
The three albums, two from Lucille I. Deves and one from her mother, Lelia E. Robinson, tell a 75 year story of a family that began as Robinsons and Pagenkopfs and ended with Edgells, Amoses, McCorkles, Beesons and Kings. 
True, the photographs do not follow any logical order and could be arranged to more precisely match the families and the chronology, however, that is for a later generation.  This work is laid out exactly as the original albums.
We have passed from the age of paper into the electronic age and that makes this document a living document.  Each member of this lineage will have this document and add to it as they see necessary to carry on the photographic history of the family.
We have to thank Lucille in absentia for her diligent work in researching the Robinson family line and writing her life story.  And our thanks include her love of photography and the preservation of family photographs for later generations.
Upon viewing these documents, Lynn Edgell commented that there were photographs he had never seen.  This project, therefore, is being extended to included photos from Steve Edgell and Bob Edgell's albums.
<![if !vml]>
<![endif]>
<![if !vml]>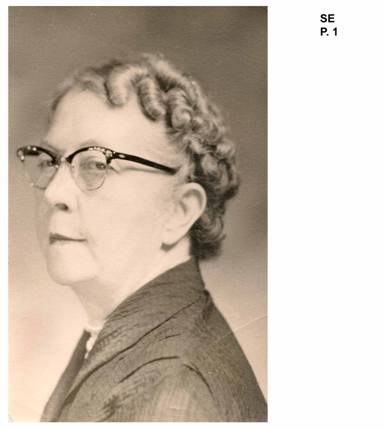 <![endif]>
Lelia (Robinson – Deves) Baldwin, mother of Lucille and Lois Deves
<![if !vml]>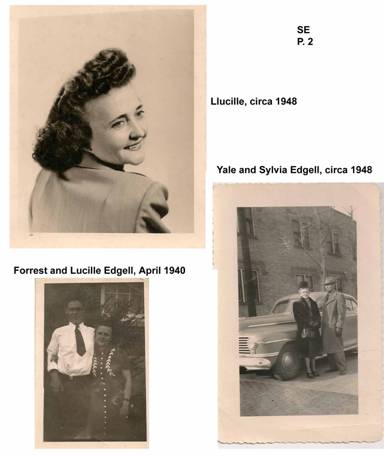 <![endif]>
<![if !vml]>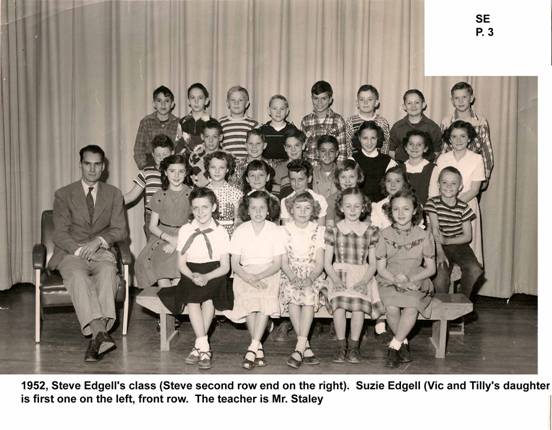 <![endif]>
<![if !vml]>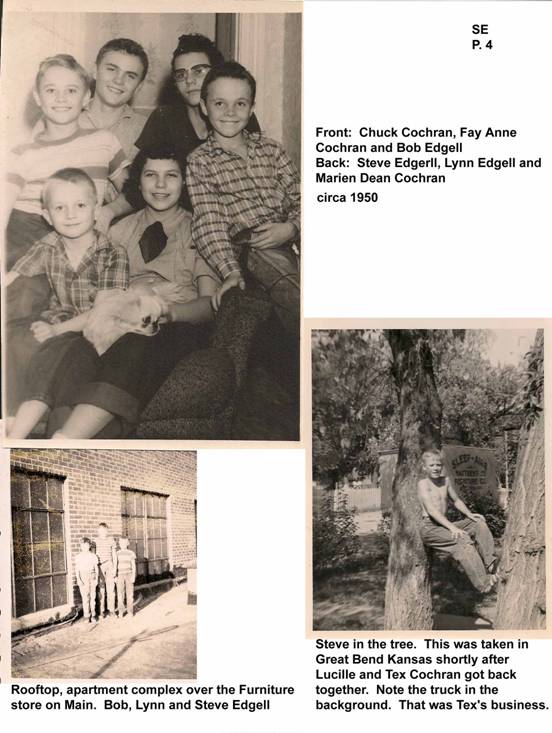 <![endif]>
                                                                                                           Sleep-Air Mattress factory
<![if !vml]>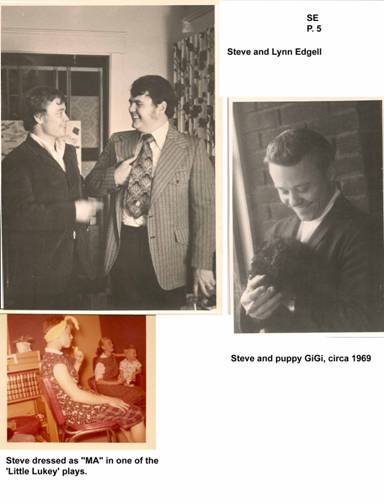 <![endif]>
<![if !vml]>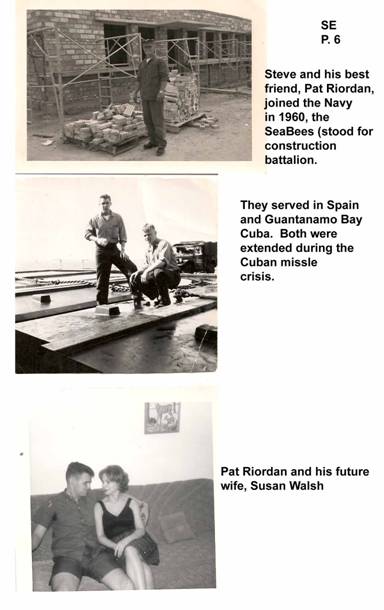 <![endif]>
<![if !vml]>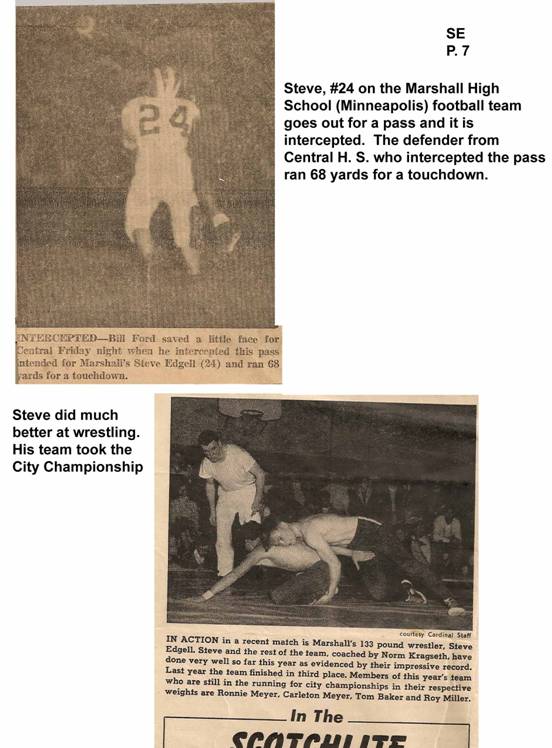 <![endif]>
Here are a few photographs from my album that are not in the Edgell Chronicles or Lucille's album.
<![if !vml]>
<![endif]>
<![if !vml]>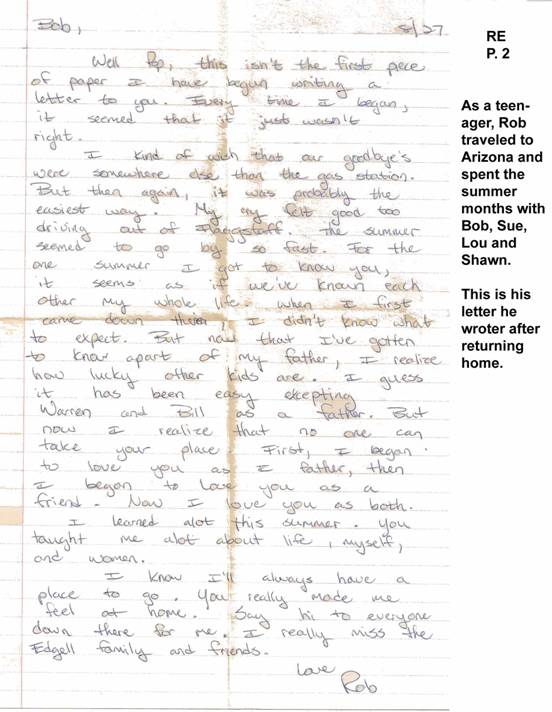 <![endif]>
<![if !vml]>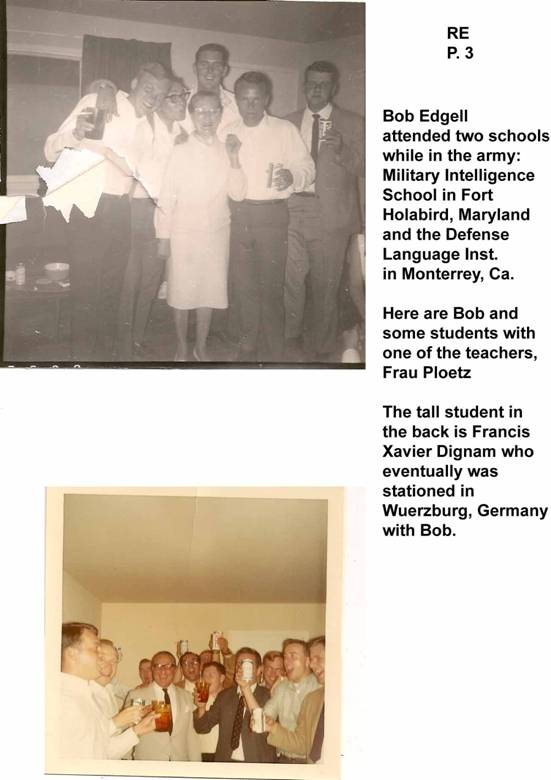 <![endif]>
<![if !vml]>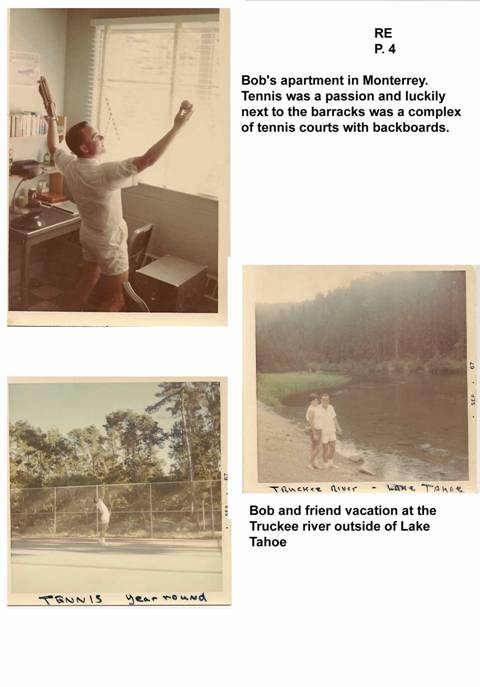 <![endif]>
<![if !vml]>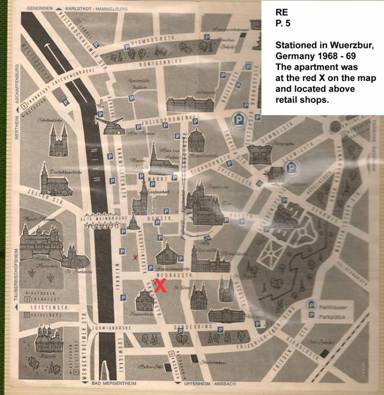 <![endif]>
After completing 8 months of intense German language training,  I was transferred to Germany and eventually arrived in Wurzburg, Germany.  A college town of about 100,000 population.
Three of us lived in an apartment in the downtown section and close to the University.
<![if !vml]>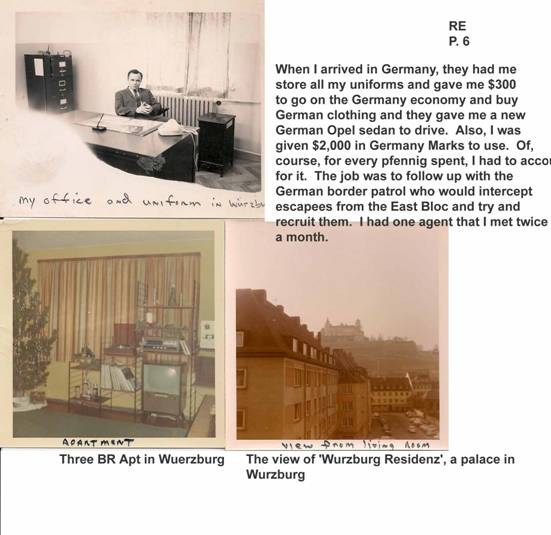 <![endif]>
<![if !vml]>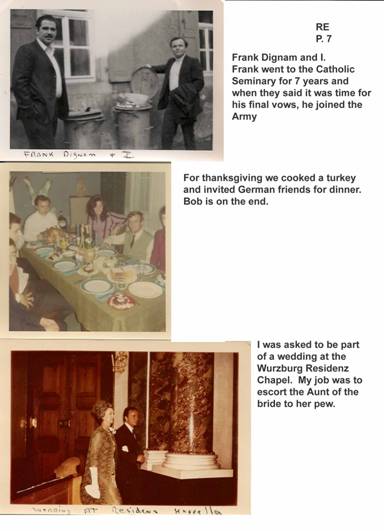 <![endif]>
<![if !vml]>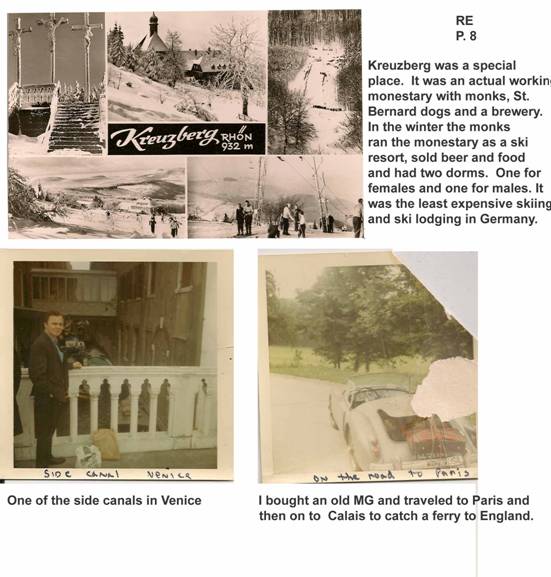 <![endif]>
Here is a humorous story about the Kreuzberg monastery.  The monks did all the work around the monastery, and they would stroll among the guests with their very red faces and bulbous noses.  We were seated at a picnic like table enjoying our large steins of beer and roasted chicken.  A monk delivered six steins to our table.  Being a smart guy, I asked the monk if they did anything else at the monastery besides drink beer and pray.  He smiled, complimented me on my German and said……"oh yes….we spend a great deal of our time milking the cows."  I looked around at my companions and then back to the monk. 
"But I don't see any cows on the property," I replied.  He smiled, picked up my stein of beer that I had just paid for….downed it with one long gulp.
"Would you like another?"  He asked.   Everyone laughed, realizing that we were the cows.
<![if !vml]>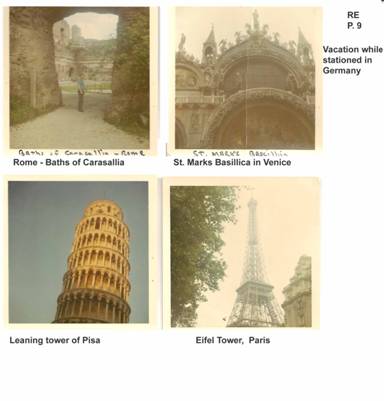 <![endif]>
<![if !vml]>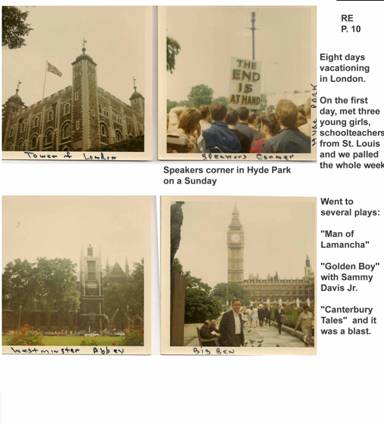 <![endif]>
I have a funny story about the three school teachers.  One of them was exceptionally cute and loved to tease.  Every day, just before noon, she would pick up a stranger and after a brief flirtation, she had convinced the 'bloak' to buy us all lunch.  They would tell stories how we were all sharing the same room at a B & B and the bloak would look at me like what a lucky devil.  After lunch………..she would dump him.  We even got into the London playboy club because she picked up an American Captain who was a member and we had a great dinner.   She dumped him too.
<![if !vml]>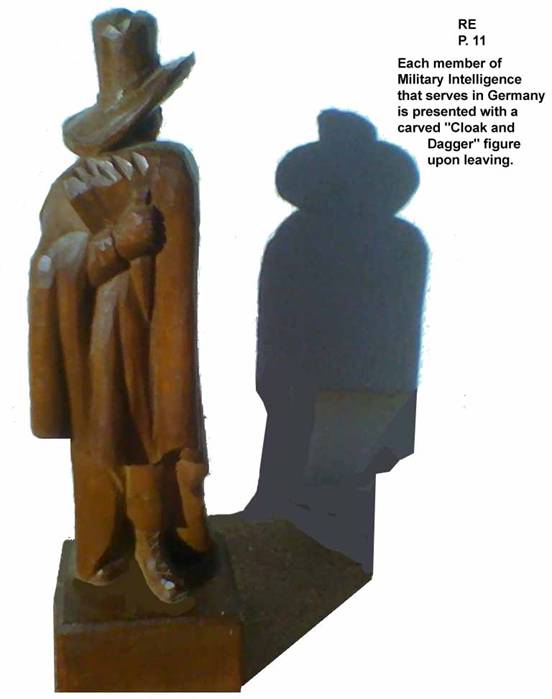 <![endif]>
Naturally, every picture and every venue has one or many stories….but that is for another time and place.
<![if !vml]>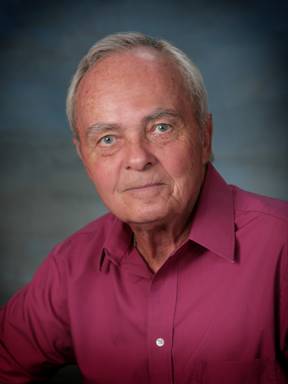 <![endif]>
This photo, taken in 2010, was for an article in the Arizona Author's literary magazine.
In about 1997, the adult members of the Edgell family wrote their life stories and included their favorite photographs.  The result was a three inch thick book. 
<![if !vml]>
<![endif]>
Also, Kenneth Beryl Edgell (brother to Forest Edgell and Uncle to Lynn, Steve and Bob Edgell) was not able to contribute.  He was a Lieutenant in the Army in 1943 – 45 and led a platoon of men in the 175th Regiment.  The 175th was called to the beaches of Normandy, France on the day after D Day and joined the rest of the 29th Division in fighting the Germans on French soil. I have always wanted to write a historical novel and this void in the Edgell Chronicles afforded me the chance to write Beryl's story as I could imagine it.  The book,  "Beryl, A Soldier's Story" is about the years that Beryl was in the military and captures what it was like in small town America and England in 1944 and 1945 and the soldier's life in battle in France.
The unpublished book, "Beryl, A Soldier's Story" took third prize in the 2010 Arizona Authors literary contest.
<![if !vml]>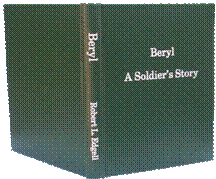 <![endif]>                     <![if !vml]>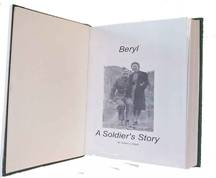 <![endif]>
I have finished writing another historical novel.  This one is named: "Pagenkopf, The Royal Connection." The novel is about the early Pagenkopf family that lived in a small Dukedom called Pomerania on the Baltic Sea.
The Edgell and Amos families are descended from the Pagenkopf line.
 The book begins at the battle of Waterloo where Peter Pagenkopf and his son Martin are in a cavalry unit commanded by Prince William Frederick of Hohenzollern.  The book will cover a span of 70 years as we witness the growth of the Prussian empire that culminated in an empire encompassing Prussia and over 30 German states (Bavaria, Wuerttemburg, Saxony, etc.).  Among the changing political landscape and power plays of the different countries of Europe, we witness the life of a simple farm family,  the Pagenkopfs, and the part they play in the changes.  The Hohenzollern Monarchy eventually rules all of Germany and our Pagenkopf line migrates to Kansas in the USA. 
       <![if !vml]>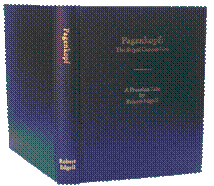 <![endif]> <![if !vml]>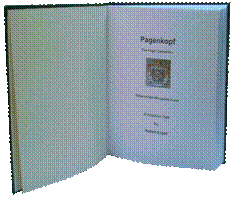 <![endif]>
<![if !vml]>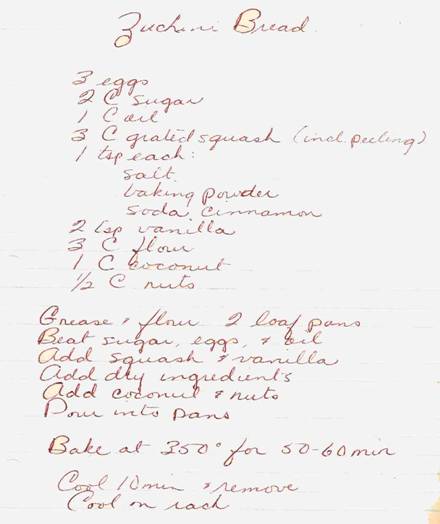 <![endif]>Here is a collection of Lou's recipes and other items in her recipe box.  If there is a name beside the title, then she is giving credit to that person for the recipe.
<![if !vml]>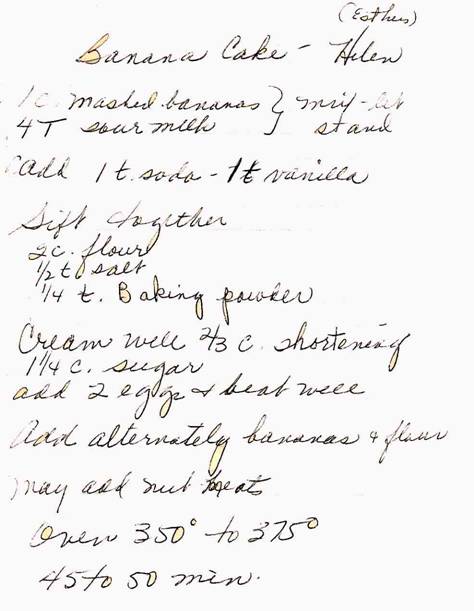 <![endif]><![if !vml]>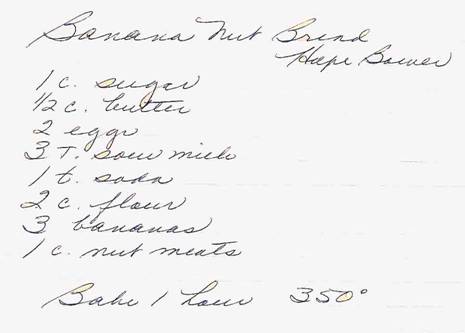 <![endif]><![if !vml]>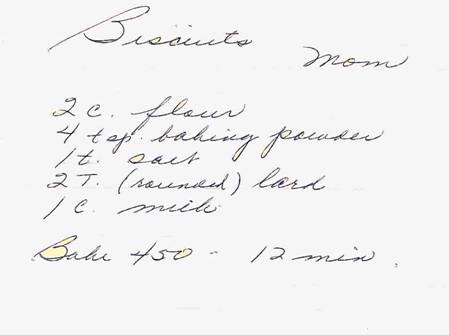 <![endif]><![if !vml]>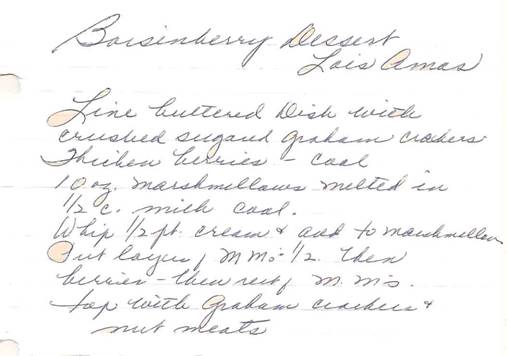 <![endif]><![if !vml]>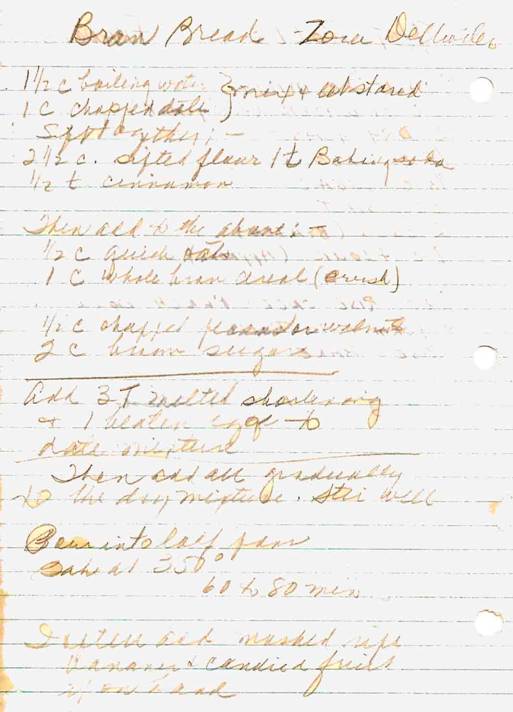 <![endif]><![if !vml]>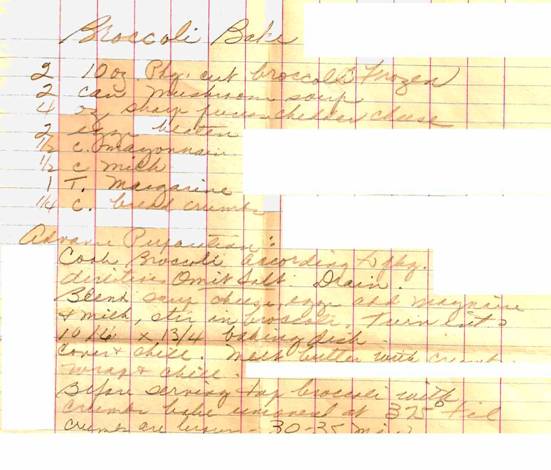 <![endif]><![if !vml]>
<![endif]><![if !vml]>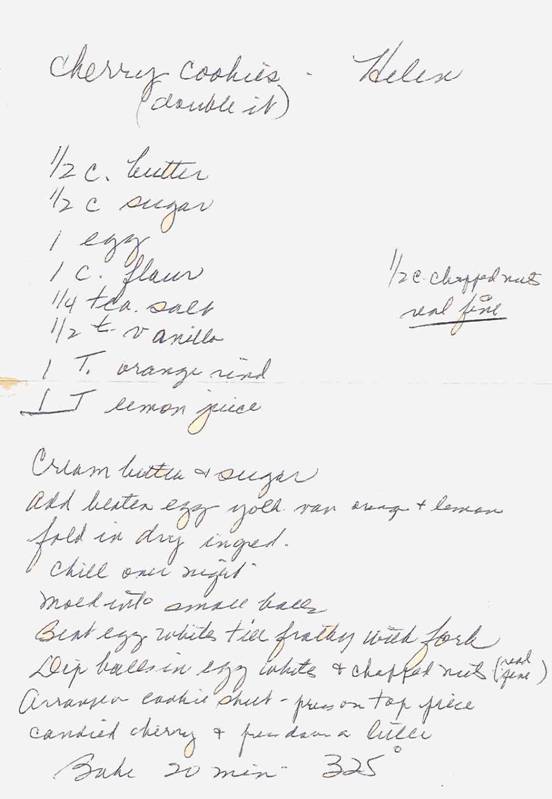 <![endif]><![if !vml]>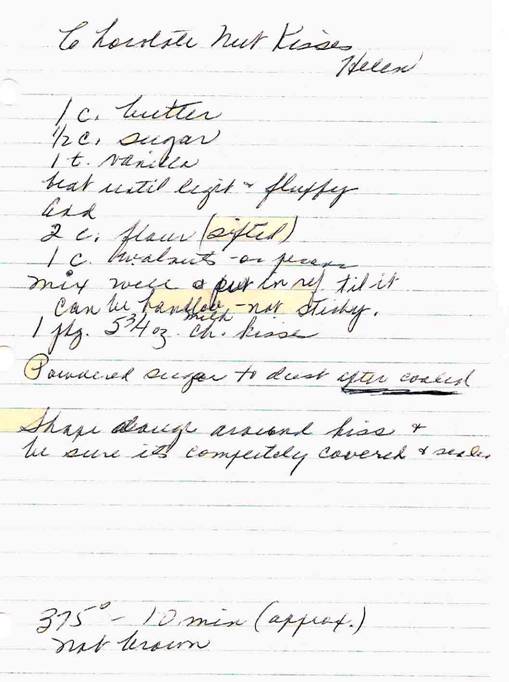 <![endif]><![if !vml]>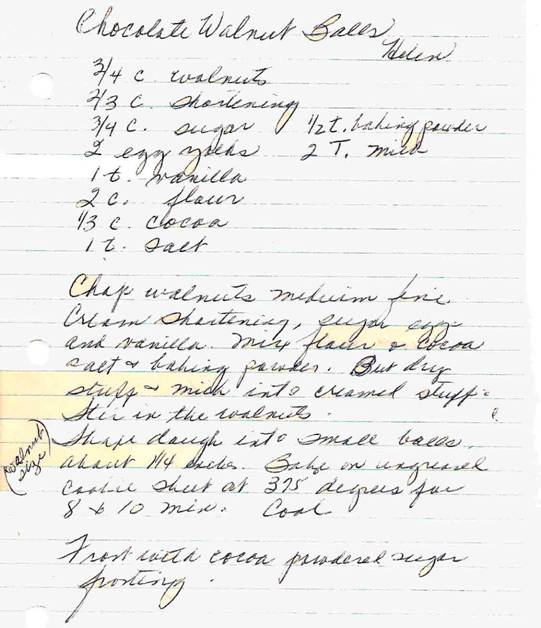 <![endif]><![if !vml]>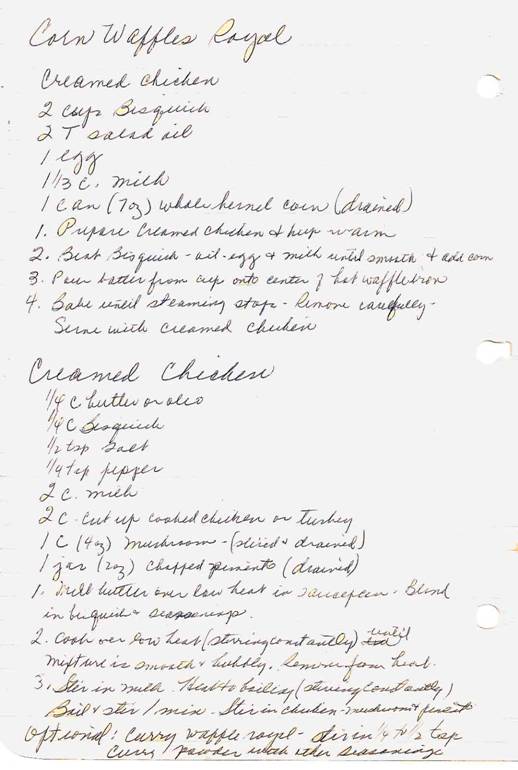 <![endif]><![if !vml]>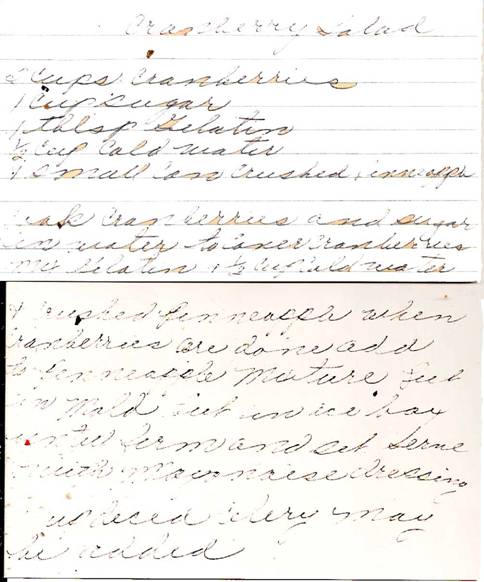 <![endif]><![if !vml]>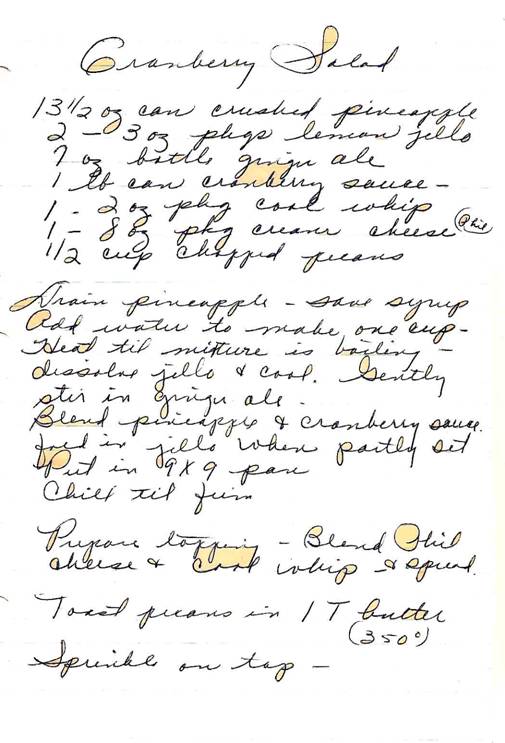 <![endif]><![if !vml]>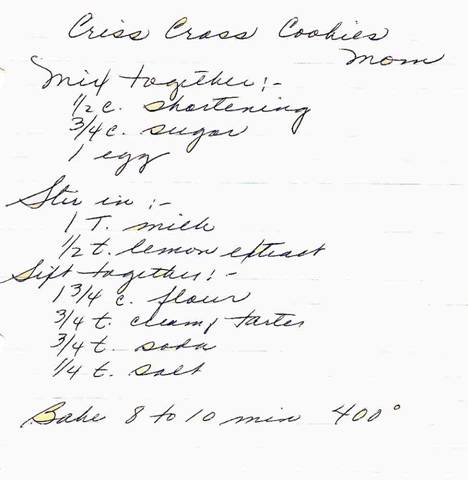 <![endif]><![if !vml]>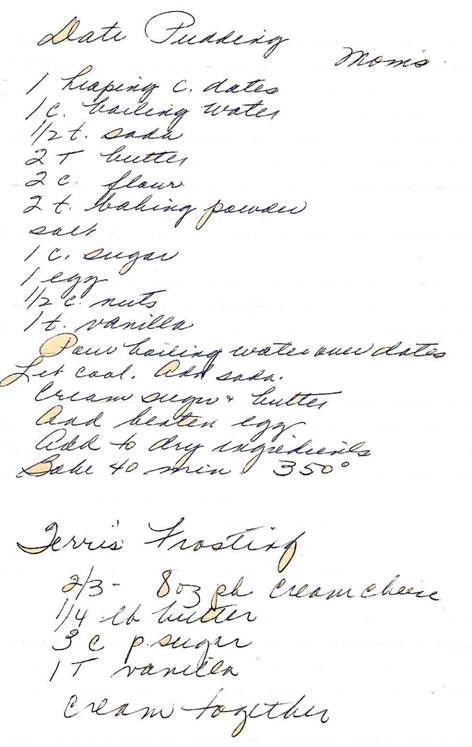 <![endif]><![if !vml]>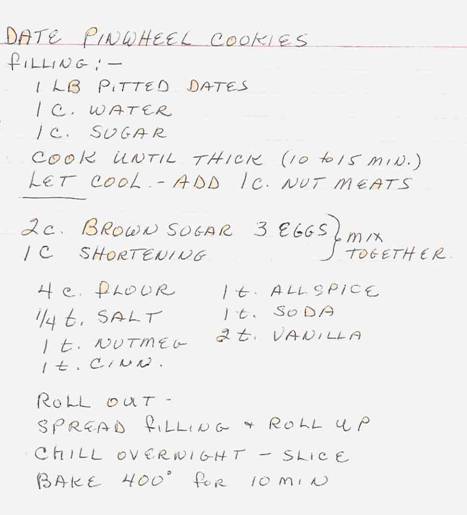 <![endif]><![if !vml]>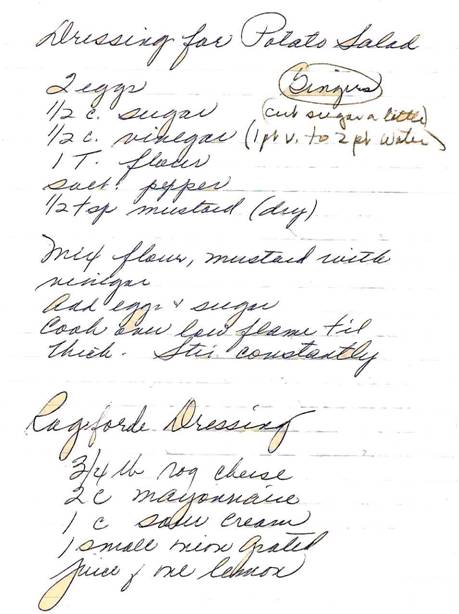 <![endif]><![if !vml]>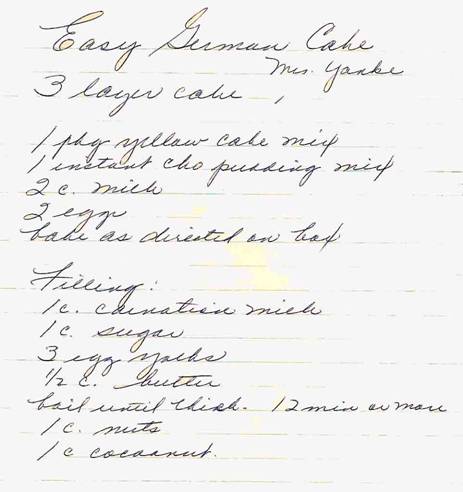 <![endif]><![if !vml]>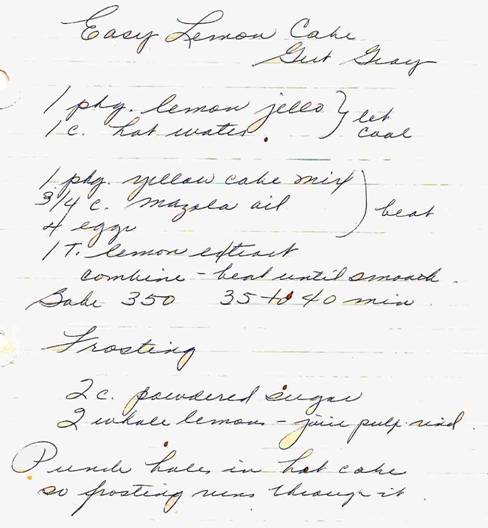 <![endif]><![if !vml]>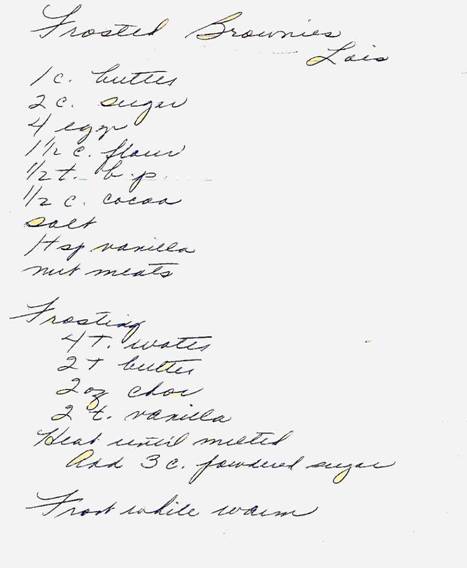 <![endif]><![if !vml]>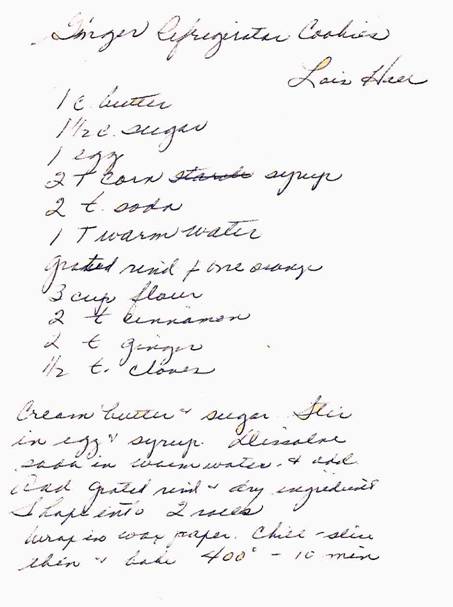 <![endif]><![if !vml]>

<![endif]>
An old book on the care of Parakeets.......remember Cookie?
<![if !vml]>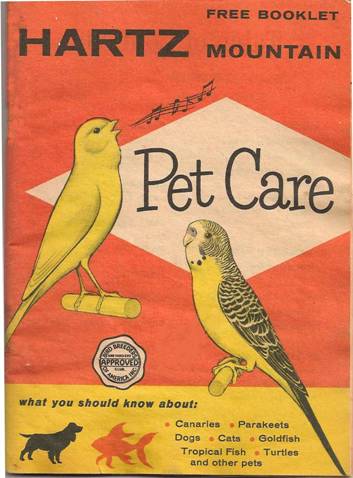 <![endif]>
<![if !vml]>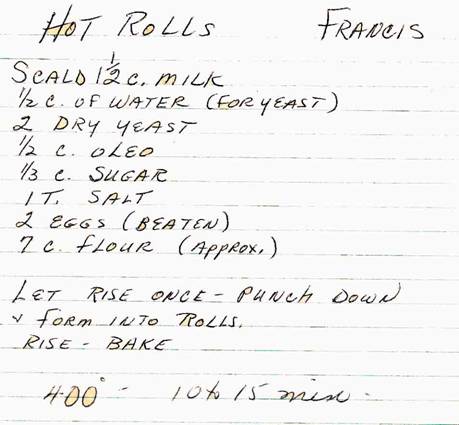 <![endif]><![if !vml]>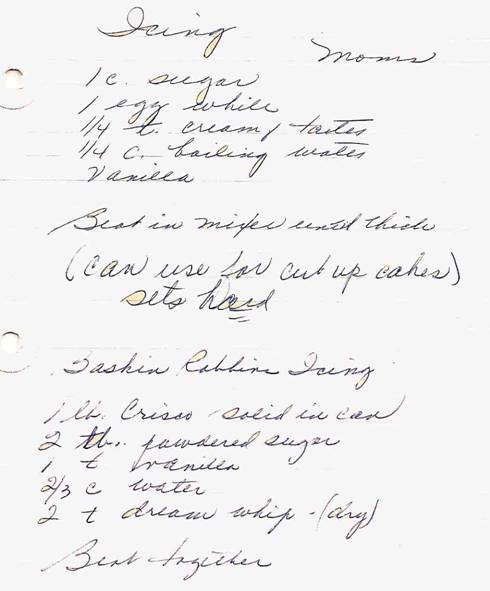 <![endif]><![if !vml]>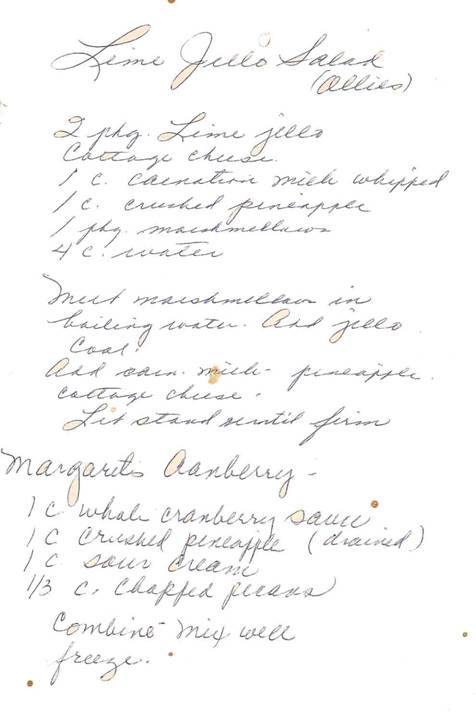 <![endif]><![if !vml]>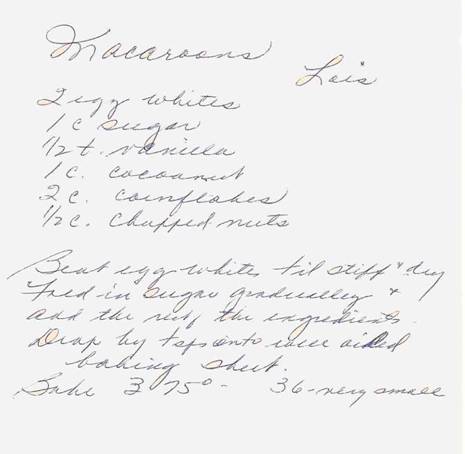 <![endif]><![if !vml]>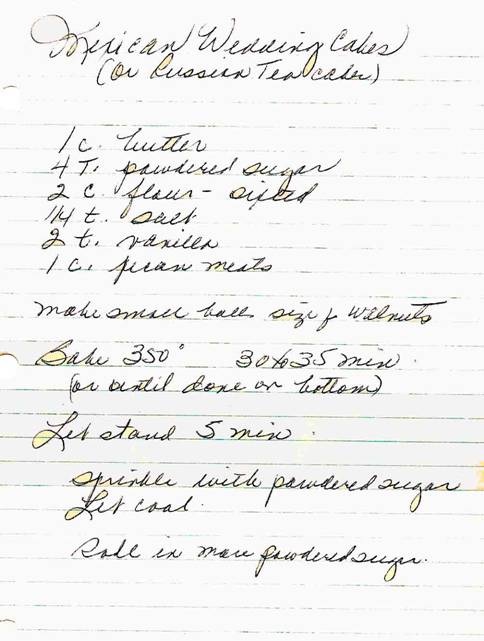 <![endif]><![if !vml]>
<![endif]><![if !vml]>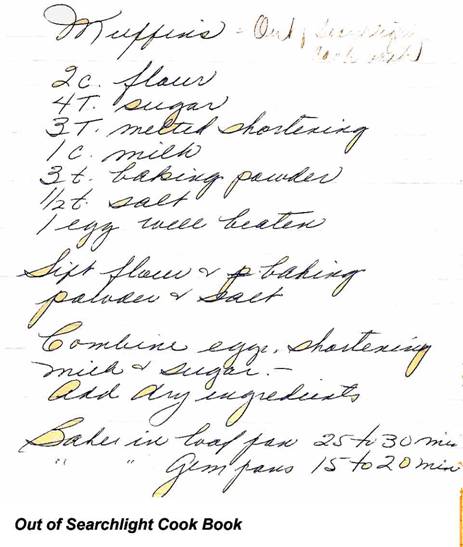 <![endif]><![if !vml]>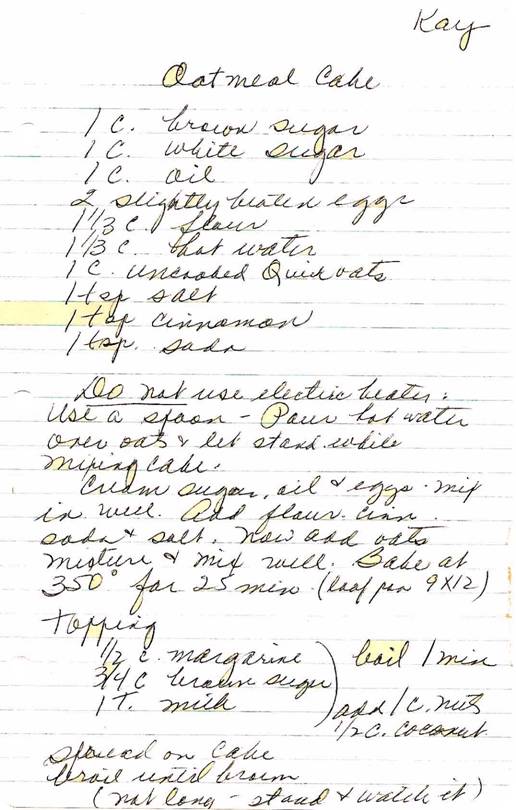 <![endif]><![if !vml]>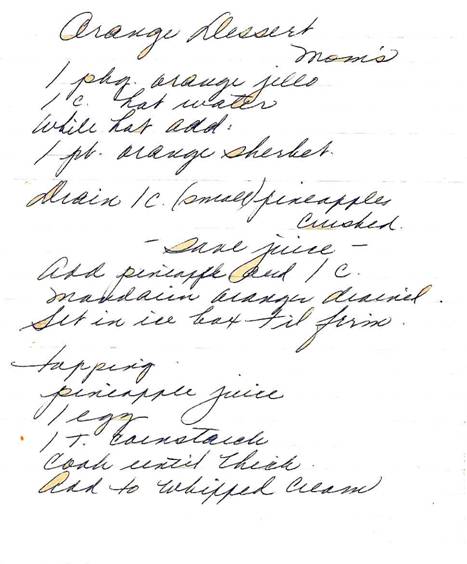 <![endif]><![if !vml]>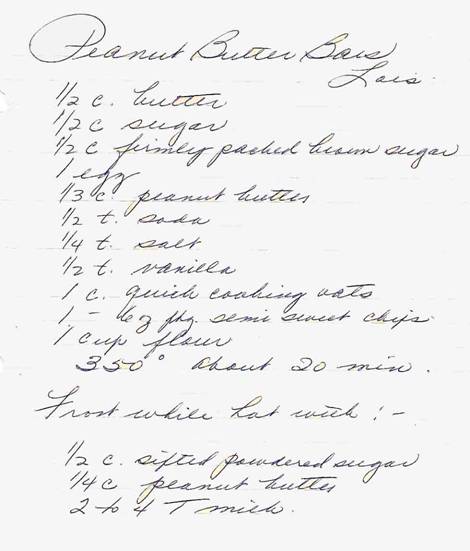 <![endif]><![if !vml]>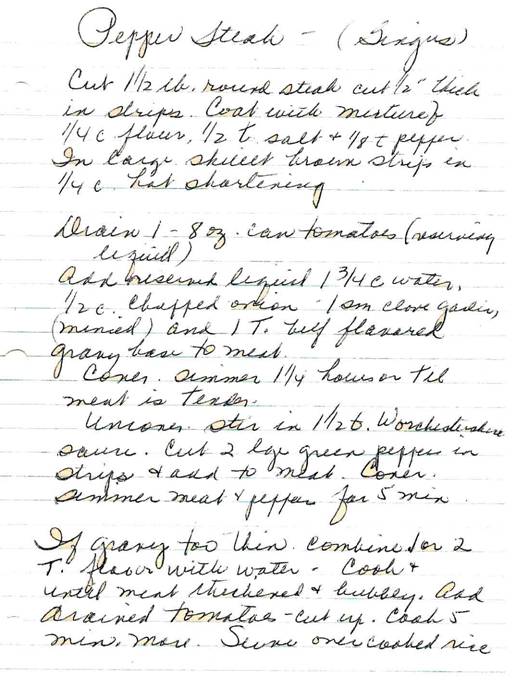 <![endif]><![if !vml]>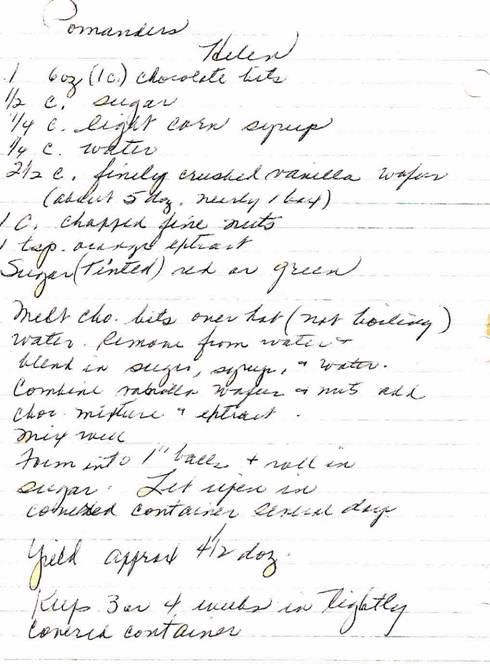 <![endif]><![if !vml]>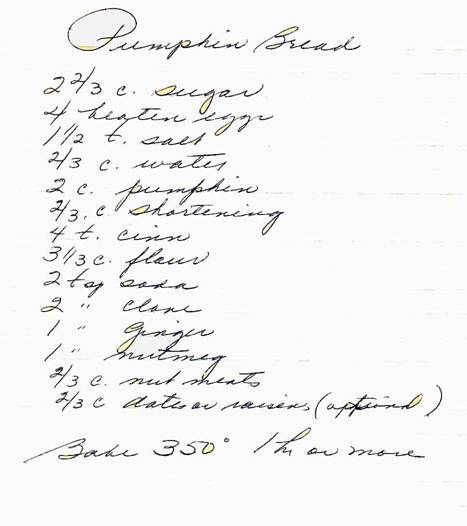 <![endif]><![if !vml]>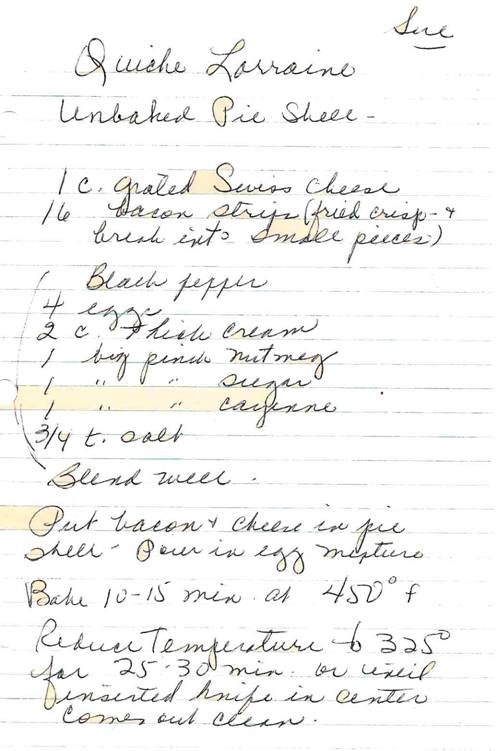 <![endif]><![if !vml]>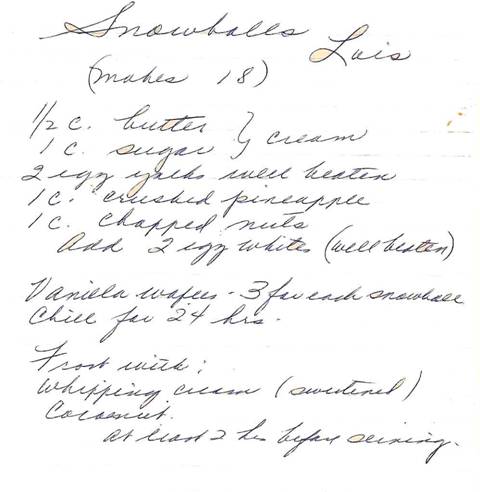 <![endif]><![if !vml]>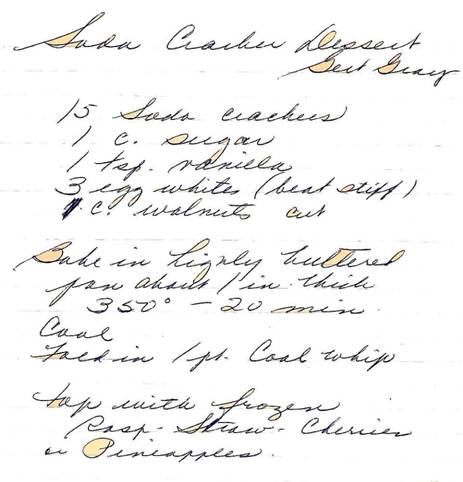 <![endif]><![if !vml]>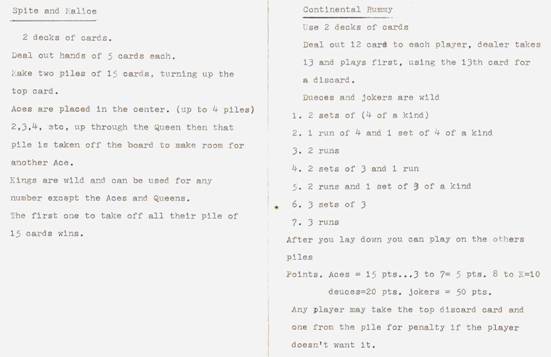 <![endif]><![if !vml]>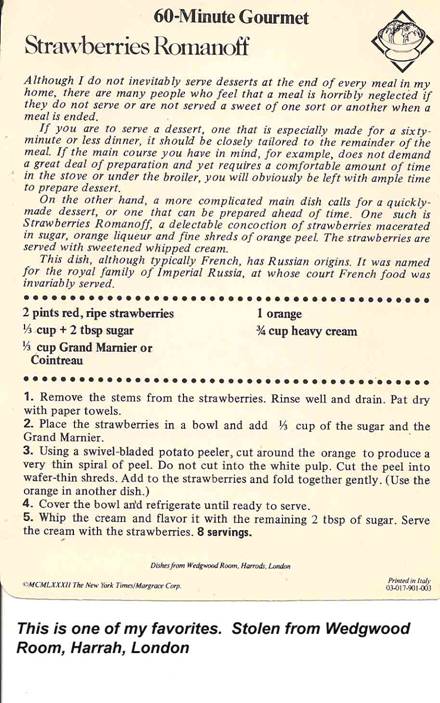 <![endif]><![if !vml]>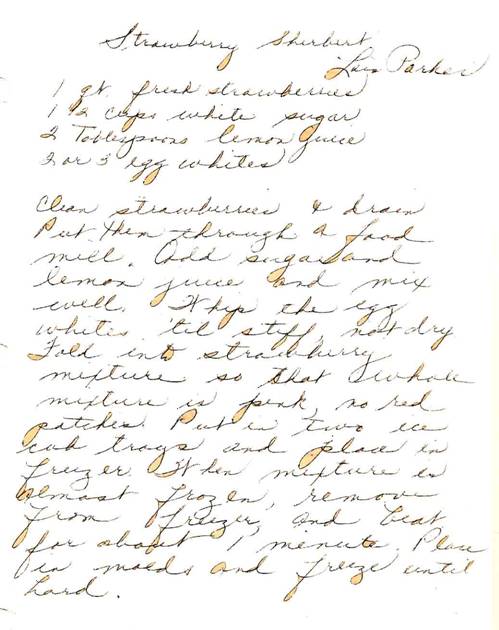 <![endif]><![if !vml]>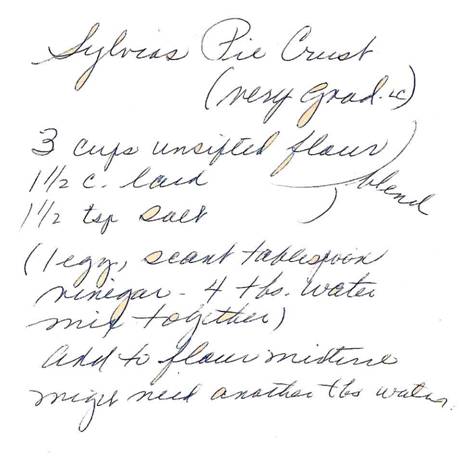 <![endif]><![if !vml]>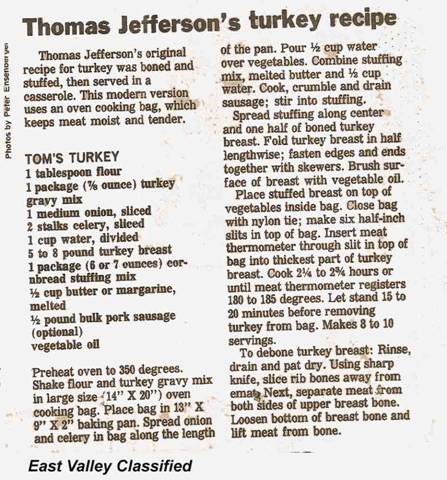 <![endif]><![if !vml]>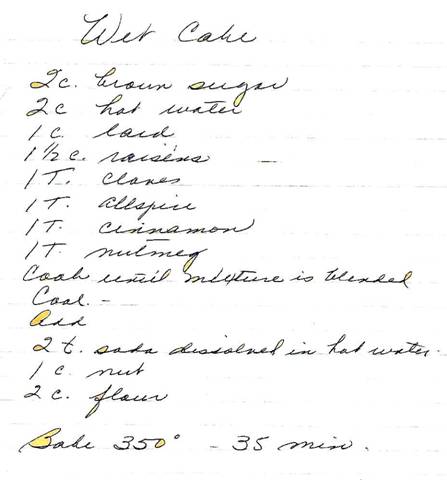 <![endif]><![if !vml]>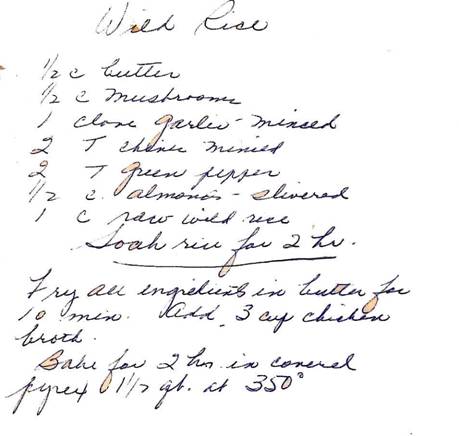 <![endif]>
In 1965 and 1966 Lucille began corresponding by way of 3 inch reel to reel tapes.  These tapes have been converted to .wma files and can be played on your computer using the Microsoft Windows media player or you can find a converter on the internet to convert the files to MP3.
There are no great secrets in the closet to be revealed.  It is mainly small talk and talk of family and current events. Here is a brief chart to help you understand the people. The names printed in bold have a tape(s).
Lelia Robinson (Deves, Baldwin) was mother to Lois Deves (Amos) and Lucille Deves (Edgell, Cochran.  Lelia had three brothers and a sister.
               Lelia's brothers were Darrel Robinson, Gary Robinson and Ira.
               Lelia's sister was Vadna Robinson (Whistler, Fowler, Youngblood).
Vadna Robinson (Whistler, Fowler, Youngblood) had one son, Duane Fowler and there is a tape from Duane and his wife Marge.
Lucille Deves (Edgell, Cochran) was the recipient of all the tapes; however there are no tapes of her letters to them.  Lucille also corresponded with her son by her second husband, Chuck Cochran and there is one tape from him.
Lucille was the mother of Lynn, Steve and Bob Edgell by her first marriage.  There are tapes from Lynn to Lucille.
1.  ChuckCochrantohismotherLucille1965side1.wma
Chuck is stationed in Germany and has volunteered to reassign to Viet Nam. Lucille had written to him saying it was not a good idea.  He talks about a female in his life in Germany who objected to his going to Nam.  Says he wrote to Tex.  In Tex's last letter he said his lawyer was not too optimistic about his trial.  Tex also does not like Chuck going to Nam.
Chuck then talks about when Tex told him that his mother, Lucille, was dead and when she died, he had sent flowers.  Chuck talked to Audabelle who told him that Lucille was not dead.  Tex eventually bought a ranch and Chuck kept running away.
2.  Darrel Robinson to Lucille 1965.wma
They lived in Portland.  Poor quality.  Can't understand much
3.  Darrel Robinson 1965or1966smalltalk.wma 
Talk of weather and catching colds.  Tape quality not the best.  Received a tape from Omaha.  Their boys (grandchildren?) visited with Francis.  Then long discussion on the possibility of Aliens and if they ever visited the earth.  Believe life out there somewhere and discussed his theory.  Talked about a club they joined, their dog and hearing from Lelia.
4.  Darrel Robinsonandwife_April1965.wma 
Darrel and his wife Iva.  Lucy called and said Aunt Rose not doing well.  Has had cancer for 12 years.  Talk of weather.  Quality of tapes.  Gary and Lelia's tapes.  Small talk on Stonehenge and a book they had.
5.  Ira Robinson and wife Easter 1965.wma 
Ira and his wife Pauline talk about the commercials on TV, opinions on smoking, TV and color TV.  Asked about Bob, Lynn and Steve. Family stuff and their travels to Spain and Italy.  Say  hi to Lois.
6.  Ira Robinson June 1966.wma 
My introduction to this tape explains that it is Duane and Marge Fowler.  That is wrong.  It is Ira and his wife Pauline.  She describes her living room. 
Their favorite restaurant that began as a stable was frequented by the man who designed the buffalo nickel.  He actually brought in two Indians to pose.
Jim's father died and left him a car.  He traded it for a Jaguar.  Ira finished his project in Philadelphia and looking for another one.  He had worked in the prison system and then the juvenile court system.  Interesting insight into juvenile courts.  Talked about Philadelphia and then his job prospects in Germany and South Africa.  Told Lucille she needed to get out more often and invited her out.
7.  Ira visit by Amos family side 2.wma 
Larry Amos' story about someone getting arrested and spending a night in jail.
Candid camera story
Jim and Dotty (Ira's son and wife?) leaving for Lake Michigan
Gary's funeral talk
Linda losing weight
8.  Ira visit by Amos family side 2 continued.wma 
Poor quality first half.  Lois talking about the tapes and who does or doesn't talk the most.
Bob describes a 600 foot 'boxcar' barge on Lake Michigan
9.  Ira visit by Amos family side 1.wma
Linda talking about Washington Square and the Beatles.
Larry liked the street musicians in Washington Square.
Ira describes the general atmosphere in the Square.....culture...art shows.
Bob talked about their trip and the convention they were attending.
Stop on the way home to see Bru in Chicago.
Superstition and Friday 13th.  Grandma Robinson died on the 13th.
Stories about cats and bad luck.
Bob tells of story in the service.  Ship sailed for Australia on the 13th.  Then they left for the Philippines on the 13th.
Touring New York and getting a stiff neck from looking up.  Beware of pigeons.
Larry tells of an unusual New Yorker.
10.  Ira Robinson Christmas.wma
- Bru's activity after Gary Robinson's (her husband) death.
- She is happy to be out of the big house on lake Michigan.
- Has a boyfriend
-  Greta and Carl going with Bru to Florida in Bru's car.
- Xmas was good
- Subway and bus strike in New York City.  Traffic is bad.
- Letter from Lois
- Letter from Vad.  She is selling her place and moving to home where a lot of her friends live.
-  They are big sports fans: football, golf, bowling and hockey at Madison Square Garden.
- Went to a play:  Walt Disney's "That Darn Cat."
11.  Ira Robinson to Lucille 1965.wma 
(Note: on the tape you will note Ira calling Lucille 'Pete'.  That was Lucille's nickname)
-  Job prospect in South Africa
- Do some touring while there: Egypt, Greece, .....
- Books on World Civilization and includes ancient Greece
- Duane Fowler in Pittsburgh on way to Bridgeport.  Has a job in a church preaching.
-  A little talk on religious.  Pauline is Catholic and Ira is atheist.
- Religious discussion
- Letter from Lois.  Randy in debate class and likes Batman
- Haven't heard from Lelia in 2 months
-  Question for Lucille:  'What do you do for excitement now that football and baseball are over?'
-  Their Saturday nights involve hockey and Lawrence Welk.
-  Like Pro golf and recently went to a driving range with friends.
-  Lois wrote to say she is busy with her book club and other stuff
-  Darrel and Iva said they felt sorry for Lucille working in the market.  Had to wear a coat in the winter because the door was only a few fee from her checkout counter and there were coolers on both sides of her.
- Aunt Rose and throat cancer
- Vad and moving to senior citizen place.
- Bragged on their grandkids.  Chuck is a bright kid
- 'Tell Larry he needs to play chess with Duane'
- Vad – family reunion after Noble Youngblood died.  They were only married 9 months
- Tell Lois to join in.....she is real good at this.
12.  LeliaRobinsonDeves Baldwin tape to Lucille 1965.wma 
- Dorothy Taylor's boy getting married
- Baking cookies
- Agnes and Sadi
- Hostess for party for Dorothy
- Ida joined in
- Little things take up her time
- Need to get a tape off to Ira
- Ida really has nothing interesting to say
-  Watering lawn
- Tiger lilies still in bloom and pretty
-  Dorothy teaching school in Brewster
-  See Miss Wilcox often....she has gotten real heavy
- Lelia reads a poem
- Reads two poems
-  Got a pretty good looking yard
-  Ida talks and talks
-  In Goodland wait for something to happen so they have something to say
-  Mentioned Steve and Butch on a tape. 
-  Lelia got a letter from Duane.  Moving van came through without a scratch
-  Got Shari (Lynn's oldest daughter) a Barbie Doll for Christmas because Lynn got her a doll house
-  Shari said 'God Bless you.'
-  Company for dinner.  Every three weeks Ida, Sadi, Agnes and her have a meal: breaded pork steak, bake potato and turnips with a salad.  Home made biscuits.  Dessert was Jello with Dream Whip.
- Go to Agnes' house every Saturday night
- Small talk.  Mention Phyllis and Vic Edgell (of Edgell's market)
- Talked about a sick friend: "Takes a lot of courage to hang on."
13.  LeliaRobinsonDevesBaldwinwithIdaandMelva.wma 
-  Letter from Chucky (Olda Baldwin's son??)
- Very thankful for all Vad has helped the family
-  Darrel got a kick out of Lelia and Lucille discussing a Scrabble word
-  Gave a bible lesson and everyone thought it was real interesting
-  "Isn't that a terrible thing in Los Angeles.  I don't know what the darkies are so upset about."
- Prayer circle
-Ida talks and talks
- Ida tells a joke......Lady comes from East to teach.  As she walks into the classroom, she notices all the coats on the rack with the student's names.  She says:  "Johnny, what is that on your coat sleeve?"  Johnny answers:  "Maam, you came all the way from the East to teach and you don't know what snot is?"
- Goodland reunion and who they couldn't find.
- Last reunion story
- Ida whose died lately
- Went to wedding of Dorothy Wilcox's boy
- Other small stuff
14.  Lynn on school and Shakespeare
-  Tom Jones: book and movie
-  School credits and Dana college, a Lutheran college
-  What Butch said.  Chuck being an Edgell....he flunked genealogy
-  Chuck's girl trying to get into our family....need to adopt
-  Invite during quarter break or Easter
-  Lynn gaining weight and Carol losing weight
-  Butch talked about Shakespeare.  Lynn reads whole plays
-  School and English lit.......recent test
-  Teacher didn't like him.....differences on Othello and argued
-  Sometimes villains are pretty smooth characters
-  Lynn is a freshman and must be a sophomore or better
-  Hectic schedule, working on the play.
-  Working on the Shakespeare play and the stage setting
-  Invite Chuck to visit on his way to Viet Nam
-  Or get in a car and drive to Omaha
-  Carol not available to drive to Mpls.  She has church obligations all weekend
15.  Lynn Carol Shari Blair 1965.wma
-  Carol's birthday.  Spent grocery money on new hair dryer
-  Got laid off, drawing unemployment
-  Took Shari out of day care
-  Might have to sell the car.  Sold the house
-  Ronny Bill teaches school
-  Made more in trucking than he ever will in teaching.  Hoffa good for him.
-  Carol has a new job at the phone company
-  Ed Lacquea strange stories;  lamp posts and rolling Jeep incidents
-  Might play football but weighs 210 pounds
-  Shari getting big
-  Shari talking:  'hello........Lou, Steve and Butch.  Going to school.  This spring lost a tooth, got money from fairy God mother,  first tooth went down the drain.  Learned how to write her name.  Lots of friends.  (named them).
-  Carol ---- talked about her birthday.  Her beautiful hair dryer.  lots of cards. Make $390 a month with the telephone company.  Sorry to hear about Pat's mother.  How are the kids.  She got an A in her Psychology course in Omaha.
-  Lynn –reason to go to Dana College ---accept Bible College credits
-  Carol's sister had a baby, Cynthia
-  Glad you guys are in upper division.........since he is a freshman
-  Preached a sunrise service, enjoyed it. 
-  Invited Bob and Steve to come down to Blair
16.  Lynnquizsharionshakespearsteveon theend.wma
-  To Bob, Falstaff was not funny
-  Quiz to Shari on Hamlet
-  Lynn is in a play on April 29 and wants us to visit
-  Shari tambourine girl
-  Position on the theater group
-  Sick, all crooped up
-  Twelfth Night was one of Shakespeare's best,  Malvolio
At the end of the tape......Steve and Chuck
-  Talking about a sweet kid......a girl
-  Bob going into the service......sounds
-  Draft system and the criteria for freshmen classes at the U.
-  Mom said she is mad at him (Lynn)
17.  Lynnwithsharisinging.wma 
-  Apologize to Butch
-  Checkbook and finances
-  Chuck............finish school.  Great you volunteered for Viet Nam
-  "I would volunteer if no obligations" Advice on how to act
-  The draft
-  Shari and Shari singing
I have included the Edgell Chronicles on the CD.  The photos for each folder are nested in a doc file with PHP in the title.
There was so much more to Lucille's life and this document does not tell all the good she was and shared in the world.  Hopefully you will enjoy all that is contributed here and can take from it those parts and photos that have meaning to you.
******