Edgell/Deves/Pagenkopf Family Genealogy
The Edgell genealogy of this Edgell line stems from Benjamin Edgell, Dorchester County Maryland in the mid-1700s.
The Deves side of the family, the mother's side, has been traced back to the late 18th Century to the Pagenkopf family of Pomerania.
Ancestry DNA Results
Ancestry.com offers a service to members and non-members to analyze their DNA results. Robert Edgell of Generation IX sent in a sample and the following are the results.

The ethnicity and region results reveal that Robert Edgell's DNA is:

- 49% Europe and northern Europe. This will likely be the German and Pomeranian strain from the mother's side (Deves).

- 24% Scottish. This is from the father's side, Edgell.

- 6% England and Ireland

- The remaining is a mixture of British Isles and Europe.


Included in the report is a list of cousins and If a cousin has submitted a DNA it will list that cousin. In the edgell report there were over 1,000 4-6th cousins registered. It also contained the name of a step-second-cousin of the Generation X.
EDGELL:
The main ancestors of this line are: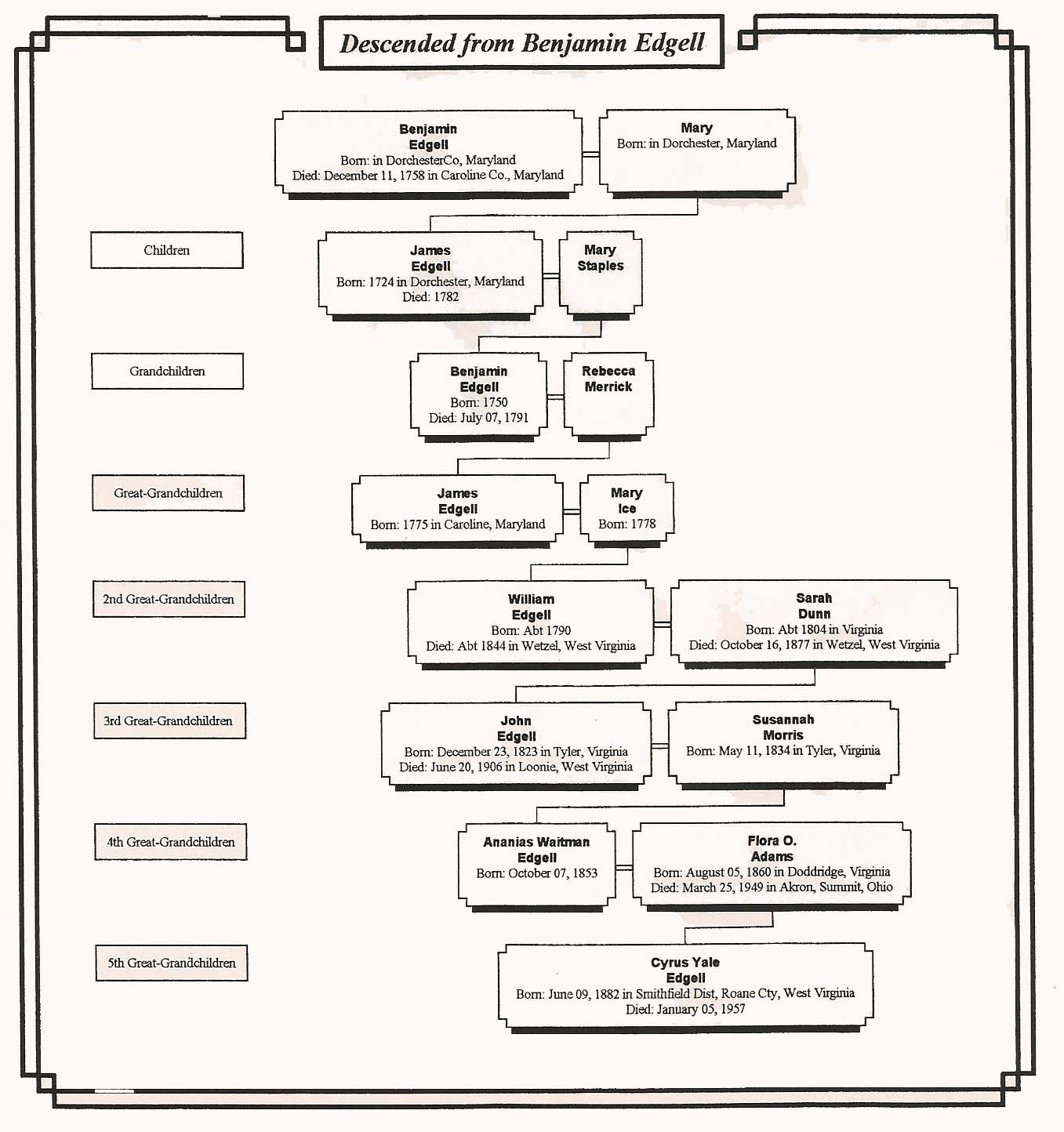 GEN I Benjamin Edgell - Dorchester County, Maryland
Purchased a parcel of land (220 Acres) near Preston, Maryland called Fluharty's Desire for 3,000 pounds of tobacco: recorded in Dorchester County November 14, 1716. In January 1757 he made a will, leaving one Shilling each to his children: James, Thomas, Catherine, Mary, and Walter (and Walter's son, William). To his son John, he left the house, land, plantation, all personable estates and the parcel (50 acres) called Steven Fluharty's Desire. Benjamin Sr. died in 1758., leaving 500 pounds sterling. John Edgell was the executor of the estate. James and Thomas approved of the inventory.
GEN II James Edgell (b. 1724, Dorchester, County) and Mary Staples.
Married to Mary Edgell and their names are on the deed for a portion of Fluharty's Desire. James was a carpenter in Dorchester County. James deeded part of his land, "Brotherhood", to his brother John in 1748. December 13, 1769, James deeded to his son Benjamin, 116 acres of an addition to Fluharty's Desire. Recorded in Dorchester Deed records. James made his will on April 20, 1782 as recorded in Caroline County Wills. He left to his son Abraham his dwelling and made bequests to Abraham's sons, James and Robert Edgell.
GEN III Benjamin Edgell (b. 1750) and Rebecca Merrick
Married to Rebeccah. Caroline County made his will on January 6, 1791. He left all his real and personal property to his widow, Rebeccah which consisted of two tracts of Fluharty's Desire and an Addition to Fluharty's Desire were to go to his son, Ezekiel Edgell. Ezekiel shall keep his son Jesse to live with him. Allin shall get the land if Ezekiel dies without lawful issue.
GEN IV Ezekiel Edgell (4) Son of Benjamin (3)
Made his will, December 1812 (Caroline County Wills). EN Page 5.
GEN IV Jesse Edgell (4) Son of Benjamin (3) Born June 10, 1774, in Caroline County, Maryland. Married Mary Jester, daughter of Reverend Daniel and Elizabeth Jester, September 17, 1799. Will of Mary.

GEN IV James Edgell and the story of Mary Ice and Tecumseh James Edgell and Mary Ice (b. 1778)
GEN IV William Edgell (b. 1790) in Virginia. Married Sarah Dunn (b. 1804) in Virginia
GEN V John Edgell (b. 12/23/1823, Tyler, Virginia. Married Susannah Morris (b. 5/11/1834).
GEN VI Ananias W. Edgell (b. 10/7/1853). Married Flora O. Adams (8/5/1860, Dodderidge, Va).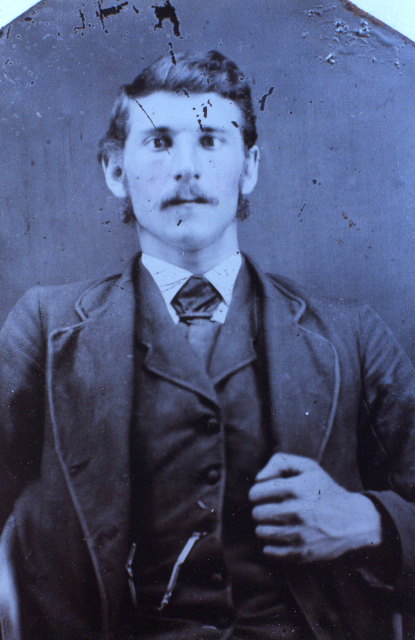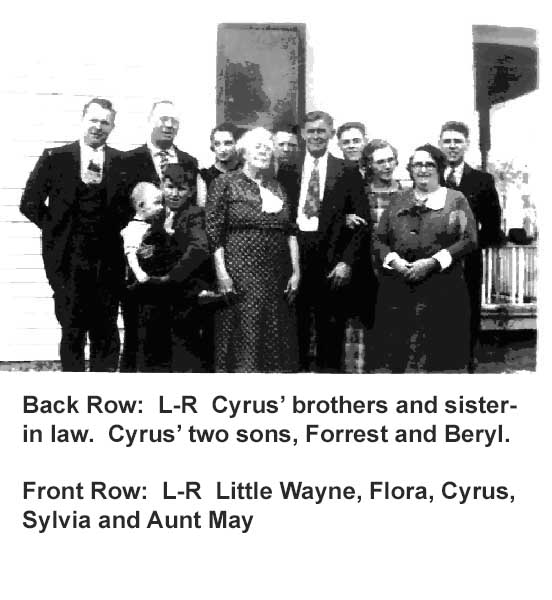 A.W. and Flora lived in Rhone, W. Virginia. They had six boys and four girls. Two of their sons are remembered here: Cyrus Yale and Ora Klyde. Rumor: related to Sir Walter Raleigh. See Notes under Waitman

The first born of A.W. and Flora, Ora attended Medical College in St. Louis Missouri, graduated in 1902. Married Hester Lorney, 10/27//1900. Two sons, Holden Hearst (b 8/21/1902) Preston Dwight (b 3/7/1904)

Ora remarried on 2/2/1924 to Sue Adams. One son, James Klyde (b 1/13/1926) Ora died 5/8/1945 at his son's home in Washington.

GEN VII Cyrus Y. Edgell (b. 6/9/1882) Looneyville, W. Va) Married: Sylvia J. South (5/24/1887), Howard, Oh).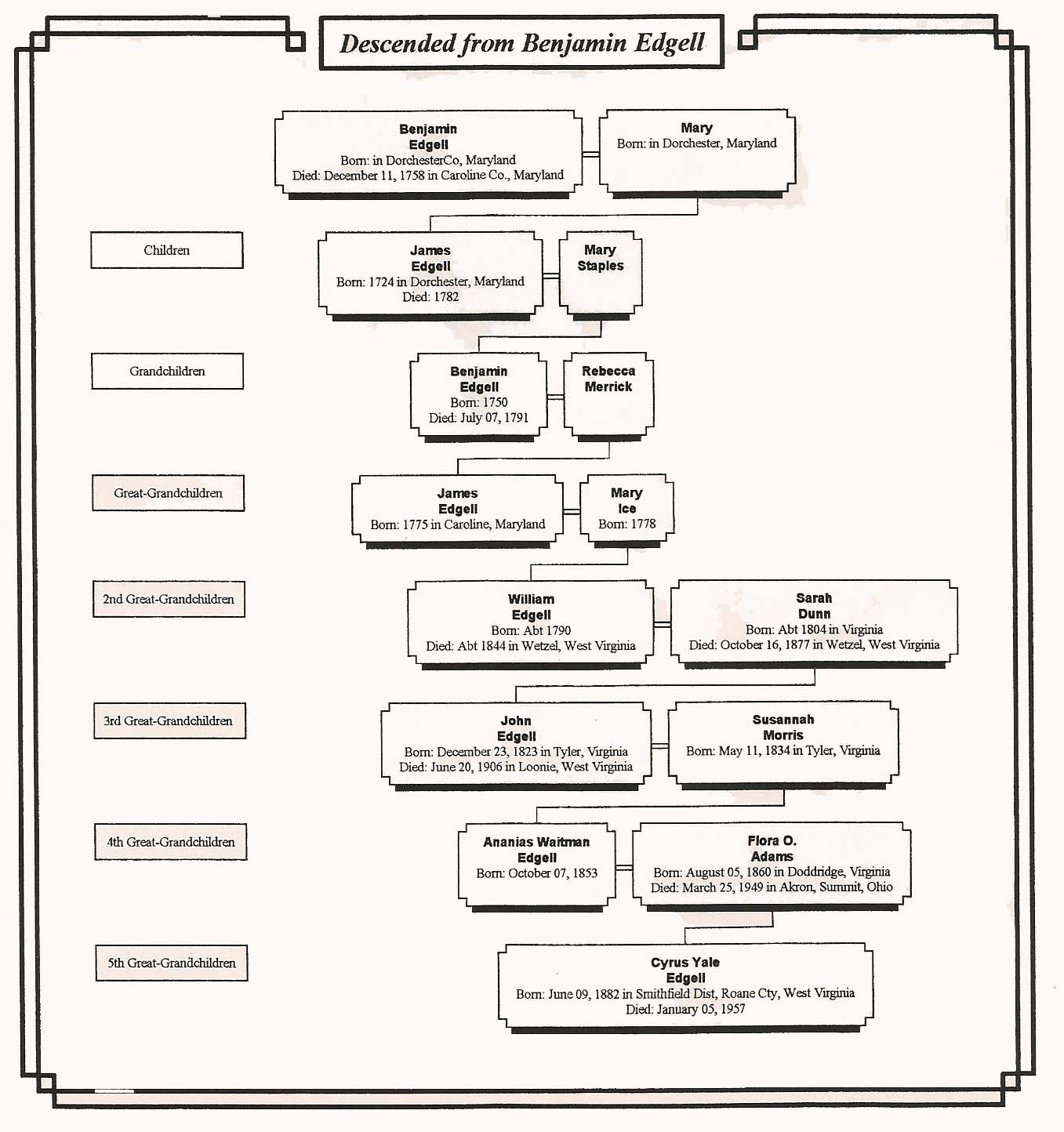 Sylvia Jane South Family line: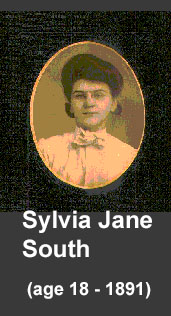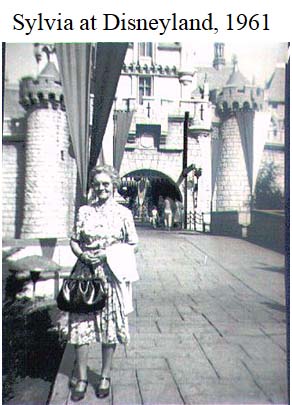 GEN I of Sarah Jane South - Lendwig Bricken Holland, Germany b. 1754. Married Elizabeth Calvert, b. Maryland, USA.

(Great, Great, Great Grandparents of Sylvia Jane South Edgell. The Calverts are reputed to have had ownership of the Baltimore Railroad). Elizabeth Calvert (unconfirmed) might have been a daughter of the Calvert family, 6th Baron Lord Baltimore, the family that ruled and owned most of Maryland for generations, until the American Revolution.

GEN II: Jacob Bricken. Married Mary Koonsman Great, Great Grandparents of Sylvia Jane South Edgell. They bore a child, Elizabeth Bricken.
GEN III: Elizabeth Bricken, Lived to be 104 years old. Married William Hogue born 1810
Great Grandparents of Sylvia Jane South Edgell.

GEN IV: Daughter - Mary Hogue born 1832, Ohio, USA. Married Samual South Sr, b 1871 Baltimore, MD.
GEN V: Samual South, Junior, born August 26, 1861. Knox, Ohio. Died March 22, 1890
Married: Sarah Jane Tweed. born 1863, Howard (Knox Cty)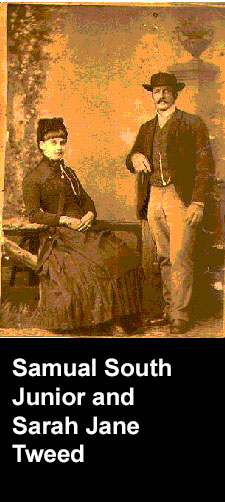 GEN VI: Daughter - Sarah Jane South. Born June 24, 1887
Married Cyrus Yale Edgell

Sylvia's dad, Samual South Jr. Died in 1887 when Sylvia was three years old.
Sarah remarried George Young (d. Nov. 23, 1969) and they had four children:
Blanche: b 2/7/1894 (married Joseph Boyer:three children; Marion, Lillian, Gerald)
Evelyn: b 9/2/1896 (suicide age 42)
Lorraine: b 1/12/1901 d 8/30/1969


EDGELL LINE CONTINUED:
GEN VII Cyrus Y. Edgell (b. 6/9/1882) Looneyville, W. Va) Married: Sylvia J. South (5/24/1887), Howard, Oh.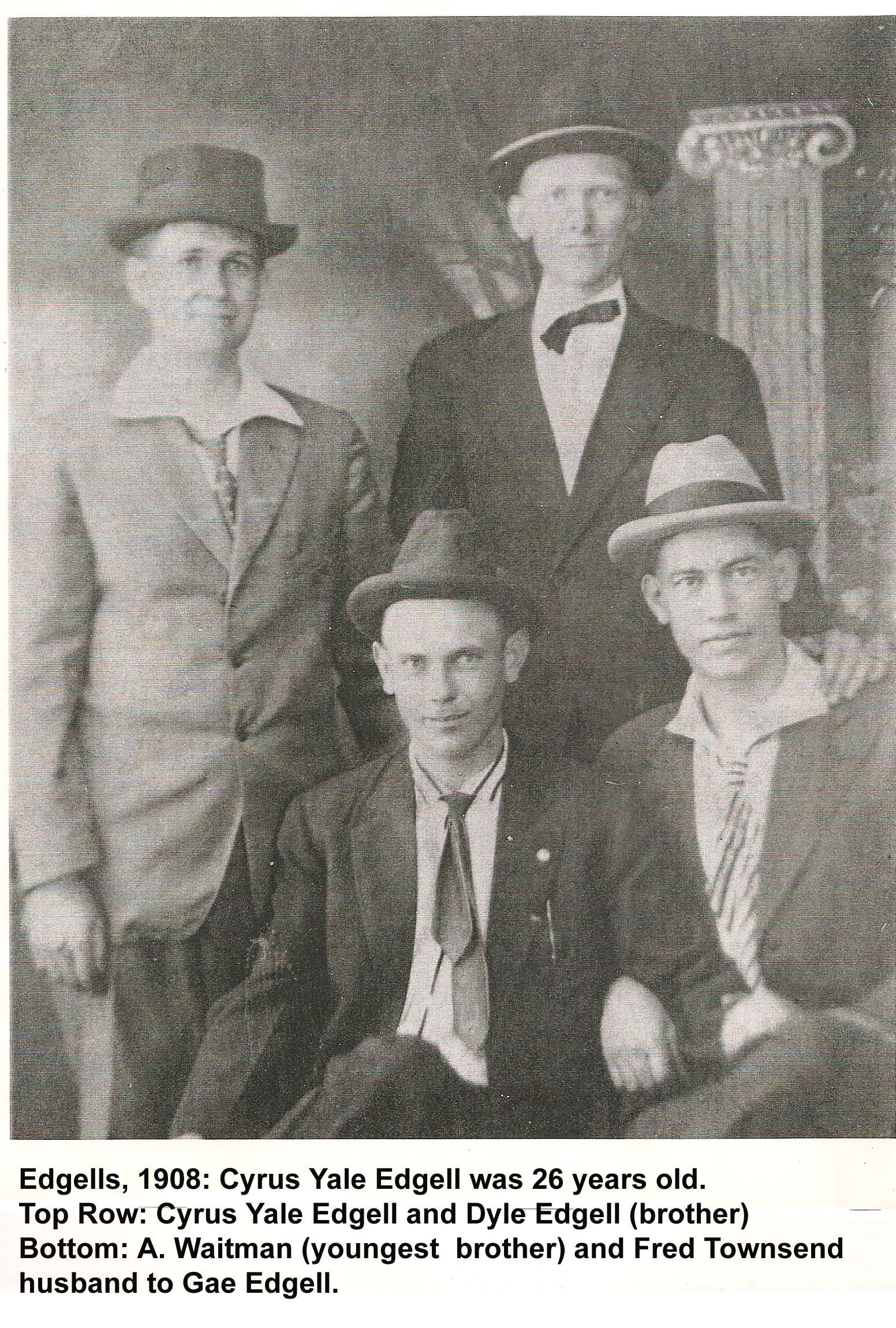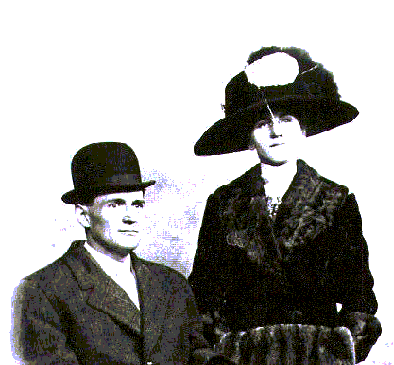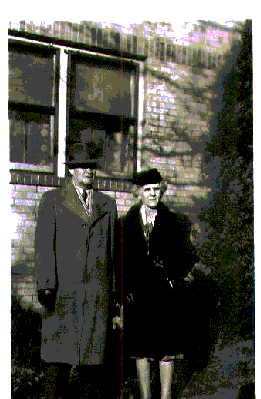 Cyrus left W. Virginia and traveled to Akron, Ohio on July 4, 1903. He was employed in the rubber works in Akron. Cyrus was told by a doctor he had six months to live and moved the family to Colorado in 1923. He was in the grocery business until retirement in 1953. Cyrus and Sylvia bore 3 sons and one daughter. Died 1/5/1957 of coronary artery occlusion.

GEN VIII Harold South Edgell (oldest son of Cyrus and Sylvia) b 11/27/1913, Cuyahoga Falls, Oh. Married: 8/3/1936 Alese Priest who passed away in 1970s. Harold then cohabited with Ruth Burns, b. 12/26/1910 Kansas City, Kansas.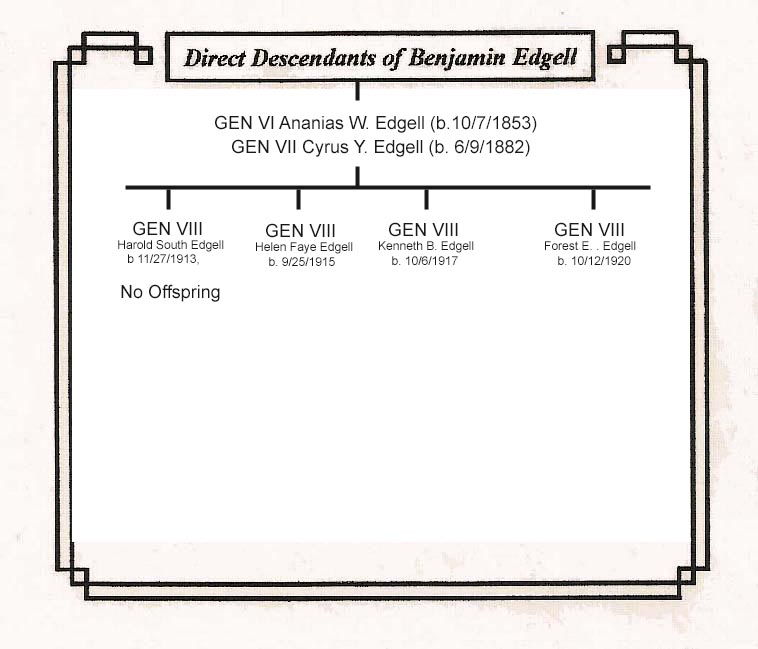 Harold's words from his chornicles: "When I was 11 years old, dad was told by doctors he had 6 months to live because of a lung infection. The doctors told him he had to move to a high elevation climate. On the way to Colorado, dad stopped in Hannibal Missouri and talked to Uncle Ore who was a doctor. Ore agreed with the doctors and told dad to go live in a high climate. I remember Uncle Ore and to this day have no respect or kinship for him. Dad worked and paid for Ore's education with the understanding that when Ore became a doctor, he would put the others through college and help with their education. Ore never gave back anything to the family. After he graduated, Ore moved to Missouri and never contributed to the family or to dad's education. Dad moved his family to Colorado and lived for another 40 years.

When the family moved to Colorado, I stayed with Grandma Edgell, Flora, in Akron, Ohio for a year. This was a burden on Grandma and I knew, at that young age, that she did not want me. This caused me to be belligerent. Dad, mom and my two brothers were gone and I was left alone in a home where I was not wanted. Grandma was a wonderful person but very strict in her ways. My belligerence resulted in a very difficult time at school and I would get into fights on the school yard almost every day. I would come home every day with a bloody face and clothes. Grandma made me black clothes so that the stains would not show and I would not look dirty and bloody.

Alese was a very good tennis player and won several tournaments involving charities and clubs. She inspired me to keep up my tennis game to a respectable level.

After over eight decades of living, I consider myself fortunate. My health is good, my finances are sound and I am lucky to have a wonderful, loving companion in Ruth. To all the later generations of Edgells, I wish you the best and may God give you the energy, common sense and good fortune to live so long and have someone like Ruth at your side."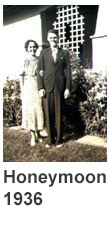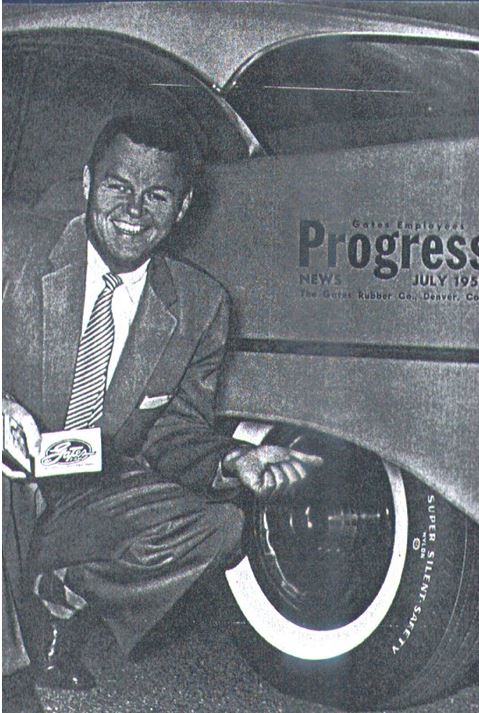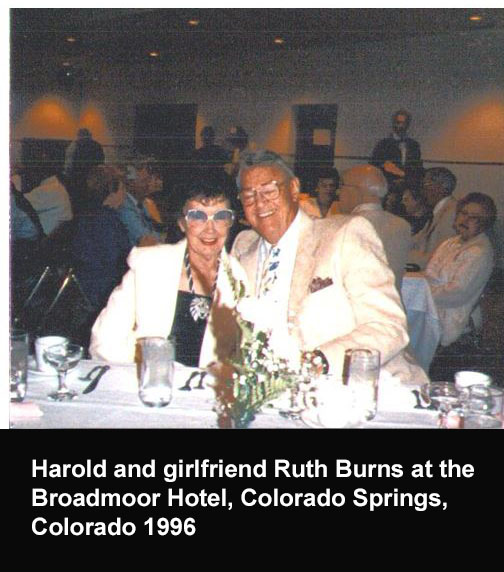 Harold had a long career in purchasing at Gates Rubber Company, Denver, Colorado. Here he is on the cover of their company magazine. Harold and Elese were avid tennis players and traveled extensively.
GEN VIII Helen Faye Edgell (daughter to Cyrus and Sylvia (b. 9/25/1915 Akron, Ohio) (d. 2020 age 105). Married 1935 in Loveland Colorado: William Frederick Riker (b. 4/18/1913).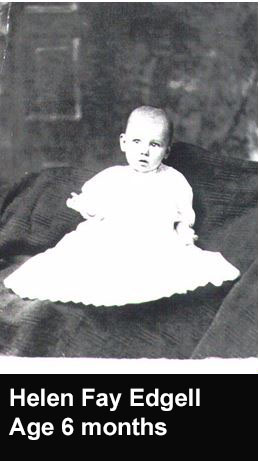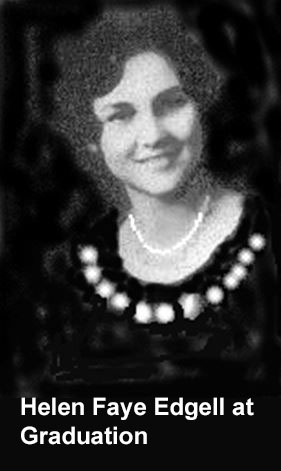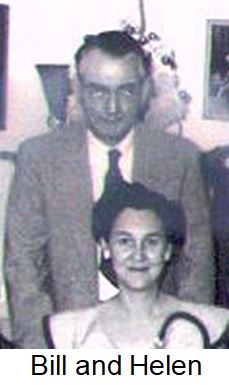 Helen Moved to Loveland, Colorado in 1923. Graduated from Loveland High in 1933. Attended Beautician school in Denver to run her shop in Berthoud. Married William Riker December 22, 1935

Helen's words from her Chronicles: "I was born in Akron, Ohio September 25,1915 to Sylvia Jane and Cyrus Yale Edgell who were happy to have a sweet little girl who never cried in the night, keeping them up all hours. My older brother, Harold, on the other hand,, had a respiratory problem and Dad and Mom walked the floor with him night after night. I adored him and loved him with all my might. He goes by Bud and is a man I am proud of. Kenneth Beryl was born October 6, 1917 and Forest Earl October 12, 1920. Two wonderful brothers who grew up close sharing everything just as if they were twins. Beryl was very close to Mother, a big help and thoughtful of her. He helped around the house, cleaning the toilets and floors and doing the grocery shopping for Mother. Forest was a little chubby lovable baby we affectionately called "Fat". That name stuck until he started school. Then he was Forest. When he met Lola Rankin, she nicknamed him Fory. To me it is an endearing name for my brother and that is what I like to call him.

Dad was a good man, firm in teaching us right from wrong. He lived by the 10 commandments as given by God to Moses on Mt. Sinai.

We had a happy home with love for all. I remember when Grandma Edgell Ellis and Mr. Ellis, her husband came to live with us, I must have been 6 years old. I was overjoyed to have her near, because she gave the best, loving hugs in the whole wide world and took the time to play dolls and make believe with me.

My mother, Flora O. Adams Edgell Ellis was a special person. One thing I didn't understand was she would reach in her pocket and take out a can and use snuff, but I didn't care because she would rock and smile her sweet loving smile and all seemed right with the world. In those days, Grandma wore long print dresses and a white apron with big pockets.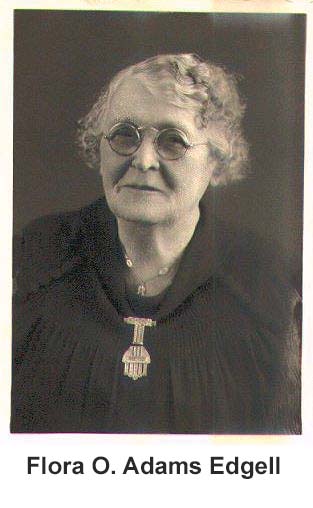 The ranch where we lived two miles from Divide was called Tucked a'Way. Later that Fall we moved to Ramah, Colorado where my parents managed a Hotel. They rented out rooms, cooked, cleaned, did laundry, and anything else that needed done. I was the only waitress and I got lots of tips the three years. I was 8,9, and 10 years old and able to buy all my school books and clothes. Four or five teachers lived with us and were called our "regulars".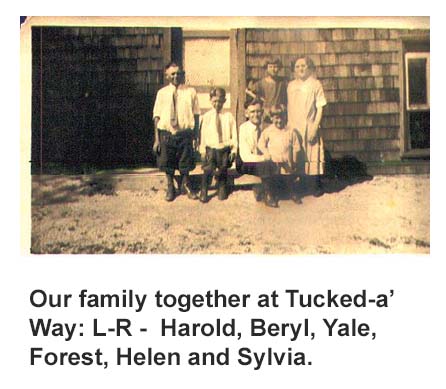 We later moved to Loveland, Colorado. In Loveland, Mother did home nursing to help with expenses. She was so sweet to older people and took care of all their needs. Everyone loved her. On Saturdays, she baked bread and Parker House Rolls and Forest and Beryl went door to door selling her baked goods hot from the oven. We always got orders for the next bake day. Beryl and Forest won the hearts of all the families for blocks around us. I can see them yet with their baskets of hot bread and rolls. A loaf of bread was 15 cents and rolls 25 cents a dozen. My brother, Harold, had a job and gave his checks to the folks to help out.

My freshman year in high school, I met this handsome young man, William Frederick Riker, a senior who stole my heart away and we started going steady. He graduated from High School that year and in the Fall went off to Boulder to attend the University. On December 22, 1935, Bill and I were happily married. January 31, 1939 a "blessed event" a baby girl was born. We named her with some insistence from her Granddad Riker, Nellie Jane, after her two grandmother, "Nellie" Riker and Sylvia "Jane" Edgell. When our daughter was born, my mother came to see the baby and help me for a couple of weeks. Mom and Dad had moved to Goodland, Kansas in 1935.

My brother, Kenneth Beryl Edgell. Beryl was one of the first to be selectively inducted into the army. After Boot Camp he was sent to Officers Training School where she was able to join him. After he graduated she went home to live with her folks and have their baby girl, Lois Sylvia - named after 2 grandmothers. I was so thankful Beryl took the time to come to Denver to say goodbye to Mother and Dad, Bud and Alese and to Loveland to say goodbye to me and my family. It was the last time we saw him.
After the invasion of Normandy Beach, my brother Beryl was reported missing in action for 2 years. It was so hard on Mother, Dad, his wife Esther and all of us. One theory in my mind was that he had amnesia from the horror of the Normandy Beach invasion. Where ever I went I looked for him, on the streets, in stores, in crowds, and I kept that up until (after 2 years) the word came that he had died in battle and they sent some of his things home. I can't even guess what agony my parents went through to lose a child, no matter what age, is one of the worst crosses to bear. My heart ached for Mother and Dad.
When my brother, Forest, was in Army boot camp, his wife Lucille left him for a man named Tex and brought all three of his boys to Cheyenne to the base where he was stationed. Forest took them to Mom and Dad's but they were managing an apartment where children were not allowed. Their hearts were broken when they had to put the two little boys in foster care. Lucille picked up the two little boys after some time, but left Lynn. I took Lynn in and he stayed with us through three school years, I believe 3rd, 4th, and 5th grade."
Helen's Obituary.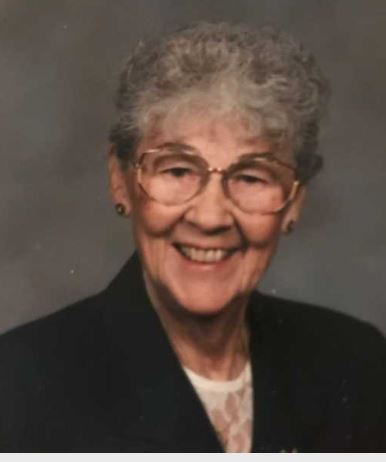 September 25, 1915 - November 24, 2018 Helen passed away peacefully at her home in Sherwood, Ore. on November 24, 2018 after turning 103 on her birthday September 25, 2018. Helen passed away peacefully at her home in Sherwood, Ore. on November 24, 2018 after turning 103 on her birthday September 25, 2018. My sister, Sharyn and her children, came from California to celebrate. Helen lived with her daughter, Lee Johnson and her husband, Chuck. Their daughter and son-in-law live close where they were able to help with Helen's care. Helen's 3 husbands preceded her in death. Helen was born in Akron, Ohio to Cyrus and Sylvia Edgell, but because of health issues moved to the mountains in Denver, CO. where they raised Helen and her 3 brothers. She moved to southern California after her first husband, Bill Riker died. She soon fell in love with Ellis Midgett who had two children, Sharyn and Ken. After Ellis retired, they bought property in Hemet, Calif. where they were able to swim every day, walk, dance and lawn bowl. It was a very sad day when Ellis died of cancer. Her last husband, Leonard Smith, saw her lawn bowling and instantly fell in love but once again she lost him to cancer. They enjoyed traveling and camping and visiting with the children in Calif. and Oregon. When Helen turned 80, she decided to move to Sherwood, Ore. to be close to Lee, Chuck and their children and go to the beach and live theater. She has always been active in the Methodist church and loved the ladies group that met monthly for lunch. Helen is survived by her daughter, Lee Johnson and husband, Chuck; daughter, Sharyn Stoddard; and daughter-in-law, Linda Midgett; 11 grandchildren; and 18 great- grandchildren. There will be a celebration of life this summer at Cannon Beach, Oregon.
Daughter:

GEN IX Nellie Jane Riker (Helen's daughter) (b. 1/31/1939 Spokanne, Washington d. 2022 Sherwood, Oregon) Married:Charles Robert Johnson b. 12/23/30 Newbury, Michigan.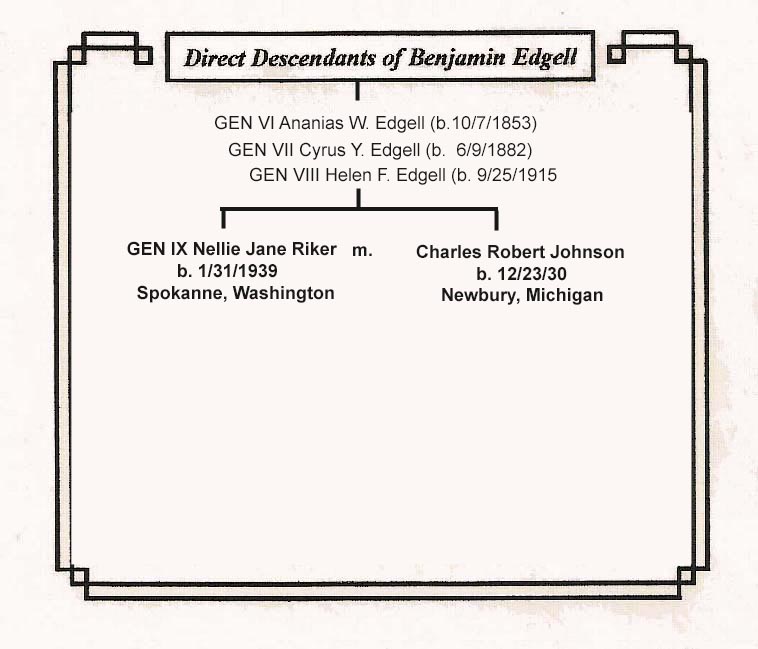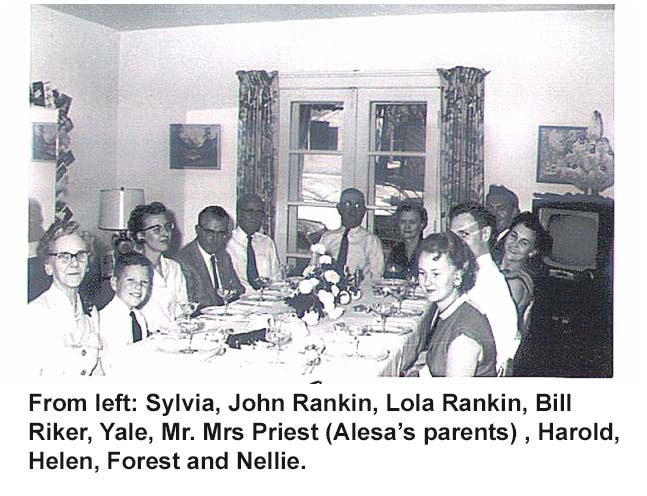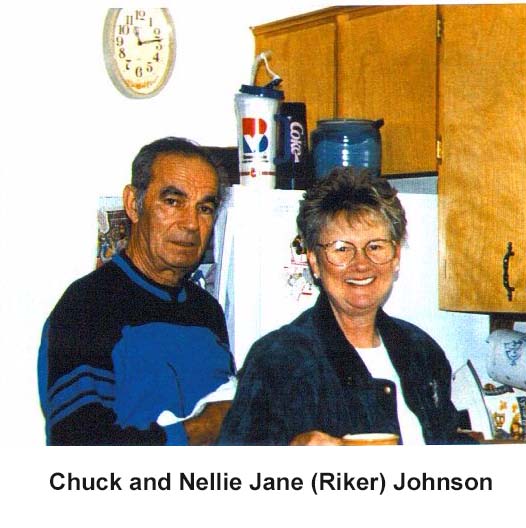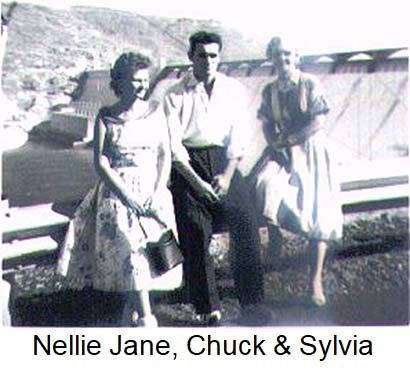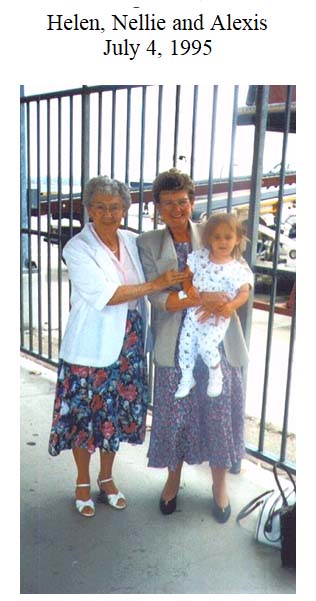 Nellie's two Daughters and a son.
GEN X Celeste Renee Johnson (Nellie's daughter) b. 3/11/1961 Lewiston, Idaho Married: Stuart M. Hartman b. 3/12/1961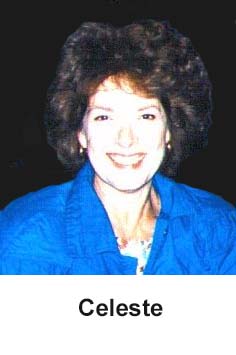 Celeste words from her Chronicles: "I was born on March 11, l961 in Lewiston, Idaho at St. Joseph's Hospital. Lewiston is located in northwestern Idaho just South of Moscow and adjacent to Clarkston, WA. It was established as a gold mining town where the explorer Lewis and Clark camped. It is Idaho's oldest incorporated community and the first territorial capital. The economy is based on lumber and agriculture.. My father, Charles Robert Johnson, was a truck driver who hauled wood chips for Pot Latch Forest Products. He drove from Coeur d' Alene , Idaho to Pot Latch to Lewiston, Idaho. When I was a couple months old my parents Charles Robert Johnson and Nellie Jane (Riker) Johnson relocated to Spokane, WA. Spokane, WA (Spokane Falls) was settled in 1871 as a trading post and received it's name from the Spokan Indians. In 1900 Spokane established lumber, metal and food-processing industries. In June of 1961 my father became a policeman on the Spokane Police Department. I still have vivid memories of my father putting his hat, belt and gun in the hall cupboard after work each day and bringing me home a candy bar, what a treat!
During my younger years I faced some trials and tribulations which are not printed in this chronology. Fortunately, I was blessed with my current husband Stuart and my relationship that I have obtained with God. I thank the Lord for my family immediate and extended (my in-laws are a dream!) .

I thank the Lord most for two things - God himself and my husband Stuart. Without which my life would not be complete. I am looking forward to my years ahead loving and living with my husband and children. It seems as though the older I get the more enjoyable life becomes. May God touch your heart, place you on the right path, and guide you in all your endeavors.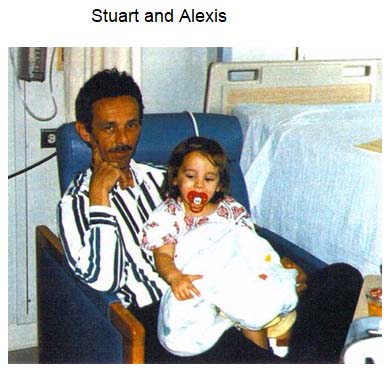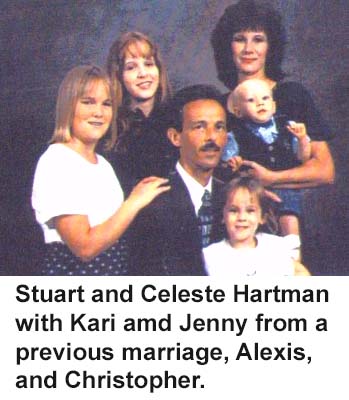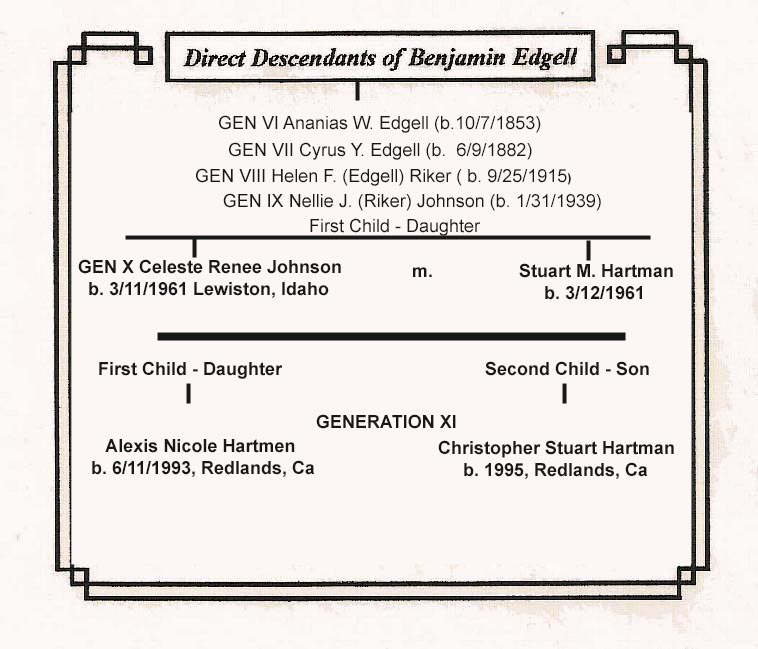 GEN XI Alexis Nicole Hartman b. 6/11/1993, Redlands,California
GEN XI Christopher Stuart Hartman b. 1995 Redlands, California
GEN X Patrick Neil Johnson, (Nellie's son)b. 12/11/1972 Spokane, Washington.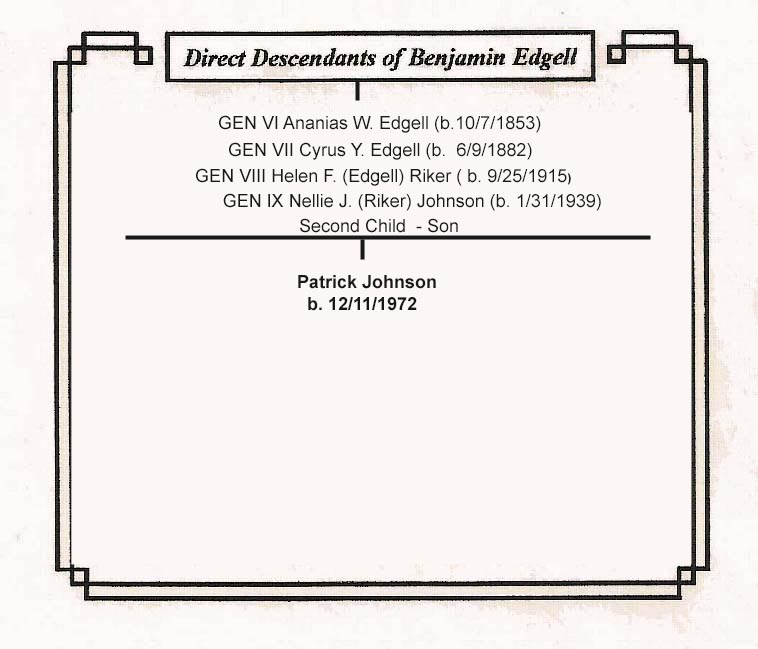 GEN X Rachelle Marie Johnson (Nellie's daughter) b. 11/5/1967 Spokane, Washington m.2/15/1997 Joakim Falth
GEN XI Brittany Lee Johnson (Rachelle's daughter) 4/23/1991, Father is Lee Elliot.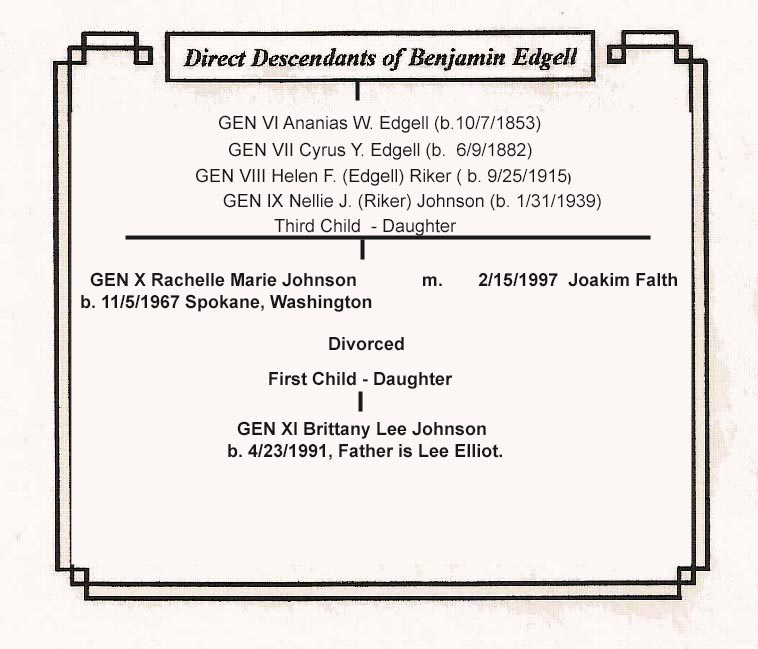 GEN VIII Kenneth Beryl Edgell (Cyrus and Sylvia's son) b.10/6/1917 Married Esther Copeland on 3/18/1942,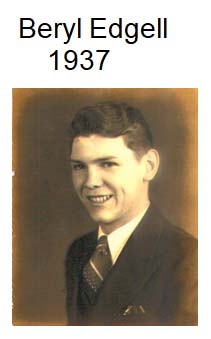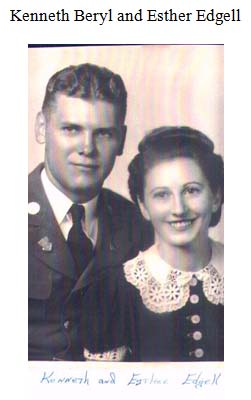 Kenneth Beryl moved with his parents to Colorado in 1923. Attended school in Loveland but graduated his senior year at Goodland High School (Goodland, Kansas). Kenneth was an officer in the U.S. Army (29th Division) and took part in the Normandy Invasion, June, 1944. Kenneth died in the invasion. In Normandy France a gravesite is marked with Kenneth Beryl Edgell's name along with the gravesites of thousands of allied soldiers who took part in the Normandy Invasion. He died as a POW on 6/26/1944, Normandy France. Robert Edgell, nephew of Kenneth Edgell wrote a historical novel about Beryl's marriage to Esther and his time in the military up to his death. As of this writing it is on the internet at

http://bedgell.com/Publisher/Beryl%20A%20War%20Drama.pdf

The family called him Beryl. He was the third offspring of Cyrus Yale and Sylvia Edgell. We know from the chronicles of Forest, his younger brother, that Beryl was an achiever and there was a very close bond between Beryl and his younger brother Forest. Beryl was athletic. He was the quarterback on the high school football team which achieved a co-championship season for Northwest Kansas. When Beryl went into the Army, he became a 2nd Lt.

We see through the chronicles of Forest that Beryl was a man of character with apparent leadership qualities. Before entering the U.S. Army, Beryl fell in love and married Esther Copeland. Beryl's older sister, Helen, describes the relationship between Beryl and Esther as very loving and Beryl adored Esther.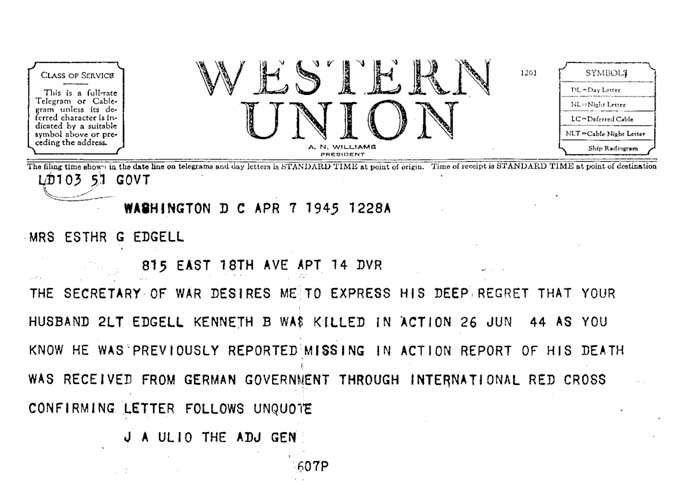 After the war, the American Battle Monuments Commission (AMBC) was granted, by the people of France, the land for the cemetery in perpetuity in recognition for the sacrifices in liberating Europe. Most of the soldiers interred in the Brittany cemetery died in the fighting around St. Lo and Mortain. The remains of the American dead were interred in France by permission of the next of kin. On the site is a memorial chapel and museum. Over the entrance door to the chapel is a sculpture consisting of an eagle, shield, stars, laurel and arrows representing the Great Seal of the United States. Below the sculpture is written:
IN MEMORY OF THE VALOR AND THE SACRIFICES WHICH CONSECRATE THIS SOIL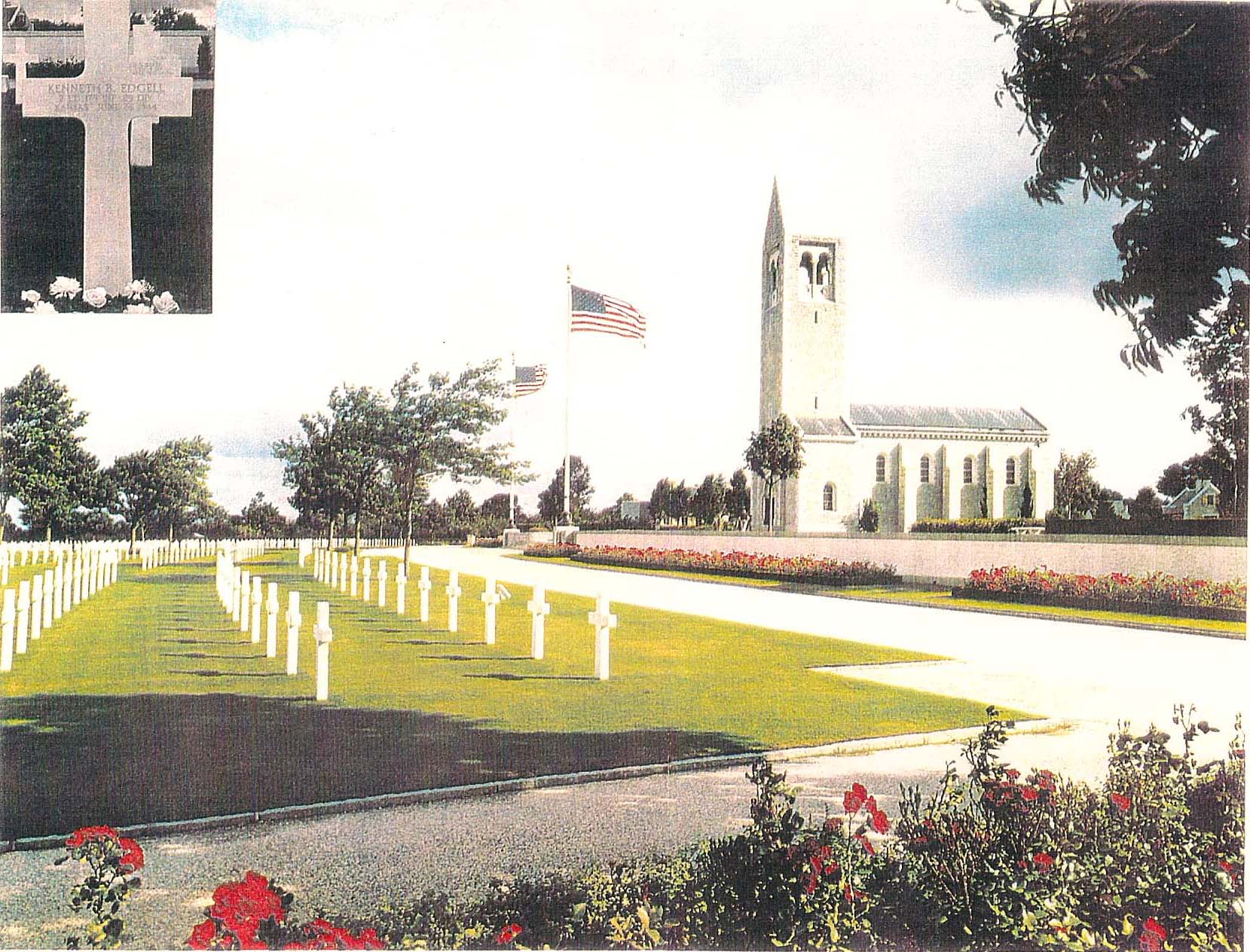 GEN IX Lois Sylvia Edgell (Beryl and Esther's daughter) b 4/18/1943, Goodland, Kansas.Married 1962 Walter Gorzinski b. 1/4/1940, divorced 1982. Two sons by Walter Gorzinski.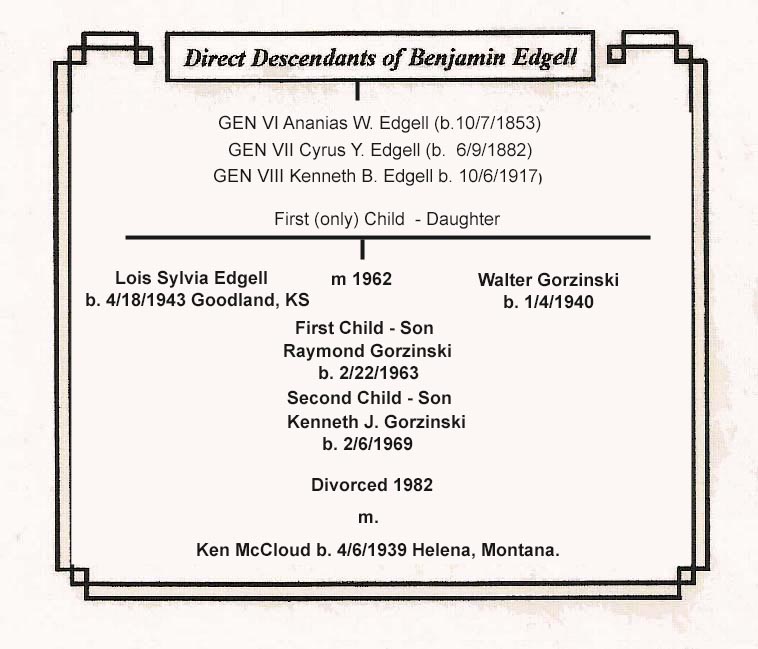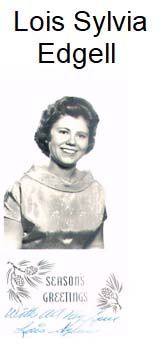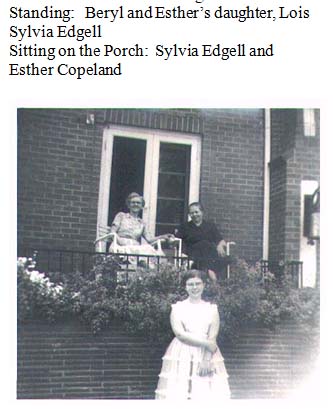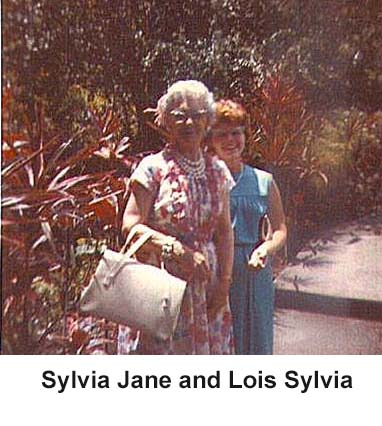 GEN X Kenneth Joseph Gorzinski b. 2/6/1969 Colorado Springs, Colorado

GEN X Raymond Gorzinski b. 2/22/1963 Colorado Springs, Colorado


Lois Sylvia divorced Walter Gorzinski in 1982 and married Ken McCloud b. 4/6/1939 Helena, Montana.
GEN VIII Forest Earl Edgell b. 10/12/1920, Akron, Ohio d. 1998. Married 10/30/1938 to Lucille Irene Deves, b. 9/27/1920, Goodland, Kansas.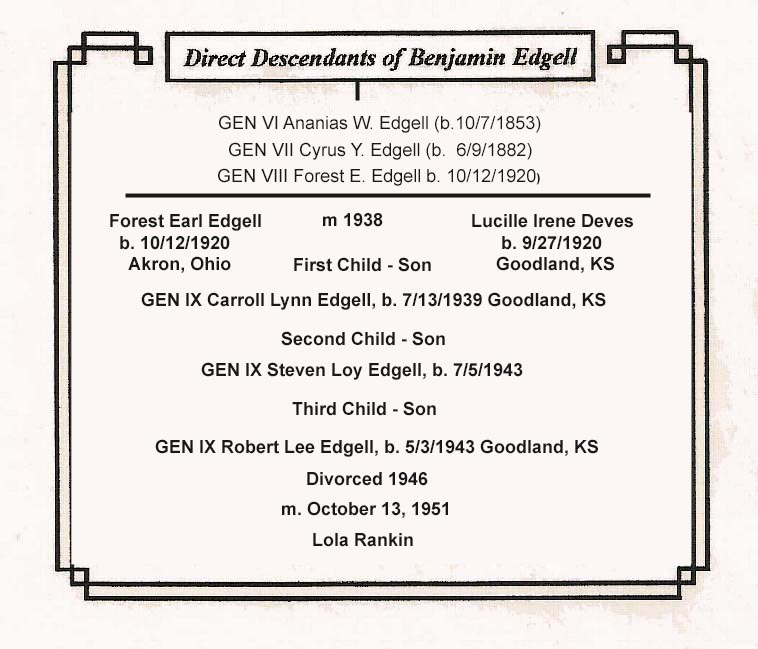 Lucille was the daughter of Joseph Gotthilf Deves whose roots go to back to Martin Pagenkopf (b. 22 Nov 1799 in Kardemin, Hinter Pommern and died in Shady Brooks, Kansas). Forrest and Lucille divorced in 1946. Forrest remarried Lola Bell Rankin on October 13, 1951. Forrest and Lucille had three sons: Carroll Lynn, Steven Loy and Robert Lee.

Lucille's life story and family photos are in a website dedicated to her. The photos include the Robinson family, Edgell family, Amos family and many more. When you arrive at the site, click on the 'Introduction' link.
http://bedgell.com/Lucille/lucille.htm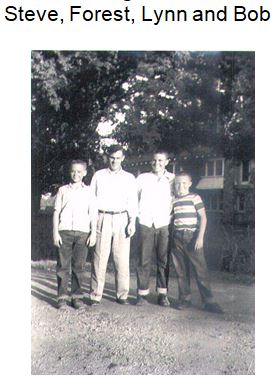 Forest's words from his Chronicles.
"When Dad was well enough he went back to work for a man by the name of Forsyth whom he had worked for before. Dad was sent to Goodland, Kansas and was there almost a year before Mom, Beryl and I moved to Goodland from Loveland, Helen was married to Bill Riker at that time. Beryl and I made friends pretty fast in a small town of about 5000 people. When we started to school and got into football it kept us pretty busy. Beryl was the quarterback and I played guard. We were Northwest Kansas CoChamps along with St.Francis Kansas. Each team had lost a game and there was no playoff.

Dad was running a wholesale grocery that sold to stores in town besides traveling all over Northwest, Kansas, St. Francis, McDonald, Atwood, Oberlin, Norton, Colby, and back to Goodland. Beryl and I would help in the summer an on weekends. Unloading carloads of sugar (100# sacks) handling the sacks as many as four times we stacked them in the warehouse. We still had time to do our own thing.

I met Lucille in school and started dating. We were married in 1939. I was working at Horns grocery. After the war started I went to work in the roundhouse as a pipefitter helper and was soon a pipefitter as they needed someone on the graveyard shift. Lucille and I had three children, Lynn, Steve and Bob. Lynn teaches school in Blair, Nebraska. Steve works for the State of Arizona and Bob has his own business in Phoenix.

Lucille and I moved 8 times from the town we were married in until I went into the Army. We lived upstairs in Grandpa Robinsons house, moved to a renovated box car that had two bedrooms, a bath, kitchen and living room, owned by her Dad ,Carl Deeves. We then moved to the Pink House on Cherry that was owned by her mother, Mrs Baldwin.

I was drafted into the Army in early 1945 and was sent to Ft. Leavenworth Kansas to get my clothes and shoes. From there I was sent to Camp Maxie, Texas, just out of Texarkana where I was in boot camp. From Texas I was sent to Cheyenne, Wyoming in the Engineer Corp. The war was over in Europe and we were headed for the Pacific front. While I was in Texas Lucille wrote me a letter and said she had met someone else and wanted a divorce. On the way to Cheyenne I stopped in Goodland and started the proceedings. I spent six weeks in Cheyenne working in the railroad yards. I was then shipped to Camp Beale, California just out of Oakland, California. The camp was a embarkation point for the war in the Pacific. Just after we arrived the war was winding down so they put me behind a desk filling out papers for some of the younger men before they were shipped out.

I was discharged on the 14th of December, 1945. I received my discharge papers and $200.00. I still had a few dollars left out of my pay, so I sent the $200.00 to Mom and Dad in Denver to keep for me and started hitchhiking to Colorado. I hitched a ride with three Army fellows that were going skiing up in the mountains, caught a ride with a rancher that lived back in the hills, he dropped me off in the middle of nowhere when he turned off. He gave me a tip and told me to walk about halfway up the hill, when a big truck came along he would be in 3rd or 4th gear and be going slow when he went past me. When he went past he motioned me to climb on board which was easy to do as he was creeping up the hill. I caught rides with farmers, truckers, and the last one was a salesman that let me off at Green River, Wyoming. I caught a ride with another salesman into Laramie and took a bus into Cheyenne and visited a buddy that was still stationed at Ft.Warren as he was gone when I shipped out to California but nobody knew he was AWOL and got lost in the shuffle. I got a ride with a Lt. that was coming to Denver. I arrived on the 19th of December and surprised Mom and Dad as they didn't know when I was coming.

My brother Beryl joined the Army, infantry and became a 2nd Lt.. He was killed in the Battle of Normandy Invasion on June 26, 1944 and was buried in the Brittany Cemetery in France. He left a wife Esther and a baby daughter, Lois Sylvia. This was a great loss to our family and I lost a brother and friend."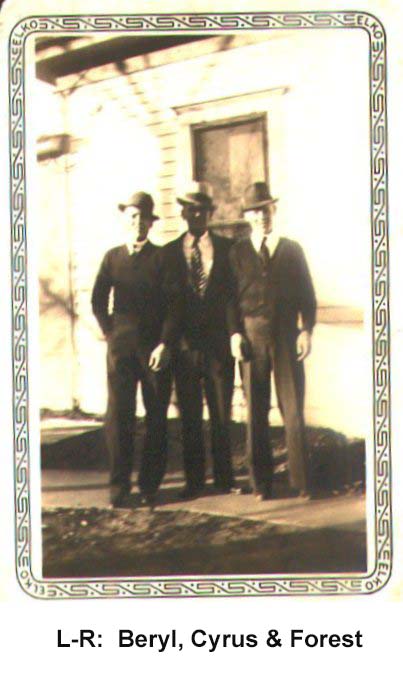 "I went to Goodland to visit friends and see Esther and Lois Sylvia after Christmas. Came back to Denver and started working at Gates Rubber Co. as a stockman on swing shift, January 6, 1946. Mother and Dad managed an apartment house on 18th Avenue in Denver and after being discharged from the service I lived with them. Their apartment was small and I had a room in the basement. I met Lola while dancing at the Rainbow ballroom on 6th Avenue in Denver. Lola and son John had come up from Colorado Springs to visit her mother. We both loved to dance so we hit it off real well. Lola transferred back to Denver and worked at the old Montgomery Wards Building on Broadway that has since been torn down by implosion. John, Lola and I watched this from our front porch. Lola and I dated for about two years before we were married. We would go the drive in movies, picnics in the mountains and most everywhere we went we would take John curled up in the back seat. Lola and I were married October 13, 1951 in our front room at 545 So Pecos St. in Denver which is where we still live."
Forest married Lola Rankin who had a son, John. They were married until Forest died.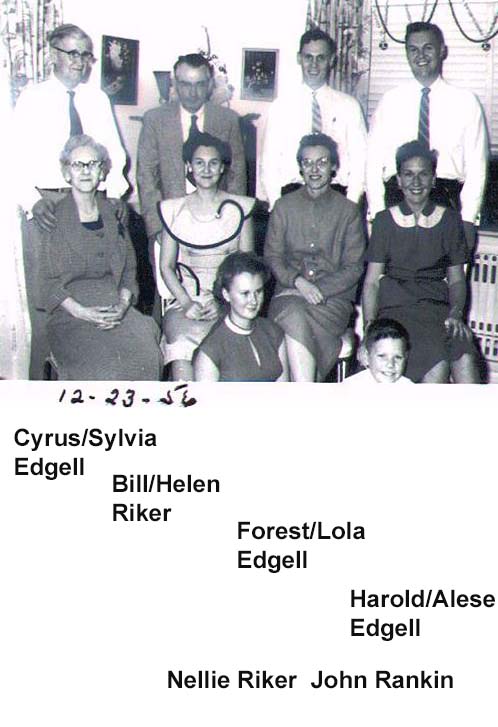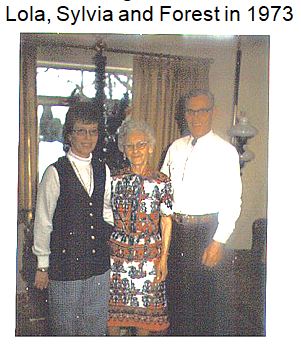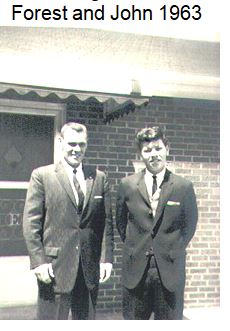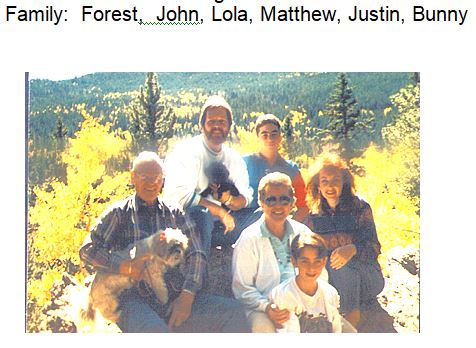 "Lola lived in a boarding house and the lady took care of John. After we were married she continued to care for John until he started to school, then I took over and was home when he got home from school. I accepted the responsibility of rearing John and he filled a void in my life. He was three years old when Lola and I were married. I gave him love and guidance as he was growing up. His natural Father had hardly been in the picture for years and passed away when John was 12 years old. John and I were always good buddies. I remember he received one spanking from me. He and the next door boy David were playing in the backyard. John had a beautiful metal truck and his friend wanted to play with it, and John though he was not playing with the truck would not let David play with it. I could hear the problem and because selfishness was something that I could not accept, John received a spanking. He still remembers this today. This hurt me more than it could have ever hurt him. John was a good student in school. After graduating from High School he attended The University of Colorado and after a year he joined the U.S. Navy, Submarine Service for four years. This was a lonely time for us as we wouldn't hear from him very often when he was out to sea. We did get a chance to go see John while he was stationed in Hawaii. It was an enjoyable trip. After receiving an Honorable Discharge he went back to school and today is a Design Engineer for a company here in Denver. Seven years ago he found the perfect gal and was married to Rosemarie (Bunny). He now has two stepsons, Justin and Matthew."
After 32 years of not seeing his boys, Forest connected with his sons: Lynn, Steve and Bob. Forest hosted an Edgell family reunion at his home in Denver.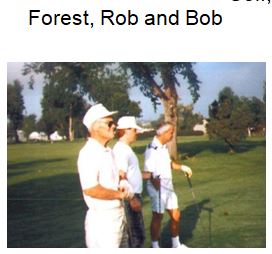 Left to right: Tom (and Laura) is Steve's son. Then Lola and Forest, Lynn Edgell and wife Ginger, Lola's son John Rankin, and Bob Edgell. In the middle are Sue Edgell, Bob's wife. Front row: Rob and girlfriend Amy. Steve and his girlfriend at the time, Carol.
GEN IX Carroll Lynn Edgell (Oldest son of Forest and Lucille) b. 7/13/1939 Goodland, Kansas Married: 1959 Carol Ann Hewitt b. Omaha, Nebraska. One Daughter, Shari Lynn. Lynn and Carol divorced and Lynn married Virginia Doosens. They had a daughter and a son: Suzanne and Scott.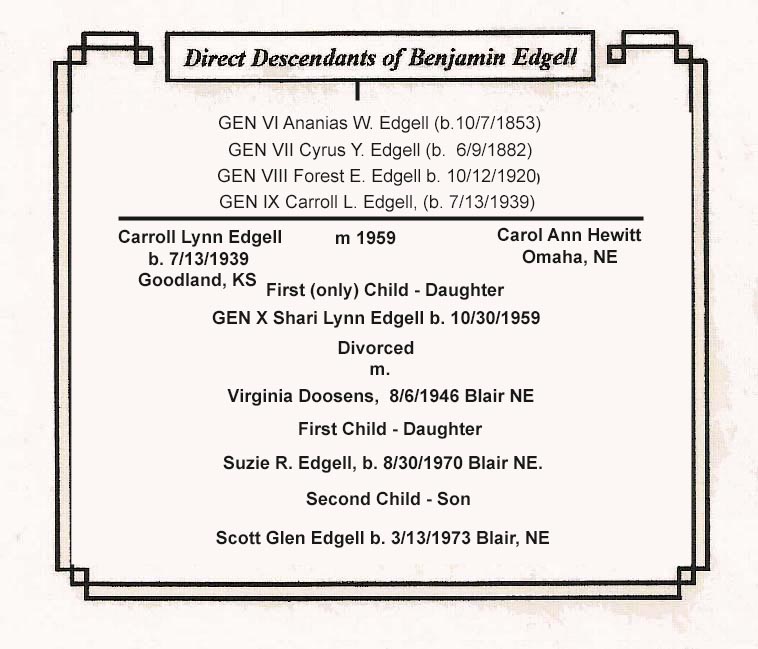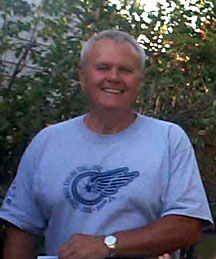 Lynn's own words from his chronicles:
"November 21, 1996 - As I begin this self-life-recording (autobiography) I find myself a very contented seven plus fifty year old man. I use the word "man" as you think I would, but still consider myself a little boy. In the scheme of things and the order of the planets, I have only recently arrived and still don't know what I want to do when I grow up. Currently, I am in my 27th year of teaching English to boisterous 7th graders in Blair, Nebraska, a pleasant little hamlet of 6,000 situated 20 miles north of Omaha a mile or two west of the Missouri River. I am happily married to Ginger Doose Edgell, who can read my mind, and has been doing so for 30 years. We have two children, Suzie, 25, who teaches junior high science in Norfolk, Nebraska, and Scott, 23, who works hard laying cable and is still trying to find himself. I find no quarrel with this, as it took me much longer to do the same.

My earliest memory is climbing into bed with my mother, Lucille, and my father, Forest, to read the Sunday funnies. We were living in a motel somewhere near Colorado Springs, Colorado. I think my father was in the service and stationed near there. Whether this was the influence that made me into an insatiable reader, I do not know. It is just my earliest memory. I was probably around four or five years old. Somewhere in the next few years there was a divorce and I lived with two aunts.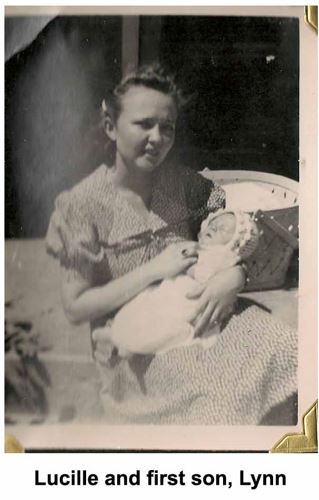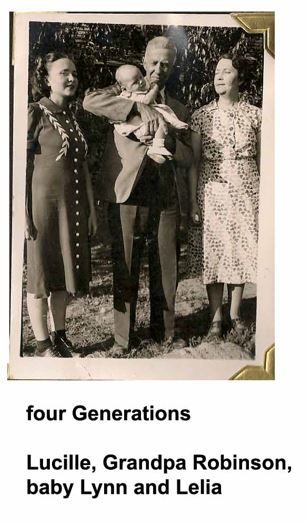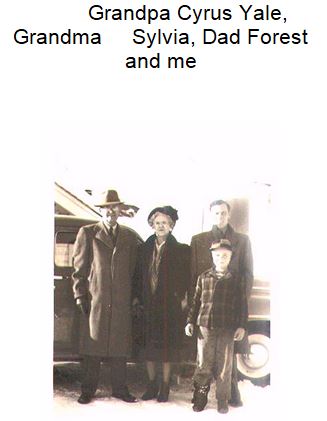 Some of the time I lived with my mother's sister, Aunt Lois in Goodland, Kansas and later I was sent to live with my father's sister, Aunt Helen, and her husband Bill Riker in Loveland, Colorado.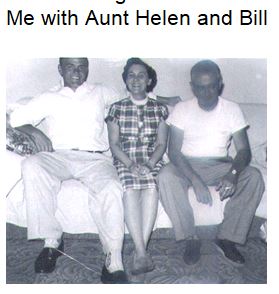 Lynn returned to the family (Lucille, Steve and Bob) in about 1951. At the time, mom had remarried and lived with Tex Cochran and his 6 kids.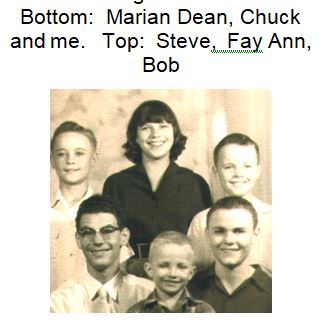 Volumes could be written about Tex. He was a jack-of-all-trades who moved when the fancy suited him. He thought nothing of uprooting the whole family, wife and 7 children, and moving in the middle of the week to another town or state. My earliest memories are of him are working a giant buffing and grinding lathe in his shoe repair shop ( I don't remember the town). I also remember being in a second or third grade class one morning and seeing Tex at the schoolroom door. He looked in and crooked his finger at me. I stood up, left all my books and supplies, and found myself the next day in a new school in a new town. I will give a short note about each of his other "trades." For a while he was a typewriter repairman. He could strip a typewriter or adding machine apart in the dark. One summer, My brothers, Steve and Bob, and I lived on a pile of our clothes in the back of a '49 ford. The passenger side seat had been removed and Mom sat on a five gallon bucket in the middle. We would pull into a small town and rent two motel rooms (one for Mom and Tex, one for the kids). Tex would go down the main street and pick up nine or ten adding machines from the local businesses. He would then go back to the motel, dismantle the adding machines, dip them in a container of gasoline, put on new rubber platens and ribbons and charge the owners $10. He then had $100 to keep him until he decided to work again.
For a few years, Tex owned a mattress factory. The factory was just a large machine and would fit into a garage. My Step-brother, Marian Dean, who was two weeks older than I, would assemble the mattresses and Tex would sell them. I helped when I could. We would make mattresses for a week or two until we had a truckload. Then Tex would drive around the country, calling on farmers who had just harvested their crops and sell them a new mattress and box spring. He guaranteed these Spring-Air mattresses for twenty years. He was in business for about five. One of my strong memories was moving in the middle of the night. Apparently, we owed money to many people in town. Tex backed the mattress truck up to the garage, hung blankets around the door to hide the light, moved our stuff out of the kitchen door into the garage and onto the truck. The next day we were 800 miles away and in another state, another school.
The one good thing about Tex I remember was the Christmases. Tex had a diamond ring that he could pawn for several hundred dollars. Every Christmas he would get four or five hundred dollars for it and buy all kinds of toys for us. He then would work for three or four months to get the ring back. It was his bank. I just remembered my first wife's maiden name, it was Hewitt. It is probably time to talk of my siblings. I have two brothers, Bob and Steve, one half-brother, Chuck, several step-brothers, Lee Jean, Sonny, Marian, Melvin, and one step-sister, Fay Ann. I haven't seen any of the step-siblings for more than 40 years.
Working from the list backwards, I remember little about Fay Ann except that she did hold her own against so many boys in the family. Whatever we did for diversion, she did. Melvin was the clown. If there was trouble to be had, he had it. An early recollection was of him hot wiring Tex's car and getting into a minor wreck when Mom and Tex were out of town. I heard that he became a truck driver and died in an accident in California or Alaska. Marian was his father's son. They thought alike and worked alike. When Marian and I were twelve, we worked full time in the mattress factory. I, however, was not allowed to do any of the skill work like sewing or putting in the buttons or handles. I could only load the cotton and springs into the machine. Marian could do anything that Tex could do. At twelve he was a man.
My full blooded brothers are Bob and Steve.
They are a much closer to each other than either are to me. They grew up together when I was living with our father and the two aunts.Around 1951 it was decided that we should not be split up and we all lived with Mom and Tex until about 1956 when Mom left Tex for the third and last time and we moved to Minneapolis."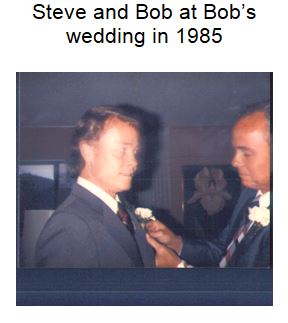 "Steve and me during one of my many visits back to Minneapolis."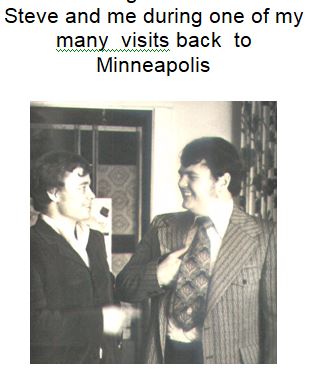 Miscellaneous photos from Lynn's chronicles.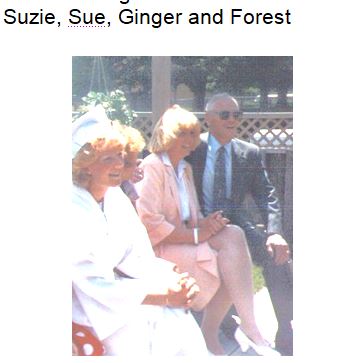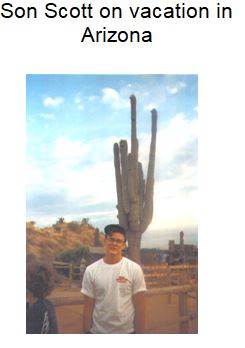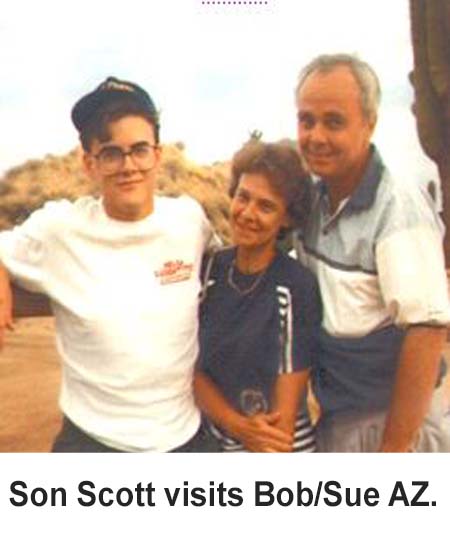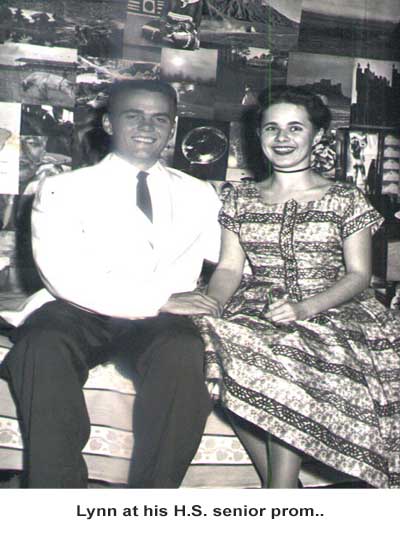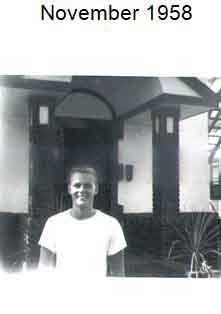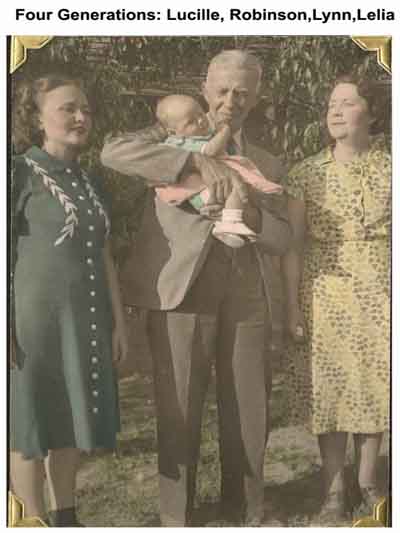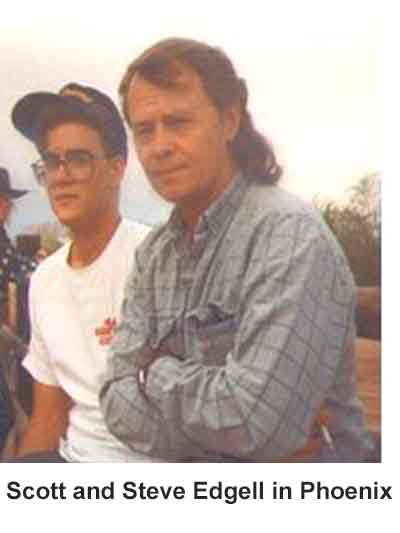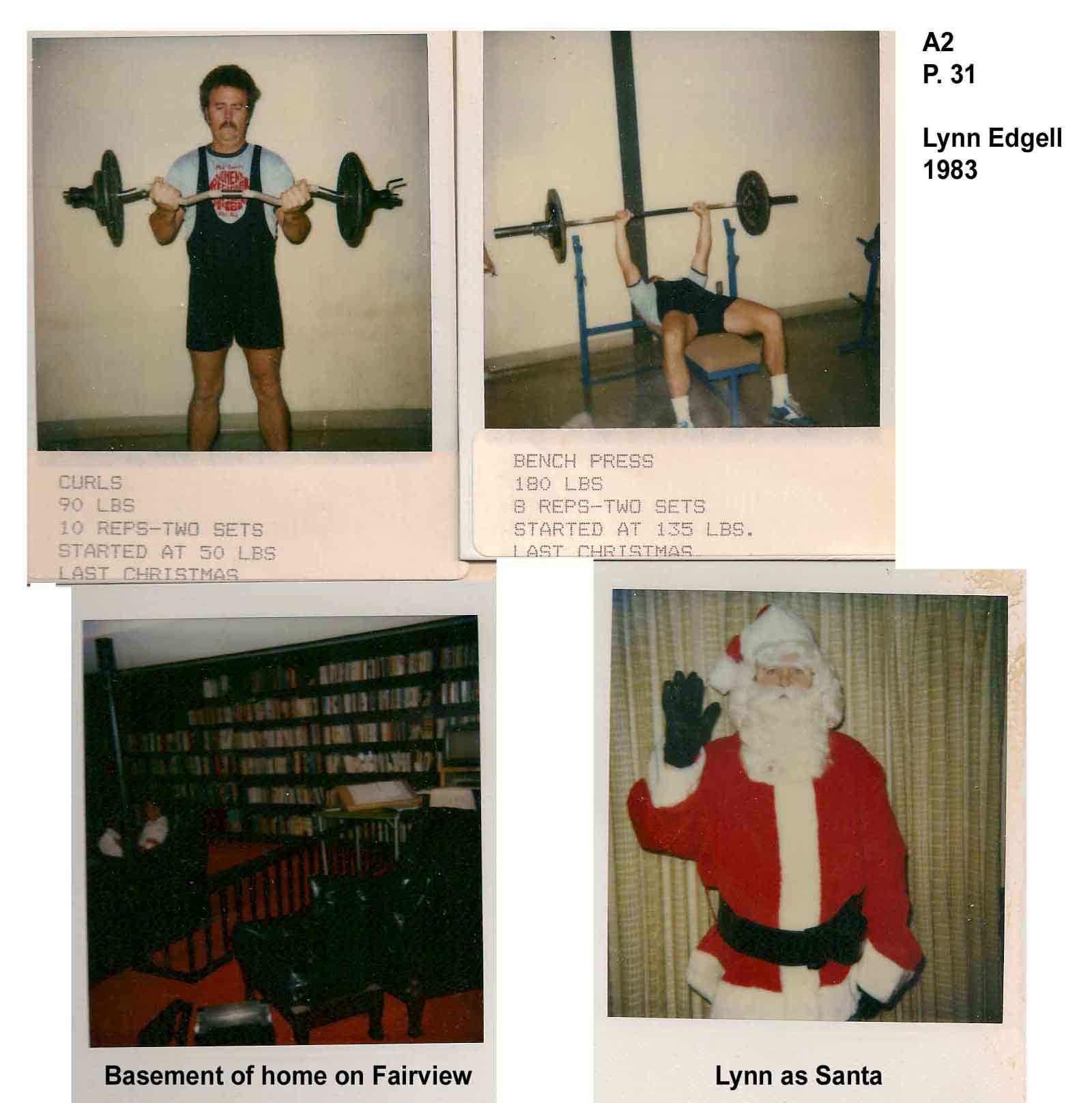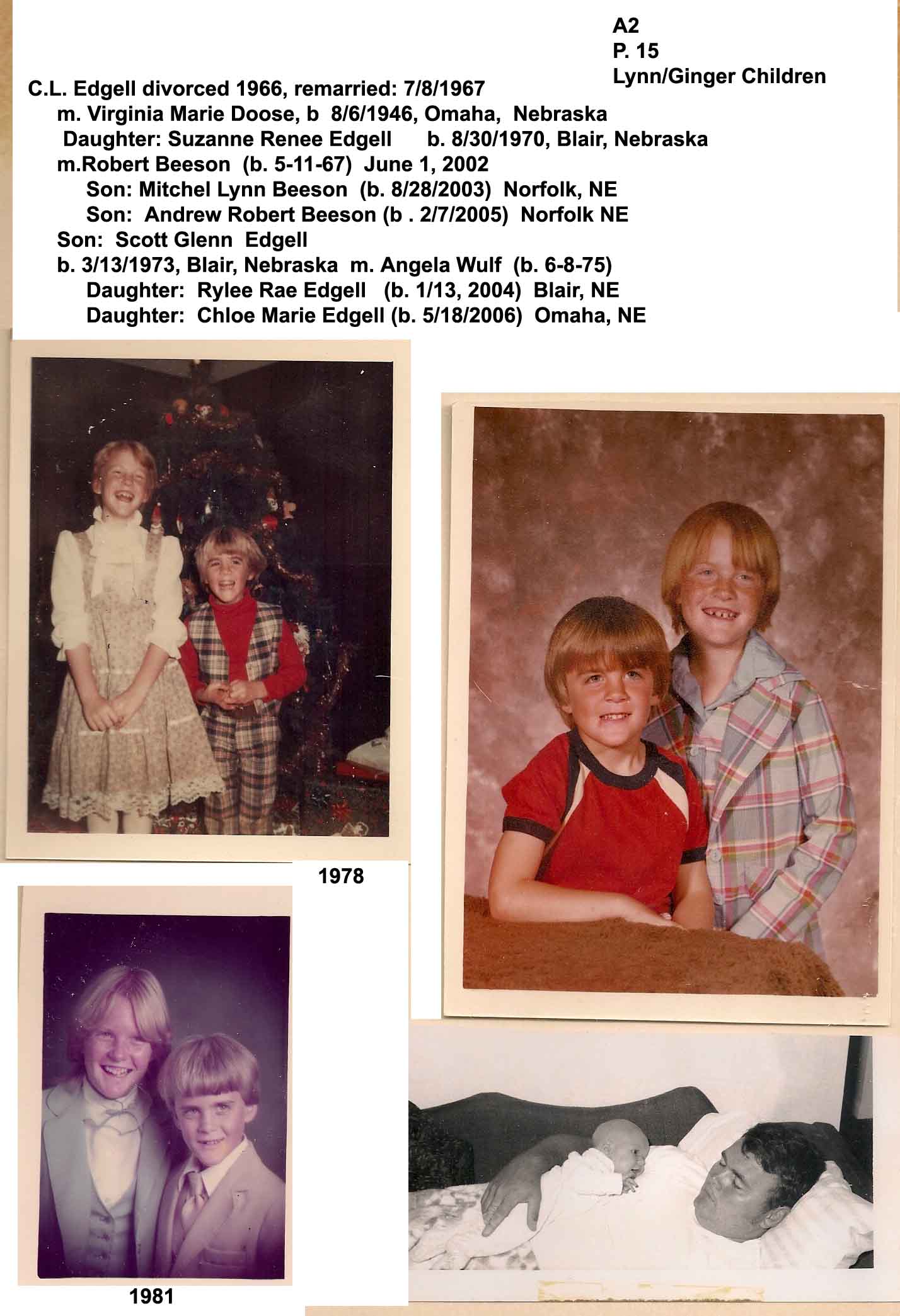 GEN X Shari Lynn Edgell (daughter of Lynn and Carol Hewitt) b. 10/30/1959 Minneapolis, Mn Married: Steve McCorkle, b. 7/6/1959 McCook, Nebraska. Two daughters and one son: Stephanie, Stacy and Sean. Divorced and Married: Dave Alton Walker b. 11/5/1958 Alexandria, LA.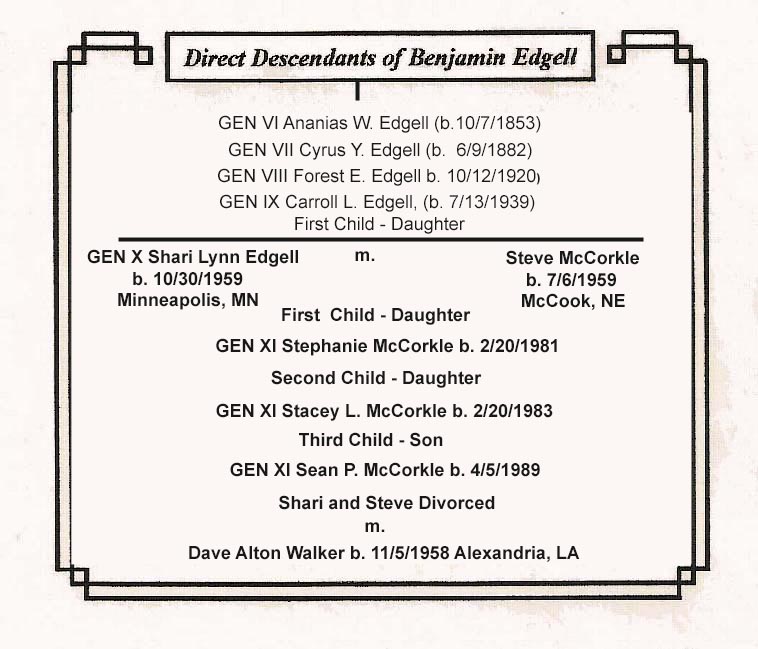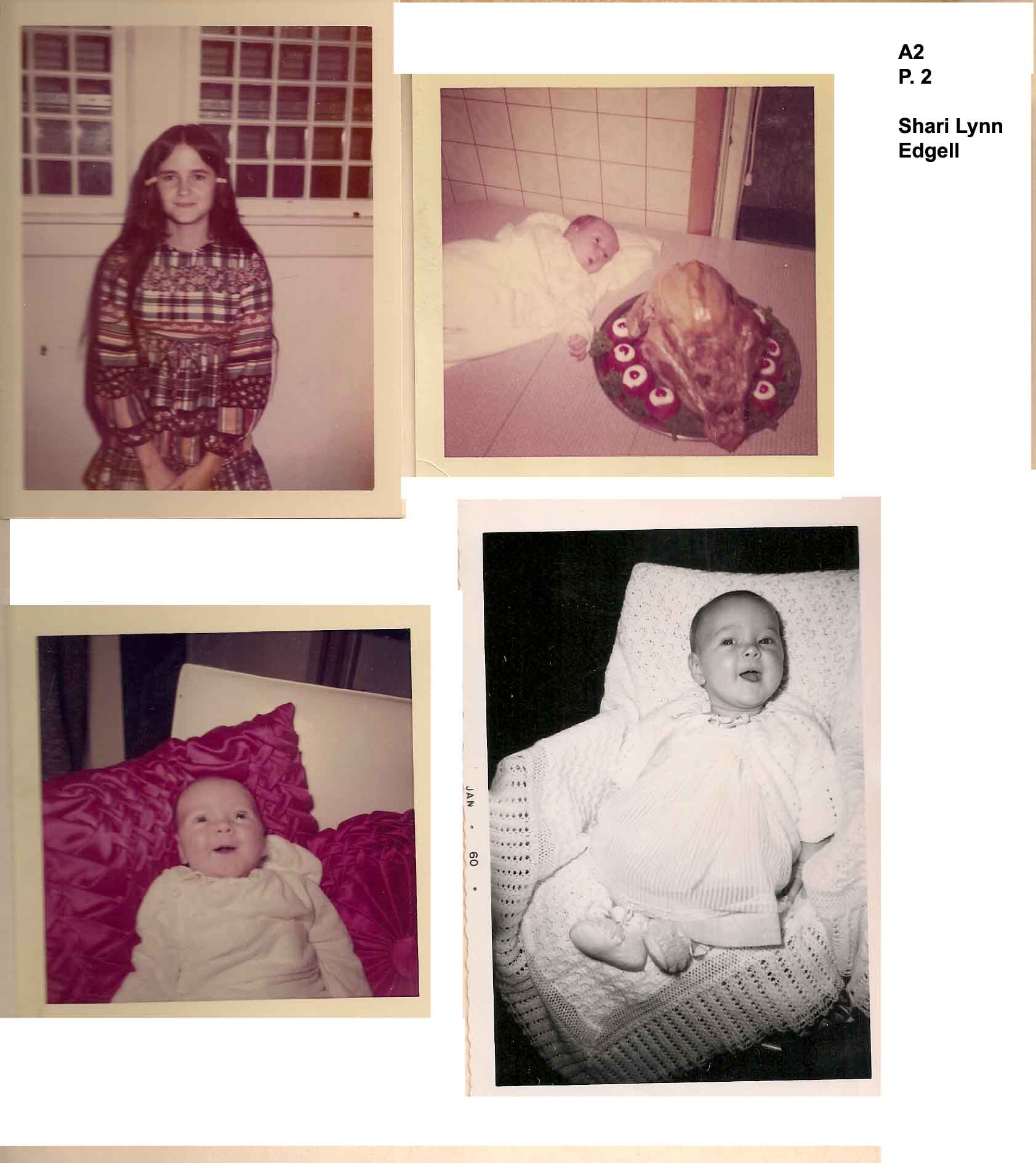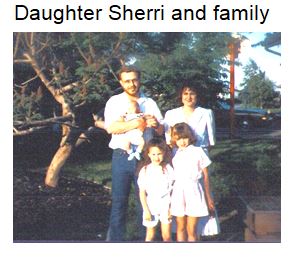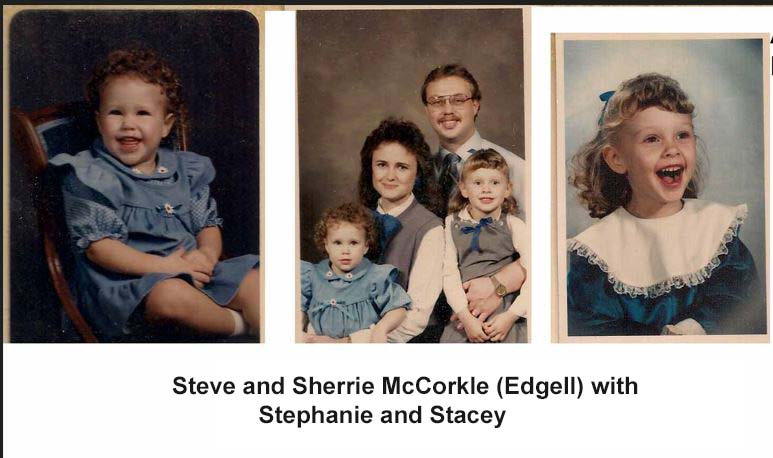 GEN XI Stephanie McCorkle b. 2/20/1981 Norfolk, Nebraska Married: May 20, 2005 to Joel Dieken, Norfolk, Nebraska. One son and one daughter.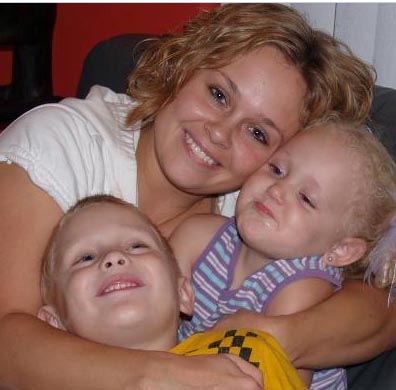 GEN XII Ethan Christopher Dieken (b. 12-15-02) See Below
GEN XII Paige Jadyn Dieken (b. 12/5/2004) See Below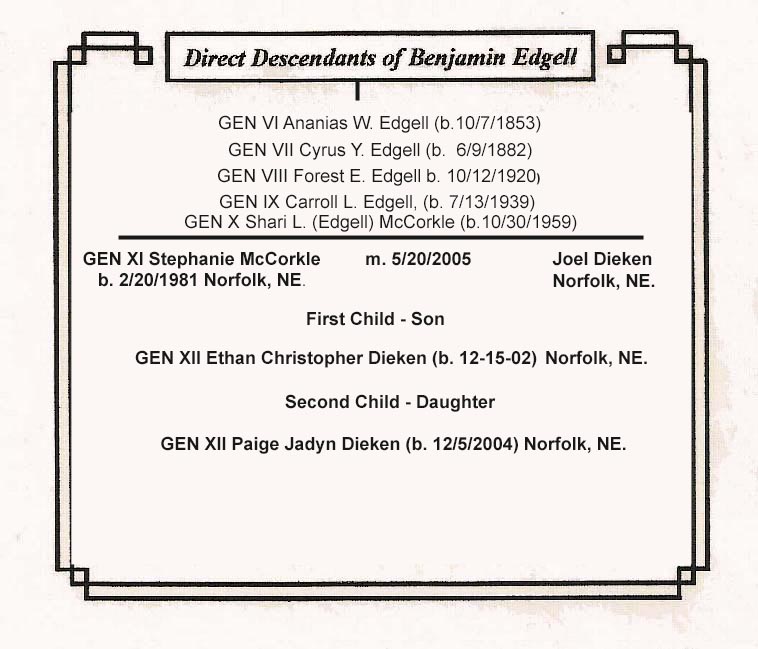 GEN XI Stacey Lynne McCorkle b. 11/25/1983 Norfolk, Nebraska Married 1/15/2004 Casey Cey Valdez b. 11/2/1979. Two sons: Brayden and Roman.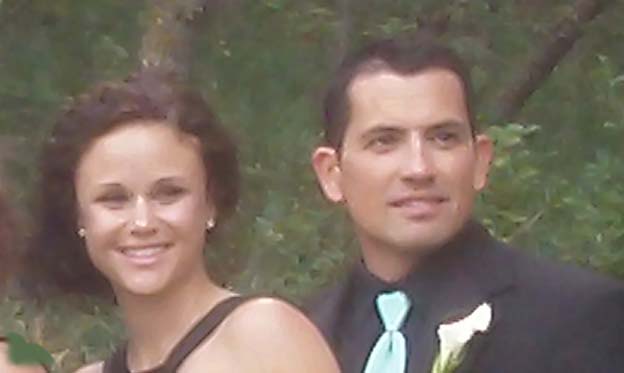 GEN XII Braden Valdez (b. 1/16/2009) See Below
GEN XII Roman Valdez (b. 12/5/2004)See Below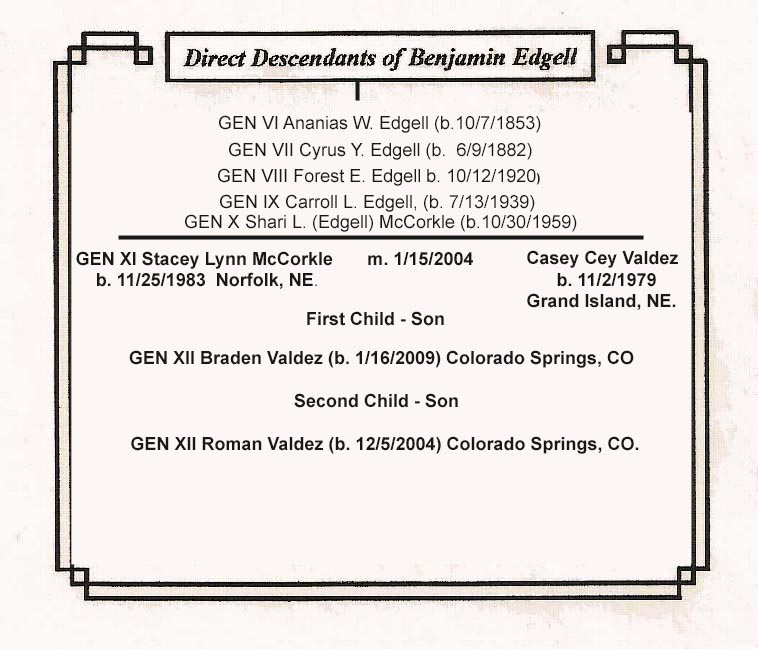 GEN XI Sean Paul McCorkle (b. 4/5/1989), Norfolk, Nebraska Married:Mary Kathryn Back
Two Sons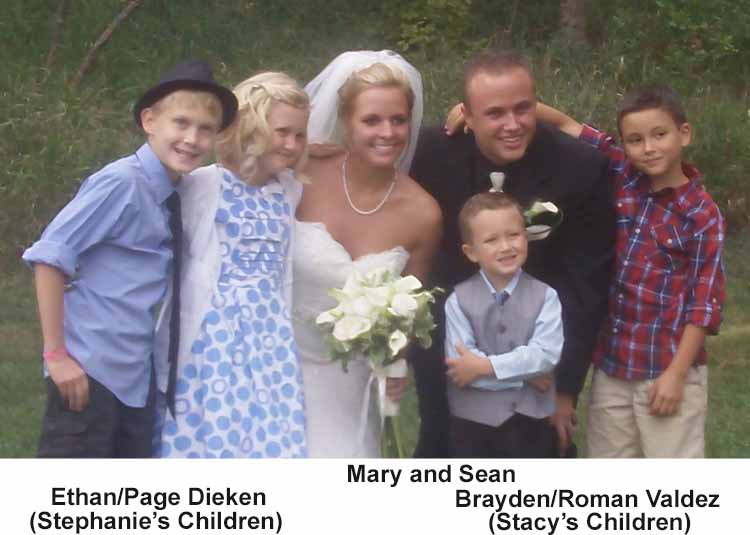 GEN XII Need Info Sean's son
GEN XII Need Info Sean's son
GEN IX Carroll Lynn Edgell, b. 6/13/1939 Goodland, Kansas (divorced his first wife Carol Hewitt and married Virginia Doosens) Married Virginia Doosens: Son Scott and daughter Suzie.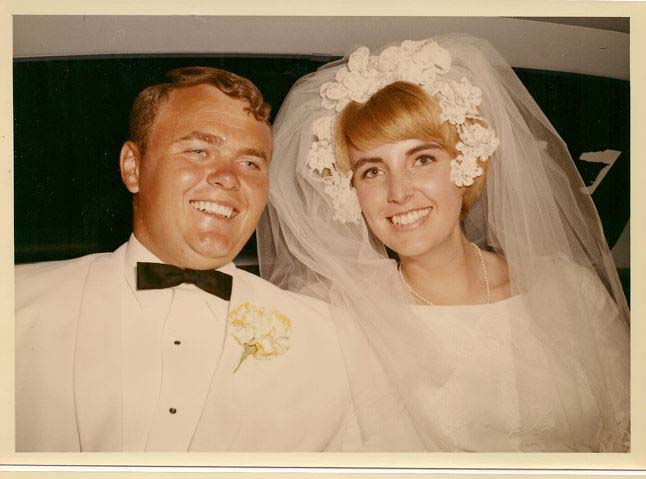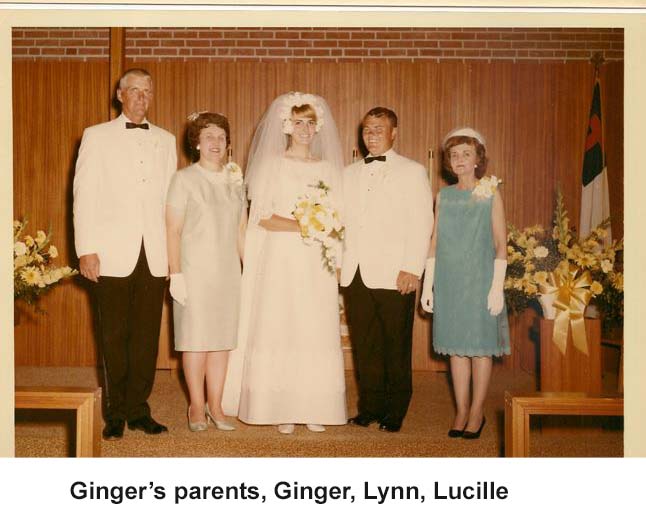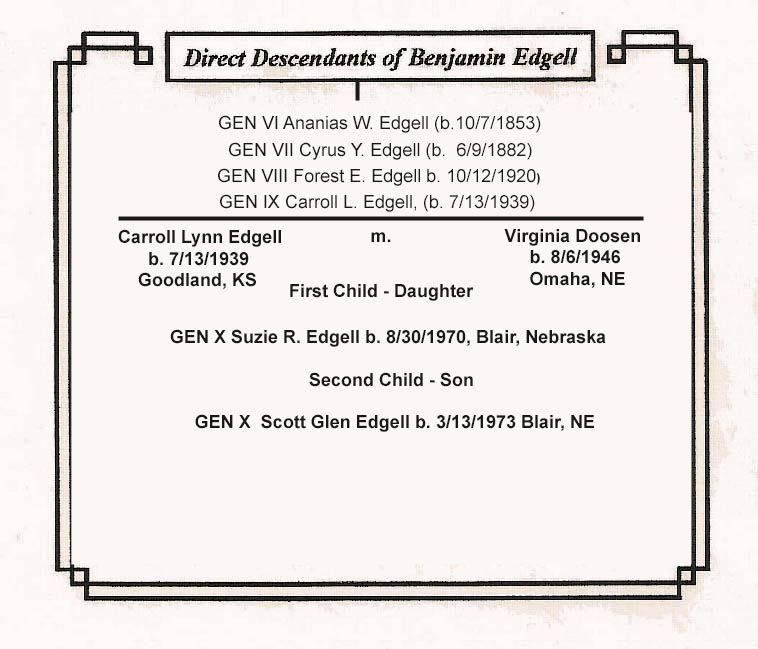 GEN X Suzanne Renee Edgell, b. 8/30/1970, Blair, Nebraska (Daughter of Lynn and Ginger Edgell) Married (6/1/2002) Robert Clarence Beeson Born :May 11, 1967 Norfolk Nebraska
Two sons: Mitchell and Andrew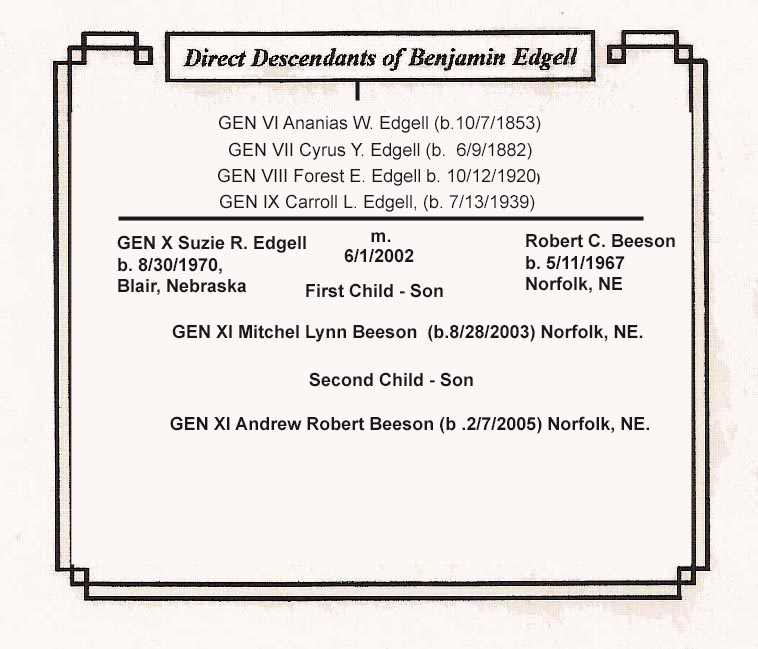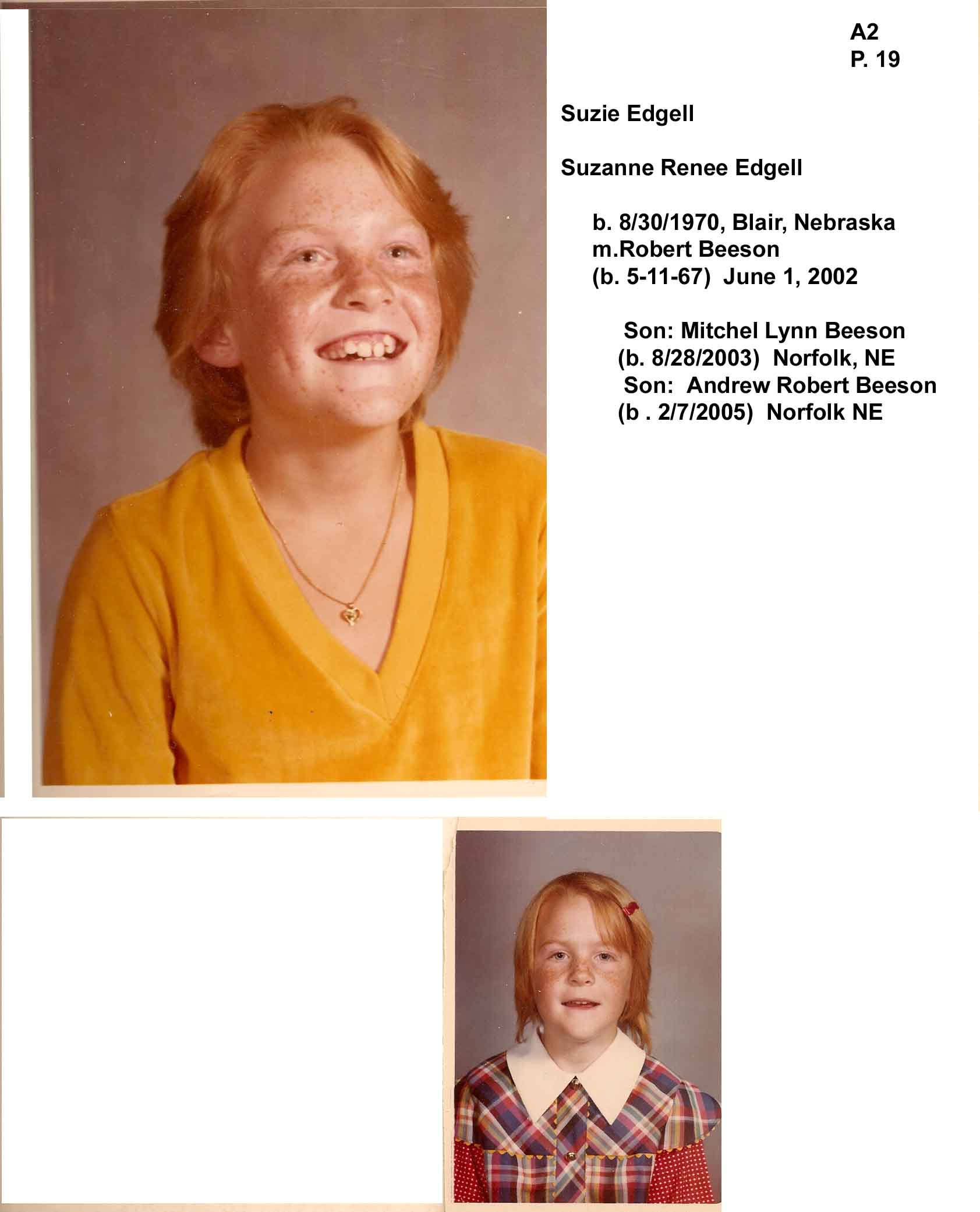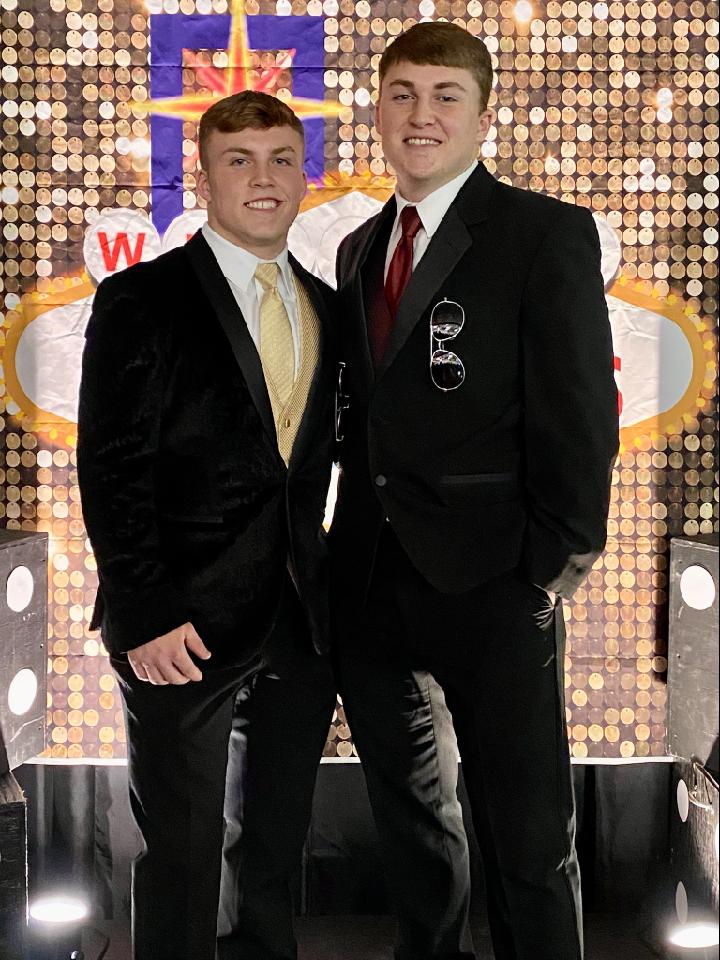 GEN XI Mitchel Lynn Beeson(b.8/28/2003) Norfolk, Nebraska (on the right).

GEN XI Andrew Robert Beeson (b .2/7/2005) Norfolk, Nebraska (on the left).
Andrew (Drew) graduated from High School in 2022 and on Friday, September 16 he played in his schools homecoming football game and was honored with the 'Homecoming King' crown.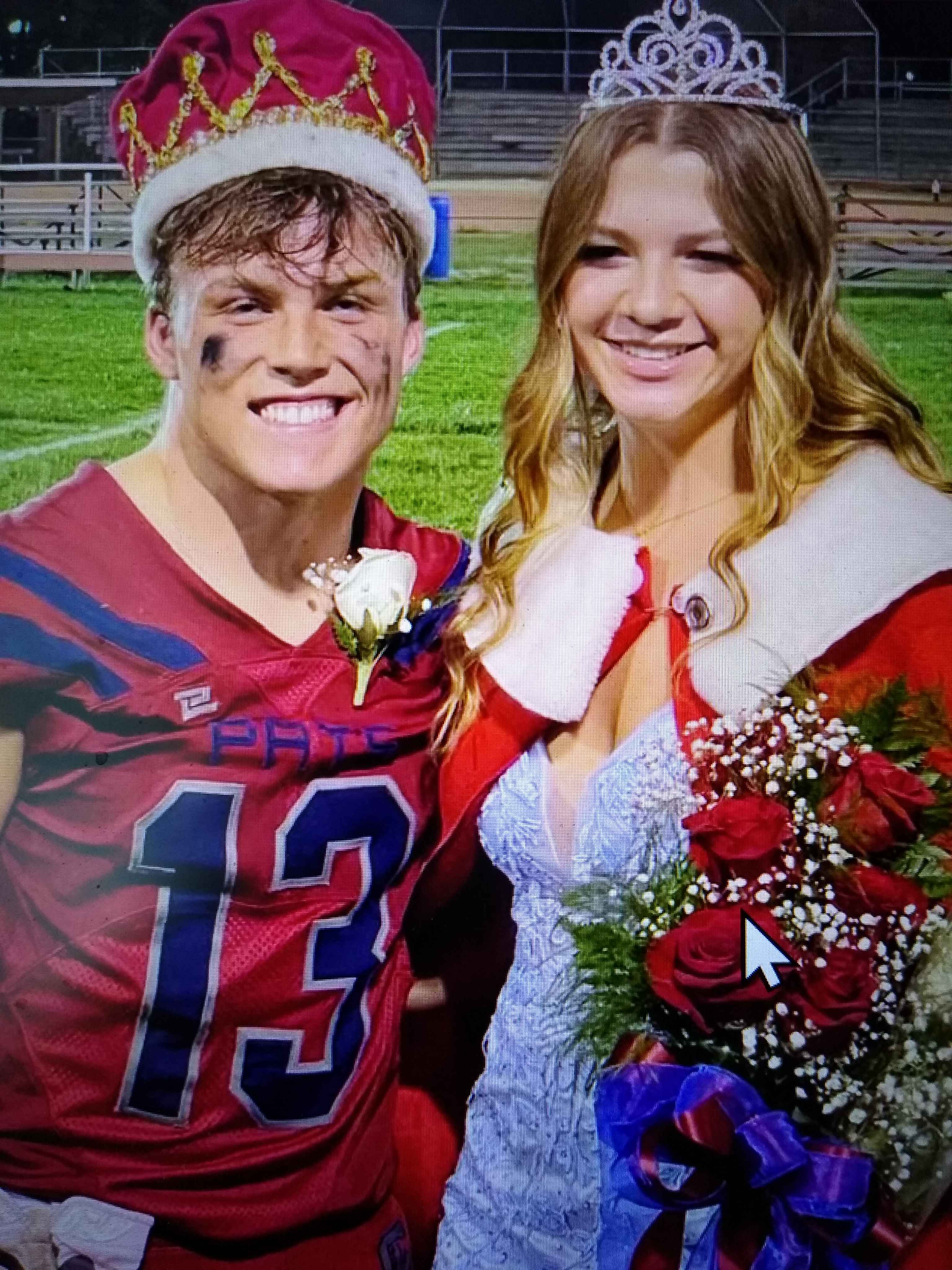 He also was instrumental in scoring a touchdown (as a defenseman) in a 60 yard dash after a fumble by the opposition.

Video of the TD
GEN X Scott Glenn Edgell b. 3/13/1973 (son of Lynn and Ginger Edgell), Married Angela Wulf b. 6/8/75 Blair Nebraska
Two Daughters: Chloe and Rylee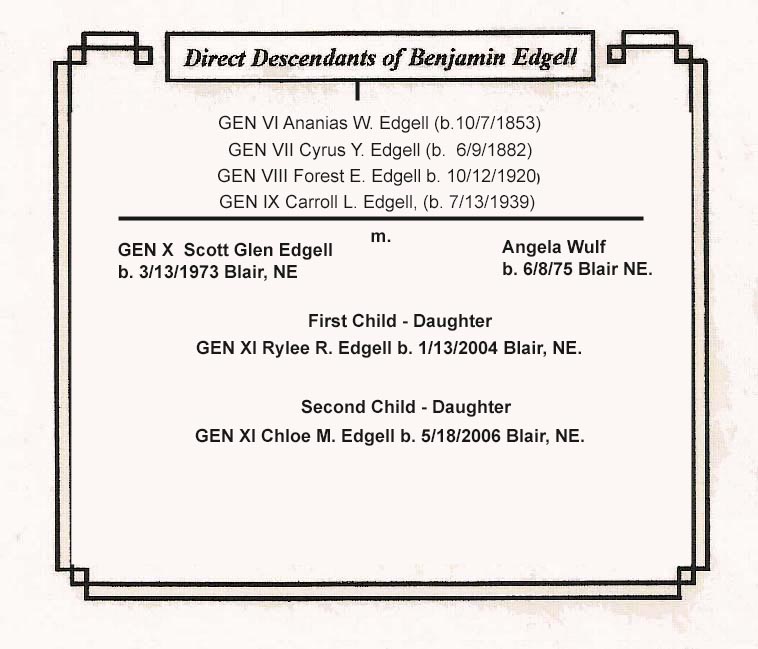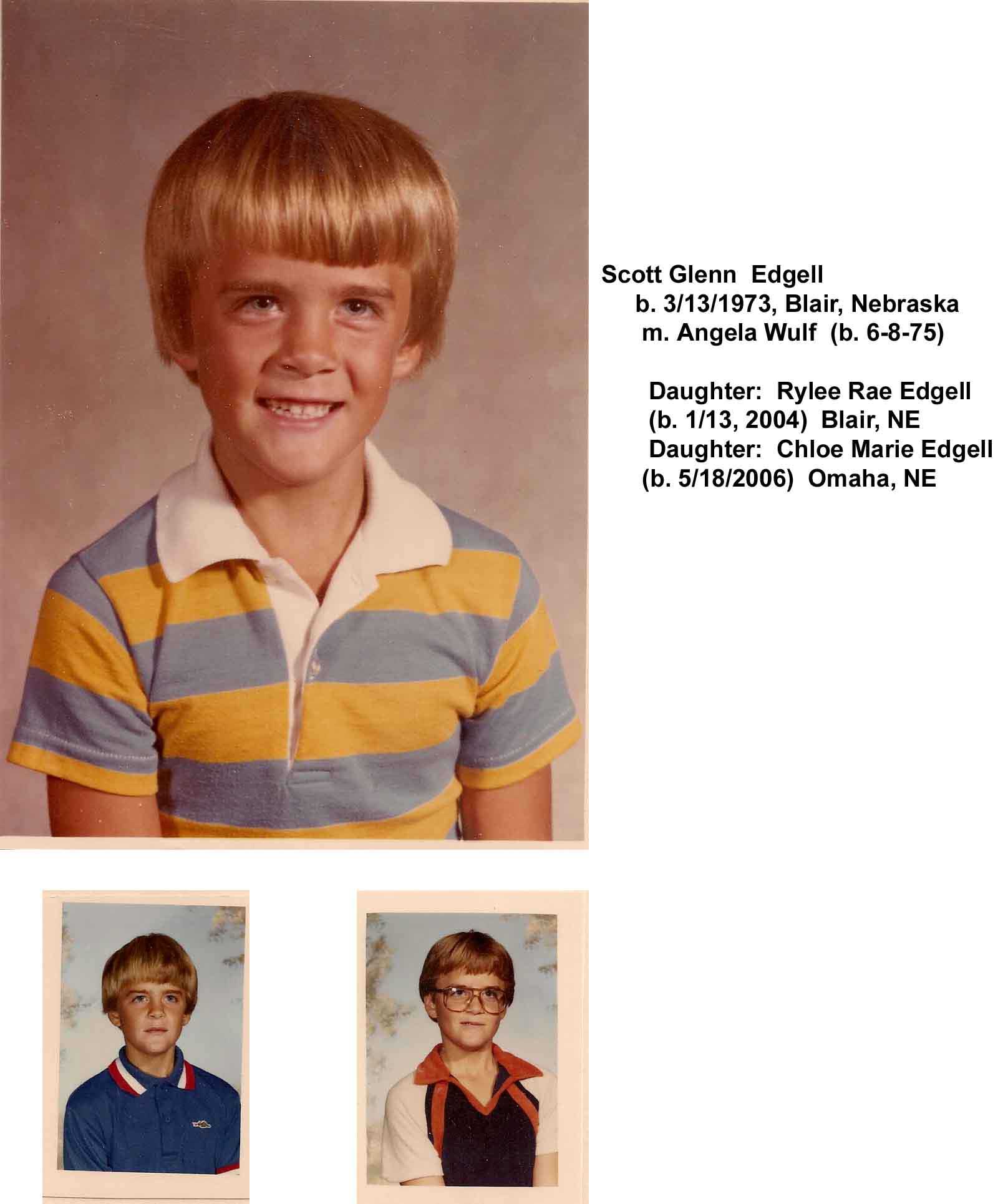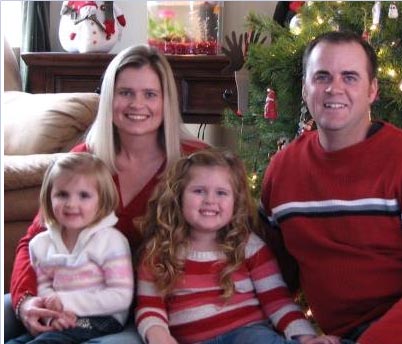 GEN XI Chloe Marie Edgell (b.5/18/2006 ) Omaha, NE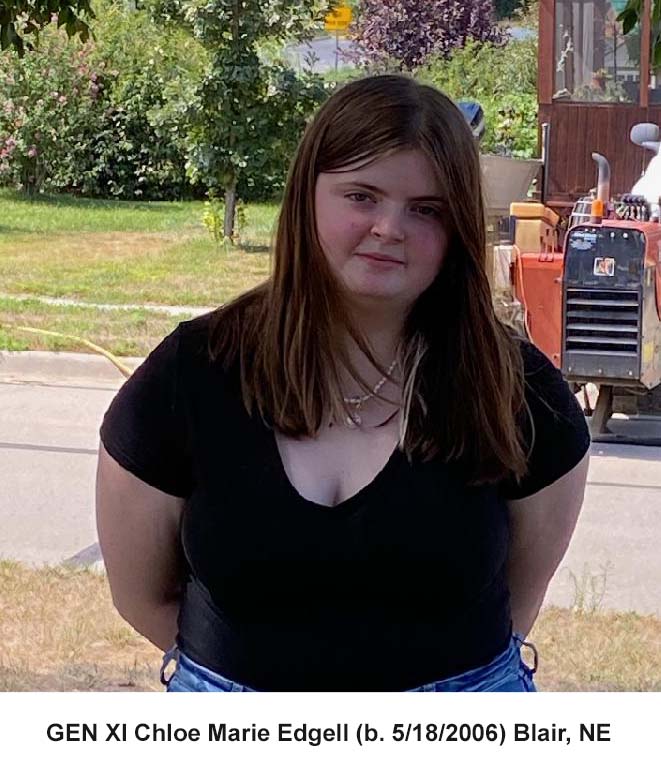 GEN XI Rylee Rae Edgell (b. 1/13/2004) Blair, NE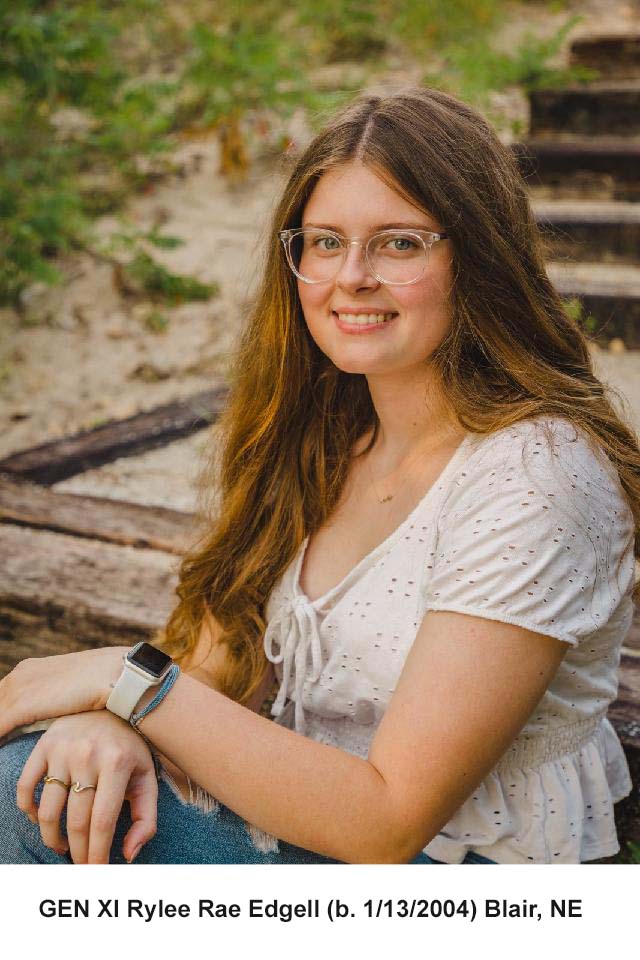 GEN IX Steven Loy Edgell b. 6/5/1941, Goodland, Kansas.(son of Forest and Lucille) Married Mary Alice Carlson
One son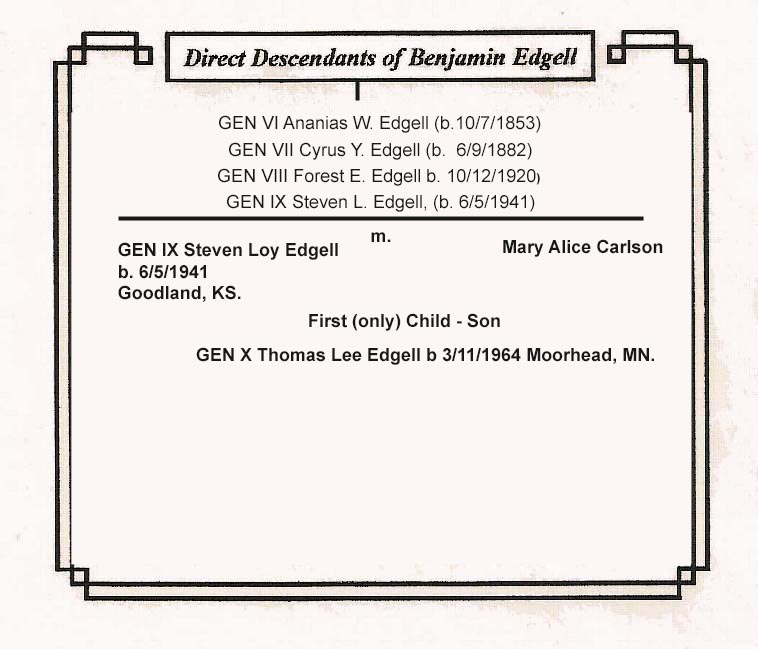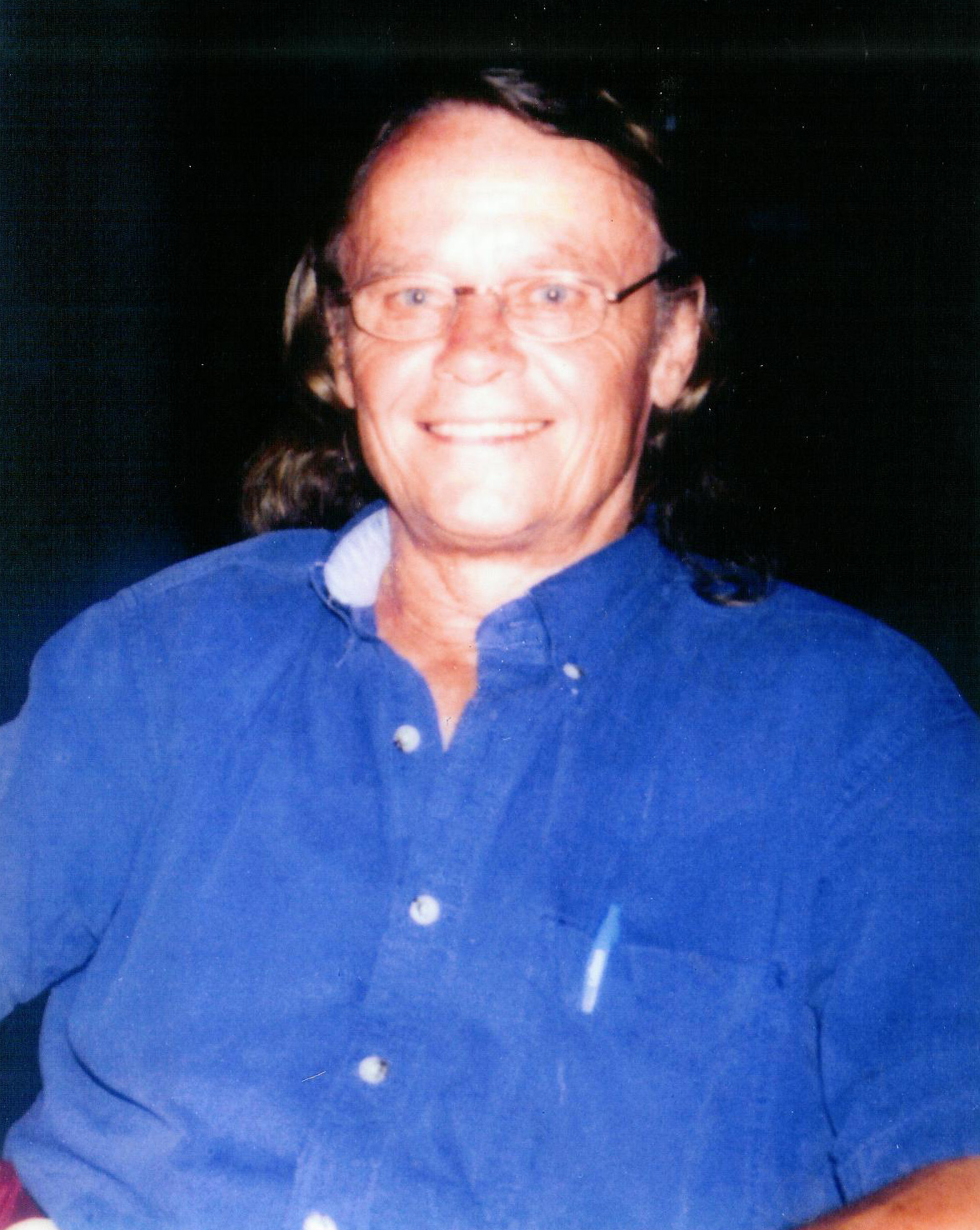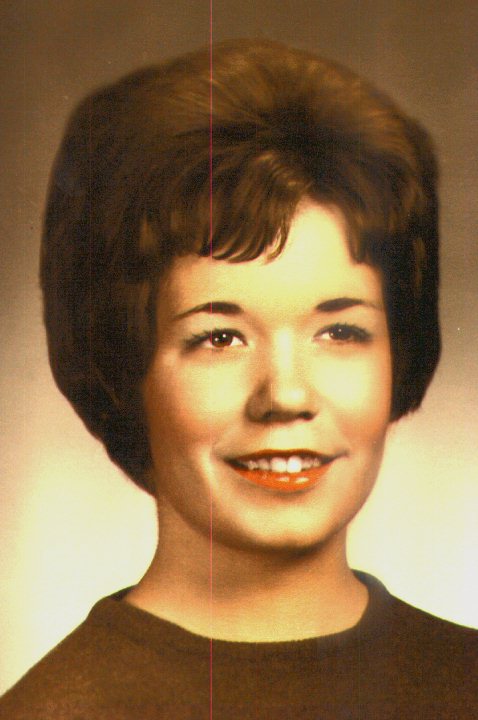 Steven Loy Edgell and Mary Alice Carlson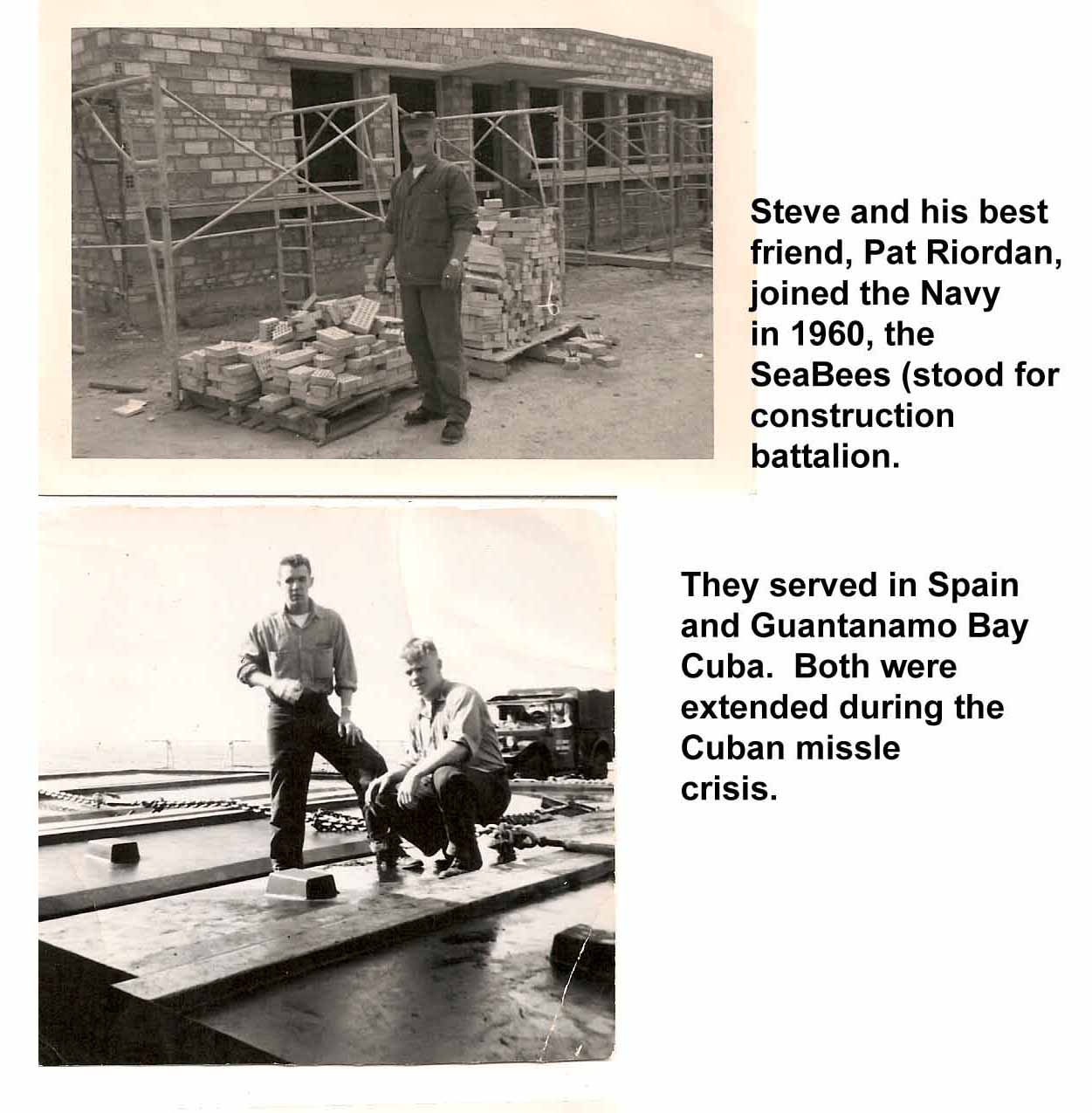 Steve wrote the following in his chronicle and everyone should read it.

"Allow me to start with a credit/disclaimer. The idea of this Edgell Chronicles belongs entirely to my brother Bob Edgell. I'm sure everyone he's approached for a contribution has felt a queasy sense of reluctance wrapped around ideas like: "I can't write, I can't let these people know how I feel about them and I don't want to know how they feel about me, Who really cares about my story, I'm too busy," etc. I know I've felt all of these and more, but I think I understand what Bob is trying to do and this has helped me cut through all of this hesitation and sense the value of the idea. It really isn't for us, but more for Edgells yet to come. For me, being challenged to think through my own life events and relationships has been valuable. I've done a lot of that before in my personal psychoanalysis, but never quite in this form. I can certainly see the broader value in the collective whole that the Chronicles promise. It should be a fascinating book to somebody out there in the future as our tree spreads. I know that I'm looking forward to hearing about you. Before I started writing my part of the "Chronicles" I was able to read a draft of Bob's entry and see his style of presentation. I found it very interesting and well done. My style will be somewhat different. His style worked well for him, but those things that I find meaningful in my story require a different style from me. Like him, I'll be focusing on those people and events that, I feel, shaped the me that I am being. Because of my beliefs about what influences us to be the persons we are (described fully below) I'll be a bit long-winded in the telling of early life stories, and then drift to a more impressionistic/flashcard style as I age along. I have decided to end my chapter at the point where I graduate from High School. It's not that I have stopped growing since then. It's just that my memories of stories start expanding astronomically after that and there is no way I can do them justice in a proper amount of space. Besides, the people who are around me now have lived around me for most of these later years, already know most of the more recent stories and thus, there are other references available.

Another disclaimer involves the accuracy of the memories that go to make up these chronicles. Bob and I tell a story that, I think, illustrates the potential for distortion. When we were very young and living in Lamar, Colorado, we had an out-house toilet. Our stepfather once locked our dog in there as punishment for some transgression. The dog fell through one of the holes into the murk below and someone had to be lowered in to pull him out. Because of the smallness of the hole, it had to be either Bob or me. I distinctly remember watching him being lowered in and the trouble he had with the slippery dog trying to bring him to the top. Bob tells a different story. He remembers me being lowered down. Memories can be selective and creative and perhaps none of the stories in these chronicles should be taken too seriously. It could well be that we're shaped more by the versions we remember than by reality.

My life experiences and studies have left me tending to believe in a radical form of environmental determinism, a sort of "environmental happenstance is destiny" view, that will be shaping everything to come in this small chapter of the "Edgell Chronicles".

Believing this leaves me feeling like somewhat of a fake, sitting as I am out on this tiny branch of the Edgell tree. A fake because, except for the name, there is almost nothing about who I am being that has anything to do with being "an Edgell", at least in a cultural sense. I understand that one-half of my genetic makeup is of that stock but, other than having a lot to do with the shape of my physical body, there can't be much about me that is Edgell. I'm inclined to believe that the shape of my Self stems from influences that have been almost completely Not-Edgell. As a fact this is neither good nor bad, it just tends to be. I'm sure that I'm not the only Edgell that this has happened to in the twigs and branches of the family tree. Events like early life adoptions, deaths of parents, separation/divorce of parents, etc., do amazing things to the spread of culture in a family tree. I find this at least fascinating if not, occasionally, a real positive factor that must be adding a lot of interesting shape to the tree. The same genetic stock encased in a different culture. In my case, the shift was rather radical from an English culture to a German culture! To use a percentage value line (which should come in handy as a device for shaping this story as I go along), I'd say that much less than one percent of who I am has anything to do with the environment and culture of the Edgells. An event happened very early in my life, at a time before the personal and cultural influence of a father takes hold, at approximately age three, that severed my Self from Edgellness. That event was a radical separation from my father, and, I'm afraid, everything that was going to be Edgell about me, but body and name. He went off to the war and never returned.

For the first fifty years of my life I lived out of a story, I think, my own creation, neither denied or confirmed by my mother, Lucille (hereafter "Mom"), that my father, Forest (hereafter "Dad") went off to the war, experienced the wonders of a free young man in the exciting cosmopolitia and couldn't then face returning to the responsibilities of small town Kansas, a wife and three small children (powerful story). I later heard another, seemingly more believable story that mom met another man, divorced Dad, and dad was never allowed to return (equally powerful story). If I had heard and believed the latter story, my life and the shape of my Self would probably have been significantly different. Truth probably resides somewhere between the two stories. I did always find it interesting that Mom never uttered a negative word about Dad; actually, very few words at all. She left his reputation empty but intact. I had a few early-life contacts with him, and in the past few years have established a warm relationship with him. I enjoy, without regret, imagining who I'd be had things been different.

For the past Thirty-five years I've been training and working as a professional psychologist and I've been overwhelmingly influenced by the writings of earlier psychologists such as Sigmund Freud, B. F. Skinner, C. G. Jung, etc., etc., and by my diagnostic and therapeutic probings into the lives of my hundreds of clients. I'd estimate that this accounts for about five percent of who I am (The percentage device again). I see this influence as more of a tweaking of the shape of me than a primary shaping, and it includes my own psychoanalysis, directed by me, but with the help of numerous colleagues, students, clients and friends. I feel the same about my power as a psychologist to influence the shape of the Selves of my clients; at best, about five percent. Important, but quite limited. This leaves about ninety-five percent of who I am unexplained. I'll get to that, but first I feel a need to offer some background of my beliefs as a context and justification for this version of my story. My belief system has been radically shaped by my experiences as a psychologist, but I had a feeling/belief base well in place long before I started training for that career. I believe that my early life had more to do with shaping me as a psychologist than being a psychologist shapes me now.

At this point in my life, I have no contact with, and thus am disinclined to believe in what Carl Jung calls the "Numinous;" spirits, god, gods, ghosts, goblins, etc. One day, as a young boy in a relatively impoverished family financial setting, feeling pretty sorry for myself for my lack of material wealth, I decided to appeal to the god I had in place, and I prayed for a bicycle. No bicycle was forthcoming, and this began the erosion of my belief in a sympathetic god (and, who needs to believe in an unsympathetic one?). I now realize this wasn't a fair test, but I've never since been able to put a god back together

I have, since the age of seven, been blessed with the general feeling of liking myself, and since that time, even during the roughest of times, been able to look back on my life and not want to change a moment. This feeling is probably supported by some denial and repression, but it has served me well. Somewhere in my seventh year I suffered a major crisis of faith. My teacher at the time sent a note with my grade card saying "This boy is suffering from emotional problems." What I was feeling was a deep sense of inferiority, shame, and a feeling that I was slipping into nothingness. Mom caught me in free fall, sat me down, and convinced me that I was "...just as good anyone else". Brief therapy, indeed! I took it literally, have never doubted it since, and it is lodged as the cornerstone of my faith and moral tendency (though not necessarily my behavior). Thus, as I relate details about the various characters in my story, some of their behaviors may seem good or bad, but I do tend to believe that, as people, any one of us is as good or bad as the other.

The most serious challenge to this position came from my grandmother Leila (Grandma), who, for many years, I considered a saint. In everything she did with me, she demonstrated the extreme of the potential goodness of people. She left me feeling that I had a very special place in her heart, and that I had a powerful effect on her emotions. She was a highly religious, emotional, and other-directed woman, tending to worry and fret about matters of her and others' health, finances, or anything that might upset anyone around her. From my earliest days, anytime I might catch her in a fretful mood, I could stare at her until I caught her eye, and with a little smile of my own, transform her frown into a smile. What power! What a gift from her! Again, brief therapy. I'm still left with the belief that I can transform others' moods. I felt, at the time, that I had a special connectedness to her, and, had she been around more, I would never have had a crisis of faith (but, alas, neither would I have had all the wonders of my present cosmology). I understand now how hard it can be on a soul to try to be that good and self-denying; an impossible position to maintain given the basic nature of the human be-ing.

Still somewhere in my third year another event happened that would overwhelm my budding Self and the process of individuation. That was the introduction into my life of Robert Cochran (always "Tex" to us) who was soon to be my stepfather. Freud teaches us that it is a typical experience in the life of a young boy between the ages of three and five, to peak in their lust for their mother and rivalrous hated for their father. If Father is of sufficient psychological strength relative to the mother the boy will feel severely threatened by the father (Freud called this castration anxiety) and will thus retreat from both emotional peaks, learn to repress such feelings, and go on about the business of being a little boy doing little boy things. Freud calls this whole process the Oedipus Complex. It serves to properly wean the child (especially a male child) from mother's influence, allowing him to begin to develop masculinity through identification with the father. I must have enjoyed a short period of Oedipal victory when my real dad left for the war, perhaps feeling like I had defeated the hated rival, but it was to be short lived, as Tex almost immediately filled the void. He served quite well in the "separating" half of that role of "Father" for me during my Oedipal phase, though his role as a masculine role model for me to identify with was undermined as described below. My earliest memory of him was while playing with my brother Bob on the steps leading to our apartment at grandma Lelia's house in Goodland Kansas. He opened the door and came bounding down the stairs. As he passed he tousled Bob's hair and said, "How ya doin Butch?" The nickname "Butch" stayed with Bob until he outgrew it some fifteen years later. My first impression of Tex, foreshortened because I was sitting down and he was on a higher step than me, was of an extremely tall, thin (lanky), energetic (I think I remember him taking the steps two at a time), very handsome, all-male man with a beautiful smile. I must have felt tremendous castration anxiety, as there was no way I could compete with this creature for my mother's affections. I now consider his presence an amazing stroke of luck, though at the time I must have been devastated, given his potential for so cleanly and thoroughly separating me from Mom. There must have been a period at about that time where I was left free falling in psychic space barely attached to anyone. I'll get back to that shortly. Tex had a tremendous influence on the development of my Self, perhaps accounting for about five percent of who I am. As it turned out, this became a negative-reactive influence and there is very little about me today that resonates in identification with him. The reason for this seems to be that, while Mom fell completely (maybe primarily sensually) in love with him, it was short-lived and rather quickly turned to an ambivalent love-hate/on-off attachment that made it impossible (even dangerous) for me to identify with him. As I aged along it became necessary for me, if I was to stay close with her, to hate him as much as she did. I was able to pull this off for many years until I got into my own analysis. My failure to co-pretend this hatred with her in her last years put a tremendous strain on our relationship.

Mom had an experience at about age sixteen that seemed to have set her relations with men for the rest of her life. At that time she was perhaps a bit overly attached to her father having had a special place in his life, being the younger daughter and helping him out at his cafe in Goodland. One day she was delivering pies that her mother had baked to the cafe for him to sell to the customers. He had a cot in a back room and she walked in on him and another lady of the town. This experience seemed to have destroyed her ability to trust men and was more upsetting to her than to her mother, though her parents divorced a couple of years later. She may have carried these feelings into her marriage with my father for she did claim to have never been much in love with him. Tex managed to burn through this distrust/hatred complex for a while but it wasn't his nature to be very trustworthy as a mate and when she finally left him "for good" about ten years later she never really softened to a man again. She maintained a hatred for Tex and a fear that he might return until the day she died. I always felt that there was more ambivalence in her feelings than this, perhaps even an attraction, but any suggestion in this direction was met with intense anger.

As I said above, Tex's influences on me seems to have been born more on negations than attractions (though I might have been more attracted than I dare notice). He did have a strong influence on my theory of health. I have found that everyone has a theory of health and wellness stemming, I believe, from cultural influences; partly shared with those around them but, always with a few secret ideas and remedies of their own. Sicknesses and remedies tend to run in families. In the Postmodern view this is being largely attributed to genetics but I don't believe it will be long before we realize that all disease is born on psychological struggle; socially shaped. In his novel, Erewhon, Samual Butler places his main character in a mythical land where crime is treated as a sickness and sickness is punished as a crime. In this land there is very little sickness. As a follower of B. F. Skinner I have to ignore Butler's remedy (I don't believe that applied punishment is ever justified or effective) but his story leaves us considering the possibility that sickness is not inevitable and that the forms it takes may be more symbolic than real. In my early family the diseases of choice were: "Colds", "The stomach flu", "Hay fever" and "Headaches". We never heard of Asthma or other exotic diseases found in other families. In my theory of sickness we teach our children to "Play" with microbes: viruses and bacteria. We shape them into Asthma, allergies, and headaches and, as they age, into arthritis, heart disease, cancer, etc., by the way we respond to them individually and as a culture. In a diverse and blended culture like the United States and my family the sickness thing can get very interesting. I remember Tex shaping some of my sickness behavior very early in my life. With up to ten of us sharing a small space and with the theory in place that "To contact is to catch" one kid coughing soon led to eight kids coughing. I can remember laying in bed, taking my turn, coughing on cue, with the theory in place that my coughs were a compulsory, natural and inevitable result of my sharing some sickness with the rest of the family, only to be rudely directed to another theory by Tex barking out "Steven Loy, stop coughing" (Steven Loy was what he called me when he was upset with me). To my surprise, I was easily able to do so. I learned then and there that we can develop skill in managing our relations with microbes. I still get sick, about an average amount, but a bit of probing always seems to reveal other meaning and value.

Freud had a bit more to say about the Oedipus complex (described above) that seems to apply to my story. He said that if the child perceives an emotional gap between the parents, he might be heartened to attempt to find ways to maintain his mother attachment. I remember one such ploy on my part (though, I believe, unconsciously motivated). I "wet the bed" until I was about six years old. Tex could be quite aggressive and physically punitive with a child if he didn't like a particular behavior, but for some reason he was tolerant of this behavior in me, and it allowed me a tiny special place in Mom's emotional concern. I can remember both of them working together to try to figure out ways to correct the problem. I can't remember any of their theories or solutions, but I don't think any of them were particularly punitive. There were more serious consequences with my siblings. We were not wealthy and at times all eight of us children slept in one or two beds. I can remember waking up in a morning in the middle of the bed, in a bath of pee, with a ring of siblings sleeping on the outer edge of the mattress. These were not popular times.

Other than this tiny space, I was pretty thoroughly separated sensually/emotionally from Mom by the introduction of Tex and the addition of his five children to our family (Lee, Sonny, Melvin, Marion and Fay, in downward progression of age), and the failure of my little Oedipal game (described above). I was left unattached, free- falling in psychic space. The fact that there were now eight of us children left little of Mom's emotional energy available to me. I must have been desperate for attachment. My older brother Lynn might have been a natural choice but he was unavailable at that critical time, having been sent off to relatives; I guess, to make room. While he did return physically a short time later, I always felt that he was never able to completely re-attach himself to us emotionally. The next logical choice was my younger brother Bob; and, attach to him, I did. I've always silently explained my small stature (five foot, six inches tall) as a result of my efforts to join Bob at his level of being during the growth years.

Even though he is two years younger, we were often taken for twins and that was comforting to me. I fused with him and we were inseparable for the next decade or so. I'd estimate that about fifteen percent of who I am stems from a cross identification with him. A rough and general remembrance of those years has him and me flying along with this amazingly blended family of ten, like a caboose on a train, from town to town, barely noticed by the other members, left on our own to build an ongoing chain of active fantasies. We were out of doors, by ourselves, most of the time, though we had enough contact with the other members that I can remember many interactive stories about each one of them. Bob and I played "little cars," "Cowboys and Indians," "Cops and Robbers," and many other spur-of- the-moment games from dawn to dusk in what I remember to be a perfectly blended, co-creative exchange of ideas and fair-share, take-turns changes of roles (who got to be the good guy, etc.). I was two years older and, given the way he defends himself against my influence these days (No more, of course, than I defend against his influence), I must have forced a distorted brand of "fair-share" into the games, but I don't bother remembering it that way. Only rarely did anyone else enter into our games, but our older brother Lynn did have an occasional role.

The identity space between Lynn and me has always been wide, and I've never been able to bridge it for long. He was always many more years ahead of me than the two that actually separate us, (perhaps because I went backward to join Bob), always wiser in the ways of the world, and much better read. He never seemed comfortable actually engaging in the level of play that Bob and I shared but he was way ahead of us in fantasy. He would occasionally join us as a sort of fantasy consultant, teaching us how to structure our roles, build our settings and props, and give us lines to bring our characters to life. It was like he would build the castles and Bob and I would play in them. Last I heard, he was still doing this for the children of Nebraska. Bob and I would play through his creations for days, weeks, months at a time.

The literature at the time was comic books and the theater was the Sherman Movie Theater in Goodland, Kansas. He taught us how to use this media to build self and character. He had a particular identity with Tarzan, maybe particularly Johnny Wiesmuller as Tarzan, and his nickname for many years was "Tarzan." I think what made Tarzan so good for him was what he could do with his imagination with the idea of an ape-man, a free roaming feral creature tied to the animals, with all of the wisdom of a scholar, and the power of the "Lord of the jungle". If there is a touch of rebellion to civilization and established male authority in this, it was never openly obvious outside of his play. If you played Jungle with Lynn you had to be either the "bad guy," "Jane," or "Cheetah." I can remember toying with all three. Lynn had little tolerance for being the "bad guy." I remember one of his creations where, as a cowboy, in a white hat, he would walk into a bar. The bartender would ask him what he wanted. He would respond, "Milk." A "bad guy" in the corner of the bar would chuckle. For this act of insolence, Lynn would pull his gun and shoot him. Bob and I reenacted this scene countless times. Lynn was a deeply moral and righteous boy extreme in his masculine protest. He blazed the trail through latency for Bob and me, and we were able to pick and choose from his teachings. I am neither as moral nor masculine as he.

While Lynn was learning to be a teacher in that early setting, I was learning to be a psychologist. I make my living crawling into other people's sandboxes and helping them recreate their castles and characters. I was a middle child and that forced me into a variety of roles and experiences. There were three of us, and if you break that down into the natural sets of two, I spent time as the oldest and the youngest. I probably managed some time as the only child. Mom used to talk about sending us off to do a chore; "You two youngest..." or "You two oldest...." I can vividly remember the shifts in me when I was alone with Lynn compared with when I was alone with Bob. My favorite example is when outdoors at night with one of them. If alone with Lynn, I felt small and afraid but at the same time protected. If alone in the same setting with Bob, I felt strong and protecting. This had the effect of not only spreading my personality and sense of role, but also my ability to identify with the positions and defensive structures of the various roles. Arbitration became a natural talent for me, and I frequently found myself either helping two of the others settle their differences or taking advantage of the fact that there were differences. I can particularly remember spending time between Bob and Lynn, Bob and my stepsister Fay, Bob and our younger brother Chuck, and many others.

One very unique thing for me about the blending of the Edgell and Cochran families was that, at that tender age, I suddenly had a sister (stepsister) the same age as I. I don't think Freud had much to say about a scene such as this. She didn't come with a set of instructions. I had to wing it all the way. I now find it interesting, from an avoidance point of view, that I didn't attach myself to her; that I chose Bob instead. She was, after all, my age, pretty, and a fascinating new entity in my life. I now know that fascination is a luxury emotion. I now consider it to be my second favorite gift. My favorite gift has been curiosity. I may have been too afraid to sense the presence of either at that point in my life. I also know, that at that time, she was the youngest in her family and the only girl of the combined bunch. I suspect she was getting all the attention she needed, and, thus, there was insufficient point of identification. I always felt a protective fondness for her, but we had little in common. She was always more of a threat to Bob as he was the youngest of our side, and they often competed for the same emotional space. For the next twelve years, with a break of four years in the middle (described below), right up into the middle of our puberty, she was right there aging along with me, sometimes in the same school class though usually not. It might have been good for both of our budding sensualities that we were separated when we were. It is interesting to me that she was present during all of the non-Goodland stories below with her influence blended into those formative times.

Freud calls the next decade after the resolution of the oedipal complex, the "Latency period". It lasts from about age five until puberty, and, as stated above, if properly resolved, the child is desexualized, (represses all notions of lust and hatred), learns to convert emotional energy to learning and age-mate play, and "goes on being a little boy doing little boy things". We spent this entire period in an on-again, off-again mixture of the Edgell and Cochran families. There were roughly two periods starting at about age four, and I'll get to those shortly, but first allow me to muse through the few preoedipal trace memories I have.

The first four years of my life were spent in Goodland, Kansas, near Grandma, with other main characters being: Mom's older sister Lois (her only sibling), Lois' husband, Bob Amos, and my step-grandfather Olda Baldwin (Grandma did remarry a short time after she left Mom's father, Carl Deves). I have a few faint memories of my great-grandfather Robinson who lived with us in grandma's house. He must have been an interesting character but I came into his story very late during his last few presenile years. Almost all of my memories of him were of him sitting in his rocking chair in Grandma's basement. I remember the smell of his pipe, his leaning over the left side of his chair to spit in his spittoon, and my staring at him for long periods of time without getting any response in return.

Other story stems from that period include:


• Bob and Lois Amos building a house next to Grandma.
• Brother Bob getting caught with Uncle Bob's wallet.
• Falling off of Lynn's "Piggy back" and cutting my eye.
• Grandma in her flower garden.
• Olda dressed as a railroad worker with his black lunch pail.
• Lois telling me that I could not have any crab apples because, after checking the skin between my fingers, she decided that my skin was too sensitive.

This last stem deserves a bit of elaboration. I never quite trusted or properly respected Aunt Lois. She was a natural role figure as Mom's older sister, but I always felt that there was a lot of strain in her trying to fit into a class (the happily married woman with a nice husband and special kids) that was higher than the class in which we were struggling along. I took a strong lead from Mom in finding the little flaws in her presentation and was never able to (still not able to) aspire to that "very middle class" sort of lifestyle that was so important to her (I learned a lot about passive aggression in these little sharings with Mom). We should have been closer because my middle name (Loy) derives from hers. She died at a very young age, brokenhearted when her marriage failed. The distance I felt toward her was transferred to her husband Bob Amos. He is the only Uncle I've ever known, and, thus, should have had a strong influence on my masculine identity. I don't remember sharing any personal/intimate space with him during those formative years. He's never refused me anything and he has been there for me on a couple of important transitional occasions. When I was about sixteen he took me along on a family vacation from Minneapolis to Goodland through the Black Hills. He allowed me to drive his old Plymouth (three speed, column shift) and thus actually "taught" me how to drive. When I left the Navy he offered me a job and trained me as an Insurance Sales Agent for his agency. He was an agent himself and sales was his life, a natural talent, but it was not me. I dropped out in less than six months.

The first of my two intra-latency periods (after age four) lasted for about four years and involved moving from town to town with the blended families. I'm going to be more impressionistic from now on. By my figures, I only have about five per cent of my Self to account for in all the rest of my story. Our first act was to pick up Tex's children at an orphanage where their mother, Edith, had left them. Tex had a very strong attachment ethic and sense of responsibility to his children. Our first move was to Roswell, New Mexico, where we lived for about six months. We lived there during the famous Roswell UFO incident, so there could be something extra-terrestrial planted into the family tree. We also lived there during the first nuclear bomb testing, so there could be some interesting mutations blended in. We lived in a farmhouse about a mile from town, surrounded by corn and alfalfa fields. A few story stems from that period include:

• Tex almost accidentally shooting a neighbor while practicing.
• Cut and sliver from the outhouse door.
• Sexual play in the shed.
• Huddling in bed with Mom and all during a lightning storm.
• A trip to Binkleman, Nebraska.
• All ten of us sleeping on the floor of a garage at a motel.
• Primal sounds and smells.
• Waking up to our first dog Laddie.
• The old car with the missing fender.
• Rocking the outhouse as a practical joke.
• Forbidden play in the cornfields.
• Being told about being at war with the Japanese. At first thinking that they were bugs and being horrified when I found out that they were people (this may be in the roots of my pacifism).


Following along on the theme of school through the next few years, there were some tendencies (I will get back to the chronology after that). I remember particularly the attachments I formed. While my attachment to Bob was always strong at home, I always had three (and never more than three) other very close attachments: one, close and friendly; another, secret and known only to me; and a third, close, but unacknowledged. First, I always had a best friend, another small introverted boy in my class to whom I became attached for play and emotional support. This tendency lasted all the way through high school. Some names I remember are: Jerry Hargraves, Gary Lindsey, Pat Hallisey, Tom Greimel (the namesake for my son), and Pat Riordan.

There were several others. Second, I always had a secret girlfriend, a girl my age or slightly younger to whom I felt an undeclared sensual-fantasy attachment. I don't remember any of their names except Rosemary Shores. The third attachment was a special relationship with all of my teachers. I was never the teacher's pet, but very early in my school career I developed a gift for shaping a teacher to never call on me in class. The technique included sitting in the middle of class, looking miserable and ashamed, and never earning more or less than a "C". It was as if I disappeared.

Back to the Chronology. During that first grade year (I didn't do Kindergarten), we moved to another house in Lamar that we called "The Basement House.". The owner had built a cinder block basement and covered the floor of the first story over with tar paper. We lived there for about two years and many stories were generated (though none on the house itself):
• We had indoor facilities.
• Fay had her appendix out.
• My half-brother Chuck was born.
• Mom "fell out of the car" and was badly bruised.
• So many of us that we had to eat in shifts.
• Letting Bob get punished for something I did.
• Learning to ride a bicycle.
• Celebrating Halloween a night early.
• The fading of belief in Santa Claus.
• Tex owning typewriter shops in Lamar and La Junta.
• Getting caught by Mom and Tex for not "Quieting down and going to sleep" when I thought they had left.
• All of us getting punished for playing with matches on the steps.
• Old lady "Mustard Eater.".


In the summer between my second and third years of school, we moved to Scott city, Kansas, where Tex had purchased an unfinished two-story house on an unlandscaped yard. The house and yard stayed this way as long as we lived there. He worked as a Cobbler for this year. He was very handy with his hands. I remember him coming home one evening after work complaining that he had only made five dollars that day. I thought that was a lot of money. I don't remember much about that year. I must have been lost in a fog as that was the year I was reported as having "...emotional problems."
A couple of faint memory stems include:

• Learning a Spanish phrase from our pretty Spanish maid/baby-sitter:

"Quen es la madre de los pollitos?" and the answer: "La gallina".

• Mom, in a white slip, singing at the ironing board.

I don't remember any of the events that led up to the separation between Mom and Tex during the summer after my third grade of school but the Edgells (of course, including Mom) left the Cochrans and we found ourselves back in Goodland, Kansas. Mom must have been desperate to get away because she left Chuck with Tex saying that Tex would never have let her leave with him. Chuck was a toddler, and I remember being surprised at how emotional I felt about leaving him behind. Bob and I took a walk with him and said our "good-byes".

Back in Goodland, Kansas. Now about age eight. We were there for the next four years and these years left a deep impression on my character. Mom was single, twice divorced, and very pretty. I think this was threatening to some of the other ladies of this small town.

A moment's digression: Mom was also very intelligent in a rough-hewn sort of way; wonderfully common-sensed, a crossword puzzle whiz, an amateur writer and artist, with secret ambitions, and an inveterate story-teller. I heard all of her stories many times. She had a great talent for associating the immediate with an old story thread, while weaving the listener into some important role. Every telling was slightly different; a mixture of creative memory and looking at the same scene from a different angle. Sometimes the stories were meant to moralize or manipulate but usually were told for the sake of the telling. I have felt a lot of different emotions listening to her. I can remember feeling trapped and bored. I can remember feeling proud of the somewhat inflated role she gave me in a story. I was occasionally embarrassed by my role in a story. I was often embarrassed for her when others tired of listening. I know I acquired my most valued listening skills as a psychologist at her side. I can always find some value in a story.

Again, back in Goodland. Other qualities of Mom were pride and passive resolution. She never asked for charity and we were never on welfare. She worked "sixty five hours a week" with a minimum of complaint, and while I was probably always a little bit hungry, I never worried about the basics. We fairly immediately left the small "Christian" church of Grandma and the other "nice" neighborhood ladies, and joined the Episcopal church. The tolerance of this denomination met her needs for the next decade or so, and the Saint Paul's branch in Goodland provided all of us with a setting for lots of stories. Story stems from that setting include:

• Father Tom and his Siamese cats.
• Serving as an alter boy.
• The Wednesday morning breakfasts at Father Tom's.
• Flirting with the ladies in the audience.
• Father Tom's charity vs. his spend-thriftiness.
• Father Tom leaves and Father Cobb comes.


More general story stems from that Goodland era include:


• Fourth through sixth grades of school at the new Central School
• Mom worked at the furniture store below our apartment
• Summer vacations in Central Park.
• Lynn defending the little girl that stuttered.
• Tim Bowers and all of his toys.
• Bob wins the spelling bee.
• Every Saturday at the matinee.
• Roy Rogers, Gene Autry, Rex Allen, Tarzan, etc. as male role models.
• The Coca Cola bottle cap auctions at the theater (Lynn may have bid a few more caps than we had).
• Not winning the bicycle in the drawing. How unfair it was that one of the relatively wealthy Berringer twins won it.
• A trip to church camp in Salina, Kansas. The beautiful girl with a perfect complexion who didn't like freckles.
• Playing board games with Grandma.
• My first job at age twelve as a Shoe shine boy.


Expanding on this last a bit; I was never very good at shining shoes. I did learn a little hand-jive to work the polish into the leather, but I lacked the compulsion and conscientiousness needed to make a pair of shoes glow. I worked in a Barber shop with three male Barbers and I was their "Little Buddy". I had to sweep the hair from under their chairs a few times a day as rent on the space for my stand and I was allowed to keep all of the money I made. I was terribly shy and rejection sensitive and I hated to ask the customers if they wanted a shine, but it was a requirement of the job and the Barbers were always pushing me to assert myself. It was fascinating being this close to these men watching them work the customers. I worked there for about a year and saved up eighty dollars. I had to give Bob a percentage of my money for doing my chores at home.

• I bought my first bicycle from my earnings; the freedom to roam.
• Lynn's creative painting of my bicycle.

I came home from work one evening; Mom sat us all down and said that Tex had returned and that she was considering going back with him. She said that she wouldn't do it if any of us didn't want to but, it was obvious that he had recaptured her fancy. I can remember feeling a combination of dread and curiosity. It was really no choice at all. Mom had a way of being so self-denying that any time she wanted something, it was very hard to deny her. So, the next day I tearfully resigned from my job and we were off for another four years of blended Edgell-Cochran adventure. I was approximately twelve. Tex borrowed the eighty dollars I had saved and never paid it back. I knew at the time he never would and that lack of basic trust in him was foundational in our relationship. I became a master of avoidance of contact with him. He had a way of discharging on the kid closest by, and I made sure I didn't get my share of that.

Of course, the older you get the more stories you remember. If I'm to keep this chapter in the Chronicles properly brief, I will have to do some drastic pruning from now on.

Story stems from the second Edgell-Cochran era include:

• Our move to Great Bend, Kansas.
• Having to hide for a few days because Tex was not legally divorced.
• A reunion with Chuck, Fay, Marion (A boy), and Melvin.
• My first experiences with T.V.
• Living in the Sleep-Aire mattress factory.
• Our second meaningful dog, a white pekingnese we called "Bo Bo".
• Tex appearing much more successful than he was.
• Driving Marion's Crosly-Bendix.
• The 7-Up storage shed on our back lot
• Marion's room in the dug-out fallout shelter.


Tex couldn't make a go of it in mattress manufacturing, and the business folded half way through my seventh grade year. We slipped out of Great Bend in the middle of the night and moved to Springfield, Missouri where his father lived. Stories:

• Living in "Red's house."
• Fay thought her grandmother was a ghost.
• The stick fight.


At the end of my seventh school year Tex bought a liquor store in Branson, Missouri, at that time a tiny resort town on the White river. They were building the Table Rock dam while we were there and that promised a big future for the town in vacation resorts but there were only two thousand people there when we arrived. This was the Huckleberry Finn era of my life: Missouri, the creek, fishing every day, and the development of a Ozark accent. Other stories:

• The Dairy Queen across the road.
• Adopting the stray dog that wouldn't go home and wouldn't stay lost.
• Tex's liquor store.
• Mom's unproductive photography studio in back.
• Posing for thousands of pictures.
• Watching malt liquor cans fly from the store to the trash can in back.
• Little Mo, Middle Mo and Big Mo; nicknames developed from watching two guys at the swimming pool yell "Hey Mo" to each other.
• The Dialook Club.
• The completely out of control one room schoolhouse.
• Tex's father killed himself with a 410 shotgun when his mail order bride left him


Both businesses folded and, in the middle of my eighth year, we moved back to Springfield:

• Fay loves Sammy, Sammy wants to play with Fay.
• My first racially integrated school.
• The fat kid next door with all of the toys.
• I shoot a Woodpecker with an impossible shot and have to "put it out of it's misery".


Things started going badly between Mom and Tex again in the middle of my ninth school year; something to do with another woman. Bob Amos and Lois were living in Minneapolis, Minnesota, having gone there to attend the Minnesota Bible School. This school was in Southeast Minneapolis across the street from The University of Minnesota main campus (perhaps, one of the luckiest coincidences in my life). We packed our stuff and, again leaving Chuck behind, moved to Minneapolis in January of that year. I lived there for the next fifteen years except for two years time out (l960-1962) for traveling the world for the U. S. Navy. Ten of those years were spent attending the University of Minnesota, but that takes me beyond the end of this chapter of the Chronicles.

I spent the next three years at John Marshall High School experiencing a gradual transition from being a small town innocent to a big city sophisticate. I remember the first day of school. It was mid-year. I was the new kid in a pair of pants that barely reached the top of my white sox. The principle (Mr. Chapman) asked the most popular kid in my class (Donovan King) to escort me around and introduce me. That was my last day at the top. I quickly found my proper place in the lower middle level of things and perched there for the rest of my school years. Bob and I gave each other a little more room from then on joining different but somewhat overlapping gangs.

I had two very significant buddyships during my high school years. The first was Tom Greimal, who was destined to die of a brain malformation during his first year of college. I could never understand why he befriended me as everyone liked him and he certainly had his choice. I was used to friends who had no friends. He was quiet and reserved, a thinking introvert, with a brilliant and productive mind. He was the philosopher of the gang at Van Cleave Park. A few months before he died we decided to attend the University of Minnesota Episcopal Chapel. He had never been to church before, and I was already deeply skeptical of my early teachings, but we thought it would be fun to go for the singing. We plotted to go and sing as loud as we could, just below the point of disrupting things. The priest cornered us after the service and talked us into attending some small group religious instruction under his tutelage. I found that much of his instruction was over my head and I was "bored" with it all. Tom, however, was taking it all very seriously, and he went on to be baptized and confirmed in the church just before he died. I was left with the feeling that our friendship was a vehicle for all of that. He took my place in the Christian religion.

My second significant buddyship was with Pat Riordan. I was already established in a small nondescript group of adolescent boys when Pat transferred to Marshall High School early in my Junior year. He was a bright, handsome, and assertive young man and seemed destined to be quite popular in the school. His father owned a 1957 Chevrolet station wagon that he was allowed to drive, and one evening he asked my group if we wanted to ride around with him. We did, and at the end of the evening he took all of the other boys home. He then asked me if I wanted go pick up some girls. That started a relationship that lasted for many years including serving in the Navy for two years on a "Buddy plan." It was an interesting complementary relationship. He was attracted to me because I was presenting a persona that was stocky and pugnacious and he wanted a bodyguard. His role was to be that of a handsome, suave and sexy leader and mine a cute, tough and assertive side kick. It was proper fun in Minneapolis at the time for young girls to walk the street and for young boys to ride around and try to pick them up. That became our favorite pastime. He owned the car, so it was my job to get the girls' attention, and try to talk them into the car. Pat was very important to me at a time of transition from early adolescence to young manhood, especially as a young man relating to women. He drove me out of latency.A very slighted list of stems from that Minneapolis and high school era include:

• Bob and I walking the big city in awe.
• Mom and the Tub Laundry; the Bedeors and the fire.
• Pressing pants at the Tub.
• Bob Hanson, The House of Hanson and The Harvard Market.
• Girl-friends Pam Meuller and Maribeth Sorenson.
• Best friends Tom Griemal and Pat Riordan.
• Lynn, Flip Campbell, and the baby blue 1956 Ford Convertible.
• Ice skating at Van Cleave and a year of ice hockey.
• The gang at Van Cleave Park.
• Bob's assignment to get rid of Jimmy Stohr.
• Evenings at the school; EMRA and Teen Town.
• Wrestling at 133 lbs., Pole vaulting in track, half-back in football
• The house off of Como avenue and the house on 14th Street.
• Missing the prom.
• Graduation.

I have millions of stories from the next twelve year era living in Minneapolis (The Styrofoam factory job, the Navy, marriage, my son Tom, college, other jobs, other relationships, etc.) far too many to even stem properly, let alone tell. That is true also about the next twenty-three years that I've lived in Phoenix, Arizona. Let me now end by listing the very important people who are near me now:

Tom and Laura Edgell (and their five children), Bob and Sue Edgell (and their son Shawn), Chuck and Cheryl Cochran (sons Curtis, Aaron, and Lee), Dick and Kay Musil (and their four children; Arron, Katy, C.J, and Ian), Erik Eklund and Salley Calais, Eileen Riordan (Pat's mother), and a few dozen others from work, play and relations."

This is where Steve ends his story.
GEN X Tommy Edgell b 3/11/1964 Moorhead, Minnesota (son of Steve Edgell) Married: Laura Denise Hall b. 12/28/1968 Overland Park, Kansas. Five children: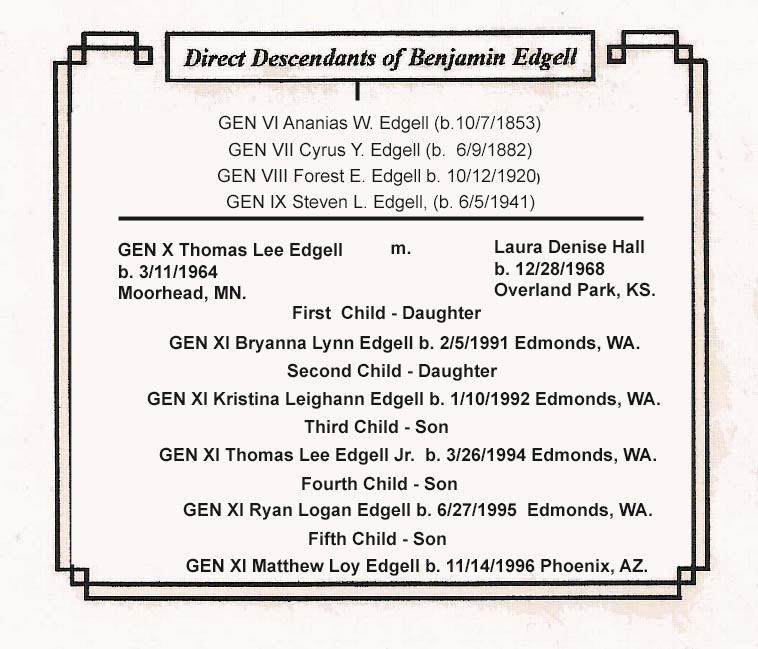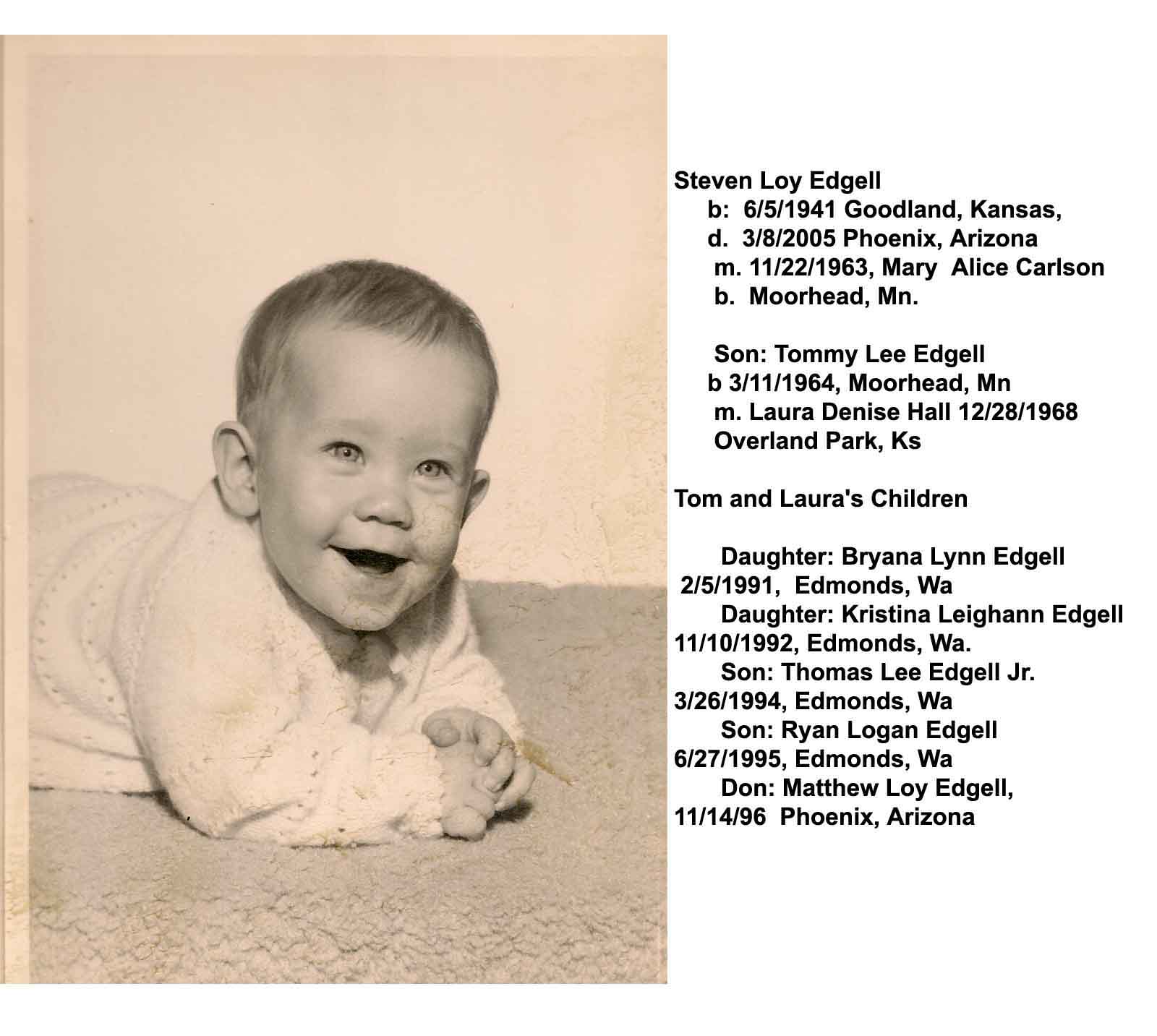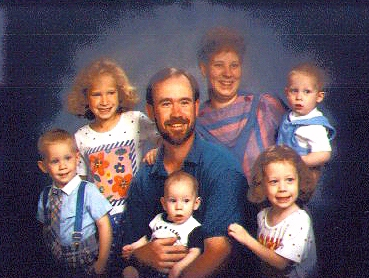 GEN XI Bryana Lynn Edgell b. 2/5/1991 Edmonds, Washington
GEN XI Kristina Leighann Edgell b. 11/10/1992 Edmonds, Washington
GEN XI Thomas Lee Edgell Jr. b. 3/26/1994 Edmonds, Washington
GEN XI Ryan Logan Edgell b. 6/27/1995 Phoenix, Arizona
GEN XI Matthew Loy Edgell b. November 14, 1996 Phoenix, Arizona
GEN IX Robert Lee Edgell b. 5/3/1943, Goodland, Kansas (3rd son of Forest and Lucille) Married Sharon Worscheck b. 1944, Minneapolis, Minnesota. One son, Robert Lloyd.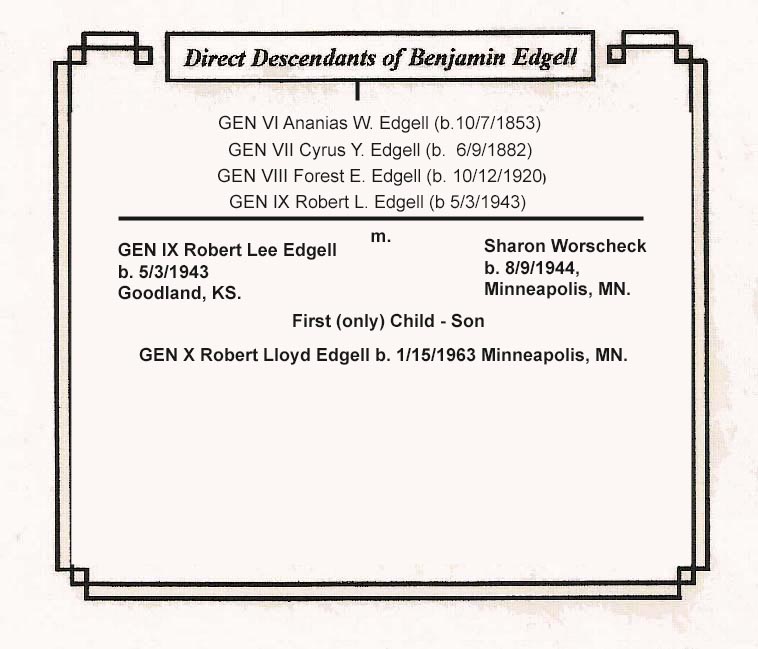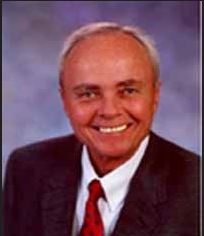 They have a son, Robby.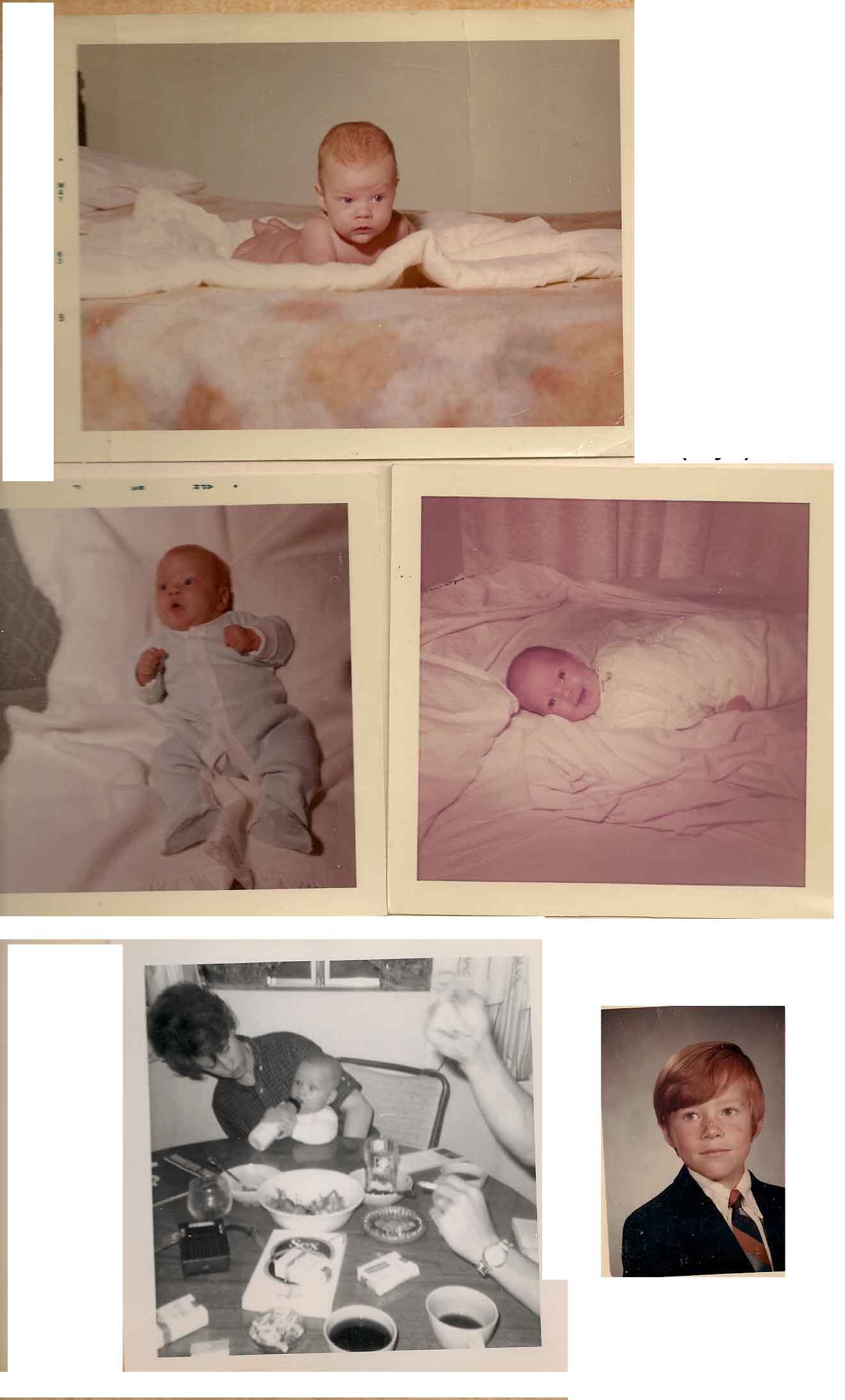 In 1965 Sharon and Bob divorce. After another year of college, Bob joins the Army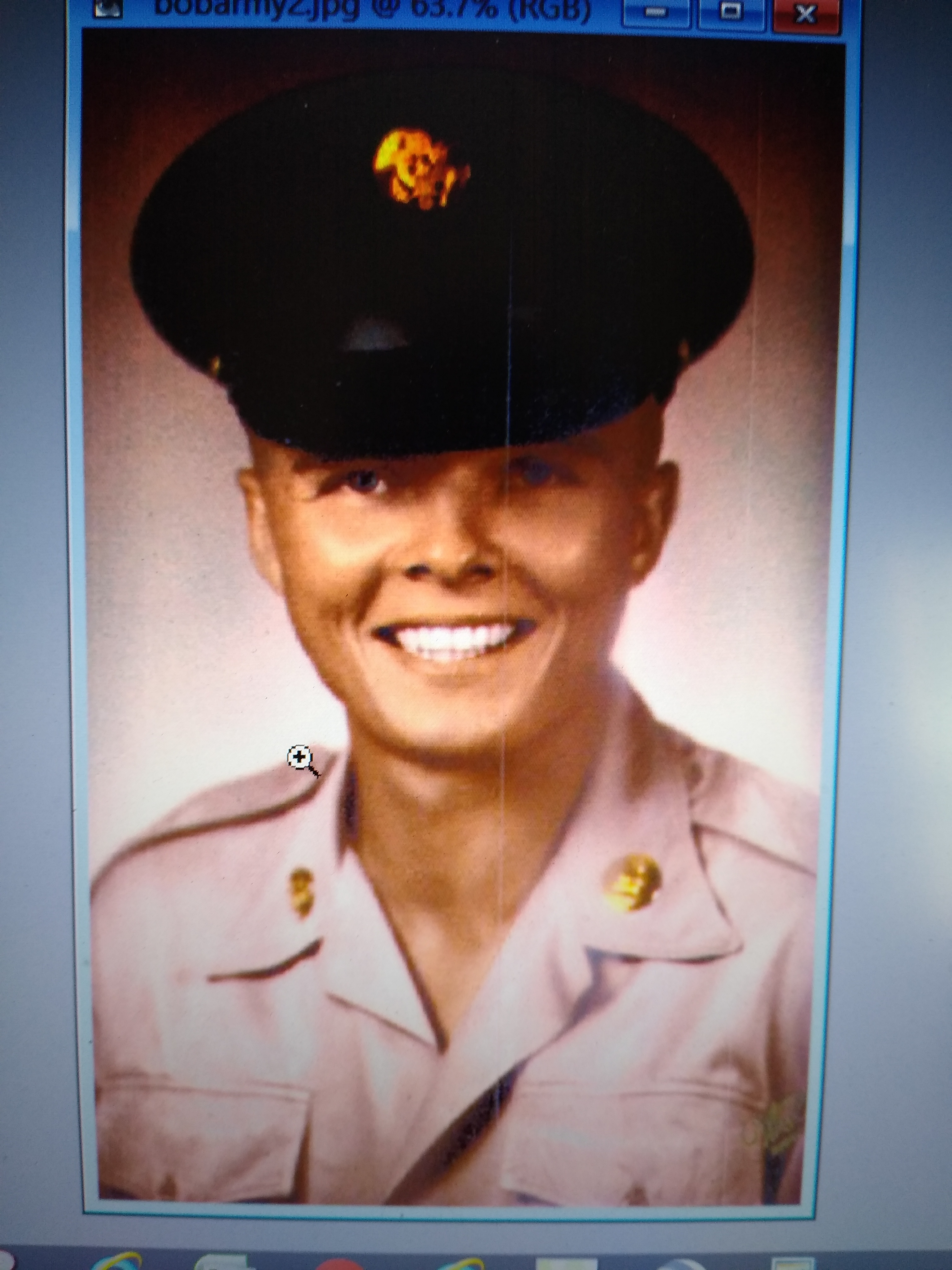 Robert Edgell's own words from his chronicles:

"When I was about three years old, Mom and Dad were divorced and Mom married Robert (Tex) Cochran. Life with Tex was not the normal family life. Tex was a man of many vocations, changing his "career" path often and moving from town to town. He was a typewriter mechanic, cobbler, owner of typewriter shops and a liquor store. And he was also an alcoholic. We moved from Lamar to Scott City, Kansas when I was five. During those years I stayed close to Steve because I was kind of lost with all the kids and activity. Also I was the next to the youngest. Lynn was living with Aunt Helen during this period. When I was six years old, Mom and Tex were divorced. We had moved back to Goodland and one day Tex loaded his kids, with Chuck, in the car and disappeared. He left Mom penniless. Mom found a job for $35 a week working for Bob and Hope Bower. The Bowers owned the Bower furniture store on Main Street across from the elementary school. We lived in a one bedroom apartment above the Bower's store. These were happy times. We all became involved in the Episcopal church, Lynn was back with us, and Mom seemed to have all her time to the three boys. During the next three years, there were good memories of playing monopoly and Clue, being Acolytes at the church, visiting Grandma Lelia Baldwin at the pink house on Cherry Street, and spending the holidays with Aunt Lois and Uncle Bob Amos.

It is important to digress here and talk about my father, Forest.

My earliest memory of Dad (Forest Earl Edgell) was in Goodland, Kansas around 1946. I was about three years old at the time and Dad came up the walk to Grandpa Robinson's two story house in Goodland, Kansas where we lived. I was running with Steve and Lynn to meet him. After that, several years passed and I remember visiting Dad in Denver (the day was August 8) where we spent the day at Elich Garden park, compliments of Dad's employer, Gates Rubber Company. When I was ten, Dad visited us in Branson, Missouri. At age 14, Dad came to Minneapolis for Lynn's high school graduation. I remember this time very clearly. I had a great deal of admiration for him, his stature and manners. Dad didn't attend Steve or my graduation. It was 32 years later when I saw Dad. I cannot explain why so many years passed between our visits. I had been in Denver many times and Dad had been in Phoenix many times. For some unexplainable reason, neither Dad, nor I, nor Steve, would pick up the phone and call. After 32 years, Dad and I met in Blair Nebraska at Lynn's house. We both arrived for Suzie Edgell's graduation from high school. Since then, we have stayed in touch. We had a family reunion at Dad's house in Denver in 1988 with all the boys. This was our first chance to meet the son that Dad raised, John Rankin. John is Lola's son and he lives with his wife Bunny and her two sons, Matthew and Justin.

Mom said many times that Grandma Edgell was a wonderful person, however, I can't remember her. Nor do I remember grandfather Yale. I did not meet Aunt Helen or Uncle Harold until I was 50 years old. I do not know if it was my first step to make or that of the older generation. I feel it was my loss not to have known the Edgell side of my family and not to have had their influence growing up. I miss their stories and histories that they could have shared.

During my second grade at the Goodland Elementary School we had an exchange student, Gunta Bekis, from Holland. A good part of the year was devoted to a musical play about Dutch boys and girls. My favorite teachers at the Goodland elementary school were sisters, Mary and Eileen Dean. Mary paid special attention to me when I was in her fourth grade class. A spelling bee was scheduled for the fourth through sixth grades and Mary helped me prepare for it every day after school. My first love, only she didn't know it. I won the spelling bee.

The big goal we had in Goodland was to buy bicycles. Steve had a job at the barber shop on Main street, shining shoes and cleaning up. Every day he would come home and we would divide up the money. My share was 25% for doing his chores around the house. In no time we had bikes we bought with the money. With our new freedom, Goodland became a town to explore (as much as you can in a farm town with a population of 5,000). Lynn was the big brother (also known as Tarzan) and brought humor to the family by reading joke books and telling stories. Steve was the more serious type. The brothers Lynn, Steve and Bob had the usual amount of togetherness and fighting. We came up with names to call each other. When one person did or said something socially incorrect, we would point and say, "stinky pooh on you". Lynn and Steve would get my goat by pointing to my ears and say I had gravy behind them. Pretty mild stuff. These were the days of the Tarzan (Johnny Weismueller) movies and Lynn liked to play the big brother/Tarzan role (when he wasn't reading joke books and telling corny jokes). You have to admire these two brothers. There is a kernel of character in both that has not wavered through the many changes and glitches in their early years.

And then Tex returned. Tex convinced Mom he had stopped drinking and before we knew it, Tex had our furniture loaded into a truck marked with "Cochran Mattress Factory". We all drove to Great Bend, Kansas to our new home, a two bedroom apartment attached to the mattress factory. The transition was not smooth. Tex's boys were starting their teen years and behaved like standard teenage jerks. Fay Ann told us stories about how Tex would leave Charles Stanley (Chuck) in charge when he was away and Chuck had become a spoiled monster. We soon found out Faye was not prone to exaggerate. We also found out that Tex had sold our bikes in Goodland and kept the money. We moved from the mattress factory to a two story house we called "Red's" house. The only benefit from the Tex move was our first TV. I believe the only time we were allowed in the living room was Saturday mornings so we soon got hooked on "Winky Dink and You", a cartoon show. One night we loaded the truck (Tex said we were loading at night so as not to disturb the neighbors) and drove to Springfield, Missouri.

We stayed in Missouri for two years, living first in Springfield, then Branson, then back to Springfield. The first stay in Springfield seemed brief. I think it was during that time we got to know Tex's dad who lived a few blocks away. One day the old guy had enough and blew his brains out. Branson was a small paradise. Tex bought a house on the highway coming into town, across the street from the Dairy Queen. Attached to the house was a liquor store and a small retail front that Mom used as a photography studio. These were some great times. Regular Huck Finn style. A short distance from the house was a river and an abandoned fish hatchery. One of the good things about living with Tex was his dislike for having too many kids around. We had all the freedom to roam and explore. Steve, Fay and I formed a club, the "Dia-Look club" (Kool-aid spelled backwards) and took turns being the President of the club. The main job of the President was to get the money (pop bottle returns was the main means) to buy kool-aid for the day. Forest visited us in Branson and we spent a lot of time across the street at the Hotel swimming pool. I was a little in awe of dad. He was good looking and dignified appearing. It was like being in the presence of a Statesman and never knowing what to say.

Springfield was a town to explore. Our wanderlust from Branson carried over and we literally walked the town.. Mom and Tex were fighting a lot so it was time to play the disappearing act. One of our favorite places was the army surplus store downtown. We explored with walkie talkies and electricity. My first fight was in Springfield. I told a black student not to walk on the basketball floor with street shoes. I didn't win that one. My favorite teacher was black, female, about 5'5" and very round. One Friday Mom and Tex had a fight and Mom told us to check out of school, we were leaving. When I told my teacher I was leaving she started to cry and pulled me in for a hug. This was an unforgettable hug, with my head pulled between two very large brown breasts. Mom and Tex made up over the weekend and Mom told us to check back into school. I can remember being nervous about checking back in but anxiously anticipating another hug. My fears were unfounded and my fantasy realized. More tears and The Hug.

Back to Springfield. A short time after the last "big hug" we checked out of the Springfield school and Tex's circus for good. Mom allowed Tex to continue raising Chuck with the other Cochrans while the Edgell brothers pack our belongings into a small trailer and Marion Dean (one of Tex's sons) drove us to Minneapolis. This was January, 1955.

Relocation to Minneapolis.

We moved to a small duplex on 14th Avenue, one block from "Dinky Town" and ½ block from Marshall High School. In 1957 Lynn graduated from Marshall High School and Dad visited from Denver for the graduation ceremony. Sometime in this period, Uncle Gary Robinson visited from Chicago and I flew back with him to spend a week. Gary was an impressive person. His gray mustache and expensive suites gave him an air of importance. He had done well as did all of Lelia's brothers. They had gone to college and graduated from engineering school. Ira Robinson spent a decade of his life working on a government dam. Gary was a litigation appraiser. Large companies in Chicago would hire him on contract to fight the property tax assessments on their real estate holdings.

Marshall high school was friendly to the Edgell boys. Since we were from Missouri, they called us Big MO, MO and Little MO. These names stuck for several years. We were the hicks from Missouri. Lynn and Steve paved the way for me, making their marks in sports and scholastics. Both were athletic and popular. In the ninth grade my rebellious years began. It seemed everyone was busy so I had to find my own way. My choice of friends was not the smartest move I have made. We were a small group from "broken" homes so we had a lot of freedom to get into trouble. In my sophomore year I was on the wrestling team with Steve and changing from the rebel. With absolutely no help from me the team won the city championship, my first and last sports letter. In the spring of that year 50 students, mainly juniors and seniors (I was a sophomore) were caught in a field in Savage, Minnesota having a beer party. The school suspended everyone for a year from sports. That was the end of my high school sports. I did not get too involved in High School activities, except for the H.S. play, "Arsenic and Old Lace". I had a bit part, Mr. Gibbs, who the sisters wanted to poison but was chased off by the son. A few of us would hang out. I literally hung out my entire senior year. Staying up late most weekdays, many time skipping school. A small group of us (Brockman, Gleason, Eklund, Musil) would sometimes play Bridge all night. For late night coffee we would visit the White Castle on the corner of Central and 4th Streets. I graduated from Marshall High School in 1961 very close to the bottom of my class.

The jobs I held in High School were not exciting. First it was $1 a day to work with Mom in the laundry on Sundays, sorting and folding clothes when I was twelve years old. Then came window washer/clean up at a local restaurant, working at the Tub laundry and Clark gas station. The Clark gas station was my first encounter with a gun pointed at me. At midnight one night a man came in and while pointing the gun demanded the money. I gave it to him. The police came and we called the owner, Del Zeitler, who hung up the phone when I told him I had been robbed. Del had been successful that night at the single bar and was busy when I called. He yelled into the phone, "don't rob yourself tonight and don't bother me". Finally, the detective called him and told him he had to come to the station. Mom and Steve also went through the experience of being held up at gun point.

For a year after high school I worked for a company called Guardtone (sales and installation of security equipment). First as an installer then as the PR man trying to calm down the unhappy customers. At Guardtone I met Sharon Worscheck, a high school senior from Bloomington, Minneapolis who was working at Guardtone in telemarketing. We began dating and got married September 12, 1962. On January 15, 1963 our son Robert Lloyd was born. Robby was a happy baby and lots of fun.

In 1995 I visited Washington D.C. on business and had a day to tour the monuments. I was particularly interested in the Viet Nam Memorial. Our good friend, Dick Musil, had a brother who spent two tours in Viet Nam and was killed in action. When you visit D.C., you first get a map of all the monuments. I located the Viet Nam memorial on the map and headed for the park. As I crossed the street to the park I saw several tourists and far into the park was the Korean War Memorial. On the map, it indicated I was less that 50 yards from the memorial, but nothing was visible. I walked the cement path leading into the park and then noticed the path split. To the right the path led down into a long, deep hollow. Hidden from the street, below ground level, was the famous black granite wall with over 50,000 names of the casualties of the Viet Nam War. I located the brother of our good friend, "Captain Clinton John Musil Sr." Of the many emotions I was feeling, anger kept forcing its way to the front. A phrase kept ringing through my mind: "A doctor need not worry, his mistakes get buried". As I looked at the "buried" memorial, I couldn't help feeling the anger at the congressmen and officials who sent the youth of our country to fight a senseless war, while shielding their young and their friend's young from the draft and the horrors of Viet Nam. They did not want to be reminded of their mistake so they buried it. They are able to drive around the park and not have to look at the memorial to the dead and the icon of their own mistake.

I joined the U.S. Army in June of 1966. I joined with the provision of being trained in counter-intelligence methods. After eight weeks of basic training at Fort Leonard Wood, Missouri, I was sent to Fort Holabird, Maryland for six months of intelligence training. Before my class began, I learned a new class was starting for intelligence collection. I requested and received a transfer to the collection class. The class consisted of all methods of meeting and recruiting people who could gather information as well as methods of transferring information. When the class ended, all the recruits who spoke French were sent immediately to Viet Nam. The "dummies" who did not have a second language were sent to Monterey, California for eight months of language training. In Monterey I experienced California living, sunshine and leisure. They assigned me to a German class and for eight months I studied German and became proficient. I met a girl in Carmel and we dated for six months, traveling throughout northern California and Nevada (Tahoe was our favorite place) on weekends. In January of 1968, I was assigned to intelligence collections in Germany, feeling very fortunate at avoiding a tour in Viet Nam. When I arrived in Germany, all my military clothing was stored and I was given money to buy German clothing. Also, I was given three identities to use and a German automobile. For the next 18 months I lived in an apartment with other collection officers and we experienced a lot of low level collection activity. We were bird dogs, interviewing Germans, Czechs and Polish from the "East Bloc" countries who may have intelligence about military activity. One event stands out and worth noting.

I got a call one night from the counter intelligence group in our small town in Germany. Two West Germans in a white Mercedes had shown up at their door and wanted to sell the Americans what they described as a film of the latest Warsaw Pact Maneuvers in the East. The Warsaw Pact Maneuvers always included the latest in military hardware and strategies and they were asking $100,000. We went to the CI office where they had the lounge with hidden microphones and a two way mirror. We watched through the mirror for a while as one of the CI officers interviewed the two "thugs". Their main business was smuggling expensive goods between West Germany and Czechoslovakia and occasionally smuggling a person out of Czechoslovakia in a hidden compartment in the Mercedes between the back seat and the trunk. We negotiated until 3 a.m. until they finally agreed that we needed the film authenticated at headquarters in Heidelberg, Germany. We timed the trip and the showing of the film so that we could be back in Wuerzburg early morning and we would meet them at a café on the Autobahn. When we arrived in Heidelberg at 4:30 a.m. we were greeted by over thirty weapons experts in a screening room and their commander. The film was only 30 minutes long and at the end, we were told that it was in fact three years old and Heidelberg already had a copy they took off the East German television signals. Since the film was a better copy, we were told we could pay them $1,500. It was an unsettling feeling to have to return to the "thugs" and offer them $1,500 when they were expecting $100,000. It was time to go on the offensive. When we got to the Café, the thugs were waiting and we told them how they had wasted our time and the real truth of the films origin. After a few minutes of arguing and whispered shouts, they calmed down and said they wanted to show us something in the Mercedes. We went to the parking lot and they showed us a trunk full of fur coats they were smuggling into Czechoslovakia that day. Most of my activity in Germany was spent verifying the status of military bases in the East (was a motor pool on our maps still a motor pool, an infantry base still an infantry base) and any signs of movement. Twice a month I would meet an East German agent who traveled between East Germany and West Germany. We would meet in a safe house and I would pay him and assign a new area.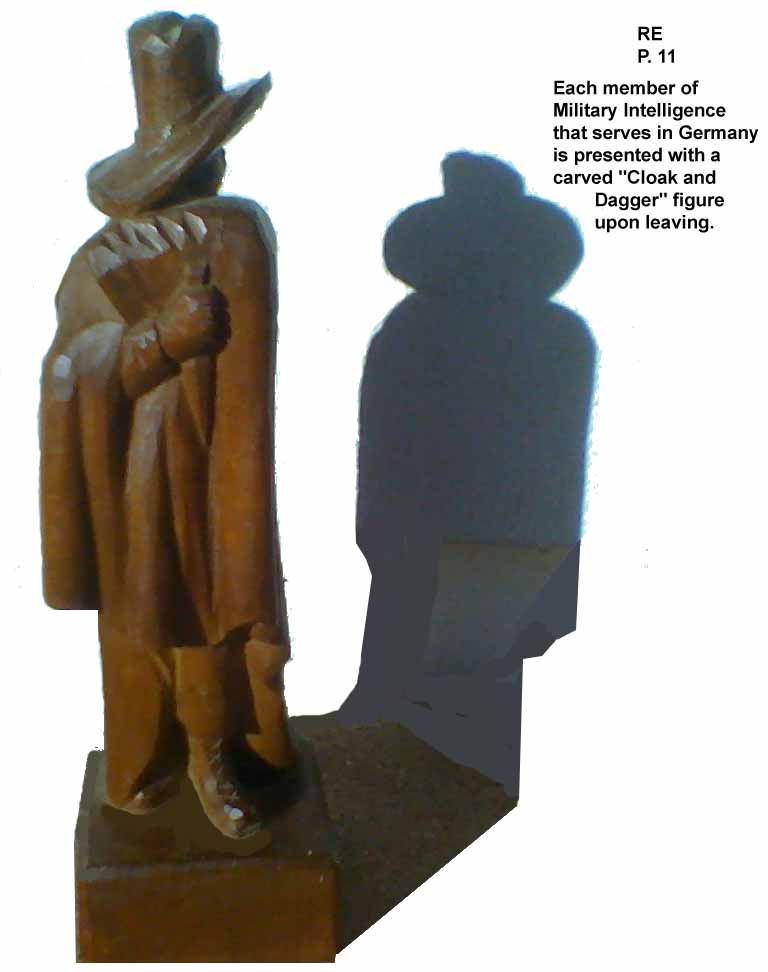 Living in Europe for 18 months was a remarkable experience. I traveled throughout Germany on "business" and during vacation time I traveled to Italy, France, England and the Netherlands. I was the genuine tourist. Visiting all the churches, museums and any place that had historical significance and art.
In June of 1966 I received my honorable discharge and returned to Minneapolis.

In the fall I resumed my education and received a Bachelor of Arts degree. I continued at the U of M after my graduation, attending post graduate classes in business and trying to gain admittance into the Law school. Our main activities at that time were fishing, water skiing and tennis. Also, I became involved with the Republican party. First as a precinct captain then as Ward Chairman. Minneapolis is divided into thirteen political wards and we were responsible for electing a city councilman, two state legislatures and a state senator. My Ward covered the University of Minnesota and a portion on the west side of the Mississippi river. We were very successful at winning all the elections because of the divisions in the democratic party. In 1968 Richard Nixon won the Presidential election on the platform of "an honorable peace in Viet Nam". As Ward chairman, of course, I went through the campaign process, doing Ward duties. In 1972 Nixon campaigned and won on a platform to get us out of Viet Nam. During this time I met Brian and Carolyn Golberg and we have been friends for over 23 years. When I moved to Phoenix I kept the friends and lost any interest in party politics. During the summer Steve and I built a boat: 16 foot runabout.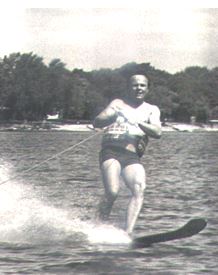 In 1973 I moved to Phoenix, Arizona. When I traveled from Minneapolis to Phoenix in 1973, I stopped in Denver and picked up Mom. She had packed her things and was ready to move. I was driving a 1966 Mustang and pulling the boat Steve and I had built. We put a few of Mom's things in the boat and drove to Phoenix. In Phoenix, mom lived with Sue Riordan, at this point divorced from Pat, and helped Sue with her son, Shawn Riordan. Mom was a good influence on Shawn, teaching him art, reading and values. Mom was a good story teller and prolific reader. From 1979 to 1986 Mom lived with me and Sue.

In 1972 Steve and I became players and followers of a tavern game called "Foosball", or table soccer. We were both at the U of M and hung out at the "Big Ten Bar" on Washington Avenue. We began to jot down notes on the offense and defense of playing the game and the strategy of play. When we arrived in Phoenix, we had a full manuscript of a book we called, "Table Soccer Rules and Strategy". Fortunately, one of the manufacturers of game tables (Mirco Games) was located in Phoenix and we were able to convince a local publisher to publish our book. The book sold about 20,000 copies and after a short period, I went to work at Mirco Games as Marketing Manager. There I worked with Richard Raymond, Bob Kaiser and John Walsh. Mirco gave me experience in Sales and Marketing which was to be my life career. My largest account was Montgomery Ward which bought soccer tables by the truckload.

In 1978 Sue Riordan and I became roommates . In 1979 I went to work for a computer firm, Graphtek, owned by Dr. Marvin Ling. Graphtek applied computer technology as a contract business and we were involved in security systems, talking poker video games for the gambling market, and vectorization programs for the blueprint market. I was the General Manager and hired Sue Riordan (we were living together at the time) as the purchasing agent. Sue and I rode to work everyday and talked about all the events and people at Graphtek. Since she worked at Graphtek, she saw things differently and we never ran out of conversation topics. Vectorization was a leading technology and after putting all our eggs into research, which the company could not sustain, we had to declare bankruptcy. I was a good student at Graphtek, learning computer hardware and software on an application level.

In 1985 Sue Riordan and I decided to get married and wanted a gathering of family and friends. We had been living together in a rented house with Mom, Shawn and one of Sue's nieces. We rented a wing of a resort (Poco Diablo) in Sedona, Arizona and family and friends joined us for the wedding (January 12, 1985). We had a justice of the peace from Flagstaff perform the ceremony and he offered a Navajo Indian wedding prayer at the end of the ceremony.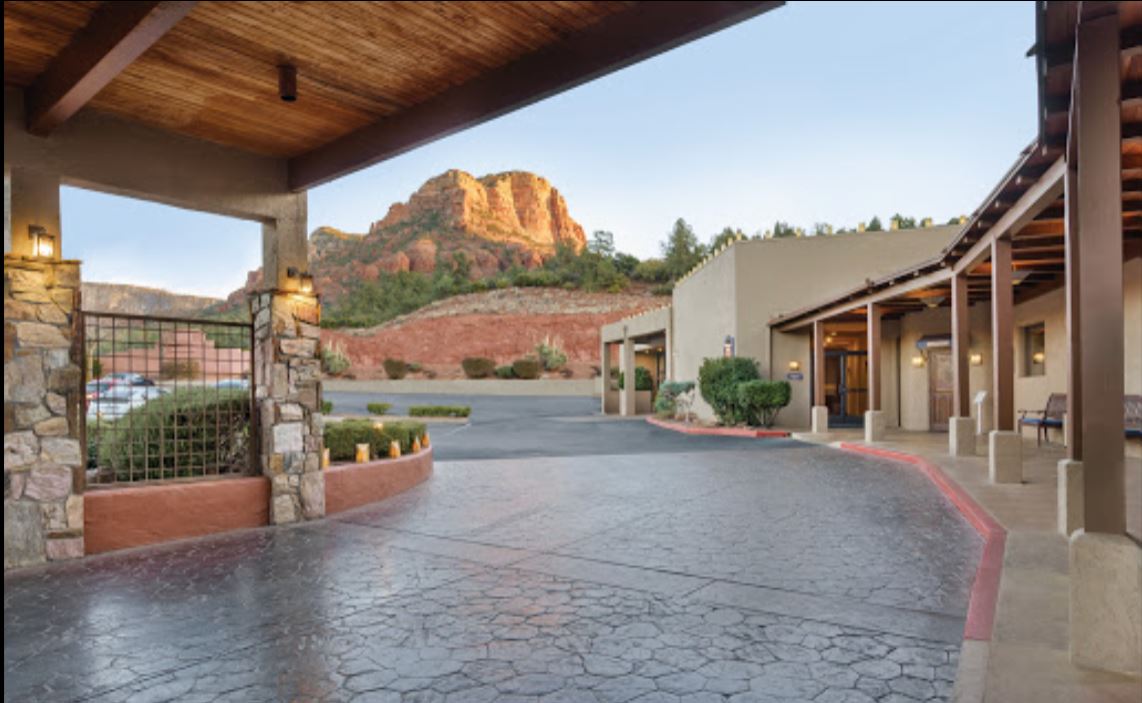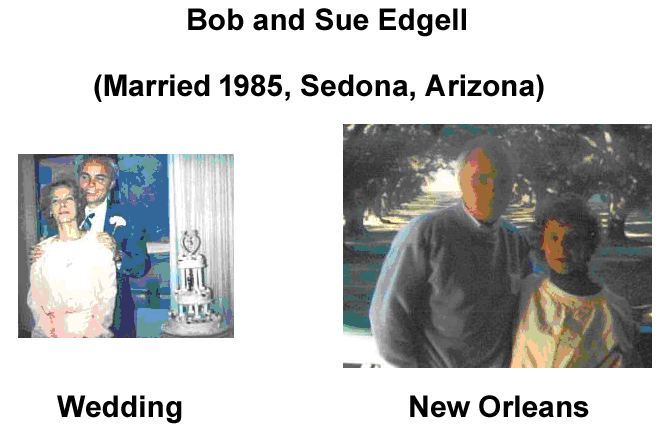 In 1985 Dr. Ling and Mike Cassidy (both of Graphtek) started a company called GTX and hired Richard N. Stover as the Vice President of Marketing. Dick hired me as Account Manager. I need to get a little technoidal here for those later generations who may be interested in this generations archaic technology. GTX made parallel processing engines and developed software to convert dot pixel data to line vector data. It was an emerging technology in the area of document management and the "paperless factory". In order to be paperless, a company had to get all the paper (blueprints and documents) into electronic form. Scanners were available to scan the blueprints and make an electronic file (all simple dots). The GTX product automatically converted the dots to vector lines for easier storage and viewing/revising in computers. Richard Stover would be one person from whom I have learned a great deal. Dick had a unique outlook on markets and a mature method of strategic planning. Today, he publishes his own trade journal on Document Management. After six months at GTX and after setting up a French distributor, I took over international marketing and sales.

In 1986 a German distributor visited GTX and wanted to negotiate a distribution agreement. I had not used my German language since 1969 so I was embarrassed to try speaking German with them. However, during the negotiation they would speak German among themselves. I could understand what they were saying but it didn't provide any advantage. A few months later, after practicing my German, I went to Albstadt, Germany and met with the same distributor. We began speaking German and it seemed quite natural until one of them remembered the negotiating in Phoenix. We all had a good laugh. It was here that I met Berndt Bodmer and his wife Claudia. A few years later they visited me and Sue in Phoenix. Here Berndt is having breakfast on the patio and is joined by Mike our dog. They later divorced and Claudia became Claudia Schmidt. Through Facebook and other media we keep in touch regularly. Berndt became a very successful businessman in the solar energy business and used part of his wealth to collect Chevrolet Corvettes.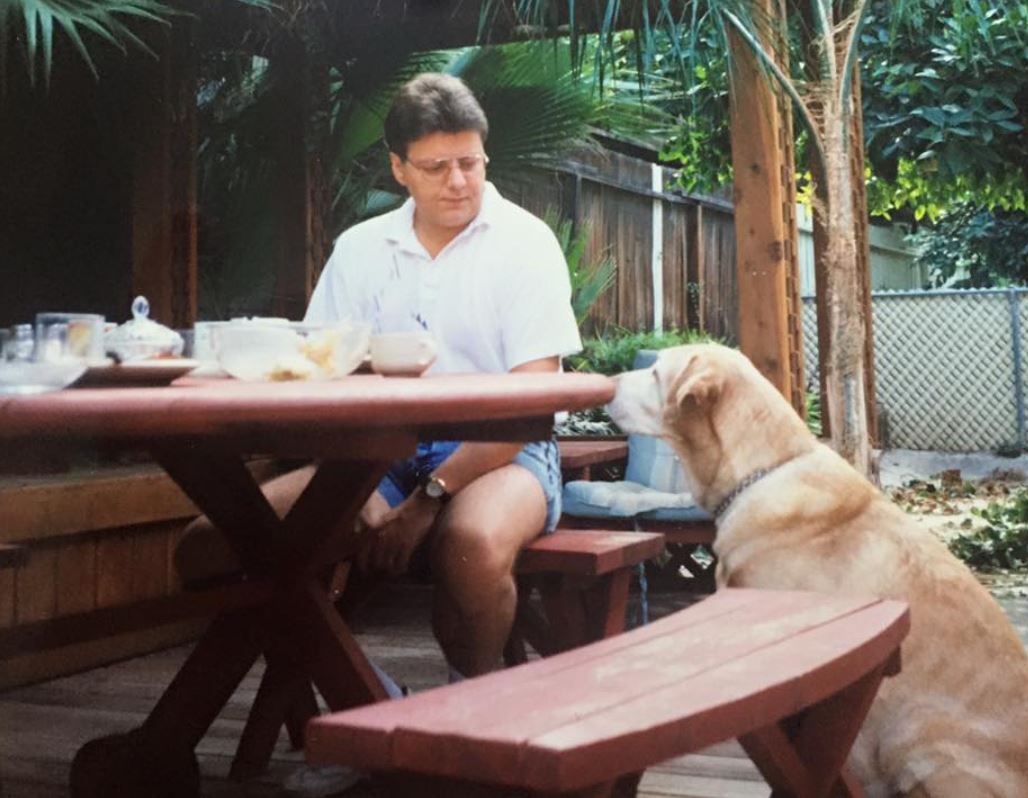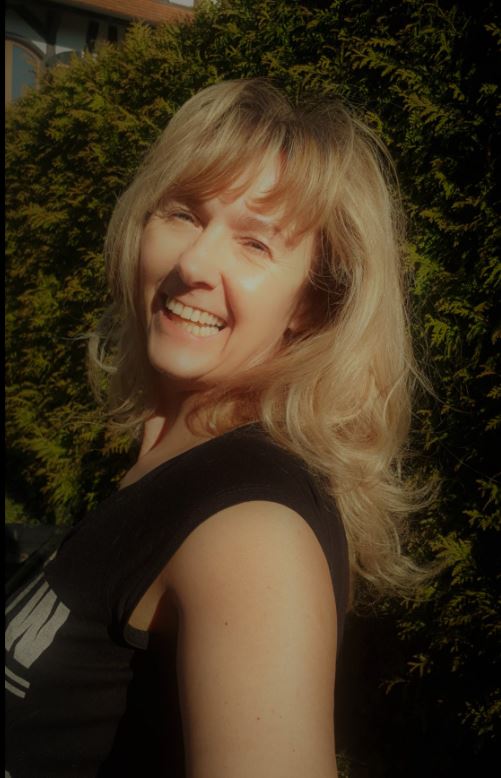 For the next two years, I divided my time between Phoenix and Europe and Far East. The European trips became easy. Instead of planning (and the difficulties of a long range itinerary), I would simply buy a round trip air fare between Phoenix and Paris for a five week stay. I would arrive in Paris and spend two days contacting the distributors and making appointments. The Paris distributor was the last on the list, being very upset that I had not given them a months notice that I was coming to Paris. From Paris I would travel by train to Lausanne, Switzerland, meet with Francois Vollner the distributor and then on to Germany by train. From Germany or Switzerland I would get a round trip air ticket to London and visit our London office. Then back to Paris and on to Madrid and Italy.

The happiest trip to Europe was the journey when Sue accompanied me. We went to Paris where she was very turned off by the "no English" attitude of the French. I never had much trouble in France with the people and the taxi drivers. My second language is German and when I was on the economy in France I would simply speak German. The Germans are the most traveled in Europe and the most respected (or feared) because they don't allow the locals to take advantage of them. In a taxi, for instance, I would hand the driver a note with the address where I wanted to go, speak a little German, and take out a map of Paris. I never had the feeling as if we were going in circles. From Paris, Sue and I went to London where she was given a royal treatment by the personnel in the GTX office. I had to go on to the Hague, Netherlands and Sue traveled by limo to Northern England with a "somewhat" historian for a driver. She then took a ship from northern England to Rotterdam and joined me in The Hague where we stayed at the Kuhrhaus, a palace of Queen Beatrice that had been converted to a hotel. Europe is an easy country for traveling. I have seen many of the sights in Europe and the far east, with many sights remaining to be seen.

One of our most memorable events was building a log cabin on property that me, Sue and Steve owned up north in Pinetop, Arizona. We bought the land in early 1990s and in 1999 we decided to build our dream getaway. We found a builder, "One Tall Builder" (so named because he was 6'6" tall) and listed all the steps in the building process, from the footing to the finished product. We, the family (Steve, Sue, Shawn and myself), chose those steps that we would accomplish and they included: staining inside and out, caulking, decorative rock along the outside stem wall and of course furnishings. Here is a gallery of our work.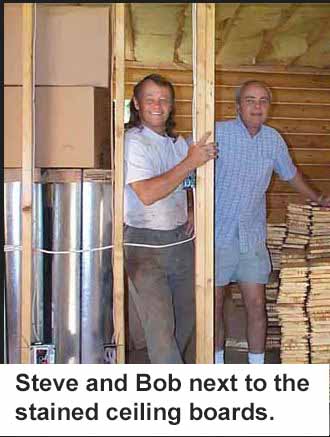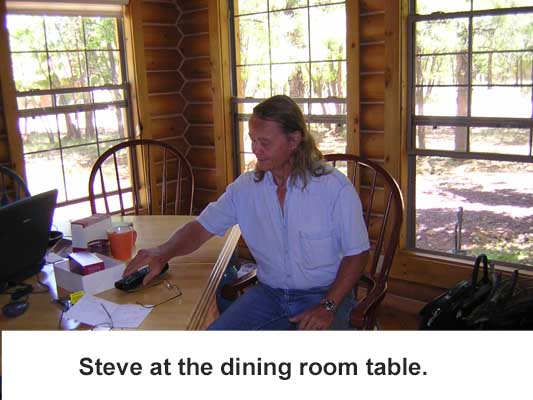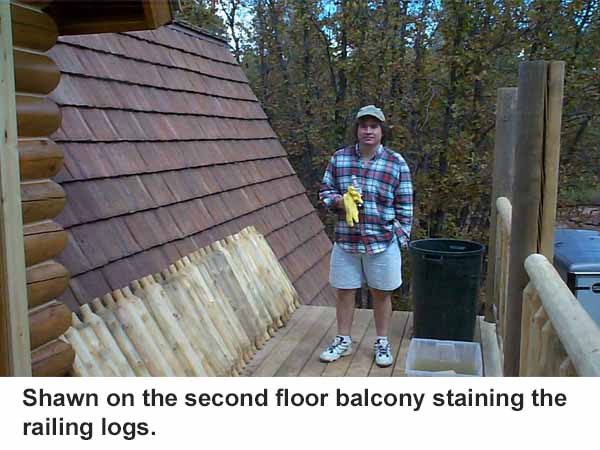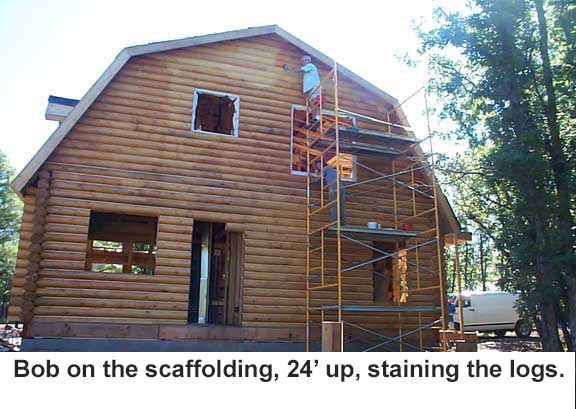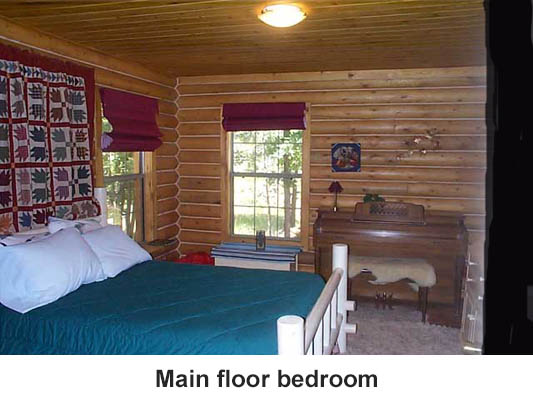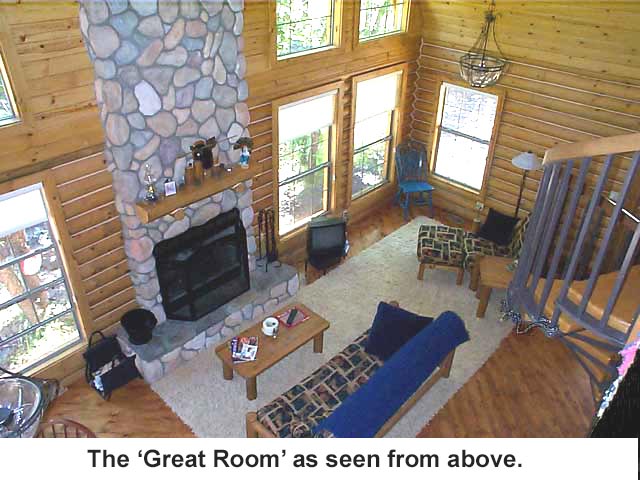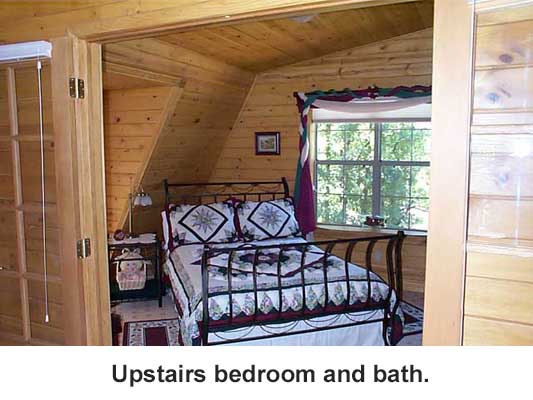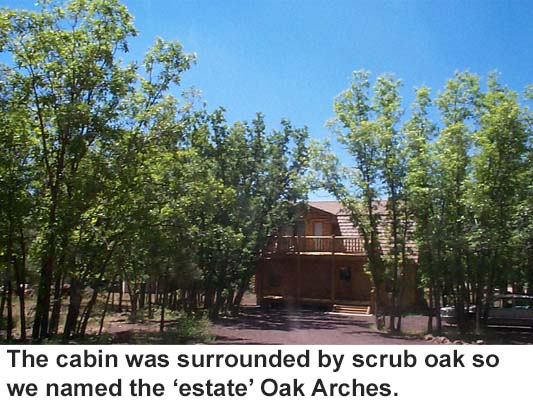 The cabin was instantly popular with friends and family. Here are some photos from a party with Sue's family: Chuck and Jeanne Walsh, Jim and Carol Walsh, John and Jill Walsh and Bob and Sue.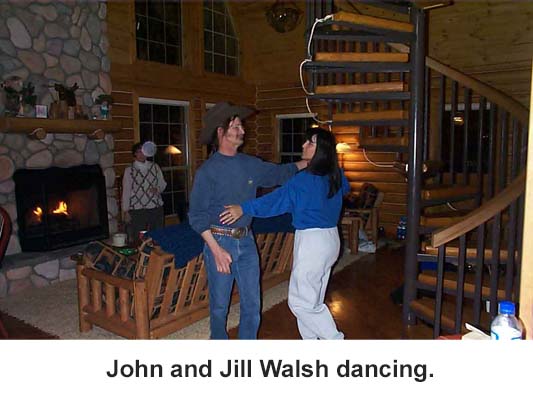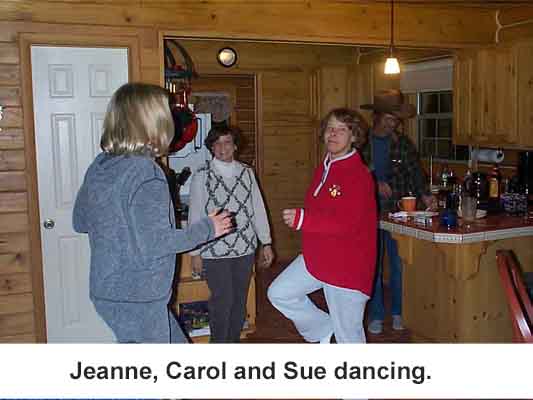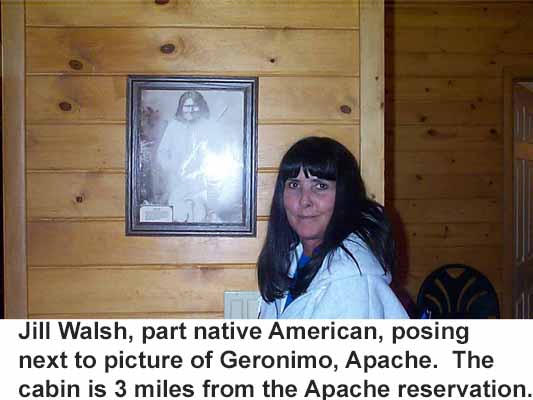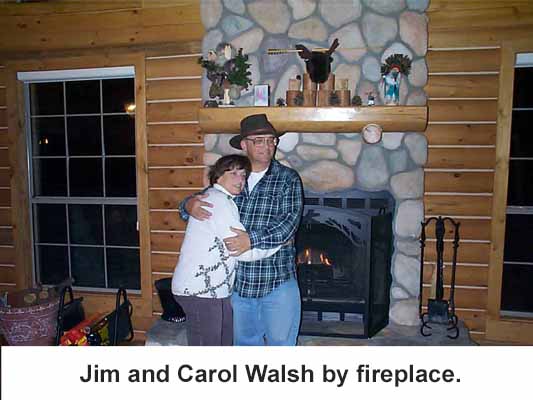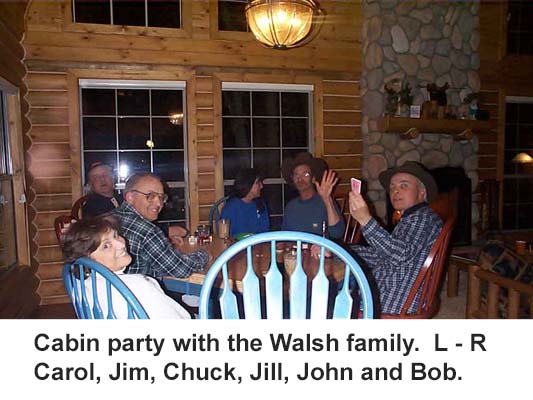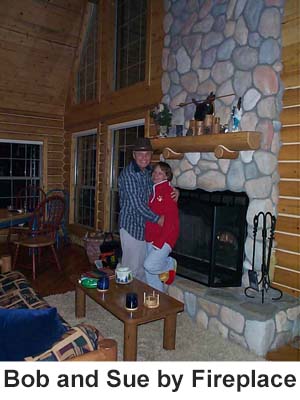 There is a sad ending to the cabin. First a backstory. Originally Bob, Sue and Steve bought three adjacent vacant lots in Pinetop, Arizona. A small wooded town in northern Arizona, elevation 7,000 feet with mild summers and snowy winters. Steve then started a romance with Carol Eklund and they moved in together in Steve's home. Carol eventually tried to coax Steve into letting her buy into his lot (he owned one lot and Bob and Sue owned two lots) and he adamantly refused. Bob and Sue relented and sold her 1/3 of their two lots. Years later the four of them decided to build the cabin and it would be situated on part of Steve's lot and part of the adjacent lot. This brought up the issue of how to deed the property. Steve would only consider one option: Joint Tenents with Right of Surviorship. The meaning of which is when there are two or more people who own an equal interest in a property, when one person dies their interest passes automatically to the surviving joint tenant(s). Steve insisted on this in case he was the last owner, he didn't want Bob, Sue or Carol's heirs outvoting him on the disposition of the cabin and property. The sole survivor of the four would own the cabin 100%. Fast forward to 2005 when Steve has a heart attack and dies. Up to that point, the four were content with their lives and each other. Bob and Steve both had successful careers, Carol and her sister owned and operated a Montessori School and Sue worked at the school. In October of 2006 Carol's wealthy father passed away and left each of his four children approximately $4 million dollars. Carol then began to exhibit strange behavior. She became harsh to her sister Kay and also to Sue...........to the point that Sue quit the school.

Carol then started a campaign to force Bob and Sue from the cabin. This campaign began when she stopped paying the natural gas company (her responsibility) in a winter month. The cabin caretaker who lives in Pinetop called Bob and told him there was no heat in the cabin and there was a danger the pipes would freeze: causing costly damage. Bob and Sue left immediately for Pinetop, stopping at an Ace Hardware along the way to purchase electric space heaters and fire logs. They were able to keep the temperature in the cabin above 40 degrees and prevented the pipes from freezing and pleaded with the natural gas company to turn on the gas after they made the payment.

The next incident was the destruction of the cabin interior. Carol found some 'thugs' who she sent to the cabin with a long, handwritten note telling them to cause at least $50,000 in damage. While they were there, the cabin caretaker called Bob and told him there were people in the cabin so Bob told her to call the sheriff. They stayed on the phone until 5 police cars arrived and the police surrounded the cabin with guns drawn. This is a typical police reaction in Pinetop because as in all 'vacation' villages where the owners don't occupy their residence full time, burglarys are very common. After some time, the 'thugs' convinced the police they were authorized to be there and they got Carol on the phone to varify their claim. Bob and Sue then drove to Pinetop with the intent of changing the locks and checking out the cabin. What they found was disturbing. There was indeed $50,000 damage and to top it off, the note Carol wrote was laying on the floor along with other papers, the expensive Kachina dolls that adorned the mantelpiece and other valuables.

Bob and Sue confronted Carol who refused to discuss anything regarding the cabin. Bob and Sue then started a court action called 'Partition to Divide.' In this case, a judge orders the two parties to come to an agreement as to ownership or dividing the property. If the owners can't come to an agreement, the judge can order the property to be sold and the proceeds divided among the owners. The court hearing was held in Holbrook, Arizona and before the hearing, Carol offered to buy Bob and Sue's interest in the Cabin. There was a dispute as to the amount because Carol insisted that she owned Steve's share so therefor she was half owner. Bob pointed out that with the deed as Joint Tenants with Right of Survivorship, Steve's shares no longer existed and she in fact owned 1/3 while Bob and Sue owned 2/3. In the end, the parties agreed on an amount and Carol purchased Bob and Sue's share of the cabin. At that hearing was the last time Bob and Sue visited the cabin nor had any meetings or dealings with Carol.
Before leaving this section on the cabin, it is important for my history to introduce family that Sue brought to me: her mother Thelma; her brothers Jim, Les,John, Chuck and Bobby and her sister Linda and all their spouses.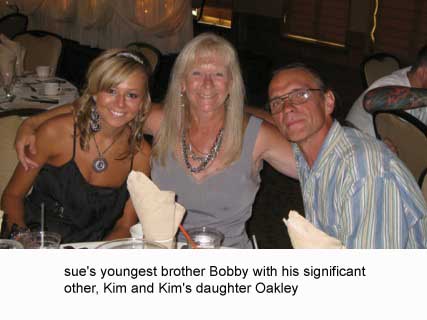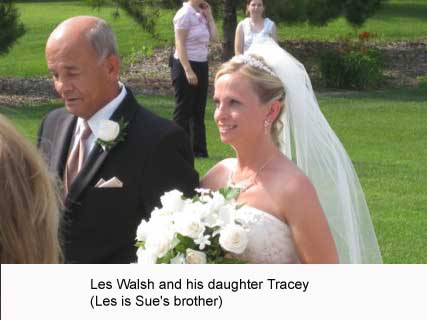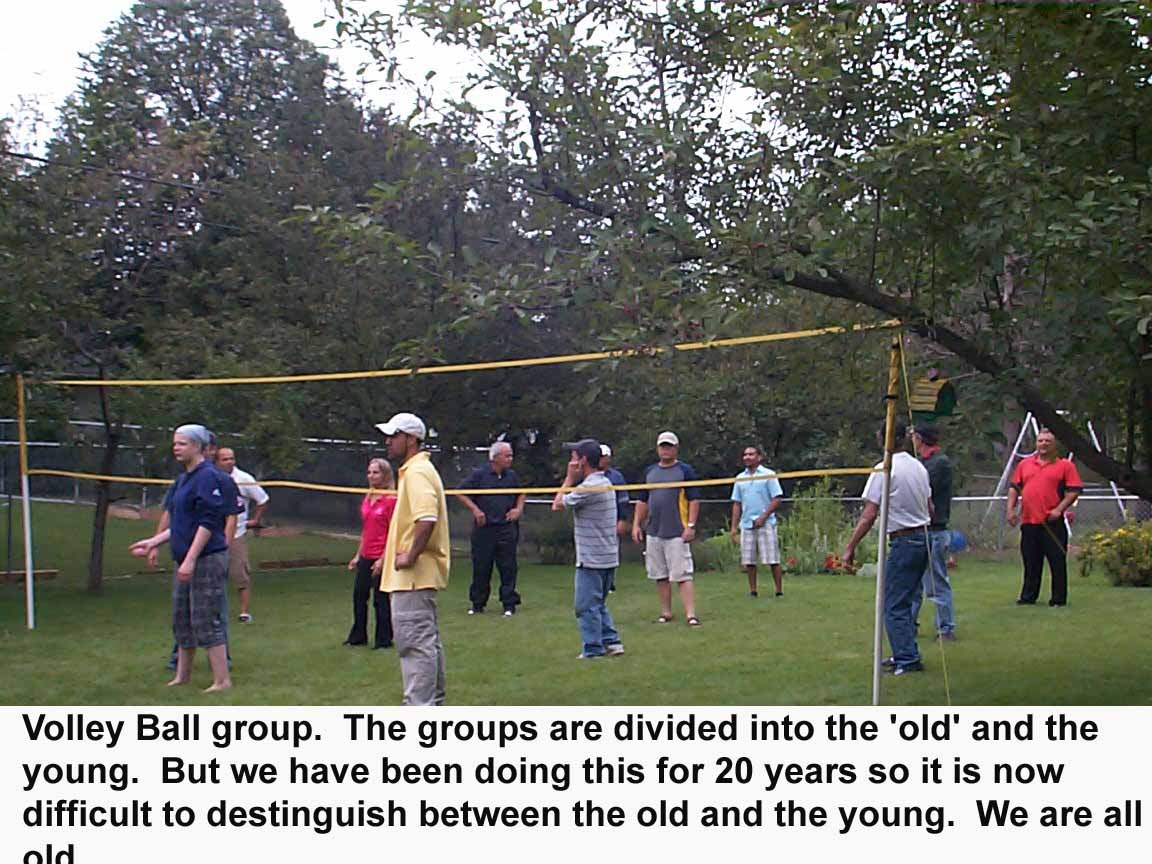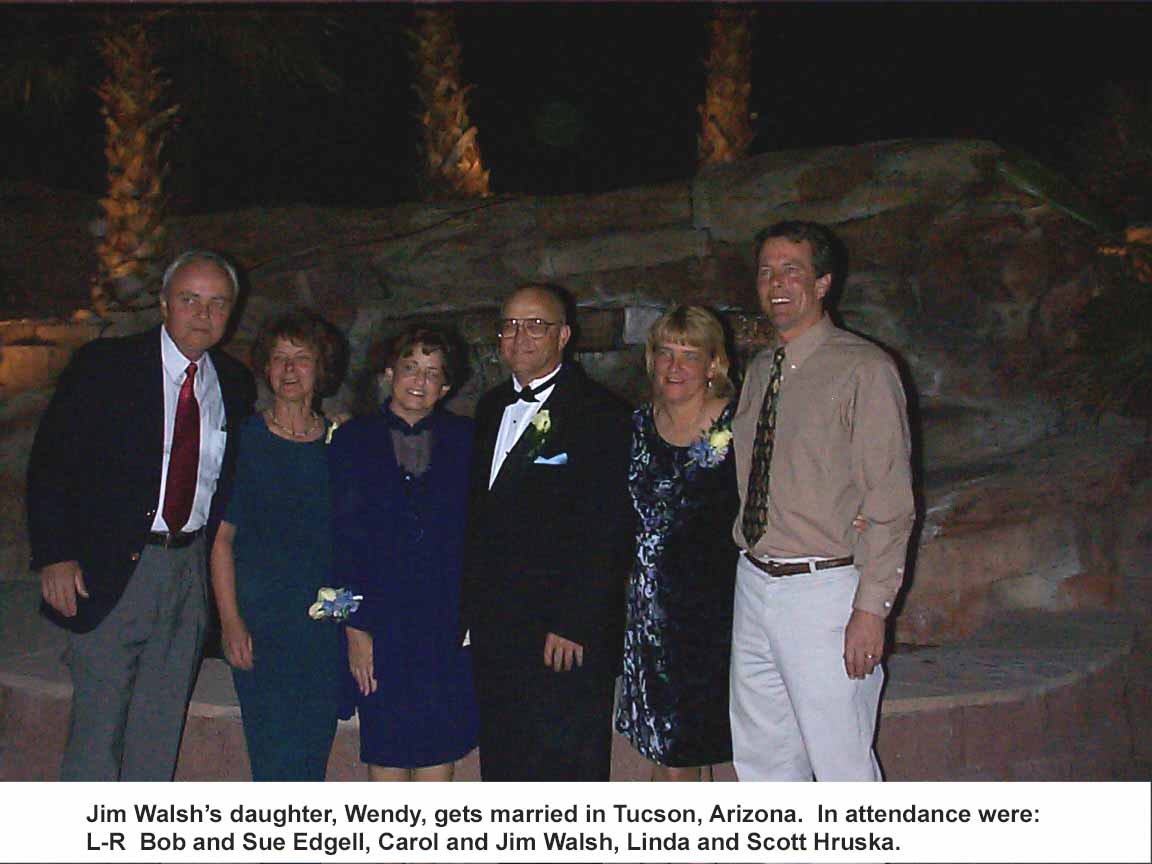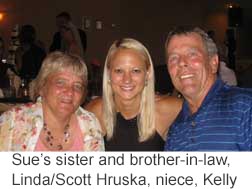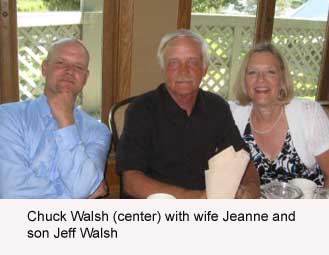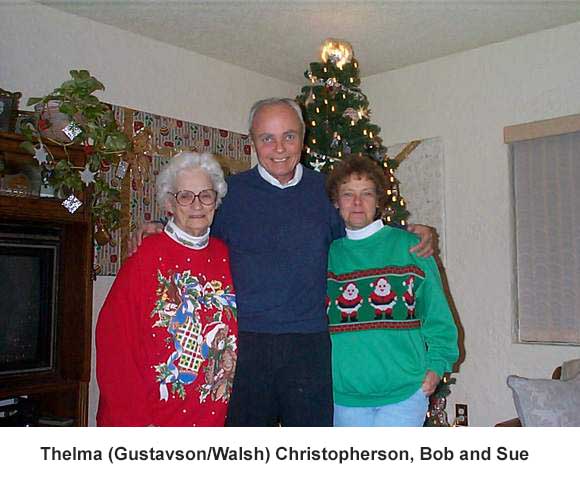 My mother Lucille, could be described in many ways as the conventional mom. Holidays and events were special and she always went to the effort to create the atmosphere and celebrate. Christmas was full of decorations, cards to friends and relatives, and the food. She would put a lot of effort into the Xmas meal. Her most notable were her "snowballs" (made of layers of vanilla wafer cookies, grapes, crushed nuts, coconut, whipped cream). When Mom was not with Tex, she put her attention into her family. Through our high school and college years, Mom would support us in our decisions (although she did give me a hard time about some of the friends I chose). She would co-sign for automobiles. One story may give you a glimpse of Mom's values and discipline. When I turned 16 and earned my driver's license, I had $125 saved to buy a car. I convinced Mom that I could buy a car, park it in the back yard (fix it up) and not drive it until I had saved money for the car insurance. I bought my first car, a 1949 Oldsmobile 98 and drove it home from the car lot. I remembered that the salesman had promised a spare tire which was not in the trunk. Since Mom was at work, I drove back to the car lot and picked up the tire. The next day after school I called Mom in a panic because my car was not in the back yard. She told me that she had "stolen" it and I would get it back when the insurance was paid and in force. About three months later I went to Uncle Bob's house and picked up my "insured" car. Later, when I was in college, Mom was working 60 hours a week at Harvard Market on the U of M campus. She always had many friends and the students that came into the market liked her and some depended on her. She was like a small loan company. The regular students could depend on her. She never wrote anything down and never asked for the loan to be repaid. Several students, after graduating and moving away, would stay in touch with Mom on holidays. When Mom came to Phoenix and stopped working, she was again generous with her time.

In late 1985 my mother, Lucille, was diagnosed with advanced cancer. She wrote a letter to my uncle, Bob Amos, on December 12, 1985 and Bob gave me the letter in 1996. Here are her words of that period in her life.
"Dear Bob and all,"
"Thanks so much for your prayers and concern. I would have written sooner but just didn't have the umph. But I am really getting along well and getting stronger every day. Chuck came and spent 2 weeks with me. He was wonderful. He got my meals and pampered me beyond belief.. Lynn and his family are coming for Christmas - driving down - leaving Blair the 20th so they should be here on Sunday night or Monday morning - weather permitting." "You'll never believe how kind everyone has been. Sue does so much for me. She has to help me mornings with my stoma and it takes about 1 ½ hours (every other day now). Sue's sister-in-law, Carol, has done so much. Helped me bathe - cut my hair - gone after medicine, etc. etc. etc. My friend Eileen had company arrive from Mpls the day I was operated on and the lady stayed for three weeks.

Eileen was beside herself, she wanted to be with me so badly. Now she will make up for it because beginning today she has to take me to the hospital 25 days for my radiation treatment. I was operated on exactly a month ago (November 13th) and am doing amazingly well considering the extent of my operation. I got so discouraged in the hospital because I was so weak and I kept watching all those hysterectomy patients get up and walk around and leave in a few days and I was there 12 or 13 days. So the last day I told one of my many doctors that I was discouraged and he said "remember girl, these women have had ordinary operations, you had a biggy". "I had a tiring day today. Was at the hospital for 3 hrs. and most of that time flat on my back and I couldn't move or even flinch while they measured me exactly and painted X's and check marks all over my stomach, which I can't wash off for 5 weeks. The zap of radiation only takes about 15 min. so the rest of my trips will be short. Eileen brought me home and we had a nice lunch at 3:00 pm. I cooked some beef all day and put noodles and mashed potatoes with it after we got home. I was surprised I felt like it. I can't sleep much at a time. I take pills every 3 hours, day and night. Usually the pain starts in about 2 ½ hours and then it takes ½ to an hour for it to take effect. The pain is caused by the pressure on nerves by the tumor, which is about the size of a grapefruit. The radiation kills and shrinks the tumor and the Docs say that most of the pain will go away after I've had a few zaps, so then I should be able to stop most of the pain pills. I'll be so glad. I've never even been an aspirin taker, let alone dope."

"I forgot to say that Robby and his darling girl friend Gwen, came for 4 days over Thanksgiving. Robby is really great. I wish they would move down."

"Bob has been working like a fiend trying to get my apartment finished. Steve comes and helps him when he can. They are making me a two room and bath apartment out of a workshop on the west end of the house. Then they plan to take the bedroom I now occupy and make it into a plush bath and dressing room for their bedroom…should really be nice when they get all done." "Well I better close - I hope you can read this mess. My hands still aren't too steady. When I first got home, I couldn't even work a cross word puzzle - write letters."

"Everyone keeps wondering about how I feel about all this: Am I angry? Am I afraid? etc. ect. Who or what would I be angry at? And I certainly haven't been afraid. I have been so calm it is amazing. You know I have never been sick before in my life - so one never knows how you would react to this situation but I am just taking it one day at a time and doing what I can to improve, minding my Docs orders and all that stuff. And in lots of ways I feel very lucky. I feel I stumbled on the best team of doctors available and that they are doing everything in their power to help me…I call them my TASK FORCE. And everyone, my friends, relatives and nurses have been so great."

"I hope you guys can come down sometime. I want to meet you, Dorothy. Was so sorry you didn't come last spring with the gang. And Bob, you are my only and the best brother a gal could ever ask for." "I hope you have a wonderful Christmas. We are looking forward to it here, especially now that Lynn's family is coming. We are going to wait until the Monday before Christmas to put up the tree so Lynn's kids can help decorate it."

End of the letter.
A big event happened to me in 1996 and I wrote the following as a way of telling my story of the event.

From a tickle to attack By Bob Edgell

October 20, 1996, Sunday. It was the day of the big one. With hours of looking at ceiling tile and trying to reconstruct what happened, along with answering all the questions from the medical people, I see it is really quite simple.

It all started October 3rd when I checked into a new primary care doctor, with a reason, a tickle in my throat. He did the usual quick once over for a new patience and then I had a chance to mention the tickle in my throat. I further explained that it felt like a time I had strep throat. He gave me a little affirmative nod and a prescription for Amoxicillin, a penicillin. Nine days later I am in Denver on a business trip and had a reaction, histemic type. Large itchy blotches all over the body. After three hours in the emergency room, I go back to the hotel and continue my trip. The Doctors in Denver put me on Medrol Dosepak (4mg) a type of adrenocortical steroid to counteract the reaction to the Amoxicillin.

Saturday, October 19, I took the last of the steroid pills and feeling pretty good. Sunday was a big day, a championship soccer game to herald in the end of the season. We were fighting for first place. Early Sunday morning my brother Chuck brought over doughnuts to socialize and say goodbye to our Uncle who was on his way to Mexico for Kelation treatment. Let me interrupt the flow here for a moment to discuss Uncle Bob's Kelation treatments. Uncle has had two triple bypass heart operations (uncle is not a blood uncle, married my mother's sister). Here is what Uncle says about kelation. Each year thousands of people go to a little clinic just south of Yuma, Arizona and get kelation treatments. A treatment consists of sitting for about three hours letting a clear substance drip into your bloodstream. The substance is supposed to clean the blood and the veins and wash the "floaters" through the kidneys. The stories of success range from an old man with a near gangrene leg (which after two weeks the leg was pink and full of circulation) to the many patients with heart problems who became whole again.

So, on this Sunday morning, we were having doughnuts and wishing Uncle Bob a get well trip to the kelation fountain. Sue and I dropped Uncle off at the bus depot and went straight to the indoor soccer arena. One comment we exchanged was whether we would see Uncle again because he had had a heart attack a week earlier and had a lot of numbness in his leg. The game started at 1pm and the first half was as expected. We were in the lead. For the second half, I switched to defense. About 15 minutes into the second half I was feeling great on my shift. Running full out up and down the field. I felt great. I felt so good that instead of my usual 3 minute shift, I stretched it to 6 minutes. Finally I subbed out. Entering the players box I felt a strong sensation to pass out. I sat down briefly, then walked to the lounge area to find a place to lay down. At that point my arms, mainly the triceps and wrists were aching with a pain I have never felt, a deep, searing pain. I tried to breath deep with no success. I kept trying to feel a pain in my chest but could not make out a pain or a burn. After a few minutes, I asked a nearby player to find my brother and call 911. Within five minutes the boys in blue where there, starting IV drips and hooking up EKG leads and asking lots of questions. Then the trip to Good Sam. Did you know you can barely hear the siren when you are inside the ambulance?

At Good Sam things went real fast. Wheeled into a small 10 X 12 room with all the instruments, someone yelling to have a crash cart nearby, someone answering it was near. Five people on each side of the bed, sticking you with something, taking a pulse, one with a clipboard asking questions, and me, wondering when in the hell were they going to stop the pain in my arms. It was feeling unbearable. My chest felt OK, I was less nauseous. Then a distinguished looking young man with a stethoscope peered over in my face and slowly said: "Mr. Edgell, you are having a heart attack". It wasn't a question, more of a statement, but I had a strong urge to answer. I was formulating my answer in my mind: "Doctor, I just had a heart attack at the soccer arena so this must be an error", when the Doctor explained that they wanted to try a new drug to quickly dissolve the clot in the right artery. I said yes and the lady with the clipboard passed it to me to sign. Two of the people at the bedside said I was lucky because the chief cardiologist happened to be in the hospital and would be monitoring the activity.

He quickly earned his respect when everyone looking at the monitor started to buzz and discuss new fluids or doses. The guru looked at me and said cough. I coughed. The anomaly on the monitor disappeared and then you could hear the heavy sigh of the masses that follows a great revelation. The guru then begins to pontificate on the anomaly and the reason the cough provides the fix. Within an hour I was in the ICU unit, private room, and hooked to every gadget available. The fluids going into the system were morphine, Teclid (blood clotting blocker), Heprin a blood thinner, and Cardizan to help the heart and prevent further problems. Sunday night they explained the next days events and I had a good nights sleep. Monday morning I awoke with the most painful feeling in my right foot. The pain was the type that brings on a strong nauseous feeling and no way to reduce it. The nurse was liberal with the morphine but it almost seemed to do no good. At 10 am I was taken to the catheter room where it takes three nurses to shave your pubic area (and get their looks in. Don't laugh, I caught them sneaking glances). The Doctor began by putting two pencil sized tubes in your groin. One is inserted into an artery. Then they send up the wires and you get to watch on the monitor as they slide up the artery. When the little wire reaches a main artery in the heart, they let burst a little fluid and watch it disperse through the veins in the wall of the heart. This is one method of finding clogged arteries. You get to watch the entire procedure on the monitor as they go to the different arteries: right coronary, left coronary, posterior descending, left anterior descending. My problem turned out to be the Right Coronary artery where they found some narrowing.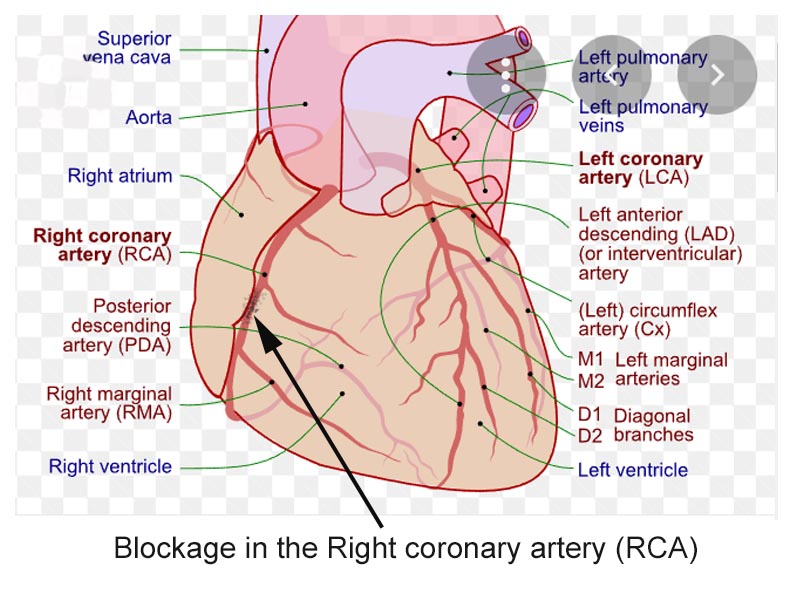 During the catheter experience, the doctor talked to me about how I was feeling and I kept telling him that my right ankle was on fire, unbearable fire. He ignored my pleas. He was a heart mucky-muck and ankles were beneath his specialty.

All day Monday, all night and all day Tuesday and Tuesday night, the ankle would not allow me to sleep. Every doctor who came into the room would get an earful. I believe I also threatened to have another heart attack if I could not get any sleep for three days and nights and the pain would certainly trigger another.

Wednesday I got the visit from the "case manager" who was going to go through all the literature on heart and get me started on rehab. We discussed the book for an hour and then she smiles and says, "let's take you for a little walk so your system has a little exercise". Well that was all I needed to hear. Being a trooper I grabbed my IV stand with four rolling wheels and swung my feet over the bed. As I stood the grimace must have been more than a little noticeable. Picture this. Left leg straight and upright. Right leg at a 45% angle to the floor because unable to place the heel of foot on the floor. We begin our little walk. She has this caregiver plastic smile and I have this "cut my foot off and put me out of my misery" grimace. The experience was not without reward. I let her know that unless someone got the point across to the medical staff that there was really an ankle pain, I would need to resort to coyote medicine and chew the damned thing off.

Finally on Wednesday, the orthopedic doctor paid a visit. The x-rays of the right ankle showed two hairline fractures; not one but two. For the second time in four days I heard the sigh of the masses after a great revelation. "No wonder he was complaining so much". In addition to the ankle pain, there was the pain of the dressing for the catheter. After punching two big holes into your groin, they need to keep a very heavy pressure bandage on the area (especially since your blood is mainly blood thinner at this point) to help it heal. As would happen, the thinner won out and blood seeped throughout the groin area, swelling and turning everything blue/black, everything. Thereafter, every few minutes it was necessary to move the body to either change the position of the ankle or the groin area. No sleep Wednesday or Thursday night. Friday is the next big day in recovery.

Friday morning they planned another catheter. This is the treatment phase. Another two pencil holes. This is the part where they insert a balloon into the narrow part of the artery and inflate it to open the artery to it's normal size. In my case, they decided to go with a metal stent. The stent is a stainless steel tube that looks like a spring. The collapsed stent is placed over the deflated balloon. The deflated balloon is inserted into the narrowed artery and when in place, the balloon is inflated, the metal stent expands and the artery is opened. The balloon is inflated several times because it is actually changing the shape of the stainless steel stent. Once the stent is in place, the balloon is deflated and removed. I had four of these stents inserted in different narrowed areas of the same artery. Then the tubes are removed and the patient is ready to spend one more day before going home. The medication after the procedure which may lasts for several weeks is Cardizem, a calcium channel blocker to relax the blood vessels and increase the supply of blood and oxygen to the heart, Ticlid to keep the blood thin to prevent clotting around the new stents and one aspirin per day.

So, looking at the ceiling tiles for several days and wondering, "why did this happen to me?", a third great revelation occurred, but without the masses and the sighs. Some types of Steroids can be very powerful painkillers. The tickle in my throat in early October, which prompted the penicillin, which in turn started the hives-like reaction and the emergency room visit in Denver, led to the use of the Medrol Dosepak steroid, which in turn gave me superhuman ability in the championship soccer game and the ability to play with a multiple fractured ankle, and led me to extend my three minute shift to six minutes. From a tickle to attack.

The End


At the time of this writing, I am dabbling in family history to find the ancestors to Benjamin Edgell. The summer of 1996 was especially enjoyable making new contacts with Bud, Helen, Lee (Nellie Jane) and catching up on their lives. I hope to finish the first edition of the Edgell Chronicles in 1998 and have everyone's autobio included. After the first edition, this generation can pass along the compiling duties to the next generation for future updating.

Postscript written in 2022.

I certainly never expected to live this long. I am almost 79 1/2 and still active. I have to thank modern medicine for my longevity. Because of my genes or food habits, I have very high cholestoral so my plumbing tends to clog with placque and the procedure described for the heart attack has been repeated several times: with many stents placed in the heart and femoral arteries. It is likely due to genetics since Steve had a heart attack on the same soccer arena as I did and later died and Lynn died from a heart attack.
I have been very active in tennis and golf over the years with only a few signs of slowing down. During the period between the first and second heart attacks I have won tennis championships, coached, managed teams, gotten two hole-in-ones in golf, built a log cabin with Steve, Sue and Shawn, traveled every year to Minnesota to see Rob, Corinna, Madison, Carter and the Walsh family.

I will have more to say at a later date but will end with this word of thanks for my wonderful wife, two sons and the many relatives and friends who have made this life enjoyable. Everyone brags about their children and I feel compelled to share my feelings about Rob and Shawn: they are the most caring, giving of themselves and generous as anyone could hope for.
GEN X Robert Lloyd Edgell (Phyle) (son of Robert and Sharon) b. 1/15/63 Married 11/2/1996 Leslie Ferris (two daughters by previous marriage: McKenna 1991 and Hailey 1993).
One Daughter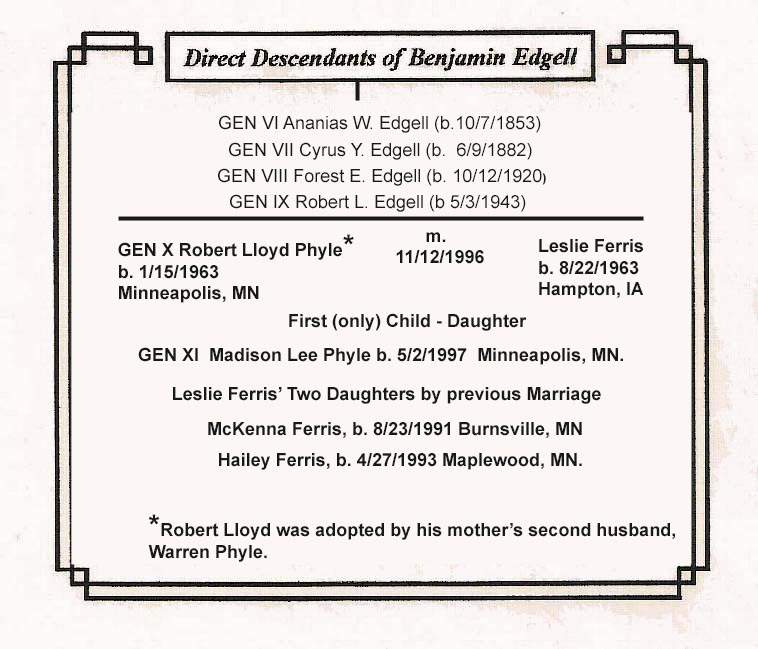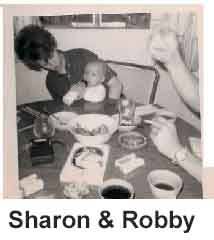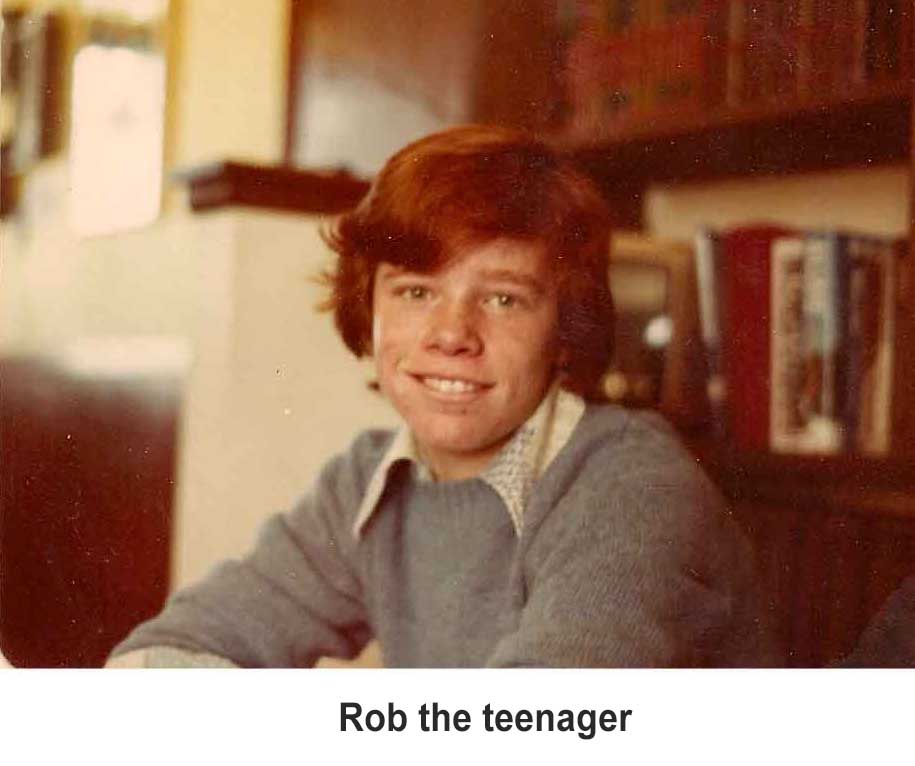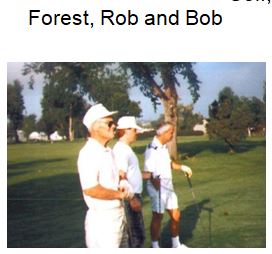 Rob marries Leslie Uhlenhoop.

GEN XI Madison Lee Phyle 5/2/1997, Lakeville, Mn. Daughter of Rob and Leslie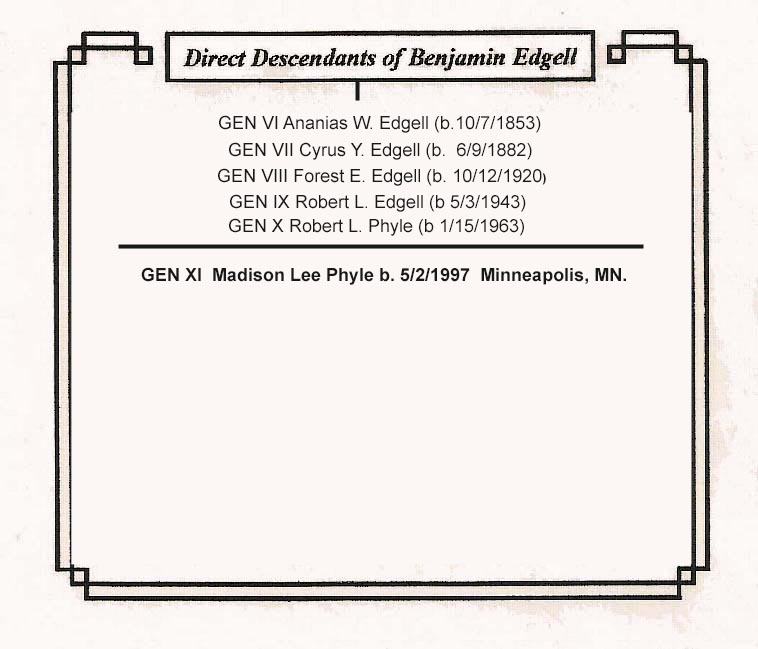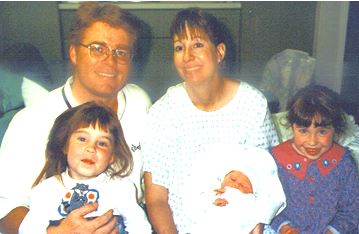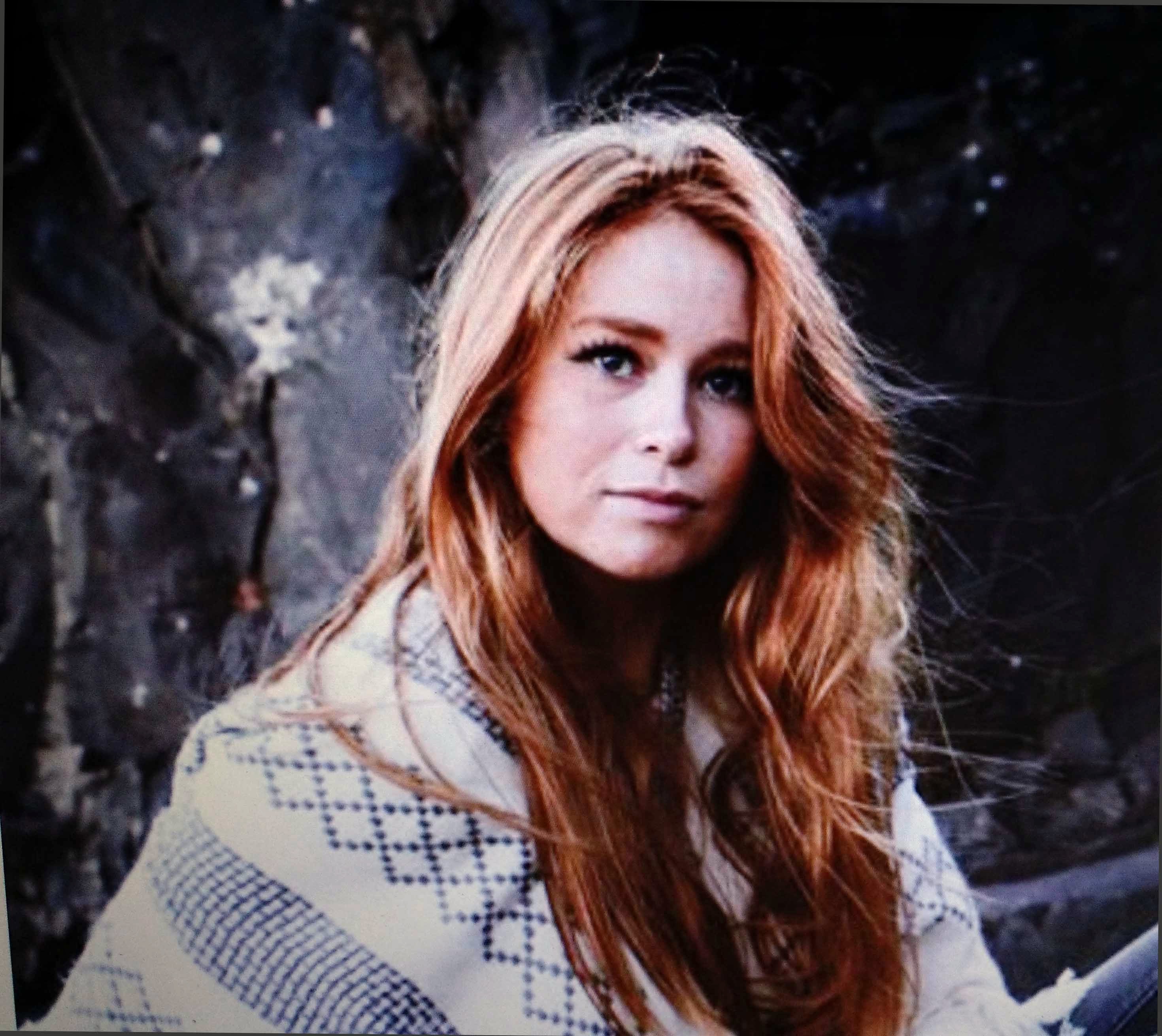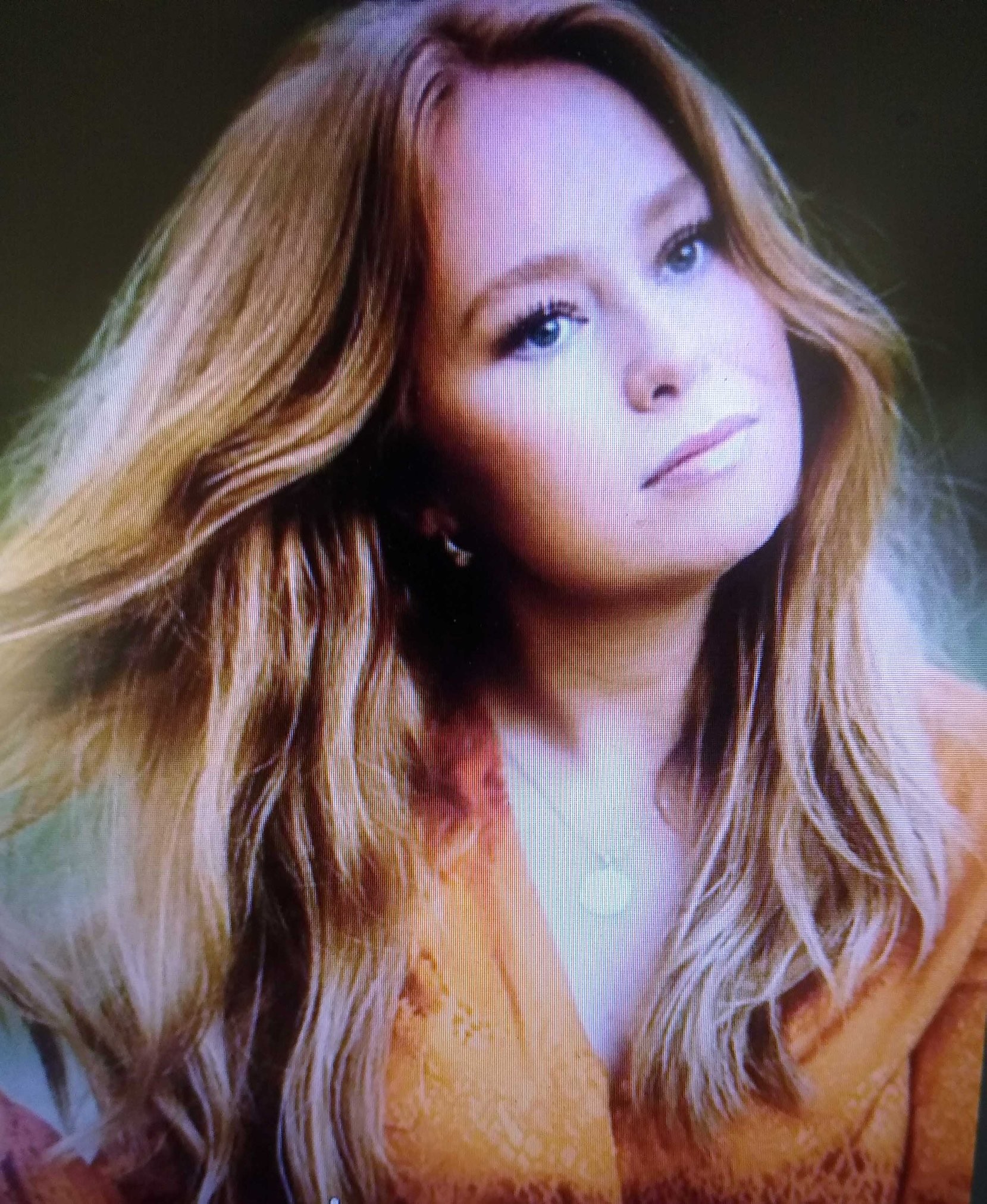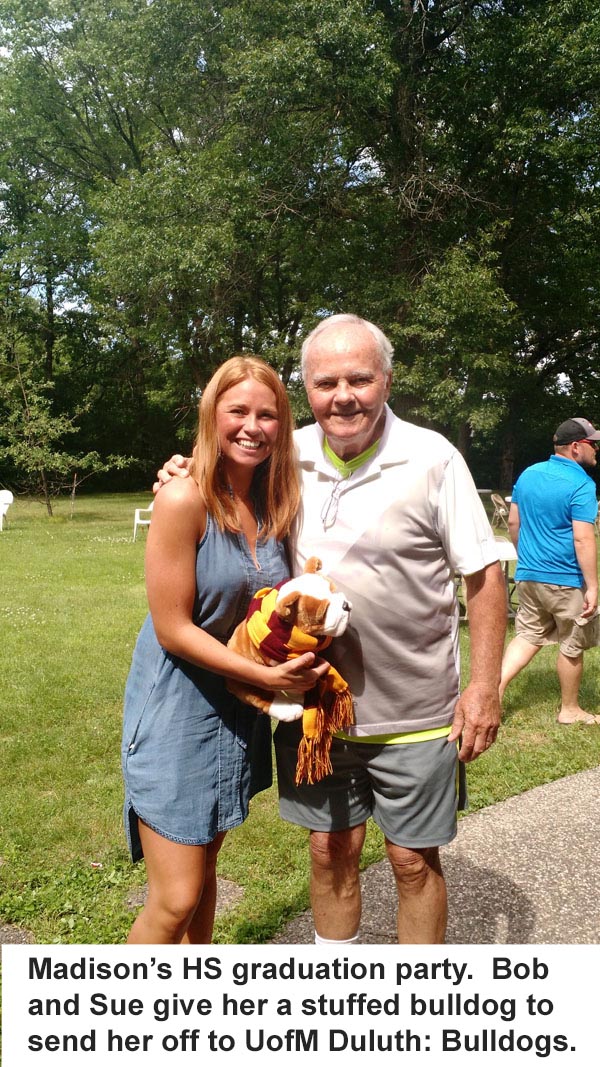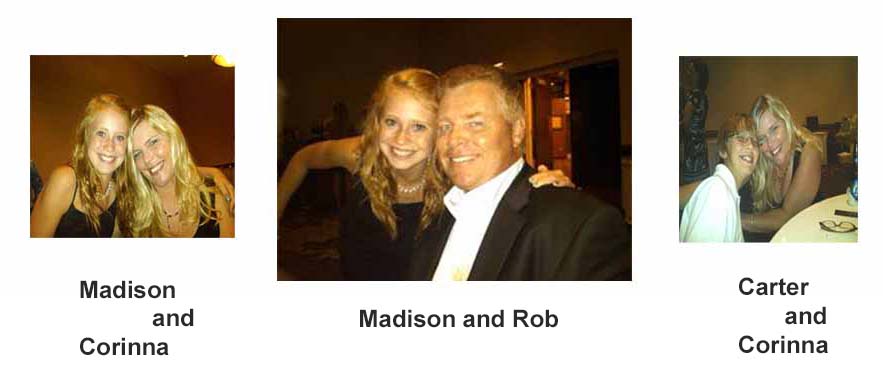 Rob researched and designed this chart of the genealogy of his mother Sharon and his father Bob.



After graduating from High School, Madison attended the University of Minnesota at Duluth. She attended for four years and graduated.
GEN X Robert Lloyd and Leslie divorced and Rob married Corinna Lowe in 2005, Corinna had one son, Carter from a previous marriage.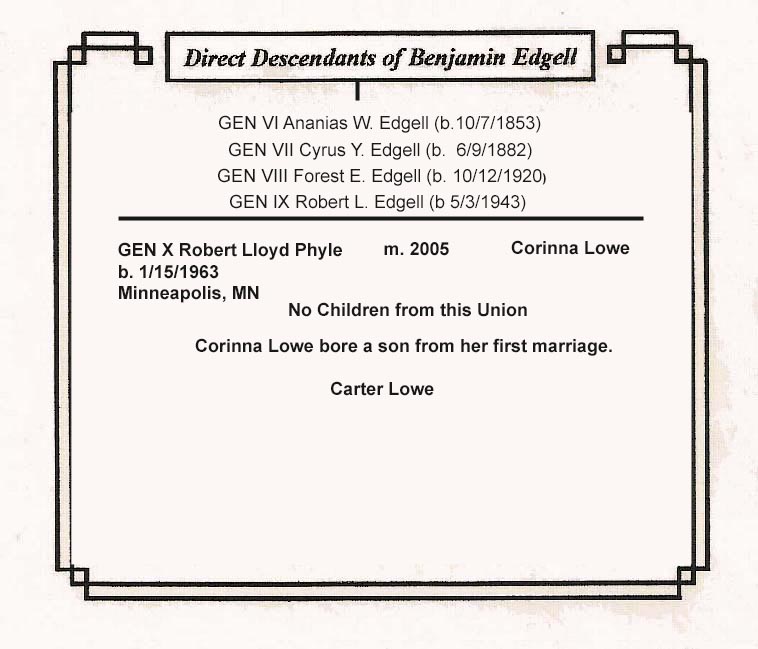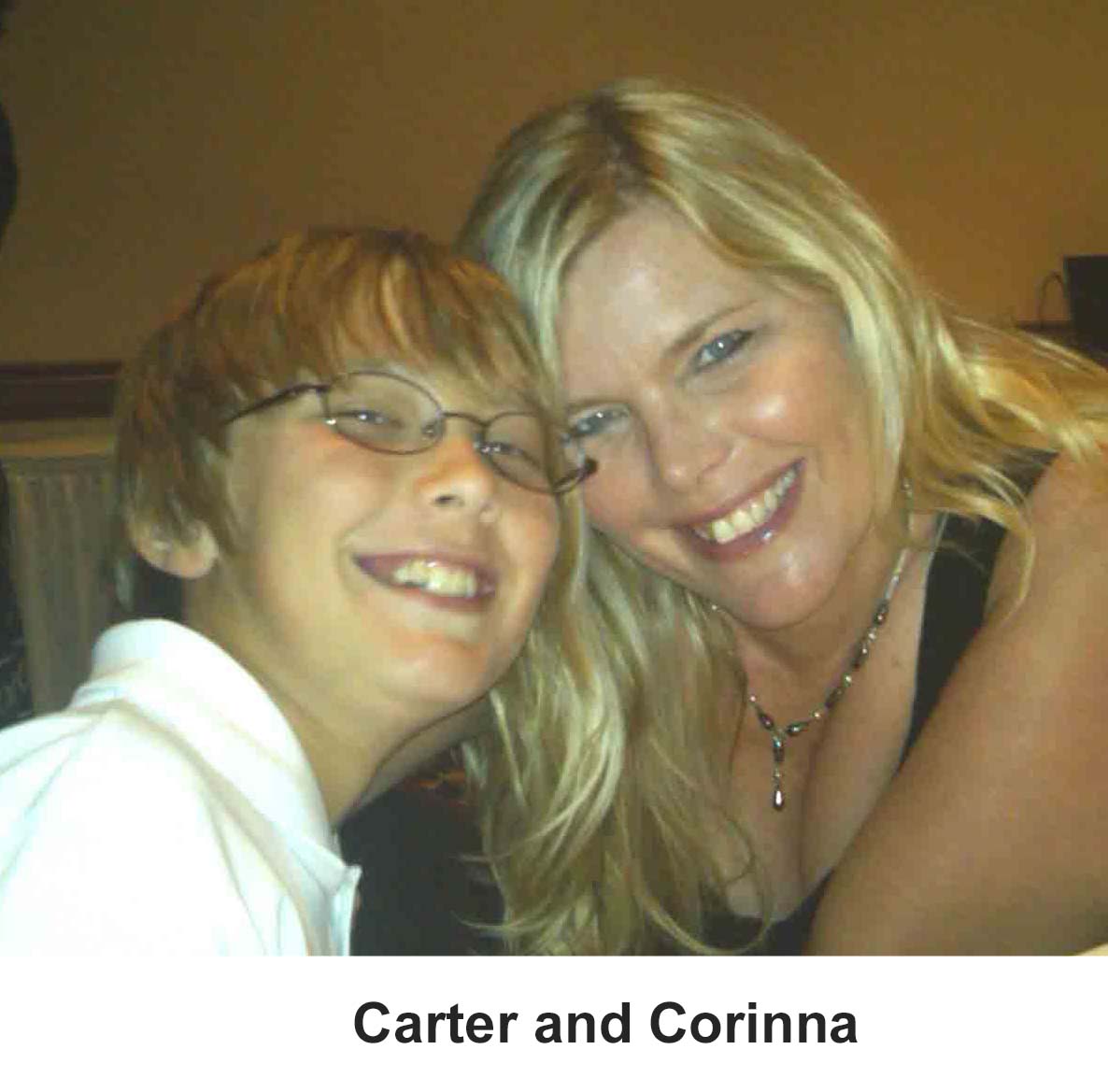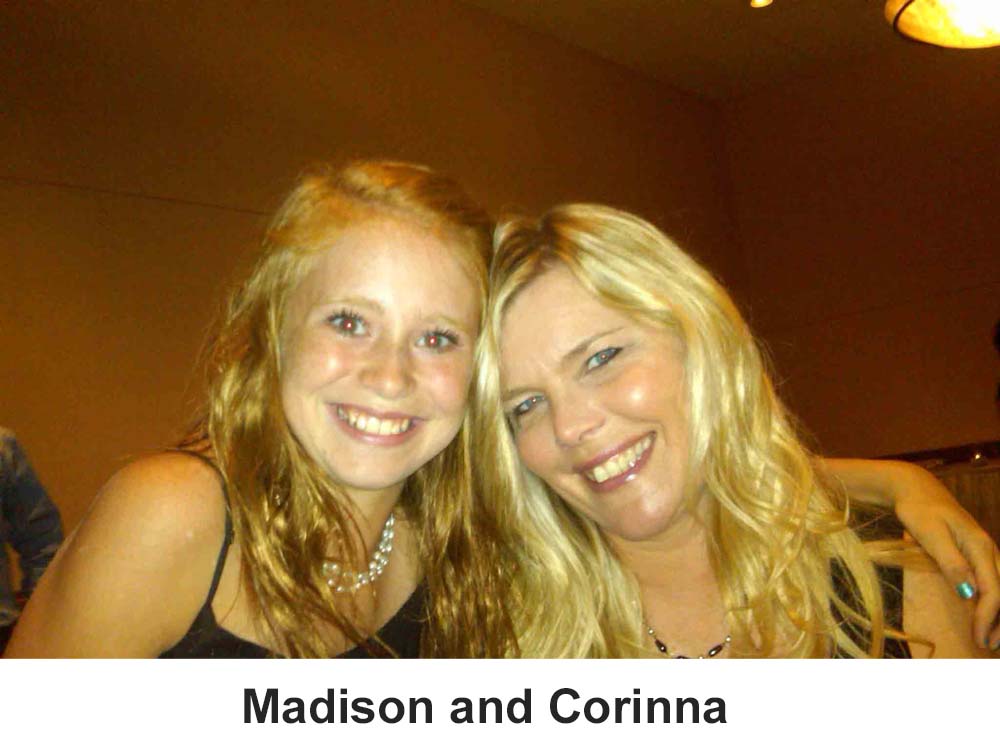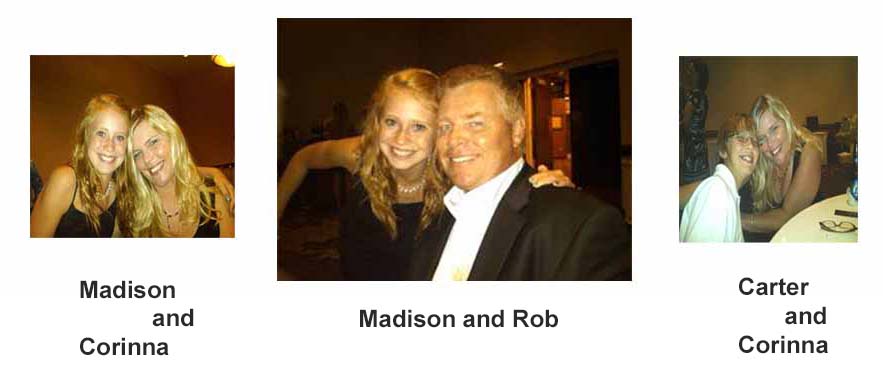 GEN IX Robert Lee Edgell and Sharon divorced in 1965. Bob remarried 1/12/1985 to Susan Marie Riordan (nee Walsh) b. 6/2/1943, Chicago, Illinois (one son by her first marriage: Shawn Riordan (b. 6/3/1969).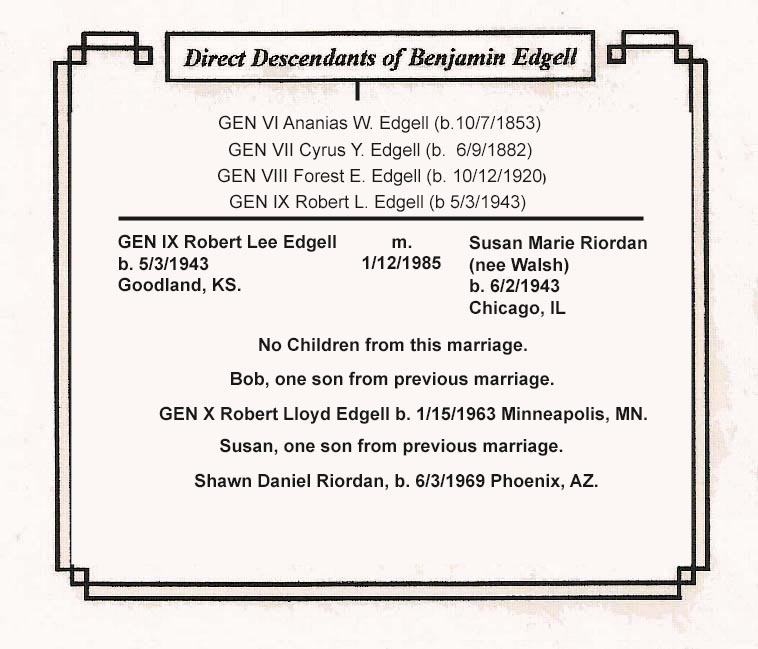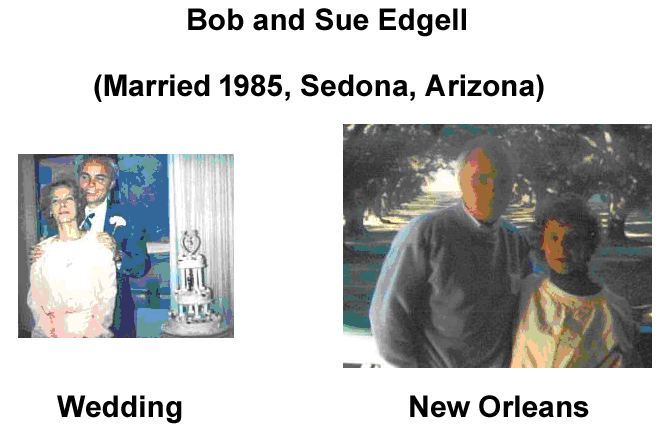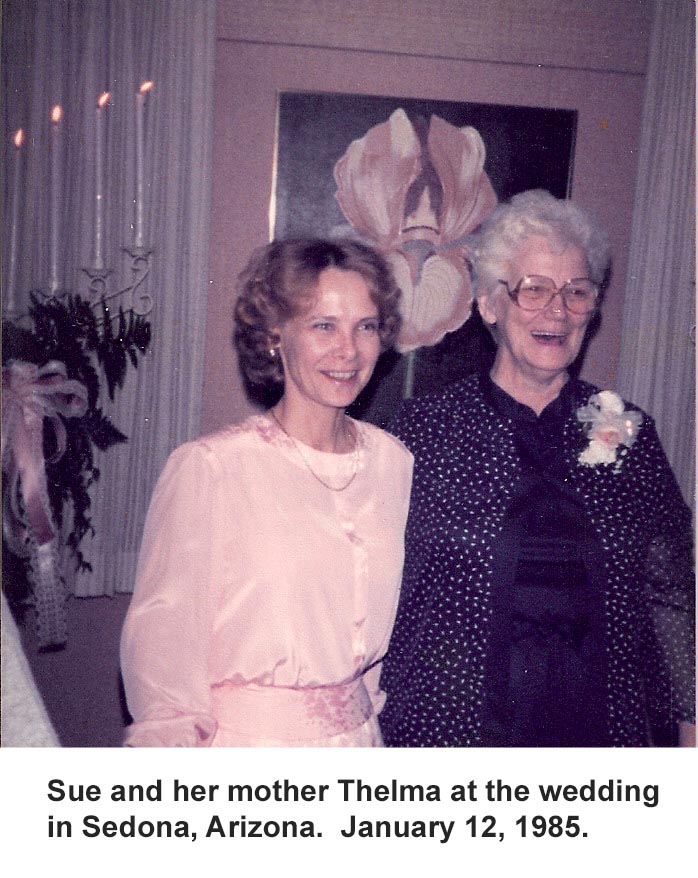 There were many milestones in the life of Bob, Sue and Shawn and they are related in my chronicles above along with photographs..
This genealogy section on the Edgell Genealogy is a work in process. As new information arrives it will be added. Please let me know if you have a contribution: bob@bedgell.com or robertedgell43@gmail.com
************************